Last Update 23rd September, 2016.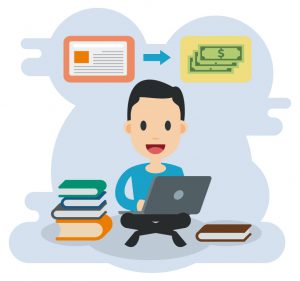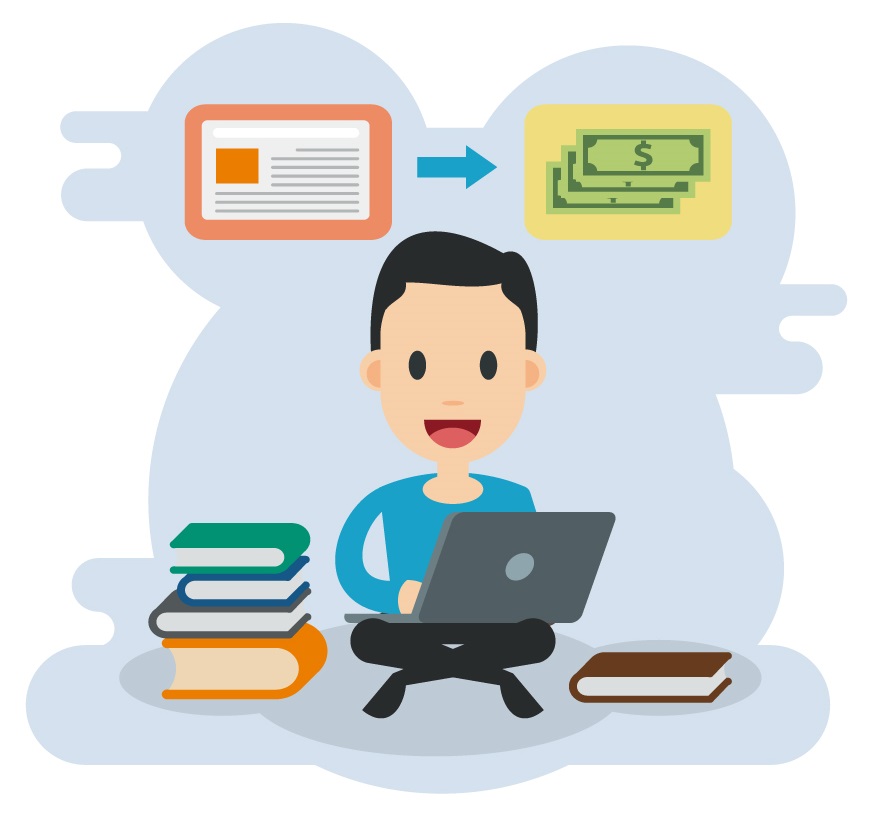 Figuring out how to make money online in a real and sustainable way has been one of my goals ever since I left school.
And it wasn't a straight-forward journey.
Like the Israelites wandering in the wilderness, I zig-zagged my way through various scams and shoddy training programs to get to where I am today.
Not quite 40 years… but it took me a long time.
There's been times when I was working in jobs I couldn't care less about, when money was short, when I was frustrated and disillusioned – even wandering if this whole making money online was nothing more than a pipe dream.
For a period of ten years, on and off, I scraped the web looking for a real way to make money online. Unsuprisingly, each time I bumped into a giant wall of shiny online scams with shiny promises but no real substance, no results.
It wasn't until three years ago when I finally had my breakthrough. I've put this How To Make Money Online With A Blog guide together to help you if you now find yourself in this position.
I'm sorry, it's longer than I thought it would be, but taken from my experience of being a professional blogger for over two years, my hope is that these helpful tips should point you in the right direction.
If all of this writing helps even just one person make the transition from a stressful job working for someone else to one to doing a job you love, it'll be worth it.
Let's dive in!
NOTE: This article will be coming from the angle of making money online with blogs as this is what I have had a successful experience in. It's not the only way to make money online but for me it seems the most stable, long-term and passive way.  I am NOT selling anything in this post. I just want to share some realistic tips for people starting out on their building an online income journey!
A "No-Nonsense" Guide on How to Make Money Online With a Blog?
Talk about making money online and you're either bonkers living in your own little dream world, or you're a scammer out to promote your own get rich quick scheme.
Let me be clear from the start – there's no such thing as a get rich quick scheme.
Trust me, I searched for years.
But that doesn't mean you can't build an honest business to tap into the huge potential of the ever-growing online audience.
But know this, I don't want us to start of on any false pretenses:
Building an online business takes work, time and commitment.
In this guide I'm only going to focus on the tips and techniques I've learned from building my own online business. There is absolutely no 'get rich overnight at the simple click of a mouse' to it. Unless you are willing to work an honest, legitimate and consistent way then this article isn't for you.
If you know this already, I'm sorry. I just have to be very clear about this. The whole make money online industry is tainted with an expectation that building an online income is quick and easy.
The thing is, I actually take writing these types of articles extremely seriously because it's real people like you who are reading them and potentially making a decision based off of something I say.
With that in mind I have worked hard to make it as practical, useful and thorough as possible.
Which leads me nicely to the next section…
Some (very) Important Considerations to Make Before You Quit Your Day Job
If you want to work from home (full time) and make money online with your own blog, you'll eventually have to quit your job.
And that's a really big decision.
The decision is even bigger if you have things like a family, mortgage, debt repayments that need to be taken care of.
As I mention in my FREE 7-Day To Getting Started Email Course I spent years working as a Customer Service Representative in massive barn-style call centres back in my home city of Leeds, England. I worked in home insurance, banking and even organising loft and cavity wall insulation installations.
I worked 11 hour shifts with a headset just so I cover my bills, get home late at night and build up my websites.
Here's some things you should know about making money online with blogs:
A lot of small start-up businesses fail while still in their infancy
I wish I could argue with the stats but the fact is most small businesses close within the first 24 months. You have to be realistic and acknowledge that it's going to be tough.
Profits can be slow growing
It took me 12 months to get to a point where my online income superseded the wage from my full-time job. It takes time. Some people can make it happen quicker, for others it takes longer. It all depends on what website niche you choose, how much you work at it and what support you get.
There's no safety net
You make it happen or you don't. Unless you have savings in the bank or a spouse who can guarantee a good steady income, until your online business reaches the tipping point – you have to take this into account.
It costs money (but not much)
A huge benefit of making money online with a blog is that the start up costs are very low. In most cases there's no premises to rent, no products to store and no staff to hire. Initially a $12 domain name maybe your only outlay until your blog starts to take money and you want to invest in logo and website design. Just keep this in mind.
Sometimes it's hard to 'switch off'
I love being my own boss and having complete control over my schedule, but being an online business owner has it's disadvantages too. Honestly, it can be stressful at times. Not everyone is can handle the pressure. Not everyone is able to motivate themselves to work without someone standing over them. Some people simply aren't made for that kind of pressure and a regular 9-5 clocking in and out job is a better bet.
Please read this article knowing that quitting your day job isn't a quick decision you should make in the next few weeks or months.
That being said, learning how to make money online with my blogs has been one of the most rewarding, life-changing things I've ever done.
So let's get into the good stuff.
The MASSIVE Benefits of Making Money Online With a Blog
One you finally crack the nut and learn how to make money online with a blog thing, nothing is ever the same. It's one of the most incredible feelings.
You suddenly come to the realisation that you're working on a building a brand and business that is yours. It only belongs to you. It's your own online empire you are in complete control of.
You realise that all blogging into the late nights are worth it and you're building on a solid foundation.
And that is pretty cool!
Here are some of the major benefits I've found:
You can set your own schedule
For me, there was nothing worse than having to wake up at 7am to stand at a bus stop in the dark, rainy blustery early hours waiting to go to some call centre for an 11 hour shift. Now I work when I want without even needing to get dressed.
There's more flexibility
Just like working your own hours, you'll have more freedom to pick up the kids from school, go to the gym or run some errands. You need to still work the hours, but it often doesn't matter when.
You're building your own empire
As mentioned, when you learn how to make money online with a blog, the blog is yours forever. When you work, you know you're your own boss. You have control over your life.
No office politics
When I catch up with my friends it's only a matter of minutes before they start talking about some work drama. Sometimes it can be a serious source of stress. None of that at home.
The earning potential is limitless
Unless you're an investment banker or a brain surgeon, chances are there is more potential income running your own business as opposed to a regular 9-5 type job. Please note I use the word potential because you still have to put the work in to make it happen. But once it happens, it's very passive.
You're free to do what you were created to do
Having your own cash generating blog means you're freed up to do other things. Right now I'm in Thailand working full-time as a church volunteer. This has been my dream for a long time and now I'm finally living it. I simply couldn't be doing what I'm doing without the income my blogs provide.
When it comes to making money with blogging, the important thing is to consider the pros and cons and make an informed decision based on a calculated risk, not just blind faith. This ensures you'll be in it (successfully) for the long-term.
10 Essential Tips on How to Make Money Online With a Blog
Okay, so now I'd like to just go into some detailed points about what I have found to be the most important parts about figuring out how to make money online with a blog and make it last.
Again, the focus here is creating websites and blogging to flesh your site out as that is where my experience lies and is, in fact, the only way I make money online.
1. Get the Right Training & Support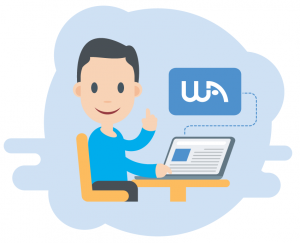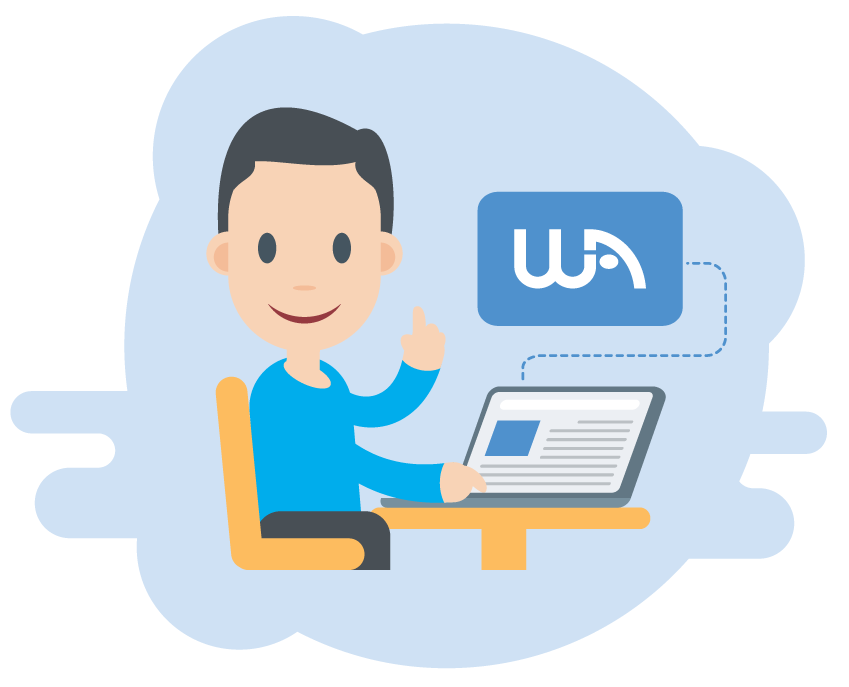 If you've never done this before you're entering unknown territory – and that doesn't have to sound as scary as it sounds. Not if you have the right advice and help.
I learned everything about how to make money online with a blog at WealthyAffiliate.com
Honestly, I owe all of my success to the top notch training and amazing community who helped guide me through building my first online business.
If you're serious about becoming a profession full-time blogger I can not recommend Wealthy Affiliate highly enough.
It's free to create an account and work through the training. You can build two free blogs with them (easy with hundreds of templates to choose from) and there's free hosting too.
Recommended reading:
2. Make a Specific Plan With Measurable Goals and Deadlines
Most bloggers have no clear, structured plan in place.
If you're serious about building your blog into a profitable business then you need to make a plan – with deadlines.
If you really want to work from home you need to try and come up with a plan that includes a set of solid goals and a realistic timeline.
For me, I stick these goals on the wall right in front of where I work so I can see them everyday. It motivates me to take action.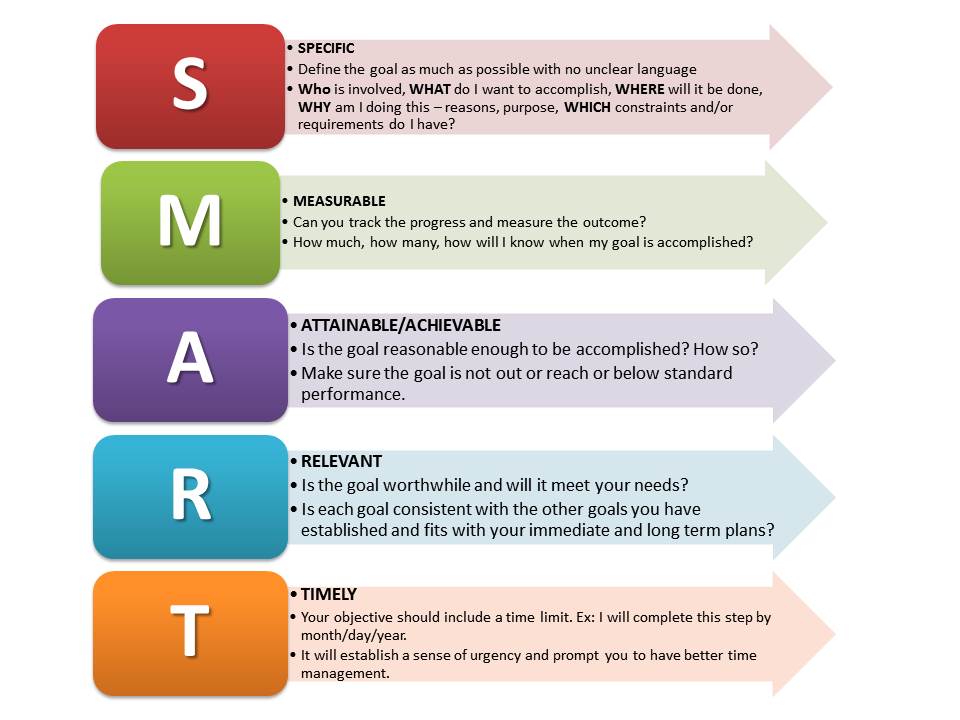 Here's an example:
Bad goal:
I want to make money online with a blog in the next year.
Good goal:
I will use a blog to collect 10,000 email subscribers within one year using PPC advertising in order to sell 300 copies of X product valued at $297 per copy.
Now I know there's factors out of your control but having a concrete set of goals that are written down will give you something to shoot for.Some elements you'll want to try to incorporate into your goals:
Why are you doing it?
I can tell you how, but only you can know why. What's your motivation, your big compelling reason for wanting to make money online with a blog? Defining this from the start will make sure you don't get discouraged and quit a few months down the line.
How long could it take?
Is six months realistic to make $100k? Or will you need five years?
What will you be selling/promoting?
You need to have a product or idea ready for how you will make money. There are tons of affiliate programs out there you can sign up to for free and they'll pay you a commission for every one you refer. Without going into detail here, the product or service your promote should obviously be relevant to your website niche.
What will it take?
How many hours a day can you devote to your online business while still working in your current job? Do you need to invest money in online entrepreneur training? How much money can you spend while still meeting your financial obligations?
Again, you don't need to have every single box ticked but it's good to think about these things before you get started. It will help you further down the line.
And that leads us on to our next point nicely.
3. Dig Deep Into Your Website Topic and Build Your Knowledge
Being an active contributor, participant and researcher of your chosen blog niche is vital for a few reasons; you'll know who you're competitors are, you'll know what you need to get above the noise and stand out, you'll make your brand and voice is distinctive.
At the beginning stages of your blogging business you'll want to ask yourself important questions:
Who are your competitors?
Do you have many competitors out there and what kinds of things are they offering? (I use Jaaxy for this.)
Can you make improvements?
Can you add to the conversation? Do you have a different perspective, anything unique to offer.
As I say, I always use the Jaaxy research keyword tool for this.
If you can connect with and build partnerships with someone on the "inside" it will speed up your success significantly. I'm always taken aback by how generous and open already established bloggers are to newcomers in their field.
I'll talk a bit more about this in a sec…
4. Build Your Email List & You'll Build Your Business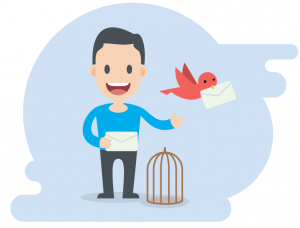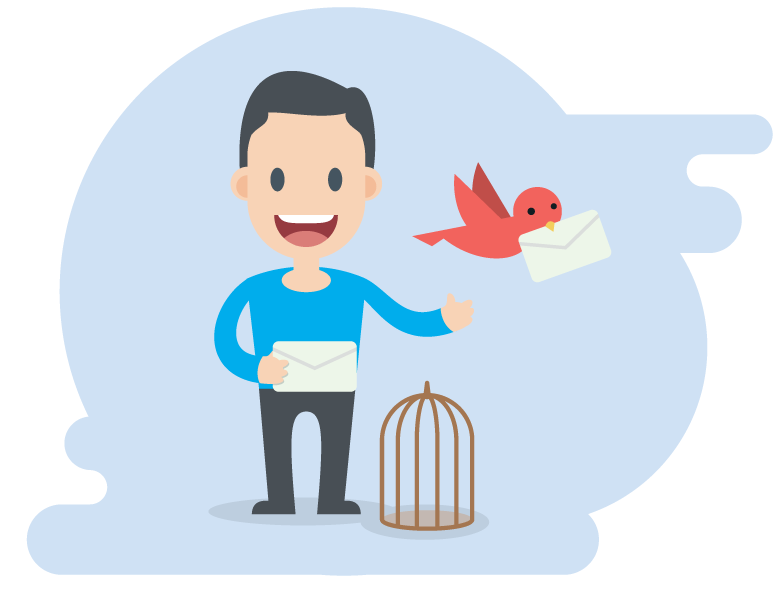 Every serious blogger who is making money online focuses their efforts on building a list of email subscribers.
It doesn't matter if you want to make money with a blog about being a stay at home mum, trekking across south east Asia or how to keep a pet parakeet…
Having an engaged list of email subscribers is one of the best things you can do to ensure your long term online business success.
Quick interruption – If you haven't set up your online business website yet then you are way behind. There are free and cheap options. Your website will be your online platform, your very own virtual store front going forward. Here's some things to know before you start a blog and here's my guide on how to start a free blog or website that you might like to follow.
Back to email subscribers – they are key to your online success for these compelling reasons:
Instant (virtually) free promotion
Of course it costs money to build and store an email list but once you've got them you can promote anything to them at anytime by sending broadcast emails.
A loyal readership
Emails lists are about relationships and trust. Email turns your casual blog reader into a loyal subscriber who trusts you enough to take action on what you recommend.
They grow your reach
Email subscribers have given you permission, an open door to contact them directly. They opted in because they appreciated what you had to say. Email subscribers share your stuff on social like crazy! When I write a new article I email my list to let them know and get at least 1,000 visitors within a few minutes. Nothing else compares with the power of having an email list!
Once you make building your email list a top priority with your blogging business, you can track conversions, do split testing and tweak the design of your blog to ensure maximum conversions.
That is crucial to making money online with a blog.
5. Continually Aim to Grow Your Blog Reach (and never stop)
In his now-famous book, How Brands Grow, Professor Byron Sharp speaks straight about how reach (not loyalty) is what you should be focusing on.
Their research shows clearly that loyalty is a result of reach and not the other way round.
What this for you with your money making blog is that to be successful and profitable you need to be expanding and growing your blog reach. The more traffic your blog can get, the more money you will make.
Website => Traffic => SUCCESS ($$$)
Simple.
Well, simple in theory.
Here are 4 Ways You Grow Your Blog Reach
1. Focus on evergreen content that solves problems
Green is a colour that denotes something new and fresh and ever indicates that it will stay that way for all of time.
Evergreen content is content that is always relevant and never goes out of date. This means you write a blog post now and it's still relevant two or three years down the line.
2. Target keywords with every post
For me the biggest source of traffic has always been Google. I use the best keyword research tools to make sure I don't leave the success of my online business to chance.
Keywords, simply put are what Google use to rank your sites. I implement keyword research techniques to make sure I get the highly coveted top spot on search engines.
And the best thing about using Google, Bing and Yahoo search engines to drive traffic to your site is that it's FREE, it's targeted and it's organic.
3. Spend money on advertising
At your online business matures you'll want to start looking at paid advertising platforms like Google Adsense and Facebook ads – split test and work on your conversion rates and repeat.
Ever noticed who is doing all the Sponsored Posts on Facebook? It's the successful, big blogs.
4. Get involved in the conversation
As well as building out your own blog, be purposeful in building connections with authority figures within your niche. This could mean guest posting for other sites, commenting within forums, launching your own YouTube channel and really working hard to get known.
The web is a really, really big place. And it's getting bigger.
If you want to make money online with your blog, you need to keep reaching new people and getting your message out there on a continual and growing basis.
6. Build a Recurring Blog Income
The sixth step to make money online with a blog is to follow the steps of the most successful build a recurring (passive) income.
What do I mean by recurring income?
The simple 4 step process of making money online I learned from Wealthy Affiliate goes like this:

It's affiliate marketing and it's just one of the many ways you can monetise your blog.
Simple put, you sign up to an affiliate program, promote their products or services to your readers and you get a commission for every referral you send their way.
Affiliate Marketing Definition: A way for a company to sell its products by signing up individuals or companies ("affiliates") who market the company's products for a commission.
What's The Best Affiliate Program To Promote?
The best affiliate program to promote is one that's relevant to the topic of your blog.
So let's say I'm interested making money online with a blog and I've chosen the running niche. (I could also choose to narrow down my specific niche a little further with 'marathon running' or 'competitive running'.)
Finding the affiliate program(s) is the easy part.
A simple Google search "your niche here + affiliate program" will bring up lots of results. A quick search for "running gear + affiliate program" and I've already found affiliate programs to choose from – including Reebok and Nike.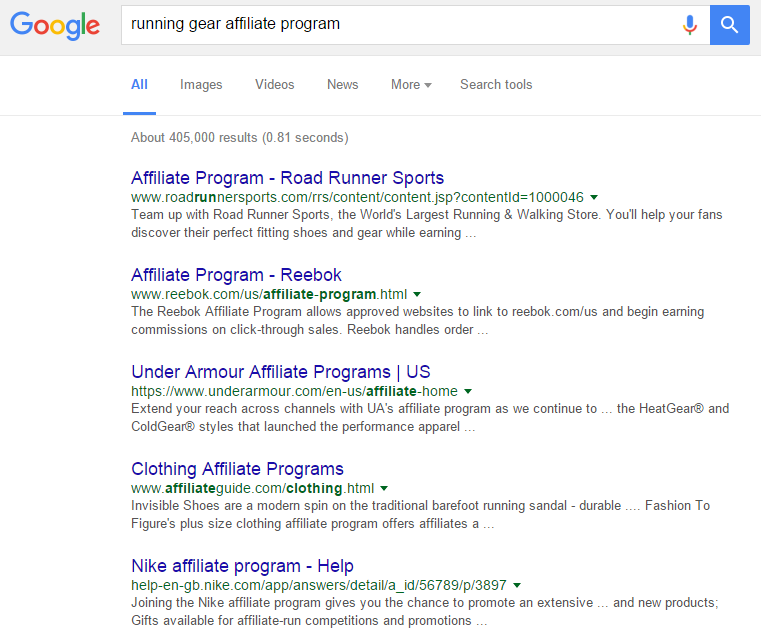 I can compare different kinds of running shoes, fitness trackers, sports supplements and recommend what I have used and think is best and add a helpful link for people to find out more.
People click through, add to their cart and BOOM – you get a nice commission for recommending the site to your readers.
Sound good?
The point I want to make is this: where possible – always promote a service or product that provides you with a monthly or recurring income.
Let me give you a personal example.
My biggest money making blog right now is GrowChurch.net – the first blog I built back in 2014.
I write about church growth and leadership development, improving your preaching, having effective systems and I provide my readers with access to further teaching and core coaching programs. These are a 12 month subscription so I with each sale I actually get paid 12 times. That's cool right?
If you're going to all the work of building up your blog, going through the training and learning how to attract visitors to make one sale, why just get paid once?
7. Don't Put All Your Virtual Eggs in One Online Basket – Diversify!
As you develop your online blogging business you'll want to diversify as soon as you can. This is why I have a website portfolio covering a variety of niches.
One of the best examples of this in the online space is Brian Clark of Copyblogger fame.
Copyblogger was once just a simple blog with a neat little sidebar and some pretty clever articles. It has since grown into a massive and diverse brand that sells memberships, hosting services, premium WordPress themes, etc.
Not only does this give them additional streams of income, it also protects them should something go wrong with one aspect of the business.
So where should you diversify?
Your website's traffic sources
GrowChurch.net gets 1,000 unique visitors daily from Google alone. But I don't just want to rely on that – tomorrow I could wake up and all my traffic is gone. I make sure I have traffic coming from referrals, social and Google. I'm also building an email list as we discussed earlier.
Your income streams
Don't rely too heavily on one stream unless you are certain that you have something else that you can pull the trigger on should something go wrong.
Your backups and storage
If you are building a money making blog – protect it. Back it up. You want your online store to be open for business 365 days of the year.
NOTE: Building your blog with WordPress and SiteRubix using the Wealthy Affiliate platform (whether using the free subdomain or transfering your own domain) means you have free hosting, an IT team on stand by 24/7, automatic back up and site health monitoring.
Each business will be different in this respect so it's a good idea to constantly think about the different ways in which you can diversify.
It's not always an easy thing to do but it's well worth the effort.
8. Outsource As Soon As You Can
When you're setting up your blog, chances are you have to do everything yourself; researching, writing, designing, accounting, traffic generation, social media updates…. it's endless!
But as soon as you blog is making money, I would recommend reinvesting it back into your business. You don't have to do everything yourself.
The truth is, we can't all be good at everything. I know I'm not.
And I know that instead of spending hours trying to figure how to improve my website design (not an area I'm skilled in) I'd move my online business forward much quicker if I hired a pro.
And to be honest, with half a dozen websites now, I really don't have time to do everything.
Here's a few things I might outsource:
Content creation
Logo design
YouTube video intros
Website design
Email marketing
Check out my Best Blogging Toolbox for who I outsource to.
You don't need to worry about this until your blog starts making enough money to support itself, but there'll come a right time (and you'll know when that is) when it's best for you and your business to outsource.
At this point, I honestly think that finding the right people to hire can make all the difference between success and failure of a money making blog. Check out ratings, do your research and be clear what what your expectations are from the get go.
9. Be Willing To Take Action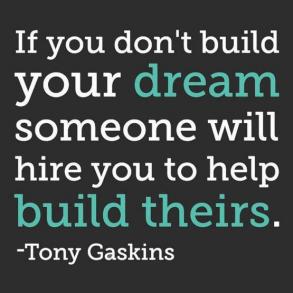 The beauty of Wealthy Affiliate's Online Entrepreneurship Certification course is that with the assigned tasks that come with every lesson, you'll be building your online business as you work your way through the course.
This is vital to your future success because taking action on what you've learned is what counts.
A plan is what turns a dream into a goal. Action is what turns that goal into reality.
Sometimes we think we get from here to 'there' in one huge leap, but the truth is, it's by taking small, daily cumulative steps.
Learning and building a money making blog will mean learning new skills, doing things you've never done before and that's okay. Just keep pushing and always ask for help whenever you feel stuck.
If you're going through the Wealthy Affiliate training, use Live Chat, use the question and answer areas and always ask the community for expert help if you're ever unsure.
10. Set Up Routines and Systems to Build Your Blog Efficiently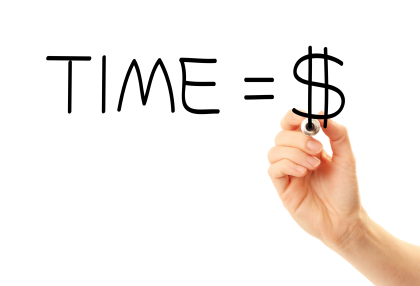 This is a point I struggled with for a long time.
What I'm talking about here is basically self-discipline and time management.
Ask anyone – they'd love to learn how to make money online.
Lots of people have great ideas for blogs they could launch… but they just never get to it.
I just talked about making your dream become a reality by taking a series of small steps.
So what's the first step?
Here's some advice from someone who knows this well:
"Make a schedule! Yes, we're trying to "break away from the 9 to 5", but the nice thing about the 9 to 5 is that at 5, you know you're done and you remove yourself from the opportunity (mostly) to continue to do work.
When you're running a full-time blogging business, it's super easy (and tempting) to do work at anytime, and unless you create a boundary in your schedule you're going to cross over between personal and business life, and it's going to be bad. You can overwork yourself and remove yourself from other parts of your life that are also important.
Additionally, when you know you have X hours to work, you're more likely to be efficient because you know you only have that amount of time. Without that boundary, it's easy to just say, "Oh, well I'll do that later because I have the time."
– Pat Flynn, Smart Passive Income.
For me, even as I type this guide, I can see a small timer counting down in the top of my screen. I find having a countdown makes me work harder and quicker.
As I'm now volunteering full-time in Thailand, I set one day a week aside for nothing else but working on my online businesses. I turn my phone off, close the door and zero in on my to do list.
Everyone motivates themselves and manages their time differently what works for me might not work for you.
I'm just saying find out what works well for you and be diligent to see it through. Do this and it won't be long before you start to see your first sales coming through.
Can you help someone who wants to make money online with a blog?
Making money by blogging about a passion of yours whilst helping people with good content is one of the most rewarding goals that you ever set out to achieve. And I know many readers of this site are already living that dream.
What I'd really like to do now is turn this post over to you and ask you for some help. If you make make money online with a blog, either full-time or part-time and have a have a tool, resource, article or tip to share with someone who might read this post then please share it.
Let's fill up the comments section with a host of useful and friendly tips and conversation. Please leave a comment below – you legends!