If you're looking for a strong head start in becoming an affiliate marketer then outsourcing might be the answer.
In this Human Proof Designs review we're going to look at what they do, how they do it, how much it costs as well as the pros and cons.
The Human Proof Designs' team is made up of 100+ website design experts, copywriters, keyword and niche researchers whose sole aim is to help you build successful and profitable done-for-you affiliate websites that give your online earnings a kick start.
The idea of buying pre-made niche websites is nothing new, but truth be told, until Human Proof Designs came onto the scene your only choices where crappy sites like Flippa where you'd expect to pay over $2,000 for a website you hardly know anything about.
What's even worse is if you find yourself on any of the many scam sites out there where sellers line their own pockets by selling the same copy-and-paste site to hundreds of unsuspecting buyers.
What makes Human Proof Designs stand out in this industry is the fact that each and every website they build is 100% unique. Every single site is built specifically to a high standard to maximise your return on investment.
And let me be clear here; we're not talking about buying a pretty looking website that sits there doing nothing – the affiliate websites they build give readers the information they're looking for before directing them to your affiliate links.
This is important because the difference between a website and a web business is huge!
This is why their done-for-your Amazon affiliate websites are only built after the niche market has been thoroughly researched, tested and found to be popular and untapped.
Each and every post and page is focused around low-hanging keywords with lots of monthly searches but a low number of competing sites.
This means: You get a free and growing stream of visitors going to your site making your sales.
If you're ready, click here to browse ready-made websites available for sale right now or keep reading to find out more…
What we'll cover in this Human Proof Designs review:
Who is the human behind Human Proof Designs?
What is Human Proof Designs and what do they do?
The 3 types of done-for-your affiliate websites your can choose from
How much does Human Proof Designs Site cost?
Top-notch training and support
How will your website make your money?
How much money will your website make?
A live done-for-your affiliate website example
Human Proof Designs success stories
Is a Human Proof Designs done-for-you site for you?
Who is the human behind Human Proof Designs?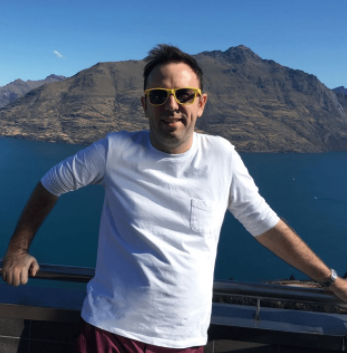 Let me introduce Dominic Wells. He started Human Proof Designs in 2013 after learning how to build successful affiliate websites.
After he started experiencing some success he wanted to help others looking to use affiliate marketing as a way to work from home and Human Proof Designs was born.
Since then Dom has become a leader in the internet marketing leader in the industry. He's been named by Entrepreneur.com as a "successful entrepreneur your should be following" and featured on NicheHacks.com, NichePursuits.com and ThatMarketingDude.com.
In a recent interview for us here at The Make Money Online Blog I asked him how Human Proof Designs helps people like your get started in affiliate marketing, he said this:
For me, what I really like about what he does compared to having to set up an affiliate website on your own is that they take all of the guesswork out of it for you.
With one of Dom's sites your don't have to worry whether or not you can get any rankings in Google or hope and pray your haven't gotten yourself into a niche that's too competitive.
Let me tell you, even with the best training affiliate marketing can be confusing and buying a done-for-your affiliate website takes away all the uncertainty, wasted time and costly mistakes.
You're leveraging the experience of experts so you can make sure you get it right the first time.
What is Human Proof Designs and what do they do?
So we already know Human Proof Designs provide content-rich, completely original ready-made affiliate niche websites complete with niche and keyword research, website design and content creation.
Honestly I really love this concept. If I was starting again today from the ground up this is definitely something I would go for. This type of service has been missing in the make money online industry for a long time.
The purpose of Human Proof Designs is so much more than selling your a website and leaving your with it.
Why?
Because the HPD team are experts at what they do; they've been around building successful affiliate websites for aspriing affiliate marketers since 2013 and they know what is takes to breakthrough in this industry.
It's never been easier to create a website, the real problem lies in how to get visitors and actually make money with that website.
The truth is:
95% of newbies who start on their own fail within the first 12 months and it's easy to see why…
1. It takes time
Making real money in the online space means you're effectively working for free for months before seeing any returns. For most people, this is too long to work without seeing any rewards, so they call it quits before seeing the all-important breakthrough.
2. Wrong niche choices
Most of affiliate marketing newbies pick an over-competitive niche and never have a shot at breaking through the noise.
At the opposite end of the scale, a beginner could spend hours churning out content in a niche eithr no-one's interested in or with no obvious related products or services to promote. Both mean you waste of a lot of time.
3. The steep learning curve
There's so much to learn; picking the right niche, sorting out website design and hosting, figuring out how to monetise your sites, how to market it as well as finding the right affiliate programs to promote and so on…
Most people start out excited at the possibility of earning money online from home without knowing there's a lot of moving parts involved in an online business and it can take time to get everything in order.
You don't know what your don't know right?
The solution
Dom wanted to help those struggling to make money online and offer to bridge the gap and help beginners get from where they are to where they want to be.
And this is exactly why it's in the after sales support where Human Prood Designs really shines.
Dom and his team offer tailor made strategies, one-on-one support, mentoring and hours of video training because they really want your to succeed at this and maximise the earning potential of your newly acquired website.
I want to emphasise with Human Proof Designs your're not just buying a site; your're investing into your first online business and I think it's a great way to give yourself a strong start in the right direction.
Dom re-emphasises that here and shares his vision for helping newbies get started here:
Click here to visit HumanProofDesigns.com
Your website is the foundation of your online business. Just like a conventional offline business needs a physical store, an online business needs a website. There's no way round it.
That said, you're left with two options: build a website yourself from scratch, make mistakes and learn the long, hard way, or outsource the niche research, website building and content creation to the experts at Human Proof Designs.
So now let's dig a little deeper and take a look at what kind of websites your can buy, the services they offer and the different pricing options so your can choose the right type of website for your and your budget.
3 types of done-for-you affiliate websites
1. Ready-made sites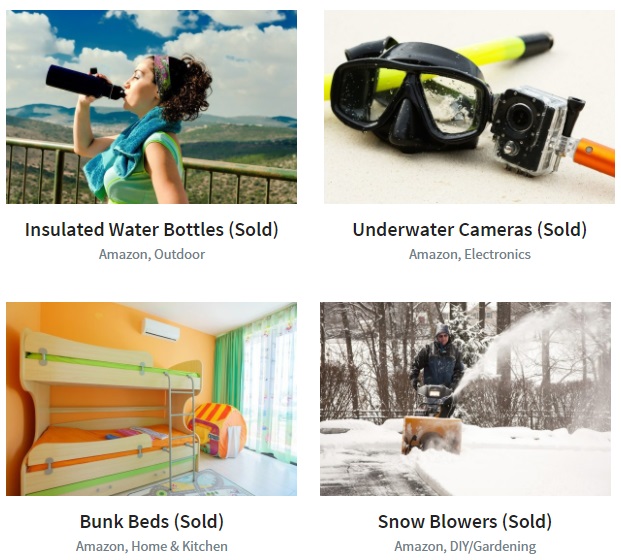 The most popular choice for website buyers. I'd say these are definitely the most popular sites on HPD and they tend to be Amazon affiliate sites but not always.
You'll find sites built in all kinds of niches. Each site is built around a profitable niche with clear and relevant products tied in.
The witten-for-your reviews, posts and comparison charts mean your site will specifically target people in the later stages of the buying cycle with the sole aim of converting visitors that come to your site.
When I browse the ready-made sites there are usually sites available and releases new batched every couple of weeks. There's even an early bird email list your join to get an email when new sites are announced.
We'll talk about the different pricing options in the next section but in a nutshell, with every site your have two options: the Starter package at $998 or the Premium package at $1299. This means you can have the flexibility to choose the best option for your needs and budget.
Browse the ready-made affiliate websites for sale here
2. Custom-made sites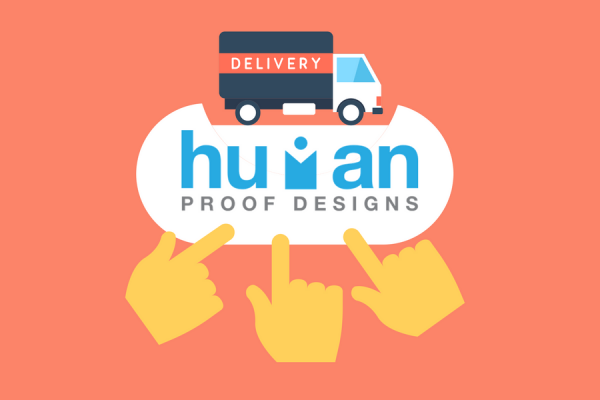 Maybe your've already got a target niche in mind your want to pursue, this is where custom-made sites come in.
As I say, Dom's been very effective at building teams of professional wrters, researchers and designers.
For $998 you can outsource the website creation, further keyword research and content creation.
You'll save yourself a heck of a lot of time and energy in the process as well as get full access to the video training, membership area and one-one mentoring and full support.
Request a custom-built website here
3. Aged Websites
If your have the cash, your can buy an website that's already seeing rankings in Google, visitors and sales for $1,497.
This is no small amount of money so it's not for anyone and I get that, but the advantage of an aged site is that your skip the 6 months it usually takes for Google to start ranking your seriously and really does fastrack the process of earning affiliate commissions.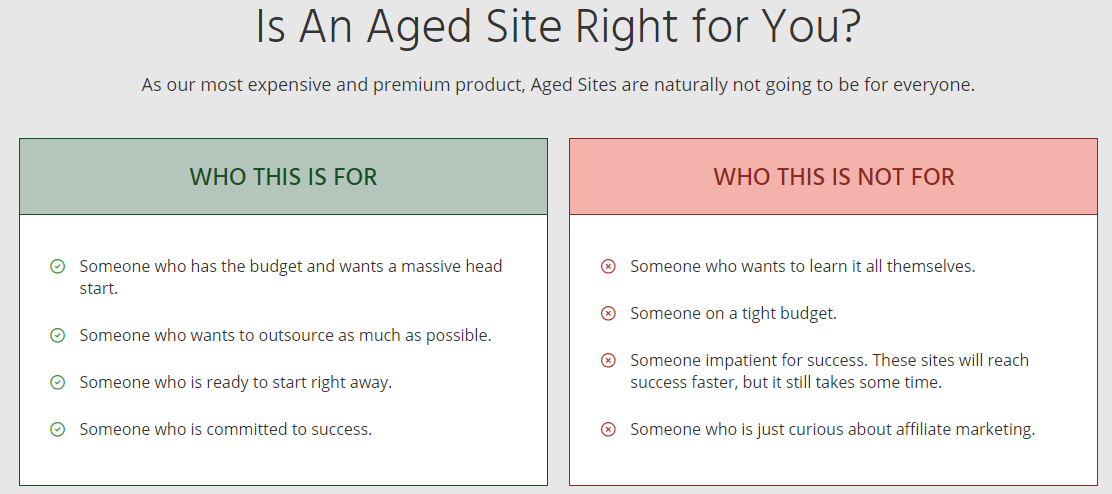 Though I can see advantages to each, I'd probably go for the custom-made sites simply because they offer the best value of money and have the widest selection.
In this video Dom walks us through the process he goes through to creating profitable affiliate websites and gives a live example of a HPD in action, it's good to get sneak peak of how your site will be structured:
How much does Human Proof Designs site cost?
I just want to take a little time here and clarify the pricing options because can they might seel a little confusing at first.
Let's start with the aged sites because we already know they're for sale at a flat rate of $1497. Obviously your're buying a little extra to save yourself time waiting to rank in the search engines.
There's a bit more history with these sites being a year or two years old so your can see the keywords your're already ranking for and sales history.
When you buy an affiliate marketing website from Human Proof Designs (whether it ready-made or custom-built) your can either go with the $998 Starter package or the Premium $1299 package. So let's look at what your get and the main differences between the two:
Starter package
An original and fully functioning affiliate website in a well-researched niche
A potential earnings summary
High quality articles and reviews – 10,000 words in total
A professional, premium theme
Premium plugins
On-page SEO
Domain name registration
Keyword research packs
Free 24/7 technical support
Email support and one-one help
Instant access to the video training courses
1 Month Free Access to the HPD Membership Forum
Premium package
Everything that's bundled into the Starter package PLUS:
Twice as many words – 16,000 words in total
Professional logo design
Ready-to-go social media accounts
I honestly think both options offer massive value. Not only are buying a website with all the bells and whistles, your're getting the premium treatment with premium themes, premium plug ins, unique images and top-notch copy writing.
Is it worth it?
Yes!
Here's why:
If you've watched Dom's video above you'll know that every website uses Premium (paid for) themes and plug-ins to enhance user experience through crisp and clear websites that will ultimately lead to more sales for your.
Here's a quick breakdown of what your get when your buy a website from HPD. I think your'll agree with me this is a pretty good deal.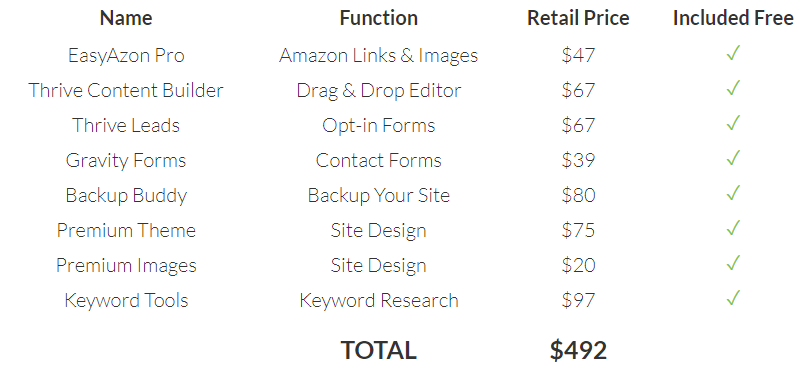 If your were building your own website from scratch not only would it take up a lot of your time, your would have to pay $500 for the same plug ins and themes and it would end up costing your more.
So you see, buying an affiliate website from HPD saves your time AND money.
How is this possible?
As Dom said in his video, because they've built over 500 sites they have developer licenses with the theme and plug in makers so he can pass that discount on to you.
Not to mention, you're getting professionals to do this for you – people who have been doing this a long time and know exactly what they're doing.
Forget the hours struggling to write content for yourself or getting frustrated trying to get your website set up. These are the very things that cause 95% of aspiring affiliate marketers to give up.
So save yourself the hassle, get bang for your buck and let the Human Proof Designs team do all the legwork for your.
Top-notch training and support
And we haven't even touched on the after sales support yet. In my opinion this is where Dom and his team really shine.
With Human Proof Designs it's not like your buy a website that's the end of it. If this is your first site then this is the start of an exciting journey of learning new skills, passing milestones and making more money.
I was seriously impressed with the amount and quality of the free information provided upfront.
Your new website business comes with:
1 Month Free Access to the HPD Membership – giving you access to private coaching, monthly live case studies, new and updated training.
Awesome technical support – if you ever feel stuck or have any concerns or queries, or just want to bounce ideas around, your can ask questions and get answers from an experienced team of experts. And there's no 30 day support limit.
When your buy a HPD site your become a member of the HPD community for life. Now that's something to write home about!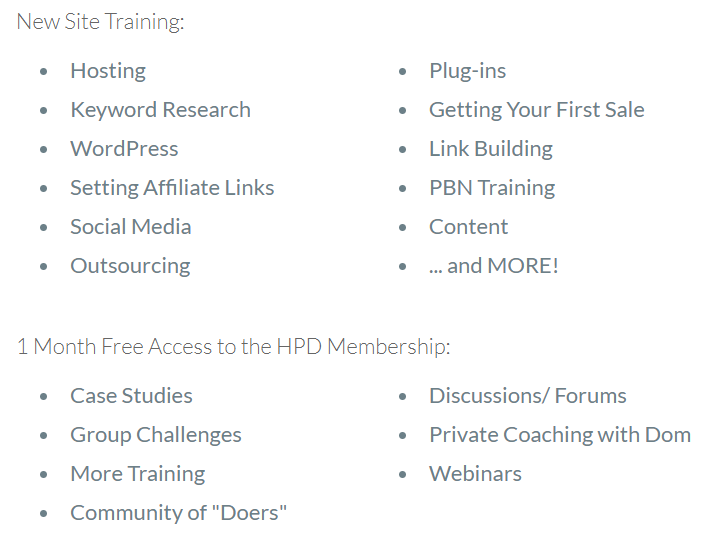 This is invaluable and something your're really going to want to take advantage of to get the most out of your website.
All the training courses are really comprehensive and more importantly, your'll learn the practical how-tos your can apply instantly to grow and scale your online business and jump start your affiliate marketing career.
Combined with your willingness to learn and take action, how can your not be successful with this?
How will your website make money?
Through affiliate marketing. This is exactly how I make money online because it's by far the best way.
For those of you who don't know, here's a quick overview of how affiliate marketing works.
Let's say someone is interested in buying a camera drone for example. They search in Google for "best camera drones" and click on a website where someone gives details about the best camera drones out there.
With all their questions answers, the website visitor will then click on the link (probably an Amazon link) to start browsing camera drones and reading customer reviews.
If that person then goes on to make a purchase, the person who referred them to Amazon (the Amazon affiliate) will earn a % commission.
Simple right?
And the beauty of it is there's no need to pay out for product stock or storage fees. You don't need to worry about the customer service or taking payments side of things because it's all taken care of by the site you're referring people to.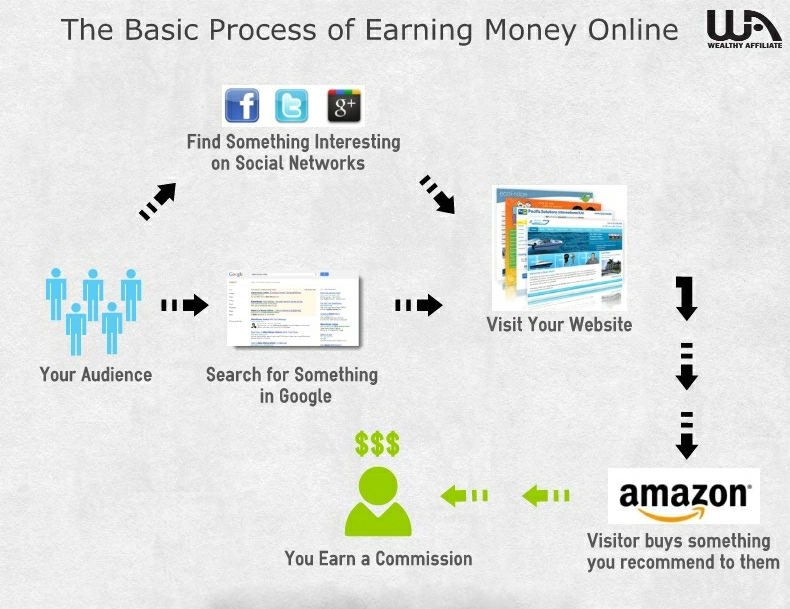 To make a lot of money with affiliate marketing you need these 3 things:
a) A simple, clear website in a popular, yet untapped niche
b) Ways to attract traffic
c) A way to convert readers into buyers

This is what Human Proof Designs specialise in. Here's how they do it:
A well-researched niche
Every website built by the Human Proof Designs team is in a niche you can be successful in because of the low levels of competition and high volume of monthly searches.
High quality, keyword-focused content
Whether it's the 8,000 words you get with the Starter package or the 16,000 words your website will have with the Premium package, each and every post on your website is he content is SEO friendly and targeted around one main keyword to get ranked in Google, Yahoo and Bing search engines.
Higher rankings leads to more traffic coming to your site, more conversions and affiliate sales for you
Every review and compairson article is aimed at readers who are in the buying stage and so much more likely to buy than someone casually browsing the web.
This is what you're getting with every HPD site. By levergaing Dom's years of affiliate marketing experience and utlising the skills of others, you're really giving yourself the very best chances of success.
How much money will your affiliate website make?
It really does vary but every website Dom and team build comes with an earnings potential breakdown looking at average click through rates, price of the products you're promoting, the average commission % and expected traffic volumes.
I do need to make one thing clear though: after you buy the site you still need to put work into it to continue to build it out with content. Dom will give you a list of keywords you can write new content around to target more keywords which will lead to more traffic and more sales.
Whether you write this content yourself or outsource the writing, you should know an online business like this is never 'finished' and as the owner this is something you're going to want to keep in mind.
The great thing about buying a micro niche site from Human Proof Designs is that a lot of the foundational and structural site is already taken care of so you can focus on building out your business.
With the exception of aged sites that have already skipped the Google sandbox so your rankings and following sales can start rolling in quicker. With ready-made and custom-made websites, you should allow 3-6 months for your sites to mature.
A live done-for-your affiliate website example
A typical example of a website built by Human Proof Designs is ShavingSmooth.com, a site aimed at helping men find the best straight razors.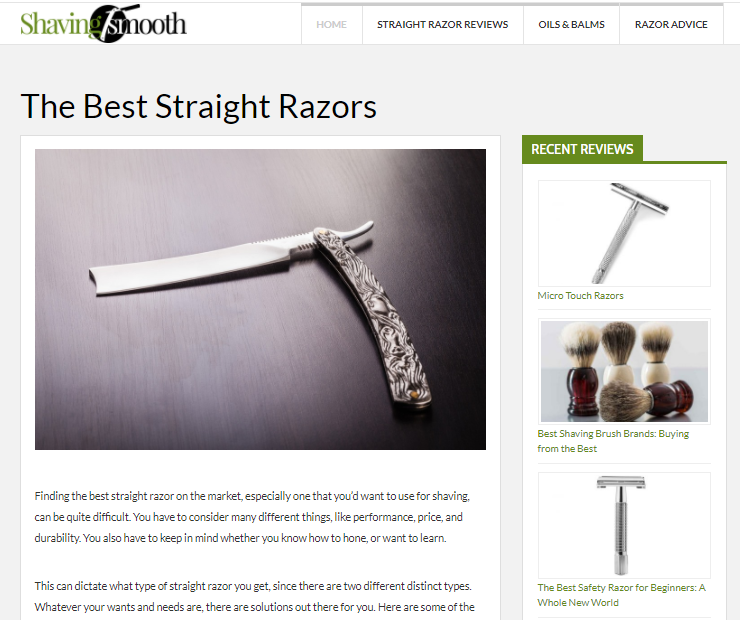 As you can see, this site is easy to navigate and filled out with helpful and informative reviews and comparisons.
In this case, people find this site by searching 'best straight razors', people land on the site and when they're ready, they click on one of the affiliate links.
The owner of this site makes money every time he/she sends someone over to Amazon.
Human Proof Designs success stories: real humans, real stories.
You can find tons of success stories and testimonials for yourlsef on the main HPD website but I just wanted to share a couple of my favourites with you.
Read about Jamie's Amazon affiliate success here and how he's made $7,773 in the last 12 months!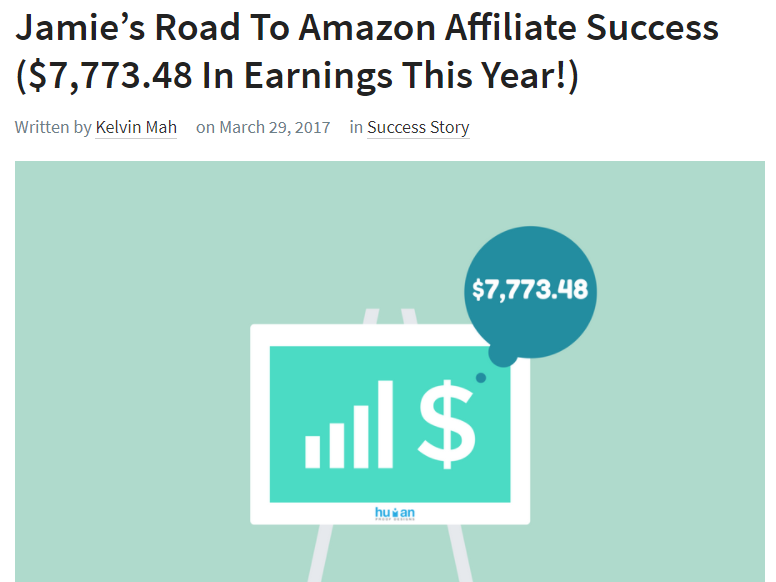 Read how robert went from frustrated beginner to a 4 figure niche portfolio here.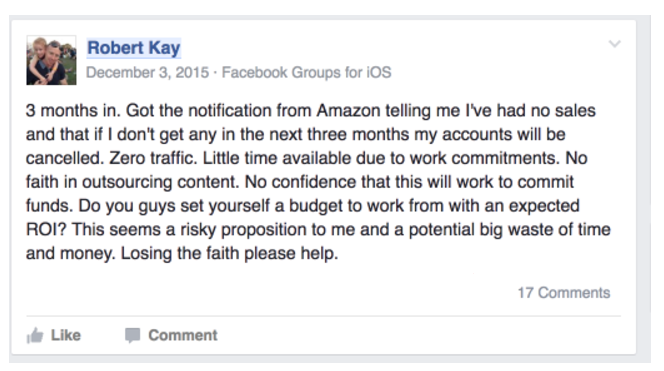 Rob struggled a lot at the beginning, and nothing personal to him, he was quite frustrated and vocal about those frustrations. It looked like he might be another person to throw in the towel early.
He didn't quit though, he kept at it, pushed through his frustrations, and is now a prominent member of the HPD community, and a successful affiliate marketer. It's a great example of what anyone can do.
If you'd like to read more stories like ckeck out these customer testimonials here.
These are real people like you and me who had tried many things to try and start earning online but their breakthrough came after they became a proud owner of their first affiliate website.
Is a Human Proof Designs done-for-you site for you?
Ultimately this is a choice only you can make, but I hope you can see the massive potential here and just how lucrative and proftable this can be.
Yes you're going to need to make a $998 investment but I think it's a smart business choice.
I can see two types of people who could benefit from outsourcing to Human proof Designs:
1. Newbies who want to get a strong head start
If your can afford it and would rather avoid the headaches and hassle of doing everything yourself from scratch then Human Proof Designs is a really solid option.
On the money side, it makes perfect sense. If you were to buy the premium website themes and plug ins yourself and pay a writer to get the same amount of content it would probably cost you more.
But more than that it's a HUGE time saver, especially if you're a complete beginner at this.
The danger of creating an affiliate website yourself is that you'll start off in the wrong niche, struggle to target the right keywords, not optimise your site for search engines or pick the wrong products to promote and end up finding yourself struggling to make a dime.
Going for a done-for-your niche website will certainly save your a lot of time. If I was a complete newbie I'd probably purchase a site (or a few) from Dom Wells and his team.
If you don't have $998 to invest or would prefer how to do everything yourself, I have a 10 day 100% free training course that will show you the exact methods I use to build profitable websites. Yes it'll take more time to learn everything yourself but you'll require a lot of new knowledge and skills as a result.
Whether you choose the quicker way or the cheaper way, it all depends on your budget, time and online income goals, both are great, solid options to getting started in affiliate marketing.
2. Already-successful affiliate marketers looking to outsource
If you've been an affilate marketer for any amount of time, you'll know the value there is value in outsourcing to build and scale your online businesses.
Let's say you're a pro at this and you've got the keyword research and website building process down to a tee, that's still a lot of hours spent doing it yourself instead of focusing your efforts more effectively elsewhere.
If you're looking to add a new affiliate site to your existing portfolio I definitely recommend HPD.
I have personally used Dom's article writing service and have been over the moon with the quality of work. I ordered the 10 article package and yes, you wait 4 weeks for the 10 articles but I'd rather wait a little longer, know the posts are well-researched and proofed so you get the quality you're looking for.
The bottom line
If you have the money, buying a done-for-you affiliate site from Human Proof Designs will save you time, frustration and money in the long-run. It gives you a great head start because you become the owner of a professional affiliate marketing business.
My recommendation?
Browse niche sites currently for sale and don't forget to check out the earnings forecasts. If they have one your like, get it. If they don't, submit a custom-made site request form.
Oh and one more thing to keep in mind; I wouldn't worry about whether your passionate or not about the niche you're entering into because, as Dom puts it so eloquently:
"If a niche makes you money, you quickly become passionate about it. But if your passion doesn't make you any money, do you stay passionate about it?"
Wise words.
Frequently Asked Questions
If you have a question about buying your first pre-built Amazon affiliate website or anything else related and you can't find your answer to here, please be sure to share your comments below and I'll get right back to you!
What happens after I buy a site?

For both custom-made and ready-made sites, once you place your order the HPD team will get to work on your site.

You'll get a list of domains to choose from and the support team will help you set up hosting. Once everything is set up, including all your unique affiliate links added to your site, you'll get access to the full video training library.

The whole process from start to finish usually takes 4 weeks.

With an aged sites, as they're already built, this process takes place within 7 days.
How well are the done-for-you Amazon affiliate websites designed?

Each website is built specifically to maximise conversion rates. When it comes to online business, simple is effective. After building 500+ done-for-you websites already they've honed their skills in maximising conversions.

As you've seen in examples, each website is clean, crisp and professionally put together with related Amazon images and a comparison chart on the homepage. (The Premium package also includes branding and logos.
Is hosting included with Human Proof Designs sites?

Although domain name registration in included you will need to arrange your own hosting. The HPD support team can guide you through it

Click here for Dom's top recommendation for low cost yet fast web hosting.
Is Human Proof Designs a scam?

No, it is 100% legit.

I think it's natural to be cautious in an industry littered with cookie-cutter sites and scams, but I know you'll never regret buying an affiliate website from Dom and his team.

Human Proof Designs has been around since 2013 and have built a thriving community and they're just getting started.

They offer incredible value and for $998 you're getting a website that's easily worththat when you factor in the cost savings and time, plus the lifetime guarantee of support and hours of training you're getting, it's a good deal.
Will HPD help me get traffic to my site?

Yes, everything you need to know about builing multiple traffic sources to your affiliate webstes is included in the training. Methods include the use of social media, organic search engine traffic and video marketing.

Will my new website definitely make money?

Yes if you follow the training, get support and help when you need it and keep going. It's all about taking action to make the most of your site and reap the rewards.

I'm sure there are people who buy a site and leave it to sit there, these people won't make much money, if any.
Do Human Proof Designs give discounts for bulk orders?

Yes, if you buy five websites or more. To get precise details, send a message to Dom using this contact form here.

To find out what the discount is, send a messmore than 5 sites at once we will offer a discount. If you've already bought 1 or 2, we can still apply the discount after the fact.

For beginners, I only recommend you start out with one site, take the training and get success with first, before moving forward and buying more.