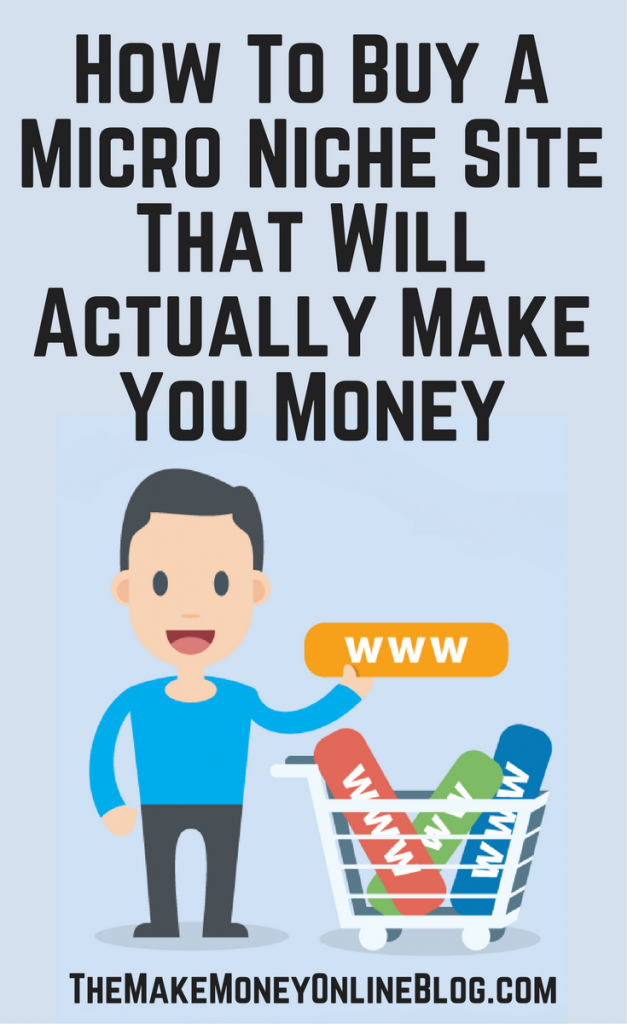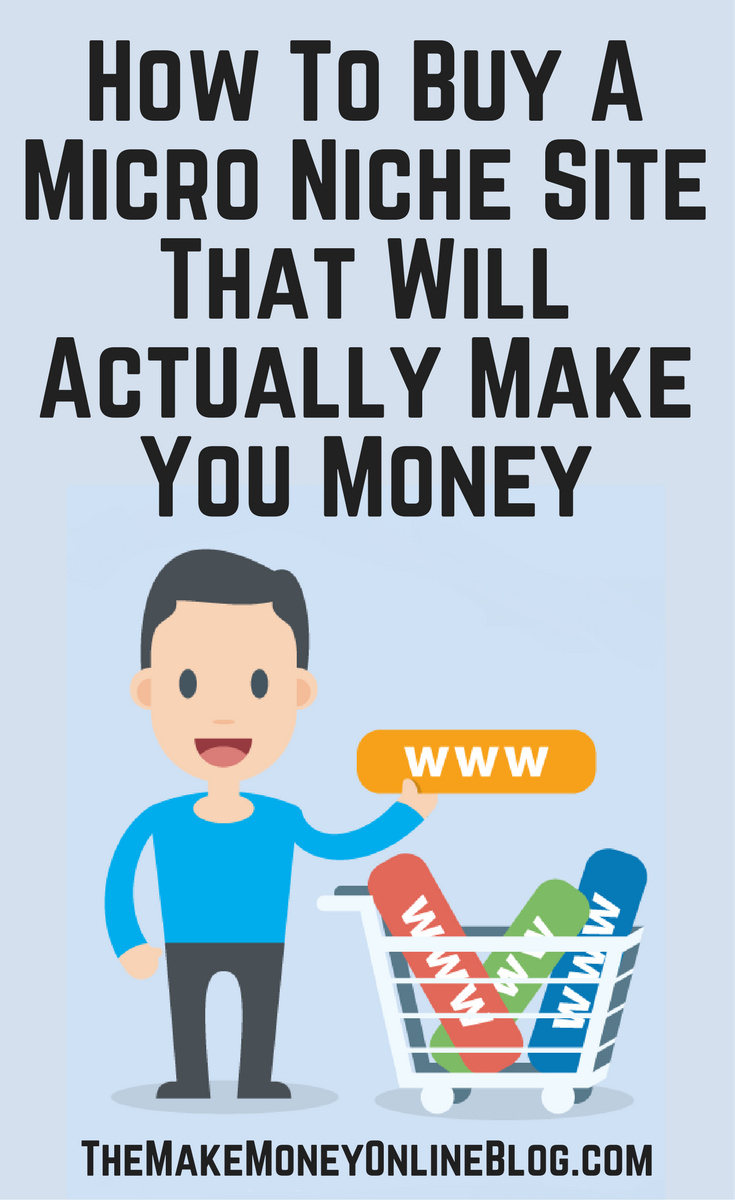 Whether you're looking to find out how to buy a micro niche site, a ready made turnkey website or a done-for-you Amazon affiliate website, there's some things you should know…
Not only to safeguard yourself from the many website selling scams out there, but to make sure you make a good and solid investment.
I'm Simon and today my affiliate website porfolio makes me over $6,000 a month (and growing).
When I started out I couldn't afford to outsource anything – I did all the website building, content creation, social media promoting, design etc. myself.
You name it, if it had to be done, I was the only one who was going to get it done.
This is how most of us start out I think, but as most regular Make Money Online Blog readers know – I'm a huge advocate for re-investing the money your affiliate websites make back into your businesses.
Today I use sites like iWriter.com, Fiverr.com and HumanProofDesigns.com to outsource website building, logo designs, keyword research and writing and I recommend you do the same as soon as you can.
I always say outsource as soon as you can! Because it's the fastest way to give you time to concentrate on scaling and growing your online business.
In his book Rich Dad, Poor Dad, Robert Kiyosaki talks about how the rich are rich because they know how to leverage their time and money so it works for them. I read it when I was 18 and since then I've learned how to make time and money work for me.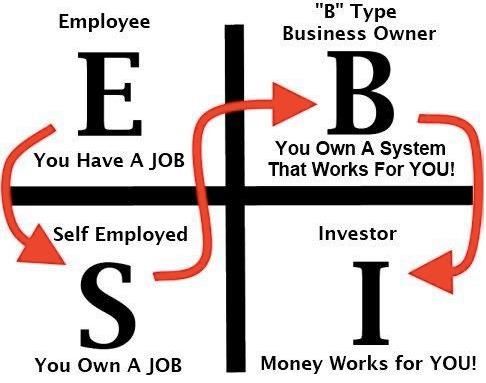 I honestly believe buying a micro niche site is one of the best ways to do this.
[alert-note]Niche site: A website with unique, quality content usually focused on a highly specific subject that makes money while answering the search engine visitor's query.
– EmpireFlippers.com[/alert-note]
If you're reading this, I'm going to assume you agree with me. The very fact you're looking to buy a ready-made turnkey website shows you're at the stage now where you can start outsourcing to take your online businesses and earnings to the next level.
But buying a done-for-you Amazon affiliate website is a big step and there are things you need to look out for if you're to safeguard your investment and see a return.
What we'll look at in this post
5 tips on how to buy a micro niche site and actually see a return on investment
The best place to find micro niche sites for sale
7 important questions to ask yourself before you buy a micro niche site
Browse micro niche sites available to buy now
5 tips on how to buy a micro niche site and actually see a return on investment
1. Avoid Cookie Cutter websites like the plague
[cookie cutter image]A cookie cutter site is a website you buy along with dozens of other people.
You've got be really careful with sites like Flippa.com where you'll lots of people making big promises but with nothing to back them up.
It's hard to find good website sellers out there who don't try to rip you off by making as much money as they can selling the same website to as many people as possible, changing nothing but the domain name and logo.
Sites with duplicate content will never get ranked in Google so you can wave goodbye to any potential of free website traffic coming your way.
Recommended reading:
2. Don't ever buy a website based on the 'earning potential' it has
Most website seller set the the starting price based not on what the website is worth now, but on what they think it's be worth say in 1 or 2 years time.
The fact is the only reason you're looking to buy a micro niche website is because you're investing into an online business.
This is why you need to make sure you know exactly how much your website can earn for you and what you need to do to make that happen.
There are affiliate niche site builders out there who will give you full information on what keywords a particular website is ranking for, what the estimated monthly earnings are backed-up my hard data. (more on this in a sec)
3. Look at the quality of after-sales support
Buying a website is just the beginning of the process. It's important to look at what level of support you're the website owner.
Will the person or company you're buying the website from give you an action plan to maximise your affiliate commissions or just leave you high and dry after the sale has gone through?
The truth is, most website sellers don't even offer any support whatsoever. In their eyes you buy the website 'as seen' and that's the end of it.
Ideally, you should look for a micro niche site that comes with an earnings caluclator, a keyword strategy and plan of action so you get the most out of your investment.
4. Only go for websites built with the WordPress platform
Be careful when buying pre-built or custom-built websites that are not built on well-known website building platforms like WordPress.
Why?
Because if something needs to be changed or fixed down the line you'll save yourself a headache (and a fortune) if you can't do it yourself or get someone else to do it easily.
5. Always go for quality design and content
Never buy a website with Private Label RIghts (PLR) content. This could be articles or posts that you can buy cheaply or are available for free.
is filled out with only high quality, unique sales copy in order to maximise the user experience of your website visitors and maximise conversions.
It might be worth checking a sample of posts for duplicate content, Copyscape.com can be your best friend here.
Ideally you want a website that's built using premum (paid-for) themes and plug ins that make your website look professional, give you quick page loading times and make your site search engine friendly.
The best place to find micro niche sites for sale


In my opinion, Human Proof Designs is the best place to find micro niche for sale and for several reasons.
Feel free to check out my Human Proof Designs review for the full low down.
Dominic Wells founded Human Proof Designs in 2013 after seeing that 99% of websites for sale are rubbish, are full of duplicate content that will never see the light of day in terms of search and don't live up the outlandish earnings they promise you.
Since launching Human Proof Designs Dom wells has become an expert at building teams and outsourcing and is constantly refining and streamlining the website building process.
Here's a video with Dom explaining how he will help you make more money online:
In 2016 alone Dom and his team sold over 500 high quality niche sites that are earning their owners an online income stream month on month.
Feel free to check out customer's testimonials here.
Pre-built websites are made available every 2 weeks and cover a wide range of affiliate niches. A majority of sites build by the Human Proof Design team are done-for-you Amazon affiliate websites.
Or if you've already got a niche website idea and just want to someone to built it, you can submit a custom-niche request.
7 important questions to ask yourself before you buy a micro niche site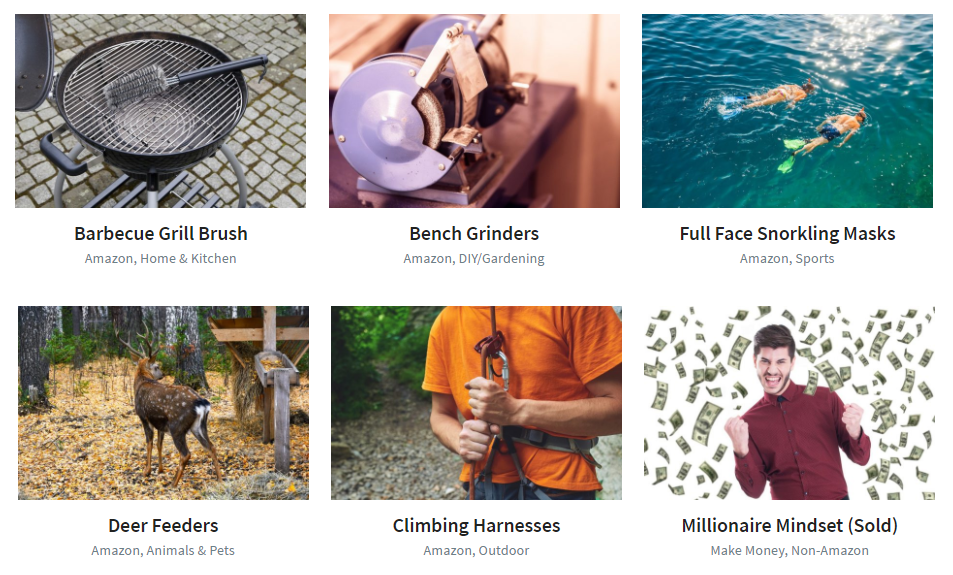 Buying a done-for-you affiliate site can be a great way to launch your affiliate marketing career, give you a headstart and save you months of building a website from scratch.
It can also help you avoid the many mistakes newbies make and fast track your affiliate commission earnings.
And if you're a more experience affiliate marketer looking to expand your affiliate website portfolio, investing money into an income-generating asset like a niche site can be a smart strategic move.
Whever you choose to buy a website from, here are 7 important questions to ask before clicking that buy button:
1. What are the different types of niche sites?
Ready-Made
Human Proof Designs built professional WordPress niche websites that come with high quality, unique content, reviews and product comparisons already done for you
Each niche has been meticulously researched to beforehand so that you know your website is based in an untapped niche market to ensure it's popularity and profitability.
Each site comes with a breakdown of estimated earnings, a keyword pack and hours of video training to ensure you get the most out of your investment.

Custom-made
If you already have a specific niche in mind you'd like to exploit, you can request a custom-made niche site that's already optimised for search engines and ready to earn an income from.
This can be a huge timesaver and cut out the long learning curve most beginners to affiliate marketing have to go through.

Aged Sites
An aged site is a website that's been indexed in Google for 6 months or more. As all experienced affiliate marketers know, Google doesn't start to rank a new website seriously until the 6 month mark.
The beauty of buying an aged site is that you can view existing Google rankings and sales history because they're already built they can be transferred over to you very quickly.

2. What are the pricing options?
Aged websites are $1,497 just because they speed up the time it takes you to start earning by 6 months.
For Human Proof Design's ready-made and custom-made sites you have two price points to choose from – The starter level is $998 and Premium is just $1299.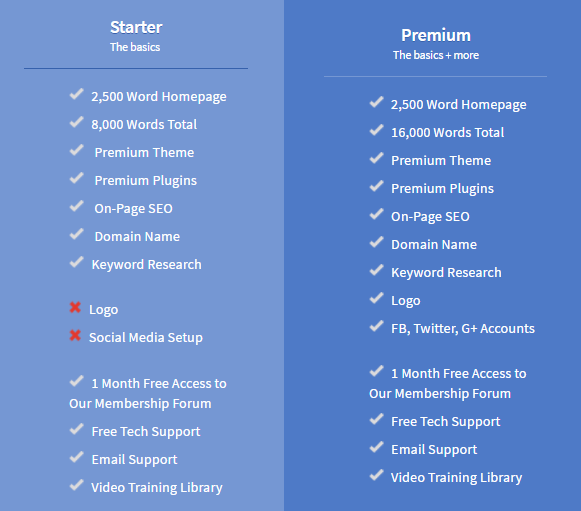 Here's an overview of what you get with each and the differences between the two:
3. How long will it take before I start making money from these sites?
Although each site is already indexed and gaining rankings in Google, you get hundreds of video lessons and setp-by-step tutorials so you can continue to add content to your site and grow it to where it could be.
Many Human Proof Designs customer starting earning within a couple of months. You can check out real customer testimonals here.
4. Can I see some micro niche website examples?
Sure! The easiest way to to check the done-for-you Amazon affiliate websites for sale here.
For live example of successful websites already making money by the Human Proof Designs team check out electricscoots.com and  shavingsmooth.com.
5. How much can I earn from each affiliate website I buy?
Each pre-built website you buy from Human Proof Designs come with an earnings summary bases on the overall niche, keywords your website is already ranking, price point of the Amazon products the site is promoting and other key metrics.
You can few the potential earnings information by clicking on any done-for-you website here.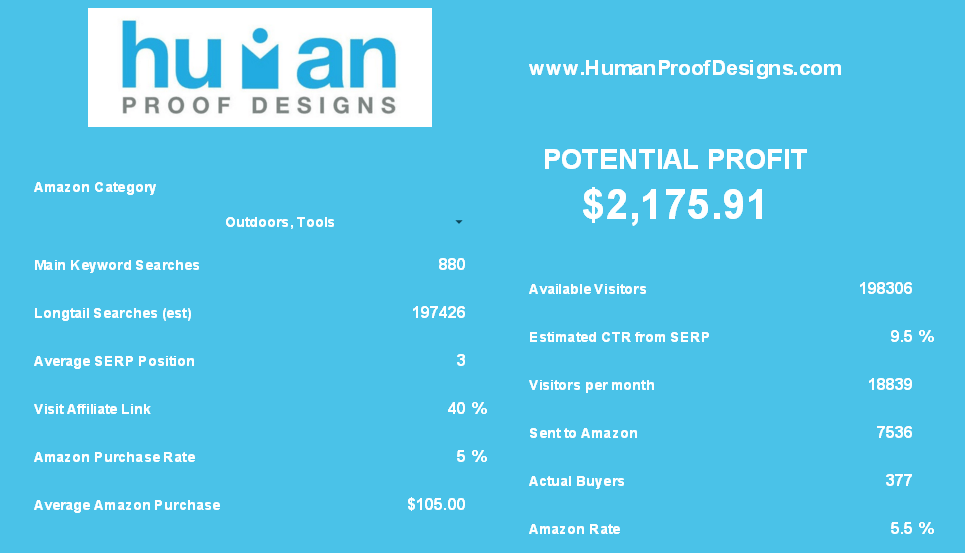 6. How long does it take to get my website?
As soon as you purchase a niche website, Dom and his team will immediately get to work to building it for you. Within 4 weeks the income-generating asset is signed over to you.
Here's when you trasnfer the website to your own hosting and add your own unique affiliate links to start getting paid.
With aged sites the process is a lot quicker and is usually completed in a week.
7. How much content will the website have and if I want more can I outsource it to Human Proof Designs?
Yes and I've taken advantage of Dom's SEO article writing service myself for some of my existing websites.
I tried to outsource my blog post writing to places like iWriter.com and Fiverr.com and even with the higest rated writers, I was left bitterly disappointed.
But, as I say, with Human Proof Designs you can be confident that each and every post will be written and edited by experienced professionals.
After purchasing your site you can order monthly content packages if you wish. You can get a discount by ordering monthly or bulk content packages and be sure you're getting high quality sales copy at a reasonable price, delivered in a timely manner.
Browse micro niche sites available to buy now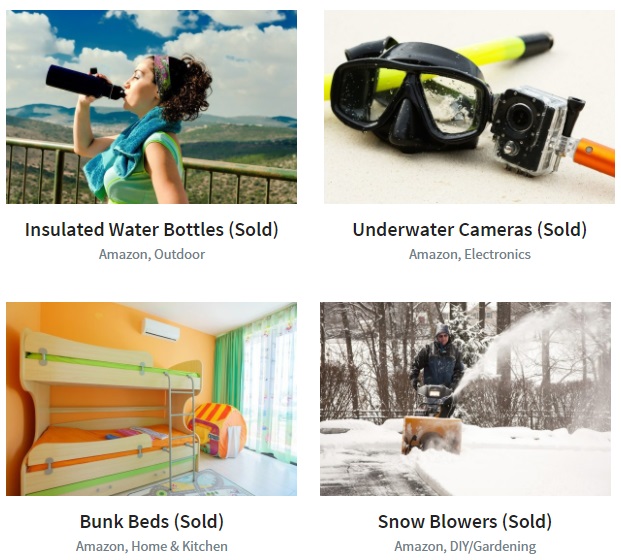 So if you're an aspiring entrepreneur looking to begin your affiliate marketing journey, I hope I've shown you buying a done-for-you website really can speed up the whole process.
You can avoid the mistakes most newbies make and with the ready-made sites, you know you're entering into a profitable niche you can actually make money in.
If you're already a more seasoned affiliate marketer with several income-generating webstes already, outsourcing the niche and keyword research, website building and content creation is a great way to free up your time, make your money work for you and build out your site portfolio.
Click here to find out more and buy a micro niche site.
Have your ever bought an affiliate niche website before? Do you have any questions about making money with micro niche sites? Be sure to comment below and I'll be more than happy to help you out.
Simon Crowe is on a mission to help as many people as possible kiss their bosses goodbye.
Take the free Commission Academy course to discover how to smash your online income goals and make your dream business a reality.