Today I'll be reviewing one of the latest make money online product to hit email spam folders across the land called Home Income Millionaire created by Marc Jennings.
Marc makes some pretty big claims on his sales page, saying you'll discover how to make $500 a day after watching his 30 minute promo video. He also claims that he will show you how to become a millionaire without lifting a finger!
So here's the real question:
Is Home Income Millionaire a legit money maker or just a big fat scam?
I'll be straight with you, after looking at the sales page I already know this is going to be another one of those crappy hyped-up get-rich-quick schemes that promise you the earth but never deliver…
I mean, who else promises you $5,000 checks by the end of the week for doing nothing? Let's see what Marc has to offer and find out if this is the best program for you going forward.
Home Income Millionaire Review At A Glance
About: Marc Jenning's Home Income Millionaire is supposed to be a done-for-you make money online system that helps you generate $5000 daily.
Price: Commission levels are dependent on the membership level you are in. Levels range from $97, then $1,000, $3,000 and $5,000.
Pros: None at all.
Cons: Hyped-up sales tactics, no way to prove Marc Jennings is a real guy, pyramid scheme.
Verdict: Home Income Millionaire is an expensive pay-to-play pyramid scheme scam. Just avoid.  

What Is Home Income Millionaire?
What Home Income Millionaire claims on their sales page and what Home Income Millionaire actually is are 2 entirely different things.
Marc tells us his program which he calls "Millionaire Coach" is a completely done-for-you system that generates money on autopilot because his team of experts do all the work for you.


In reality, this is a done-for-you sales funnel like Funnel X ROI, Copy And Paste Ads and Instant Cash Solution where you buy into it so you can promote the same product you just bought to others.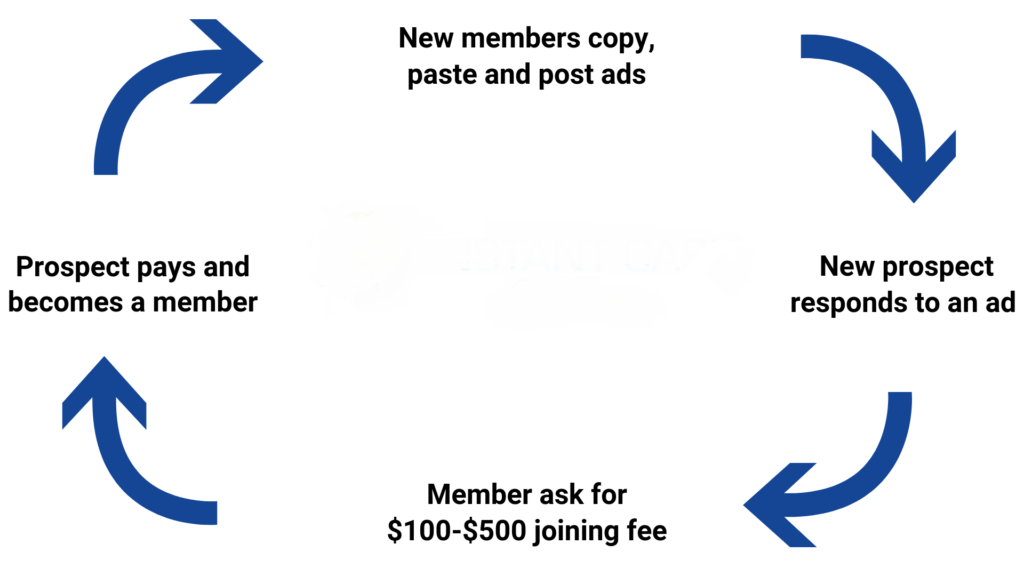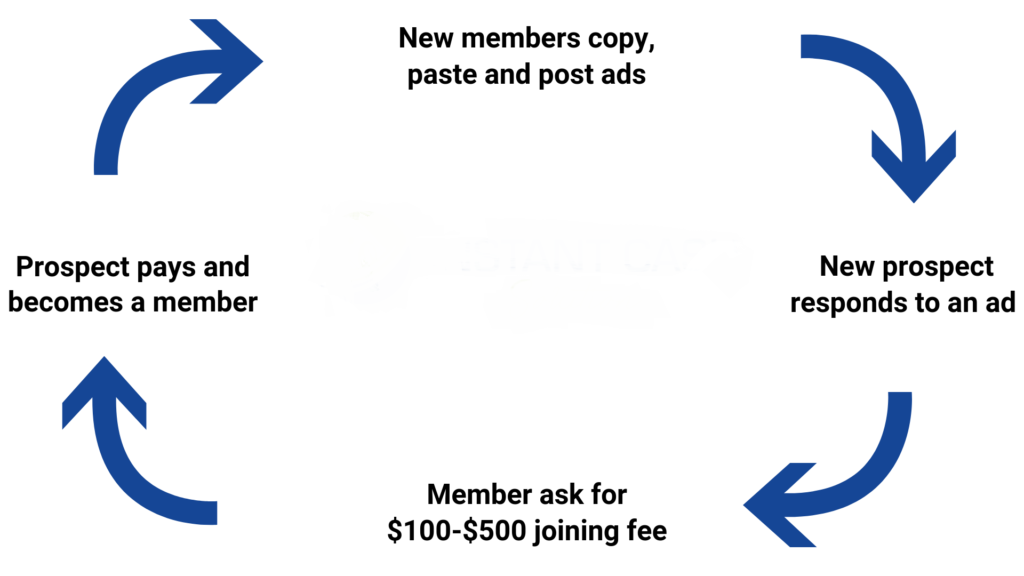 In other words: Home Income Millionaire is a pyramid scheme where all the training is centred around learning how to promote Mark's system in the hope of recruiting others to join.
See Investopedia's pyramid scheme definition:
"The vast majority of pyramid schemes rely on profiting from recruitment fees and seldom involve the sale of actual goods or services with intrinsic value."
Can You Make Money With Home Income Millionaire?
Yes, it's technically possible, but the truth is, according to Pyramid Scheme Alert, 88% of people unfortunate enough to get sucked into these things never make money. In fact, they lose everything they put in, which is exactly why pyramid schemes are illegal in most countries.
Marc Jennings' program is set up so that it's the few at the very top that makes a lot of money whilst everyone else loses out at their expense.
But here's the real kicker:
With this program you have to buy in at each level with the price going up incrementally at each stage starting at $97, then $1,000, $3,000 and $5,000.

Why?
Because you're told you'll lose money if you don't.
Let's say for example you recruit someone who joins at level 1 while you're at level 1, if they decide to upgrade to level 2, you won't qualify for commissions.
The truth is, you should never, EVER have to buy a product before you can start making money by promoting it and a legit online business opportunity would never ask you to.
Is Home Income Millionaire A Scam?
Yes, it is, without a doubt! That's a claim I don't make lightly but with this, there's just no other way to call it.
Suffice to say, I do not recommend this system to anyone because, despite the outrageous claims of making $5,000 a week, you'll get nowhere with this program.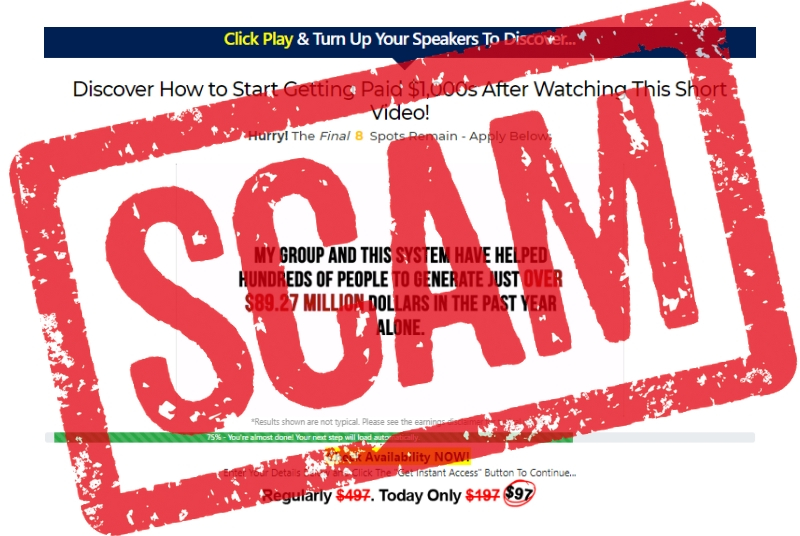 How can I be so sure? Here are the tell-tale signs Home Income Millionaire is a scam you're better off avoiding completely:
5 Signs Home Income Millionaire IS A Scam
1. Hyped-Up Spammy Sales Tactics
The sales video starts by hitting you with spammy images of yachts and cruiseliners, sandy beaches and huge mansions complete with tennis courts and swimming pools.
All in all, the dramatic music and the tons of dollar signs thrown up on screen make for a pretty tacky and cheesy sales video that uses manipulative marketing techniques to press your emotional buttons.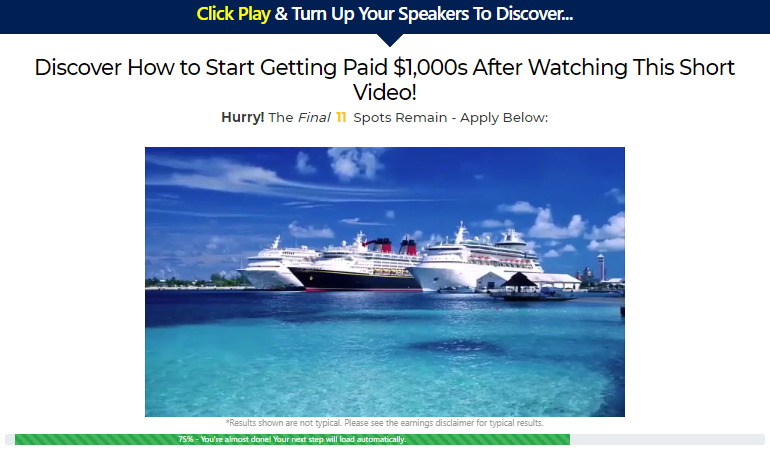 Instead of substance, all we get is hype. At no point does Marc tell you exactly what Home Income Millionaire is about, how you'll be making money or how the business model works.
2. We Have No Clue Who Marc Jennings Is
You'd think the man who stumbled upon a millionaire-making system would be pretty well-known, but do a search for this guy and you get nothing. Seriously, we have no idea who this guy actually is.
I suspect this is Marc Jennings is nothing more than a fake name used to conceal the owner's real identity, which begs the question:
Why would any legitimate product creator not be happy and proud to stand by his life-changing program?
But of course we know the real reason; internet scammers hide behind a cloak of anonymity so when people realise they've been scammed and want their money back, they can't be reached.
3. Everyone In The Sales Video Is A Paid Actor
Just like the China Cash Clone scam I exposed yesterday, the Home Income Millionaire creator uses paid Fiverr actors to give us fake video testimonials.
Remember the guy calling himself George Willingham who told us he's made more cash with this system than he could have ever imagined?
He actually runs a gig on Fiverr.com where he gets paid to make fake testimonial videos and read from a script:

Then there's this guy who said just last month he passed the $1 million mark all thanks to Marc Jennings and his system…
Except, yes, you guess it, he too is a paid actor hired by the Home Income Millionaire scammer to try and pull the wool over our eyes:

If this doesn't convince you to steer clear of this program than nothing will. If the guy behind this (whatever his name is) is willing to lie about this, what reason do you have to believe anything you saw on the sales page?
4. This Scammer Uses Fake Scarcity To Manipulate
Yesterday the Home Income Millionaire website told us just 8 spots remain on this once in a lifetime opportunity and today it says the same. In fact, I can pretty much guarantee they'll still be 8 spots available this time next week, next month and for however long this scam site stays up.

And that's because this is nothing more than a computer generated number created to make you think your chance to get in on this is rapidly closing so without engaging your brain, you'll get out your wallet and pay the $97 joining fee.
Try and leave the site and you'll also see this warning pop up telling you you'll regret it if you don't sign up today.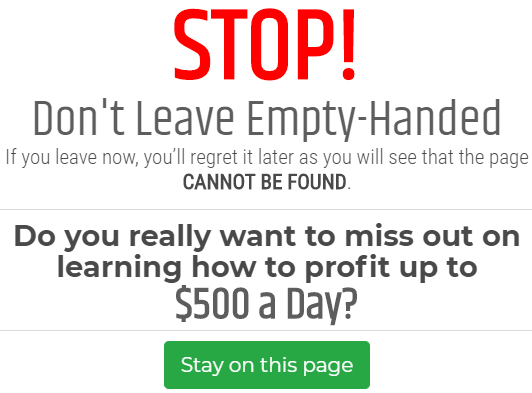 The reality is the Home Income Millionaire scammer wants to rake in as much cash as possible and this is nothing but a ruse designed to deceive. Don't fall for it!
5. The 'Millionaire Mentors' Are NOT There To Help You
In the sales video, Marc talks about how there are a team of so-called millionaire mentors ready and waiting to help and guide you every step of the way.

Sadly, this couldn't be further from the truth…
Like wolves in sheep's clothing, these coaches are in fact highly trained salespeople whose sole job it is to drain your bank account for as much cash as they can.
After asking you what your income goals and what your available credit is these guys will pressure you to invest more and more of your hard-earned cash to 'take your business to the next level' by paying into to the higher, more expensive levels of the scheme.
The more you trust these guys, the more money you will lose. It really is as simple as that.
Home Income Millionaire Review Rating: 5/100
Home Income Millionaire is the last program I would recommend you join. You think you're getting a whole income generating system for $97 when really this is just the start of this money sucking scam.
Safe to say, you're better off investing your time, money and energy elsewhere. While there are so many great online courses out there that teach you online money making methods that actually work, Home Income Millionaire isn't one of them, but don't lose hope.
After reviewing over 500+ training programs, the highest rated of all time is Invincible Marketer.
I've written a complete hands-on review of Invincible Marketer where I outline how this training platform helps me earn $7,000+ per month.  
So forget about the hyped-up scams and hollow promises of fast and easy money for doing nothing because they never deliver real results and build a legit online business for yourself.
You'll be glad you did!
Scroll Down And Chat With Me Below
Now you've read this Home Income Millionaire review in full, have I done enough to convince you this is a program not worth buying into? If you've already bought this product I'd love to hear from you! What was your experience with it?
If you have any questions at all about getting started online then feel free to ask me below and I will get back to you personally.
Simon Crowe is on a mission to help as many people as possible kiss their bosses goodbye.
Take the free Commission Academy course to discover how to smash your online income goals and make your dream business a reality.