Hi, I'm Simon and welcome to the ultimate Funnel X ROI review where together, we dig deep and find out if Funnel X ROI is a scam designed to deceive or a legit money-making opportunity that's worth investing in.
It's a program that's being promoted heavily on Facebook right now and being a big believer in building multiple income streams, I just had to check it out.
I've been a full-time internet entrepreneur since 2015 and love nothing more than exposing scams and helping people like you make your online income goals a reality.
David Dekel says join his free program and you'll be 'stacking your benjamins nice and high'.
I'll be honest:
So-called $300/day systems rarely live up to their own hype so it'll be interesting to see how this training program stacks up.
Let's take a look at what I found out so you can decide if Funnel X ROI is right for you.
Funnel X ROI Review (Quick Overview)
Product name: Funnel X ROI

Website: FunnelXROI.com

Product type: Affiliate marketing sales funnel
Created by: David Dekel
Advertised price: Free
True cost: $1,000-$4,000
Summary:
If you don't have time to read the whole review, here's the short version:
Right from the start David Dekel promotes his training system as a completely free and fast way to start earning affiliate commissions, saying:
"Give me 15 minutes and I'll show you how to make $300.00 per day for FREE!"
It's only on the inside you realise you could easily rack up $1,000's in unexpected expenses as you're coerced into paying for monthly traffic generating memberships and subscriptions. David's cashing in his commission checks for referring you while you're in the red before you've even started.
David definitely has a lot of experience in affiliate marketing, it's just a shame he's chosen to promote online pyramid schemes like Easy1Up that have membership levels costing up to $2,000, a price that will severely limit any potential earnings if not paid.
David's done-for-you sales funnel may give newbie affiliate marketers with lots of cash to spare a slight head start, but means you have no choice or control over the products you promote.
With no mention of any free traffic generating techniques, your only option is to risk your money upfront to pay for the type of paid traffic that never converts well, so it's really difficult to make your money back.
Rating: 3/10
Recommended: No
Wanna Start Making Money Online For Free?
Who The Heck Is David Dekel?
Whenever I'm looking into a possible income opportunity I think it's important to look at the reputation and track record of the guy making all the promises to see if they're trustworthy or not.
In this case, David Dekel is the trainer, owner and founder who says it's his mission to get you to your first $100 day.
In 2014 he grew sick of the corporate lifestyle after working long hours for somebody else, so he decided to take a step of faith and make a real go of it online so he could spend more time with his family. David's been working for himself as an affiliate marketer ever since.
His first training product was an email marketing course Stealth List Building Formula, an email marketing course which received mixed reviews.
Here's the man himself showing us how he's made money online and telling us why he created Funnel X:
It's clear David has built a highly profitable affiliate marketing business and has a lot of experience in the industry. He doesn't tell us though if the earning proof he showed us in the video is as a result of people signing up to the Funnel X system.
What Is Funnel X ROI Exactly?
Head on over to FunnelXROI.com and what you'll see is an invite-only free sales funnel system that's claimed to be worth $1,997.
Creator David Dekel says he can teach you how to build multiple streams of income so you can make money in your sleep. More than that, he says he's going to give you completely free access to his done-for-you sales funnels complete with proven to convert offers and lead generations systems.
In the sales video, David says Funnel X ROI (formerly known as Funnel X) will turn you into a 'commission magnet' making sales day after day without much effort, even if you've never made a dime online before.
I decided to sign up to find out this training product delivers on its promises. Here's what the landing page looks like.
$300 a day for 15 minutes' work is a pretty bold claim!
I answered yes to both questions, entered my email and hit continue…
On the next screen, there's a video where David talks you through how this ready-made sales funnel will give you a way to earn consistent commissions by sending a steady flow of traffic to various preselected offers.
He goes on to say this funnel generates money for you automatically, all you have to do it follow his instructions to get it set up.
Funnel X ROI is free to join, but stick with me here and you'll see there are other associated costs involved that you need to be aware of.
How Funnel X ROI Really Works
Activate your Funnel X ROI account and you're taken through a series of 4-5 screens in order to 'configure' the system.
On each screen, David guides you through how to sign up for various paid marketing tools and membership sites in order to 'maximise your future earnings'.
Though he makes out signing up and paying for these tools is optional, the website will not let you go forward to the next screen without you providing proof of purchase.
Funnel X Project is effectively a sales funnel for various get-rich-quick programs and online pyramid schemes. While the system itself is technically free, you are going to have to pay out for these programs before you will be able to make any money at all.
In other words, before you can make money sending people through the done-for-you sales funnel, you are going to have to go through the sales funnel yourself first.
Who is Funnel X ROI For?
If you're a complete affiliate marketing newbie with a lot of money to spend then David's training could help you to make your first commission, but it's definitely not as easy and quick as he'd like to make you believe.
It's advertised as a free system and while it may be free to access, it's not free to implement. Be aware going into this that you will need to make a considerable financial investment before seeing any returns.
Alternatively, if you're looking to start a profitable affiliate marketing business on a shoestring budget then check out this free beginners course.
Counting The REAL Cost Of Funnel X ROI
Throughout his promotional videos, David Dekel gave us no indication about the amount of money you're going to need to spend before you can start to see commissions coming in. Instead, he insists his system is "free" with "no strings attached".
Some of these offers have monthly and yearly membership costs attached and if you're new to the world of making money online then this could easily catch you off guard.
As you go through the steps to 'configure your system' David will tell you to buy into 5 additional tools and programs. (Programs you're going to have to buy into to be in with any chance of success following his methods.)
Let's look at each one in turn so we can calculate the real cost of this 'free' Funnel X system:
1. Easy1Up
First up is Easy1Up, created by Peter Wolfing, a notorious online scammer. Marketed as a simple system to unleash the earning power of the internet Easy1Up is, in fact, a cash gifting scam.
Easy1Up has 5 membership options, starting at one-off payments of $25 going up to $1,000:
Similar to other online pyramid schemes I've reviewed like Copy And Paste Ads and The Big Profit System, the only way to earn is by recruiting others into the scheme, but it gets worse…
If you join at the $100 level and someone you refer joins at the $25 level – you'll get a commission. If they upgrade to the $100 Elevation Elite level, you'll still get paid, but if they upgrade to the $20 Vertex, $500 Vertex Elite or $1,000 Vertex Pro levels you won't get a penny.
Setting up the commission structure this way incentivised you and the people you recruit to pay the maximum amount just for the possibility of making more in commissions.
2. Now Lifestyle
Next up on the list of programs you'll have to sign up for is Now Lifestyle, a health-based multi-level-marketing company led by Joel Therien where you can earn commissions by selling products or recruiting other Now Lifestyle representatives under you.
Membership is going to set you back another $24.97 a month (or $100 paid yearly) or $250 per year for the reseller program.
3. ROI Panel
The next make money online program David Dekel gets you to sign up for is his very own product – ROI Panel!
Let's be clear here: you're effectively paying David for the privilege of being able to promote HIS product.
What is it? Basically, just a spreadsheet that helps calculate return on investment (hence, the ROI) to make sure your advertising campaigns are running optimally.
It doesn't come cheap either – check out the the prices of these packages:
4. Udimi
Once you've signed up to these make money online programs you've now effectively got your products to promote. The next step of David's method is to drive traffic to your offers and hope to start making sales.
This is where the next too marketing tools come into play. Udimi is a solo ad buyer and seller platform where you pay people with an extensive list of email subscribers anywhere from $0-35 to $100 per click to send your offer out.
Udimi also has a monthly $19.95 fee.
5. Advertising Boost
Finally, Advertising Boost is a vacation incentive program that helps business improve their conversion rates by offering them a chance to win an around the world trip.
You can choose to pay monthly at $49 per month for the Silver Plan with a 7-day free trial or opt for the Gold Plan at $458 per year.
Anywhere from $397 to $3494 upfront costs plus $50/mo and $100's per email campaign.
The real price of Funnel X ROI = up to $3,574!
When you add it all up together, many people could find themselves paying over $3,000 for what they thought was a free system.
The expenses we've totted up so far are just to be able to promote the offers, we haven't even taken into account the advertising budget you're going to need to try and drive sales.
Here's a full cost breakdown:
| | | |
| --- | --- | --- |
| Product | Best Case | Worst Case |
| Easy1Up | $25 | $1,000 |
| Now Lifestyle | $100 (per year) | $250 (per year) |
| ROI Panel | $197 | $1,497 |
| Udimi | ad fees | $239.40 (per year) + ad fees |
| Advertising Boost | $458 (per year) | $588 (per year) |
| Grand TOTAL: | $782 | $3,574.40 |
Can You Make Money With Funnel X ROI?
If you're going to be handing all this money over you'd better be sure it's worth it! So can you really make commissions while you're in the shower like David says?
In theory, all you have to do to start making money is to send traffic to your capture pages and start generating commissions…
Unfortunately David Dekel doesn't teach you how to generate traffic, instead, he sends you off packing to the Udimi solo swap website where you pay out for every click (while he makes a nice commission of you in the process.)
Following his method, you're always going to be forced to use paid ads to try and generate sales, which is a hard climb. Email swipe traffic does not convert well and most of your emails will be immediately consigned to people's junk mail folders…
For beginners, solo ads can be very risky, especially when you don't know which solo ad vendors are going to give you good quality traffic or not. You could easily find yourself burning through your entire ad budget with nothing to show for it.
I've made $100,000's in the last 4 years through affiliate marketing so of course, I recommend becoming an affiliate marketer to anyone – just not the way that's taught here.
I'm a big believer in keeping your costs (and risk) as low as possible, especially when you're a beginner.
I make $7,000+ each and every month online. My total outgoings are $24.91 per month for training and hosting plus $12 per year for my website domain.
That's it!
I never need to buy a product before I can start promoting it and making money and there's no need to pay for any advertising because I've learned how to get my websites on the top spot of Google so my websites attract free daily traffic on their own. This way makes far more sense in my view!
Is Funnel X ROI A Scam Or Legit?
While I don't think Funnel X ROI is a scam, I can't see it's legit either. I think it's borderline…
I mean, is Funnel X ROI a scam because you're told it's a completely free system only to find out, later on, you'll need to spend $1,000's to be in with a chance of hopefully making it back?
Is Funnel X ROI a scam if the owner tells you to join scammy pyramid schemes like Earn1Up so he can cash in?
Ultimately, only you can decide whether this is the right way forward for you, but I know I won't be investing any more time into it.
Final Rating: 3/10
David Dekel's claim that Funnel X is a free no-strings-attached sales funnel just isn't true. As we've just seen, this could end up a very costly business venture for any aspiring entrepreneur.
If you're serious about making a sizable income online then you'd be much better off doing what I did and create I did and starting with your own affiliate marketing website.
It's never been easier to claim your piece of virtual real estate and doing it this way means you don't have to spend a fortune in ads because people come looking for you.
David definitely knows his stuff and no doubt you could learn something from what he teaches, but if you're looking for a no money down way to start earning a passive income online then there are plenty of better options out there, options where you don't even need your wallet to get started.
Training platforms like Wealthy Affiliate have a 100% free beginners course (now accepting new members) that takes you by the hand and walks you through the entire process of making money online with a community of like-minded folks who are ready to help and cheering you on every step of the way.
What do you think about David Dekel's Funnel X ROI system? Scroll down and share your thoughts – we'd love to hear from you!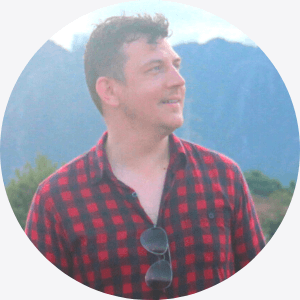 About Simon Crowe
Simon launched The Make Money Online Blog on a mission to help aspiring entrepreneurs kiss their bosses goodbye.
Get his free Affiliate Marketing Guide For Newbies to learn exactly how to make your dream business a reality.