In this Copy And Paste Ads review we'll weigh up the earning potential, costs and how much time and effort is involved to see if Copy And Paste Ads is a legit moneymaker or sham of a scam that needs to be thrown into the rubbish bin.
There's something you should know:
Unlike almost all Copy and Paste Ads reviews out there, I'm not here to try and sign you up for this system. This is just me giving you my honest opinion to help you save time and money by avoiding scams and investing in real programs that work.
Let's take a look at what I found out:
Copy And Paste Ads Review At A Glance
About: Copy And Paste Ads calls itself a super-easy way to "finally get the income you deserve."
Price: $149.95.
Pros: None.
Cons: An old scam rebranded, turns you into a spammer, they're not upfront about the real costs.
Verdict: The bogus income claims make Copy And Paste Ads a scam. Stay away.

There's no product or actual income opportunity here.
The only way you can make money is by recruiting new members, meaning this is nothing more than a pyramid scheme.
Copy And Paste Ads' super strict no refunds policy turns scam victims into scam artists by forcing them to target new recruits to try and claw some of their money back.
What Is Copy And Paste Ads?
Copy And Paste Ads calls itself an extremely easy system where 99% of the work is done for you so "you can finally get the income you deserve."
According to their sales video, this is the new and revolutionary work from home opportunity that's going to go viral and here's your chance to get involved.
All you do is copy and paste ads and their 'system' does the rest.
That's not the only bold claim you'll hear though; they promise you're going to generate up to $3,750 a month with $100 payments dropping into your PayPal account within an hour of signing up.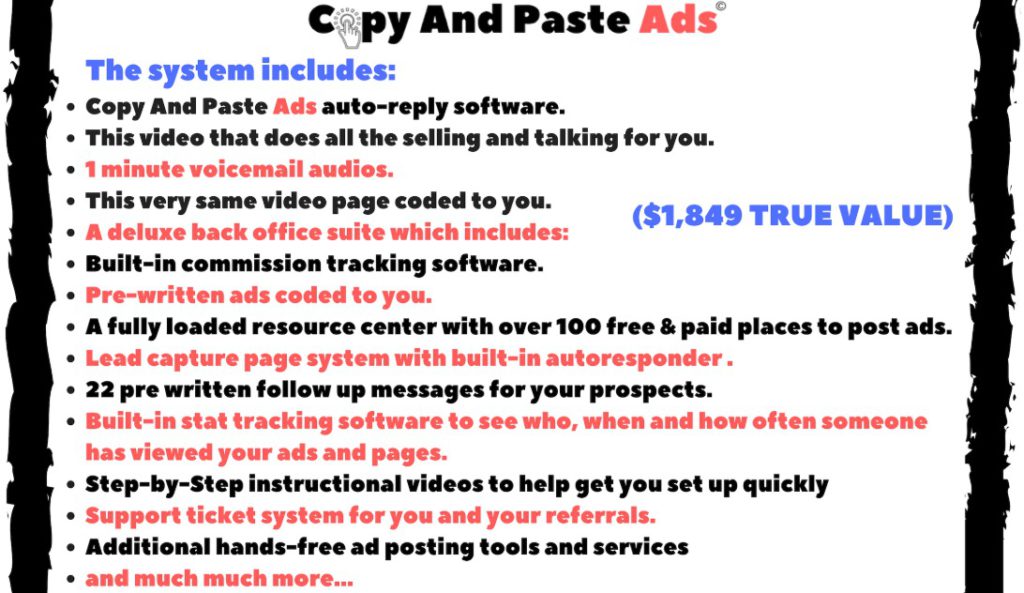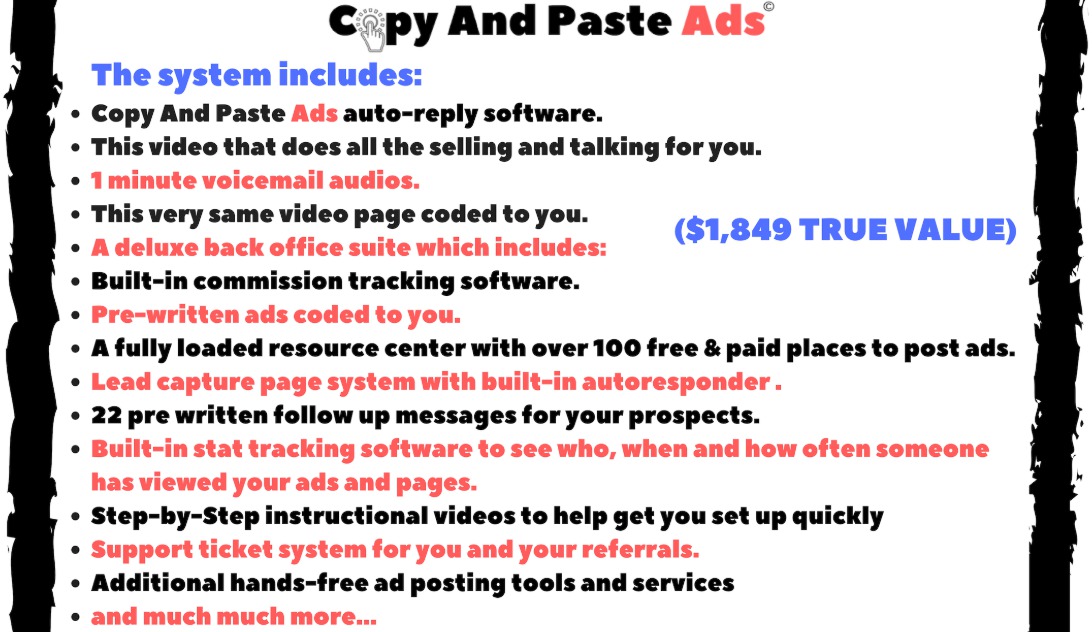 For a one-time $149.95 fee ($100 reseller's license + $49.95 admin fee) you'll get done-for-you email and social media ads and access to their Facebook group.
What will you be selling to earn a living?
The Copy And Paste Ads system of course!
Yep – you get paid to recruit others into the system you just bought.
How Copy And Paste Ads Really Works
There are 3 basic steps to earning with the Copy And Paste Ads system:
Step 1: Sign up and get your unique link
Inside the member's area you'll have access to links to the Copy And Paste Ads website as well as email templates you can copy and paste.
Step 2: Start promoting Copy And Paste Ads
You then take these links and use them to recruit others into the program either through email or social media.
On the site they recommend posting at least 3 ads per day if you really want to start making money.
Step 3: Get paid every time someone joins
Whenever someone clicks on your link they'll be taken to the same homepage and sales video you watched. If they're convinced this is legit they'll pay their fee of $149.95 and you make $100 in commissions.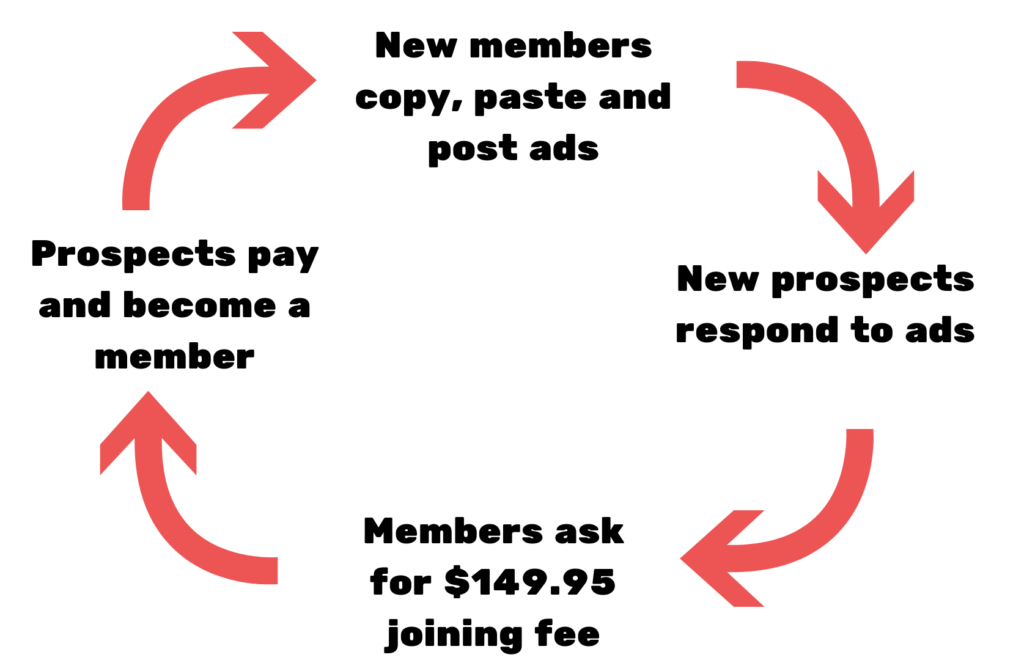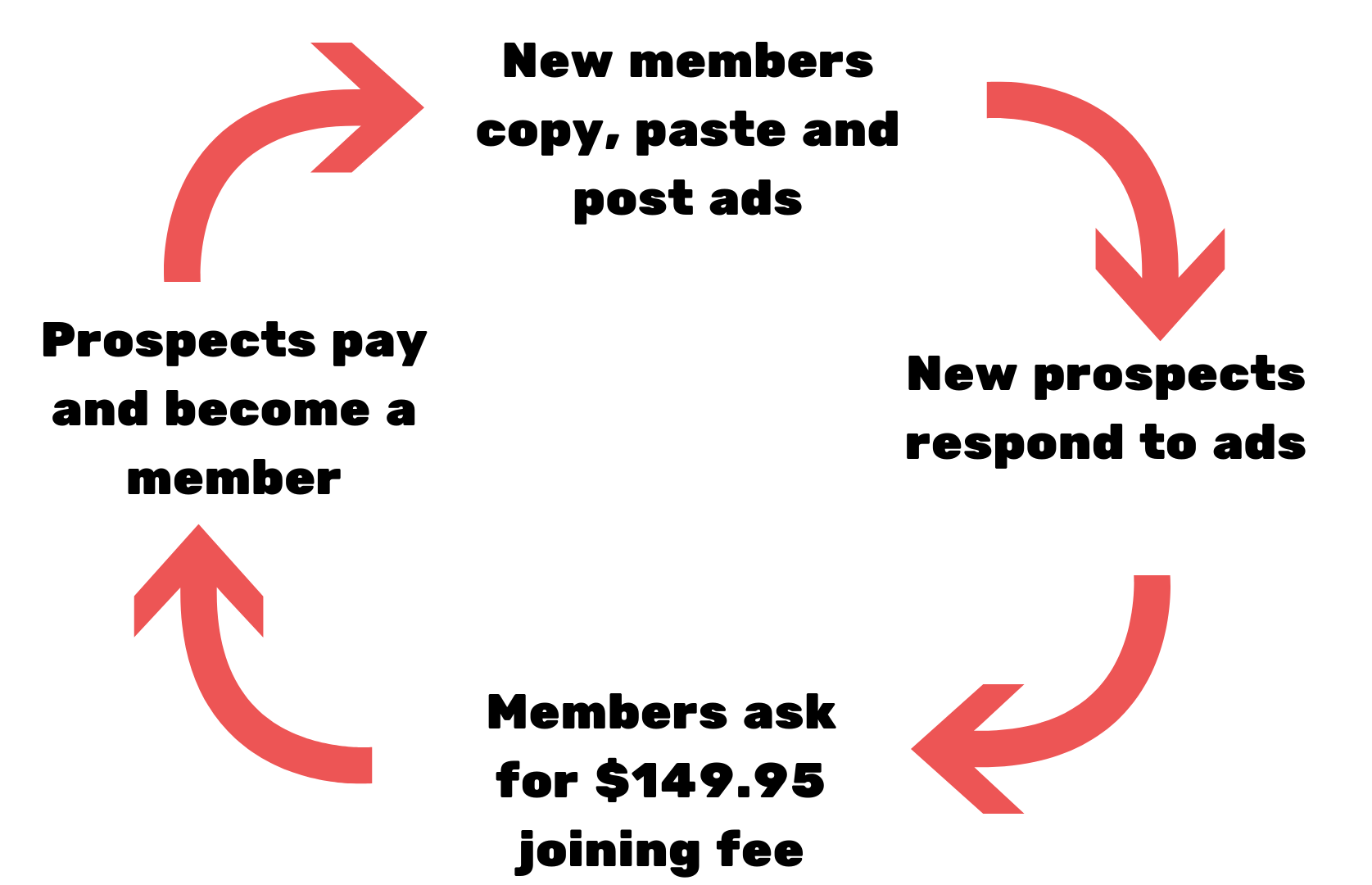 This isn't a work from home job and Copy And Paste Ads is not a legitimate company.
Copy And Paste Ads is nothing more than a pyramid recruiting scheme where you pay $149.95 to join and then look to recruit others into doing the same.
Basically you're handing over your hard-earned cash to these guys for the 'privilege' of being able to promote them.
Here's a quick explanation of how pyramid schemes work:
Can You Make Money With Copy And Paste Ads?
Yes, you can make money – there's a chance to extort $100 from new recruits by fooling them into thinking this is a legitimate work from home opportunity so they can then go on to do the same.
Personally, I would not feel comfortable putting my reputation on the line and recommending this type of scheme to unsuspecting job seekers.
Copy And Paste Ads Dirty Secrets Exposed
1. An Old Scheme Revamped For The 21st Century
I think we're getting a very clear picture here – Copy And Paste Ads is nothing more than an old fashioned work from home scheme that's been adapted for the online world.
Stuffing envelopes scams have been around since at least the 1920s. They lured people in by placing job advertisements in local newspapers or putting poster ads up around the local neighbourhood.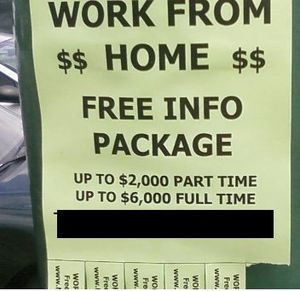 Victims would pay a small $10 fee to join the scheme where they could make $10 for every envelope they stuffed. After paying the fee the victim was sent a job ad just like the one they responded to and instructed to post the ads to keep the scam going.
Now, instead of placing ads in newspapers, they're telling you to send out emails and post on Facebook and Twitter.
2. You Don't Ever Have To Pay For A Legit Opportunity
In my 13 Ways To Avoid Work From Home Scams post I warn people looking for online jobs against paying any kind of sign up or admin fees.
The Federal Trade Commission states that under no circumstances should anyone be forced to pay a fee in order to obtain work.
If Copy And Paste was legit then you'd never have to pay to promote them.
3. Copy And Paste Ads Will Make You A Spammer
The creators of this scheme (who we know absolutely nothing about by the way!) make out this is the easiest way to make $300 a day.
They give you email templates you can use to spam people's inboxes.
You're told to share your links on social media sites like Instagram 3 times a day in the hope of drumming up a sale or two.

The reality is, this kind of under-handed marketing never works. I mean, when was the last time you bought something because of an email that landed in your junk folder?
Spamming might have worked to some extent 10 years ago but we're much more sophisticated these days – people don't just click on random spammy links on Facebook and start handing over their credit card details.
4. Be Sure To Count The Real Cost Of Signing Up
If you're serious about earning an income from this then it's important to look at what you're going to have to pay out to have even a tiny chance of getting the results they promise you.
Aside from paying for reseller's rights to the system, you're going to need to invest in some email marketing software to send out your emails en masse.
And whether you plan on putting posters up on every telegraph pole on your street or paying out for Facebook ads, you're going to need an advertising budget.
With this kind of method, you need to have a steady stream of commissions coming in which means you'll need to constantly chase down new recruits.
The way I make money online means people come looking for me. My websites generate free traffic around the clock – I don't chase, I don't sell, I don't need an ads budget.
Making money online isn't complicated…
This video will show you exactly how to get started. Tap to watch now »
Is Copy And Paste Ads A Scam?
Although it's possible to make money with this, you only do so by duping others into joining the scheme.
Their marketing is deceptive and their income claims are bogus. To make things worse, the strict no refunds policy means you've got a cat in hell's chance of getting your money back.
In my opinion Copy And Paste Ads is a scam of the worst kind – a scam that turns scam victims into the scammers themselves.
Victims waste a huge amount of time and money trying to make this work and get nothing in return when they'd be better off building a legitimate online business.
How I Make Money Online
After stupidly falling for scam after scam, I eventually stumbled across a real online money making process that worked.
Is it a get rich quick scheme? No. I call it my get rich slow scheme – doing it my way won't make you a millionaire overnight but it's REAL 🙂
I make $7,000+ every single month in passive income because I built a legit online business from scratch.
This online income stream meant I could quit my office job, kiss my old boss goodbye and book a one-way ticket to Thailand. I've never looked back!
Click here to get the exact step-by-step blueprint I follow and start making a real difference to your bank account. It's completely free to get started.
Simon Crowe is the founder and editor of The Make Money Online Blog on a mission to help as many people as possible kiss their bosses goodbye.
Watch this video here to discover how to smash your online income goals and make your dream business a reality.