In thisAmerican Online Jobs review, we'll be looking at American Online Jobs (Or AOJ Work From Home Jobs) who post job listings on Facebook and Craigslist promising data entry jobs that pay $34.25 an hour to see if it's a scam or the real deal.
Here's a recent post of theirs from the job site CareerBuilder.com: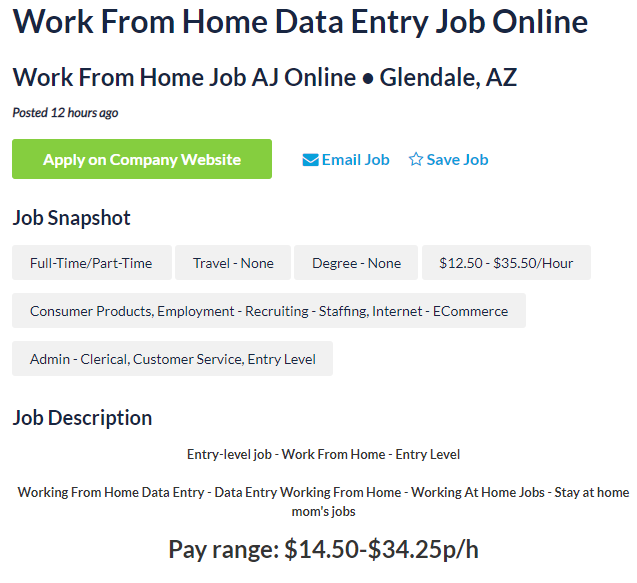 So is it true? Is American Online Jobs a legitimate work from home opportunity you should apply for or is it just another scam? I think it's the latter and in this review, I'll show you why.
Before we get into the nitty-gritty:
I am not affiliated with American Online Jobs in any way. I've been finding real money-making programs and exposing scummy scams since 2016 and I've only ever given readers my honest take. This review is no different.
American Online Jobs Review At A Glance
About: American Online Jobs promises is a job listing platform that also offers an online course on how you can make money with it.
Price: Free to join.
Pros: Has some 'training'.
Cons: The job listings are actually just links to survey sites.
Verdict: American Online Jobs is not a scam but they're not exactly upfront about being an aggregate site to other survey sites. This can't replace your 9-5 job as they said it could.

What Is American Online Jobs About?
Their job advertisements tell you you can make serious cash whenever and wherever you want. They promise a way to replace your full-time income so you can quit your job and work from home.
The American Online Jobs website says this is an ideal opportunity for stay at home mums, retirees looking to supplement their pension, people with disabilities or those in-between jobs.
I have serious issues with the 'replace your full-time income part' because (as you'll see here in a second), there are no data entry jobs. And while you could make a small side income, this is never something you're going to be able to do full-time.
The job adverts are misleading. Follow their instructions and you end up signing up to several paid survey sites that never pay more than $1 an hour.
They have 2 websites that I know of: AmericanOnlineJobs.com and AOJWorkFromHomeJobs.com and the homepages are pretty much identical: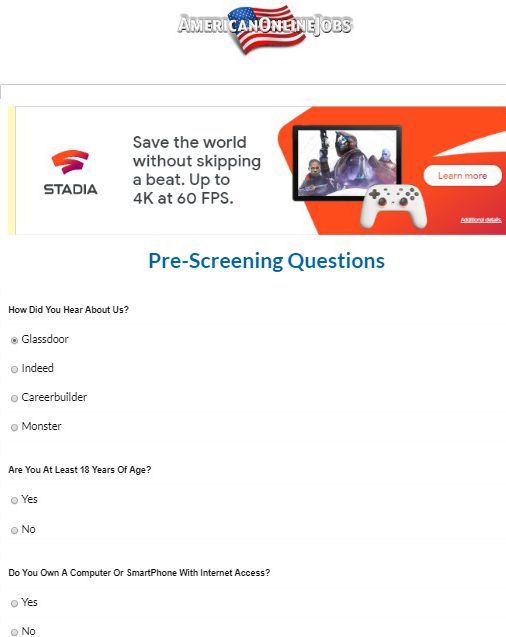 For the purpose of this review, I'm going to go ahead and sign up on the AOJ Work From Home Jobs site.
The American Online Jobs Application Process
Click on the website link within the job listing and you're taken to the homepage asking you to fill out a few pre-screening questions asking things like your age, if you have access to a PC, laptop or mobile device and whether you'd like to get paid by a check in the mail or direct deposit.
Watch this video embedded at the bottom of the page and you're told you "must" become a member of an entirely different site called LifePoints where it is mandatory to complete 4 surveys. Only after you've done that can you access the AOJ jobs panel.
Except when I clicked the big red 'Submit And Apply' button instead of being taken to the LifePoints website I was taken to a spammy-looking website trying to sell me a bottle of weight loss pills for $49.99: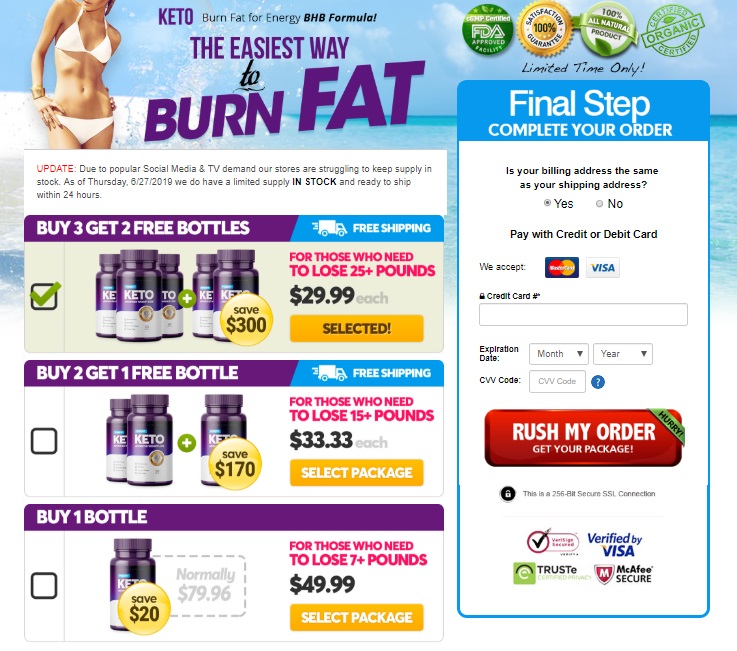 Though I was tempted (not!) I decided to hold off on that for now and head back to the American Online Jobs homepage.
I clicked on the new option of proceeding to step 2 which took me to a page that looks a little something like this: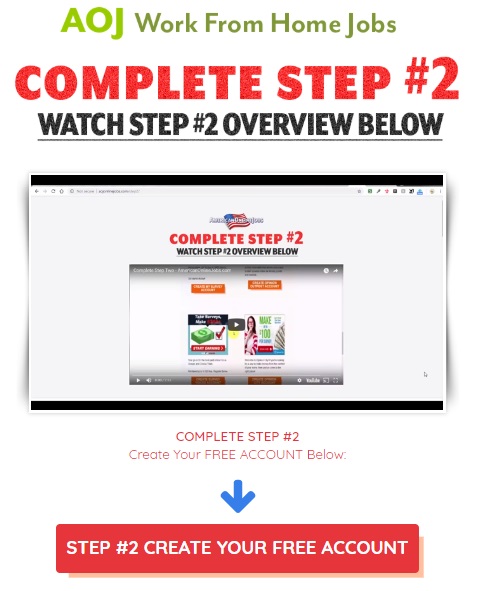 The video just tells you to join the recommended survey sites on the page and confirm your email address for each one. Scroll down and sure enough, there's a list of 8 survey sites they want you to sign up to.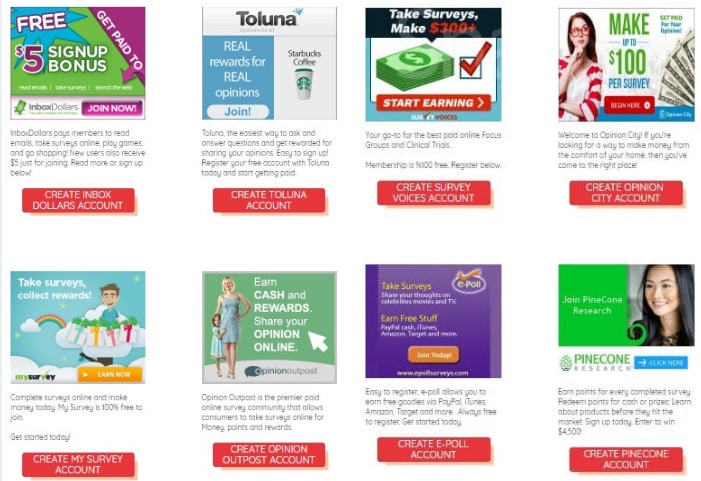 I guess this is what they meant by 'data entry jobs'…?
Here on TheMakeMoneyOnlineblog.com we've reviewed most of these survey sites before so let's just do a quick run-through of each of them:
1. Inbox Dollars
In my Inbox Dollars review I said this site should be renamed Inbox Pennies because the maximum you can earn is $2 a day.
2. Toluna
You can read my Toluna review right here but let me just say this is one of the lowest paying survey sites I've ever come across paying out a measly $0.50 per hour.
3. MySurvey
MySurvey only pays in gift cards and you have to invest a lot of time to make an extra $10 per month if you're lucky.
4. Opinion Outpost
Opinion Outpost is one of the better sites on this list and if you put in the hours you can potentially make $10 a day.
5. Survey Voices
This is a site I haven't personally reviewed but according to SurveysSay.com Survey Voices is merely a survey site aggregate like Survey Momma and My Digital Survey where they don't actually have any surveys themselves, but seemingly like American Online Jobs, they just redirect you to other survey sites.
6. Opinion City
Again, this is a new one to me but do a quick search online and many people call Opinion City a scam.
7. E-Poll Surveys
E-Poll Surveys (link to my review) is one of the oldest survey sites out there where you could make a decent side income 5 or 10 years ago.
Nowadays, unfortunately, their 30-minute surveys pay out less than $0.50 and you can't expect more than 2 or 3 surveys per month.
8. Pinecone Research
While Pinecone Research (link to my review) is a legitimate site, realistically you can't expect to make more than $3-$6 a month taking surveys.
I've looked at dozens of survey sites over the years and Swagbucks is probably the best one I've come across but even with these guys, you'll be disappointed if you're expecting to make any more than $20-$30 per month.
The American Online Jobs Training
I have yet to see the $14.50 to $34.25 per hour jobs I was promised in the CareerBuilder job listing so I clicked the button at the bottom of the page to access the American Online Jobs members' area…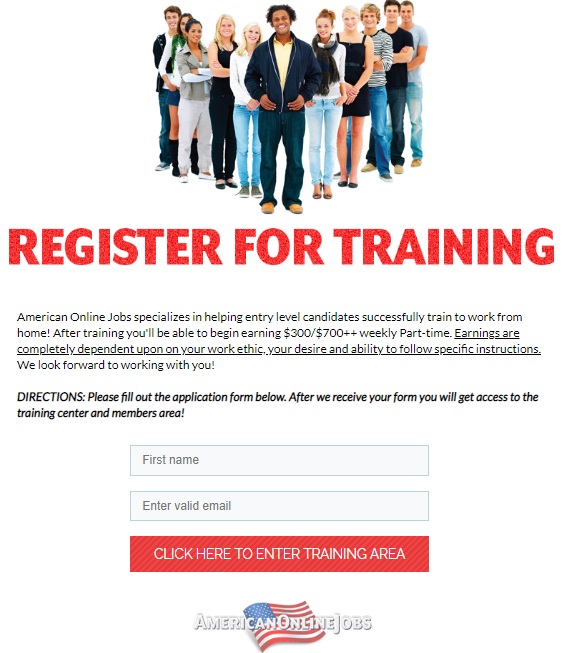 Once you fill out your name and email address you get instantly directed to the training area which looks a little something like this: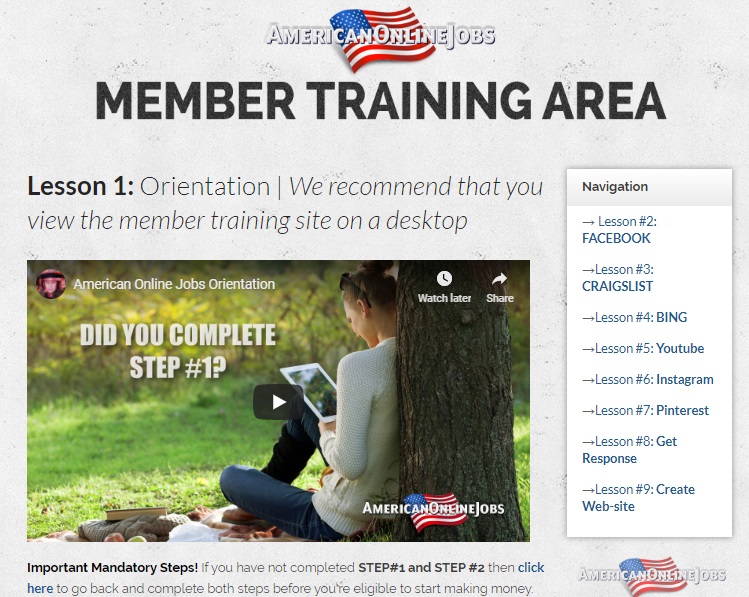 You'll find 9 training lessons, most of them 2 to 10-minute videos, that essentially show you ways you can promote American Online Jobs through a variety of social media and job listing sites for a commission.
Lesson 1 is a quick welcome video that gives you a general overview of the course.
Lesson 2 gives you a 5-minute lesson on how to join Facebook groups and use paid Facebook advertising.
Lesson 3 is all about posting ads on Craigslist to generate leads.
Lesson 4 talks about earning cash by advertising your links using Bing Ads.
Lesson 5 gives you a 3-minute lesson on the potential of YouTube to general traffic and sales.
Lesson 6 is about how to use the Instagram platform to share links and get referrals.
Lesson 7 is the same as lesson 6 but for Pinterest.
Lesson 8 tells you to buy the GetResponse email marketing software so you can start building up your list of email subscribers you can promote your links to.
Finally, lesson 9 walks you through how to register for the American Online Jobs affiliate program so you can start promoting.
As you can see, the American Online Jobs training is all centred around how to promote American Online Jobs.
Making money online isn't complicated…
This video will show you exactly how to get started. Tap to watch now »
Can You Make Money With AOJ?
From what I've seen there are 2 ways you could potentially make money with American Online Jobs but just so we're being realistic here, there's no way you can ever make $33 an hour or even $14 an hour.
1. Taking Surveys
The average survey site pays just $0.50 to $1 per hour – far less than minimum wage and, as this video shows so well, taking mind-numbing surveys is the most time-consuming, lowest-paying way to make money online there is.
If you think you can earn $14.50 to $34.25 per hour filling out online surveys then think again.
Most of these don't even pay cash in the bank; you'll be working your butt off for weeks at a time just to be able to accumulate enough points for a $5 Amazon gift card. Not exactly ideal when you need to pay your bills and put food on the table!
2. Referring Others To American Online Jobs
The training doesn't tell you how much money you make for each referral you send AOJ's way but my guess is it's around the $20 mark. While there's definitely more potential in this money-making method than surveys, there are downsides too…
The way I see it (feel free to tell me in the comments if I'm wrong!) the training teaches you free and paid traffic generating methods which means either you become an annoying spammer flooding social media sites with your links or you need to have an advertising budget to pay for ads.
The first method can get your social media accounts shut down and the second requires a lot of trial and error to get right, especially if you're a beginner to this and you could very easily burn through your whole ad budget before you know it.
Is American Online Jobs A Scam Or Legit?
The good thing about this program is that it costs nothing to join, but by far my biggest issue with AOJ Work From Home Jobs is the misleading advertising and unrealistic income claims.
American Online Jobs are NOT offering data entry jobs and after reviewing hundreds of surveys sites, here's what I can tell you for sure: you have a cat in hell's chance of making anywhere near the pay range they promise in the job listings.

If you're interested in learning a few techniques for generating traffic and leads on social media and paid ads then, by all means, take the free training, otherwise, I wouldn't bother.
If you're serious about earning a full-time income online then the best advice I can give you is to start an online business.
In my in-depth review of Invincible Marketer, I give you a full breakdown of how the process of making money online works and how this training platform gives you a step-by-step formula you can follow to achieve your online income goals.
Your American Online Jobs Review
I hope you found this review of American Online Jobs helped save you a bit of time if you were thinking about joining and of course, if you have any questions at all about this or any other program, feel free to scroll down and drop a comment below!
If you've signed up to AOJ, please share your experience with us, we'd love to hear what you have to say!
Stay safe out there!
Simon Crowe is on a mission to help as many people as possible kiss their bosses goodbye.
Take the free Commission Academy course to discover how to smash your online income goals and make your dream business a reality.