If you're into making money online selling other people's products (aka affiliate marketing) then MunchEye could be your ticket to a whole new digital world of opportunity.
But what is MunchEye exactly, what does it do and can you use it to increase affiliate revenue?
You'll find out the answers to these questions and more in this full MunchEye review.
Let's jump right in!
MunchEye Review At A Glance
About: MunchEye.com is an affiliate product launch calendar marketers use to choose what to promote to their audience.
Price: It's 100% free to join and post upcoming product launches.
Pros: You get access to a calendar with a whole host of upcoming digital products you can promote and make commissions on.
Cons: Mostly what you'll find is low-quality scams from JVZoo and WarriorPlus.
Verdict: With MunchEye, you'll be the early bird that catches the worm. A smart way to plan your campaigns and cash in on the hype surrounding product launches.
When it comes to promoting affiliate offers, most "gurus" out there teach a broken model that'll keep you broke.
They say all you need to do to generate sales is send traffic directly to the sales page. This doesn't work.

If you want to triple your sales by doing the exact opposite of what the gurus tell you then check out the free video training series here.
What Is MunchEye?
MunchEye is a launch calendar connecting digital product makers with affiliates. Creators submit their products for free and affiliates find upcoming offers to promote. There are, on average, 150 JVZoo, Clickbank and W+ products advertised on the site each month.
The platform got its name from Chris Munch, the owner and his site has been connecting merchants with affiliates since 2012.
MunchEye is a total win-win:
Digital product creators get their offers in front of a crowd of eager and influential affiliates with a wider reach their courses and eBooks in front of exposure Before products are released on marketplaces, product vendors will list down their upcoming products on MunchEye so affiliate marketers can promote them
Since MunchEye lists upcoming product launches, many affiliate marketers use it for launch jacking:
An affiliate marketing strategy where marketers create blogs and video reviews for new releases and soon to be released products.
This is a promotion tactic where they get people aware and more familiar with the product so they could sell it to them and make a commission return.
Many affiliate marketers leverage MunchEye not just to stay updated on new releases but also to plan out their future blog or video content.
Does MunchEye Have Any Membership Costs?
Whether you're a product vendor or an affiliate marketer, you can create an account on MunchEye for free. Even when vendors post their upcoming releases, MunchEye doesn't ask for a fee.
The cost comes in when you choose a product and ask for approval from the vendor to promote it for a commission.
What Do You Get From MunchEye?
Essentially, MunchEye provides release dates and other information on affiliate products from JVZoo and WarriorPlus.
If you're wondering what these 2 are, these are the marketplaces where the affiliate products are sold.
JVZoo mostly offers digital products for various niches. On the other hand, WarriorPlus offers eBooks, software, training, and membership sites on the online business niche.
Here's a video to make it clearer for you:
Creating an account on these 2 platforms is free but JVZoo asks a 5% cut on affiliate commissions you'll make.
MunchEye is not a marketplace unlike these 2, it's just a website where vendors can list their products for affiliate marketers to see.
For affiliate marketers, you can get information in MunchEye listings like:
Product Name
Product Vendor
Marketplace Sold
Launch Date And Time
Product Price
Commission
Product Link
Product Niche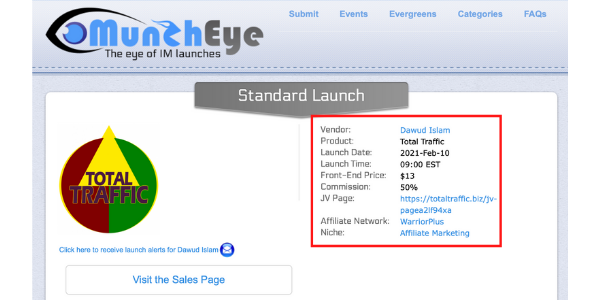 It also has a sync function where you can integrate launch dates on Google, Outlook Calendar, and iCal.
The homepage has product listings are categorized as "Big Launches" and "All Launches". As the category suggests, the Big Launches are supposedly having affiliate products with good commission potential.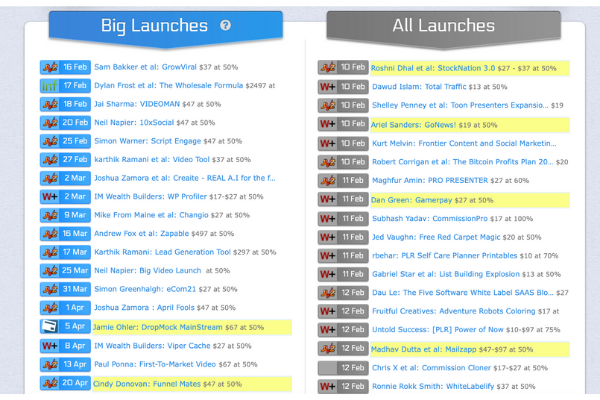 But here's the kicker:
There's no data provided to backup because it's listed in that category. All the info you get on the products on this category are practically the same information you'll get in the All Launches listing.
There's really basis given why a product falls into a certain classification.
On the upper portion of the homepage, you'll see a tab labeled as Evergreens.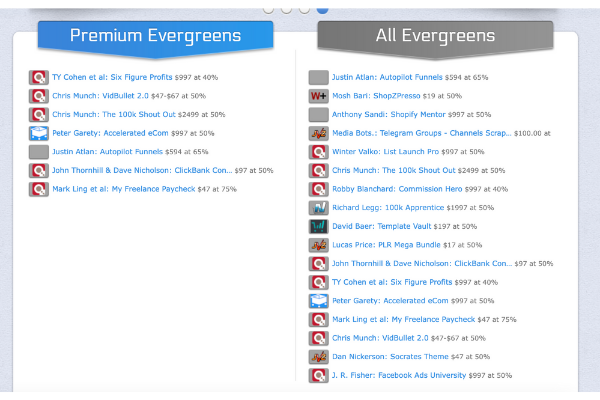 At first glance, this can seem like a good list of products to promote because products here are made to look timeless so you can earn from them any time of the year for a long time.
But then again, there is no basis given on why the products fell into this category.
Essentially, you won't have the confidence that the products either have good commission potential or are timeless products to promote because you have no data to backup them up.
Who Will Make Money With MunchEye?
Basically, there are supposed be 3 groups of people who will make money in MunchEye: MunchEye owners, affiliate product vendors, and affiliate marketers promoting the products.
But here's the thing:
I don't know how the owners make money from this since they don't ask for a fee when making an account or when adding a product on the listing.
How Do You Make Money With MunchEye?
As for product vendors and affiliate marketers, they don't directly make money with MunchEye. It just gives you some of the information you will need to know what's about to be launched so you can promote them and earn from it when people buy.
Choosing a product on MunchEye isn't even half of the work yet. There's more work to be done in order to start making some cash.
You still have to make a niche-based website, fill it up with related content like product reviews and blog posts, and even make email campaigns to reach out again to the audience you'll be able to create.
If you're still not familiar with how affiliate marketing works, you can take an affiliate course like Wealthy Affiliate to get you the step-by-step training you'll need.
But the work isn't done yet.
You still have to spend time in driving people to your website and you have to work on ranking on Google and may have to wait until you've established enough authority for people to trust on your product recommendations.
My Only Problem With MunchEye
Earlier I mentioned about what kind of information you get on MunchEye product listings.
The problem is the information provided there are not enough to help you gauge if it's a worthy product to promote.
If you pick the wrong product, you can end up wasting effort on something that will not yield good results.
With MunchEye you only get a few details and a link to the sales page where you'll be bombarded with all the hype in the world just to persuade people to opt in.
Making reviews based on those information lacks value.
Think about it:
Why will they read about your product review when all you give is what's already provided in MunchEye and the product sales page?
Personally, when choosing a product to promote I'd go for a platform that gives me information any buyer will want to know before purchasing the product.
If it's a software or membership site, an inside look to see I don't just get mediocre features.
If it's a training course or an eBook, a run-down on the lessons you will get.
MunchEye won't give you this information. You have to scour the internet to know these things.
Might as well head directly to JVZoo or WarriorPlus because you'll also see the same product listings there.
It won't be too long of a stretch to check out these 2 platforms instead of just relying on MunchEye.
Listing releases, MunchEye does a good job. But I can say otherwise about the information you get on those listings.
MunchEye won't give you the full overview of a product. You won't be given the information you need to gauge if it's a good product to promote or not.
If you use this, you'll end up relying on merely the product name to see if people will be interested in buying it from you or not.
Is MunchEye A Scam Or Legit?
No, MunchEye is not a scam. I won't even stop you from using it because it does work well as a launch calendar. The main problem I have with it is it doesn't give you enough information you'll need to know if you should promote the product or not.
You can use MunchEye but I can't say it's a necessary platform to use.
What Do You Do Now?
My main concern with MunchEye is the lack of information.
As an affiliate marketer, you can just rely on a product name to judge if it has good value or not.
For you to be able to gauge affiliate products better, you have to know how to choose a product.
Wealthy Affiliate will help you with this.
This training course focuses on helping beginners make a solid start in affiliate marketing by teaching you how to make a niche-based website, what products you should promote in it, and how you can drive people to your offers.
You can't just rely on a launch calendar like MunchEye. If you do, you'll be like picking products with a blindfold on.
On the other hand, if you get trained in picking the right products, you'll have the highest chances of your efforts yielding the results you deserve.
Give Wealthy Affiliate a shot, you can test out the waters with the 1st 10 free lessons, so you don't just have to take my word for it.
If you want to know more about this affiliate training course, head on to this in-depth Wealthy Affiliate review to get started.
What's Your Take?
Were you satisfied with the information MunchEye provides?
Do you feel you need more than just a list of product launches to choose what to promote?
Tell us your thoughts in the comments below.
Simon Crowe is on a mission to help as many people as possible kiss their bosses goodbye.
Take the free Commission Academy course to discover how to smash your online income goals and make your dream business a reality.