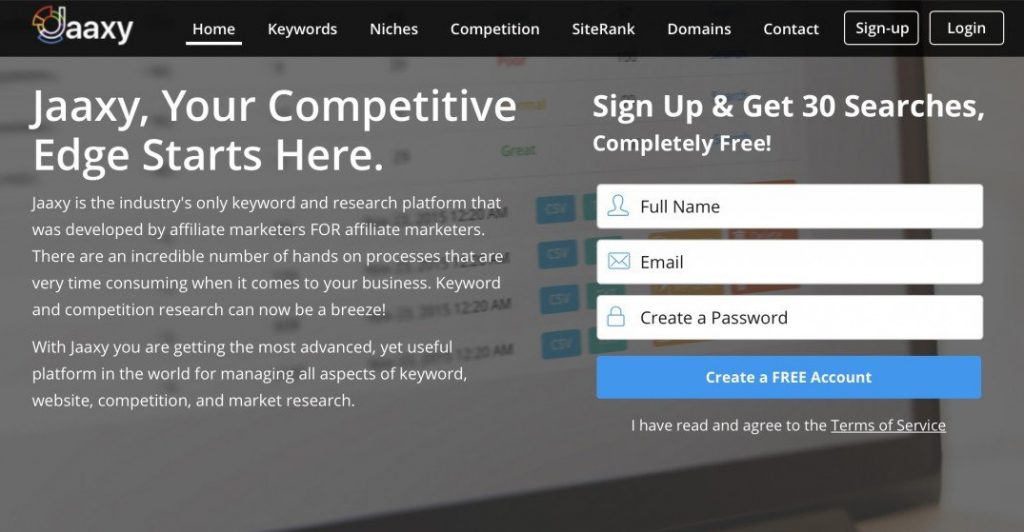 Jaaxy Enterprise Overview
Name: Jaaxy Enterprise
Website: www.Jaaxy.com
Owners: Kyle & Carson
Overall Rank: 97 out of 100
Recommended for: Newbies – Experts
What is Jaaxy Enterprise?
It's the ultimate all-in-one keyword research tool you need in your niche marketing arsenal.
It equips you with game-changing keyword data FAST. No messing about, Jaaxy only gives you exactly what you need to know to boost your Google rankings.
Jaaxy reveals the best keywords for your website so you can dominate your niche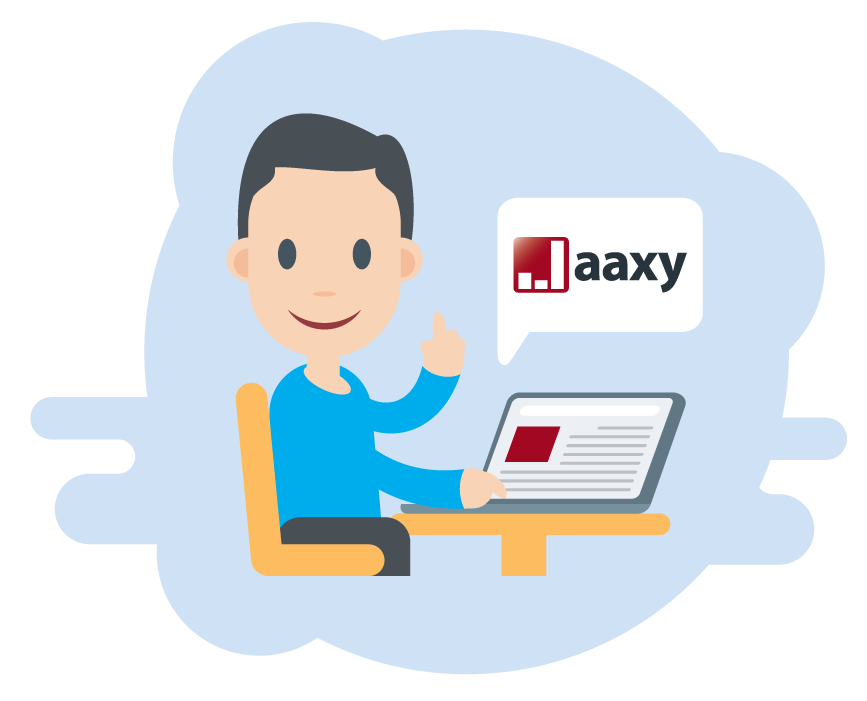 I love doing keyword research and I use Jaaxy to find the best keywords – keywords with good traffic numbers and low competition so I easily rank on Google's first page.
How can you actually use this?
You no longer need to put the work in to craft a beast of a blog post only to land on page six of search engines results. With Jaaxy this is a thing of the past.
Jaaxy takes the guesswork out of content creation.
Target your time and effort on effective actions that will get you results. If you're a niche or affiliate marketer, using a keyword research tool like Jaaxy is no longer an option.
Because as an affiliate marketer you know better Google rankings means more super-targetted traffic to your webiste, more sales, conversions, sales and commissions!
Keywords are the key to a strong blogging strategy that will give you the edge on your competition.
Jaaxy is the only keyword I use because it's the only keyword research tool out there (that I know of) that gives you this all important competition data instantly.
I highly recommend you take of advantage of Jaaxy's 'try before you buy' option. With 30 free keyword searches (limited) you get to see for yourself how it works and just how powerful the Jaaxy set up really is.
Jaaxy's price points

1. Jaaxy Free
The free trial version that gives you 30 free searches per month.
2. Jaaxy Pro: $49 per month
There's also a yearly payment option of $499 (saving you $89)
3. Jaaxy Enterprise: $99 per month
Yearly, it's just $999 (saving you $189!) That's a phenomenal price!
Jaaxy is not just a keyword research tool, it's a rankings tranking tool that gives you accurate and up to date information so you can see clearly what keywords you and your competitors are ranking for.
What else you get with Jaaxy Enterprise:
SiteRank
Instantly find out how your website ranking in Google, Yahoo and Bing search engines. After not targeting keywords at all, the biggest mistake online marketers make is not keeping an eye on how they're ranking. SIteRank means you always know what position your website holds for each and every keyword.
Available Domains
As you search for new keywords or looking profitable niche ideas, Jaaxy Enterprise gives you available exact match domains. No other keyword research tool can offer you this.
The ability to filter results
Enter an idea into Jaaxy and you'll hundreds of potential keywords you can rank for.  You can sort by Competition, Keyword Searches, or the Proprietary filters like QSR and the Keyword Quality Index to make find your next keywords fast and easy.
It's Mobile Friendly
There's no software to download, Jaaxy works on any device meaning you can search on the go.
Top Keyword Research Training
Jaaxy will give you the tools AND the training to make sure you get the most out results with the keywords you find. Includes video tutorials and top techniques to find high traffic, buyer keywords with little or no competition.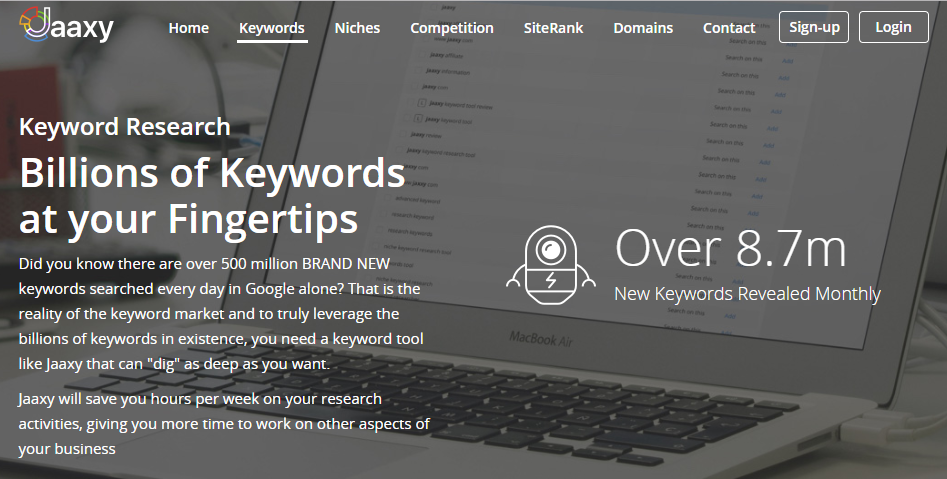 With Jaaxy Enterprise you have unlimited access to hot keywords you know you can rank for, exact match domains, and the ability to check your website's ranking for each and every keyword.
What's the difference between Jaaxy Pro and Jaaxy Enterprise?
With Jaaxy Pro at $49 and Jaaxy Enterprise at $99, what are the diferences?
Here's Here's Jay from AffiliateResources.org explaining the main differences between Jaaxy Pro and Jaaxy Enterprise, giving us a side by side comparison and a live demonstration.
Click play below to see Jaaxy in action! (Full screen recommended) 
No other keyword research platform has the ability to give you such a wealth of knowledge at your fingertips.
Why does this matter?
Because all you need is one single keyword to make $1,000's per year with your website. You can create and save keyword lists so you're never short of ideas for things to write about again.
Instead of spending hours of your time trawling through outdated data, you can leverage the power of Jaaxy and have hundreds of highly profitable keyword ideas in minutes.
What affiliate marketers say about Jaaxy
I hope you can see just how powerful keyword research (done with the right tool) can be for you and your online business.
There are literally millions of untapped keyword ideas out there just waiting to be discovered.
Jaaxy Enterprise has the potential to revolutionise the way you work, as it has done for hundreds of online entrepreneurs and successful internet marketers already.
"A powerful keyword tool plus a lot more. I have found no other keyword tool that comes close, especially for the price.

If you make your living through writing content for websites, blogs, etc., then this is the only tool you'll ever need. Time is money and Jaaxy Enterprise saves you time so you can make more money."

Grant @ TheRoadToInternetSuccess.com
"When doing research on my niches, there are really only THREE metrics that I care about…
How much competition does the keyword have?
How much traffic does the keyword get?
Does the keyword make sense?
The last one is based on "common sense", the first two are metrics that Jaaxy Enterprise can ACCURATELY capture and that I have yet to see any keyword tool efficiently gather."

Kyle @ WaysToAvoidScamsOnline.com
"If you're looking for even more power, extra features and bring things to a completely different level, Enterprise Plan is for you.

It was crafted for more advanced internet marketers who need to compile huge lists of keywords for their (own/customers) blogs and websites."

Louie @ BuzzNitrous.com
"I have been using Jaaxy for my keyword research and with most of my posts ranking on the first page of Google I will not use anything else!"

Christene @ Christene-Marketing.com
"Jaaxy is the best keyword tool I have ever used. I have tried many other Keyword tools and nothing can be compared to Jaaxy in terms of the cost, functionality, user-friendliness and effectiveness. I have been using Jaaxy for years now and will continue to use it as long as I am an internet marketer."

Jack @ BareNakedScam.com

Got any questions at all about Jaaxy Enterprise or the process of finding the best keywords for your website? Ask your questions and share your thoughts below!
Simon Crowe is on a mission to help as many people as possible kiss their bosses goodbye.
Take the free Commission Academy course to discover how to smash your online income goals and make your dream business a reality.