Up2Give may sound like a golden opportunity to make money online while helping a worthwhile cause but is it really what you think it is? In this Up2Give review, I'm going to give you rock-solid reasons why it is a scam.
I'm going to help spare you from the inevitable meltdown that happens to anyone investing in this thing when they realize it's all just a phoney scheme but it's too late.
Up2Give Review At A Glance
About: Up2Give describes itself as a crowd-funding donation system. In reality, it's a cash-gifting scam.
Price: $32 for the monthly membership, $40 for the monthly donation. A total of $72 monthly expense. 
Pros: Nothing at all.
Cons: False claims, bait membership, pyramid scheme.
Verdict: Avoid Up2Give at all cost, it's a scam. You'll get in trouble with FTC and you'll spend more than you'll ever make. If you ever earn anything at all. 

A Background Littered With Red Flags
For starters, when you visit the website all you'll see is a sign-in box, nothing more. There's no information about the company, about its owners or about how it works. Nothing.
If I were to sign-up for something I'd surely want to know more about what I'm signing up to to see if it's worth it. Up2Give doesn't give you that satisfaction.
It smells like a sales strategy to me. I think they're trying to entice people in by making them curious about what this is all about. They think building curiosity will draw people in.
Up2Give claims that they're offering a "revolutionary service" that benefits everyone. Yes, someone benefits, it's just them though, not us.
Their vision statement says that they have a "strong moral, integral, and purpose-driven vision to save lives." We'll see about that "moral vision".

You can sign-up for a fee using bitcoins, and that's how you'll also receive your "rewards".
The whole idea that Up2Give focuses on this opportunity is philanthropy. They say that through it Up2Give will become one of the biggest companies in the field.
Don't buy that. The whole setup doesn't look like it will work at all.
It's just a cash-gifting scam disguised as a crowdfunding donations system. If you'd really understand how it works with Up2Give it's basically donating in order to receive donations.
Since there's not much info found on the website, I did a lot of digging and I found out that Jerry Lopez and Andreas Kartrud own Up2Give.
Jerry Lopez used to be with Lyfestart International in 2014, where he started his MLM career as an Executive Advisor. Some months later after Lyfestart International closed down, Jerry jumped ship and turned to Savi Health.
Later on he left Savi Health for Dunamis Global Tech, another crypto MLM that went under.
Andreas Kartrud was also involved with crypto scams like Wo Token, Swisscoin, OneCoin. When OneCoin went down, some of its people jumped ship to Dagcoin; a crypto scam like Cash FX Group and Forsage.
The setup involves starting a cause to help others, but here's the problem:
You get no proof the money members make goes to charity and not to their own pockets.
How Much You Will Pay To Join Up2Give
You need to pay a $32 monthly membership fee and give 0.0005 BTC as a donation. Bitcoin is somewhere near $8,000 so the monthly gifting payment is $40. So that's $32+$40= $72.
This might work if you receive more than $72 in donations to offset the cost you had to pay, but we'll see about that.
Products To Sell
Boom! There's none. A major red flag there and you can start picturing the FTC running after them.
They do have skills training to offer once you become a member but here's the catch:
All the training focuses on how to sell the system to others. If this company shuts down, all you learned will be useless.
If you want a legit money-making business with a wide range of products to sell, check out affiliate marketing. It's a way better choice.
Up2Give Compensation Plan: There's None? Really?!
Well, according to a Youtube video they uploaded in April 2020, there's no compensation plan because they do not touch your bitcoins. They just ask for the $32 monthly fee to keep the operations going.
But here's the kicker:
Later on in the video, they'll explain that part of the $32 goes to rewards they gift to you. Sneaky, right?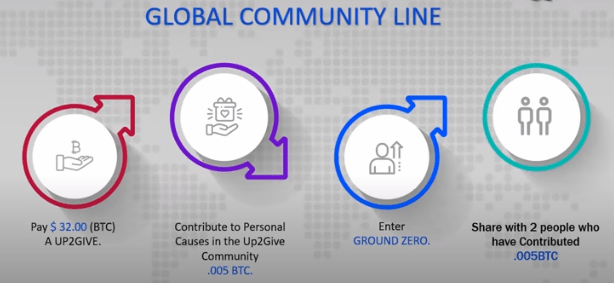 In reality it's just like their initial compensation plan.
The membership payments are tracked through a 2×1 and 2×6 matrices. The 2×6 matrix expands six levels down. This means the higher you get, the more people will be "donating" to you. At level 6 you'll have 64 people giving you money.
As you can see, it's just a cash gifting pyramid scam.
Still not convinced yet? Read on.
What I Don't Like About Up2Give
1. False Claims
Even if the company ends up with many members, the idea of giving and getting something in return doesn't show that it's a legit donation crowdfunding platform. It just doesn't add up.
Crowdfunding is legit because crowdfunding means you donate without expecting a return.
In reality Up2Give is a cash-gifting scheme, not a crowdfunding platform because you're expecting people to donate to you in return for the donations you gave.
2. Bait Membership
Although the membership isn't expensive and that might lure you in, you'll regret it when you find out what the program really is.
Remember how you won't get much information from the website if you don't join? Save that curiosity, it won't get you anywhere.
3. It's A Pyramid Scheme
Making money out of recruitment alone and not from selling products is illegal. The FTC, in time will run after this company and you'll end up losing your investments.
4. Sketchy Owners
Remember their background with previous scams? I don't think these leopards are ready to change their spots just yet.
It just going to be a pattern on starting a business and when it starts to sink, jump off to the next 'opportunity'.
5. It's Not Sustainable
Up2Give will eventually collapse. All cash gifting schemes do. Sure you earn for a few months, good if you got an early start but in a year or two, they'll be gone with the wind.
Is Up2Give A Scam?
There are just too many red flags and I won't lose any sleep tonight telling you Up2Give is a blatant scam. They claim they're a crowdfunding platform except it's not crowdfunding at all if you expect something in return.
Plus, it's a pyramid scheme without products.
Yes, you can earn from it for a while, but that's it. Expect it to be gone when the new recruits stop coming in.
Up2Give Review: Closing Thoughts
Again crowdfunding is not illegal, cash gifting is. Up2Give claims they're a crowdfunding platform when in reality they're a cash gifting one.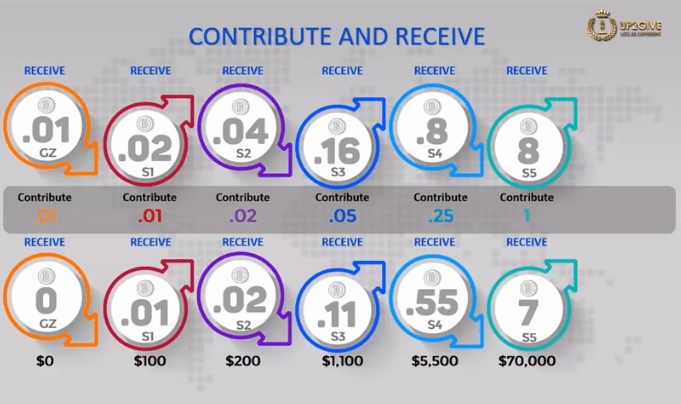 Once recruitment goes low, the scheme will surely collapse. You will end up with nothing while those on top enjoy all the money.
If you really want to make money online with a business that will last, I recommend affiliate marketing.
With affiliate marketing, you know you're working on a legit business opportunity. Plus you can start from scratch because it includes training and a support system that will guide you through as you're building your business.
And here's the great thing:
There are tons of products to promote! You can choose what interests you most and you'll find products in that niche to sell. So you know you'll definitely be excited about what you are doing.
In reality, there's no such thing as a get-rich-quick scheme. You can't just sign-up for something and expect enormous returns without doing the work. Real money making opportunities take time and effort to build. Remember that.
So if an opportunity sounds too good to be true, most probably, it is.
So if you want to make serious money online get over the fake promises and hyped-up claims. Shiny shortcuts do not exist.
In my opinion, a better choice is to start investing in long-term success. You can make this happen if you start learning how to create a real and profitable business online.
Check out this in-depth Wealthy Affiliate review to find out how you can benefit from the ultimate all-in-one training platform that also gives you the tools you will need to launch a successful online business.
How I Make A Living Online?
After years of working in call centres I finally figured out how to create a 5-figure monthly passive income stream and become financially free.
Thanks to the right training and a lot of hard work I kissed my old boss goodbye and booked a one way ticket to Thailand.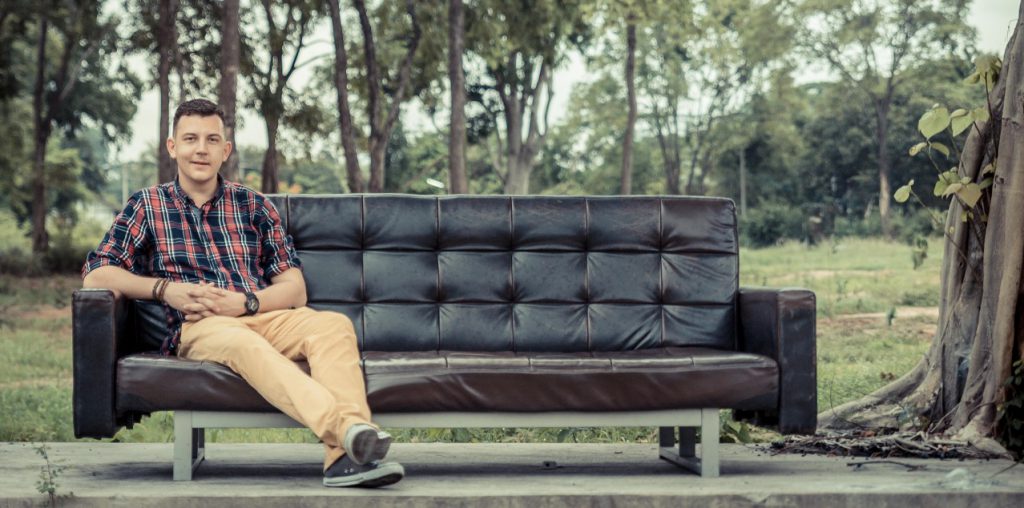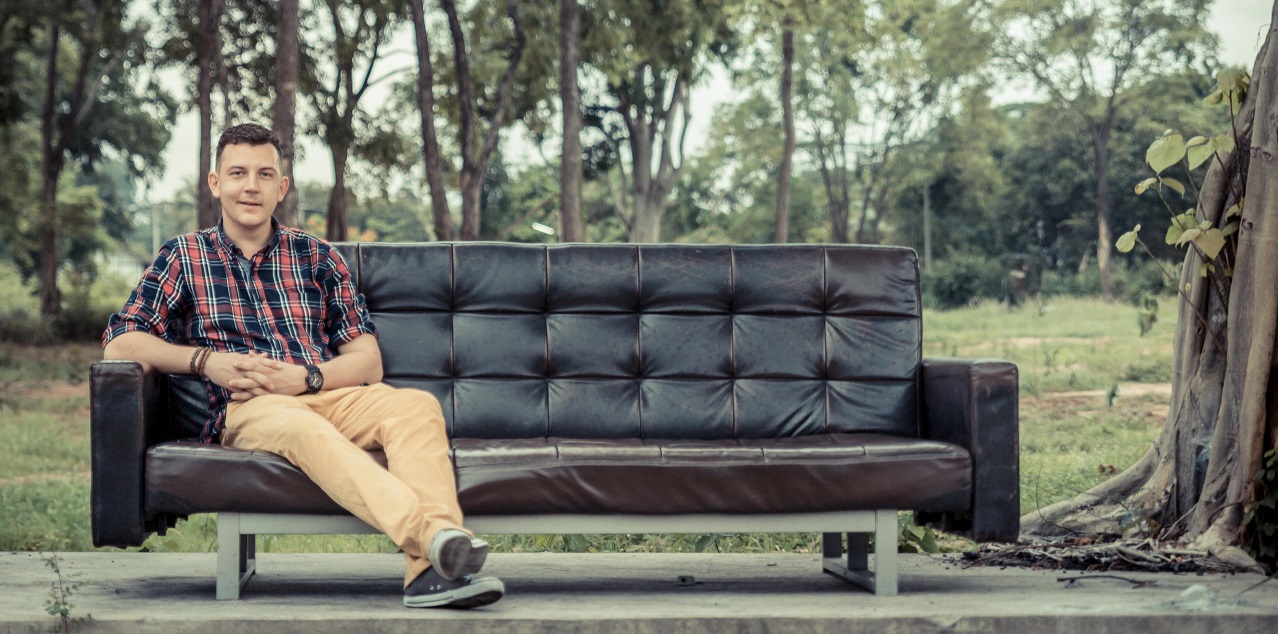 So if you're serious about building a thriving online business, click here for the exact step-by-step formula I follow.
Was I Able To Convince You?
I sincerely hope I've done enough to convince you to give Up2Give a pass. If you're still not entirely convinced then drop a comment down below and we'll answer any questions you might have.
If you want to have your say, share it in the comments and let us know what you think.
Simon Crowe is on a mission to help as many people as possible kiss their bosses goodbye.
Take the free Commission Academy course to discover how to smash your online income goals and make your dream business a reality.