I've heard a lot of good words about Systeme.io so I dug deeper to find out if it can really walk the talk. The fact is, you can't bet your dollar to everything claiming to be good that's put in front of you.
This review will tell you all the facts you need to know and my personal opinion about Systeme.io. 
Whether its affiliate marketing, dropshipping, or anything else as long as you're an online business owner or aspiring to be one, this review will be really helpful to know if Systeme.io will be an advantage for your business.
System.io Review At A Glance
About: Systeme.io is a marketing suite consisting of funnel builders and lead generators to help you market your products online and make money.
Price: Has a 14-day free trial. After this expires you have to choose between the Startup package ($27/month), Webinar package ($47/month), and Enterprise package ($97/month).
Pros: Offers affordable packages and is user-friendly.
Cons: Limited templates, limited third-party integration, and doesn't provide email campaign templates.
Verdict: Systeme.io is legit. If you're just starting out, you won't be able to fully utilize the tools. You have to invest in a quality training program first.
Verdict:

What Is Systeme.io?
Systeme.io is a tool to help you build funnels, generate leads, and send emails to these leads. It claims to be the one-stop marketing platform to run your business.
It's owned by Aurelien Amacker, a French guy who has been in the blogging and internet industry for quite a while. He started blogging in 2005 and 10 years later he created Systeme.io.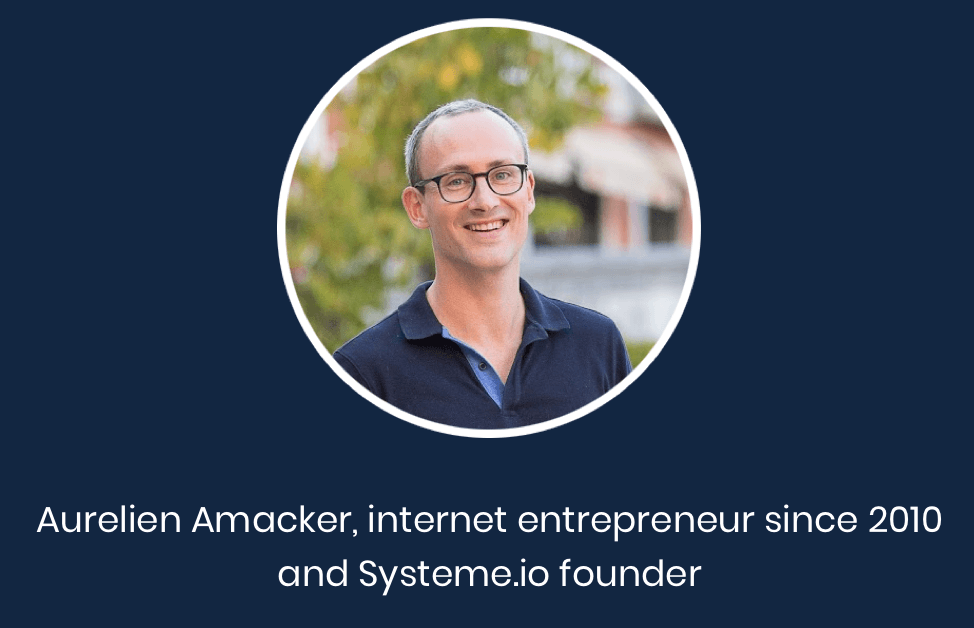 He had a blog on learning English and also published a book about how he made a living out of blogging. It's in French though.
Amacker also published another book entitled: Financial Independence for All. If you're interested in reading it, you'll have to learn to read and understand French first.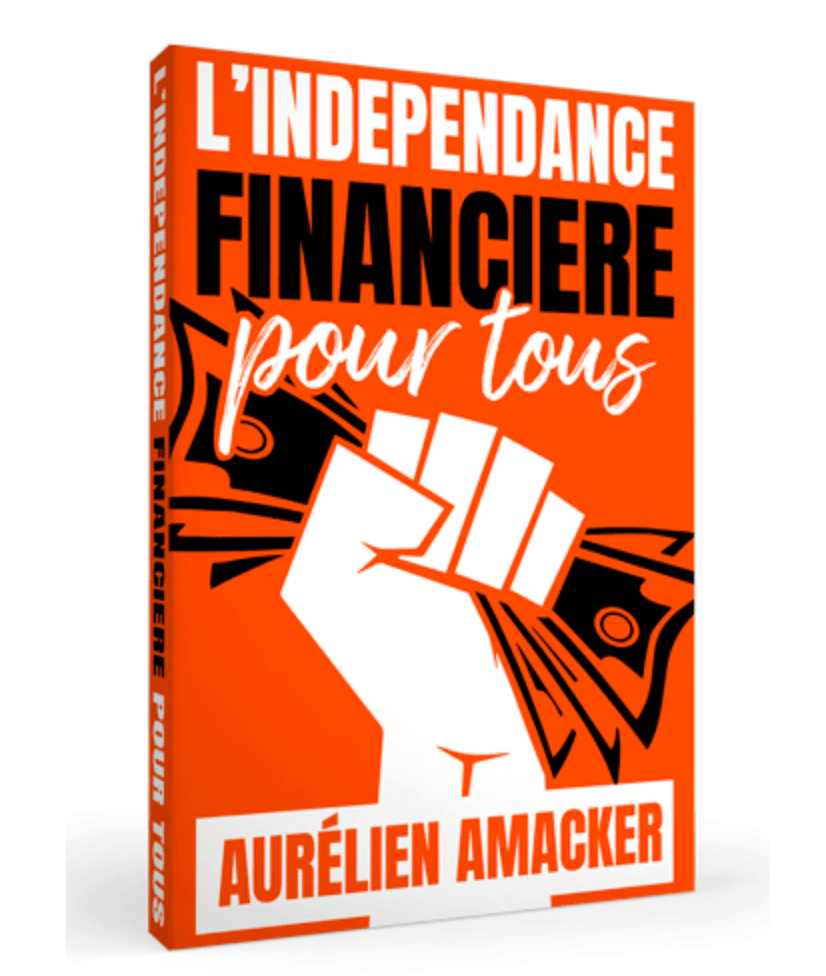 How To Join Systeme.io
I'd give Amacker two thumbs-up for the 14 days of a free trial. Unlike other free trials who still ask for your credit card details so they can charge you after the free trial is up, Systeme.io won't ask you to bring your wallets out to test the waters.
If you want to continue using the platform after the free trial, you can choose between 3 packages.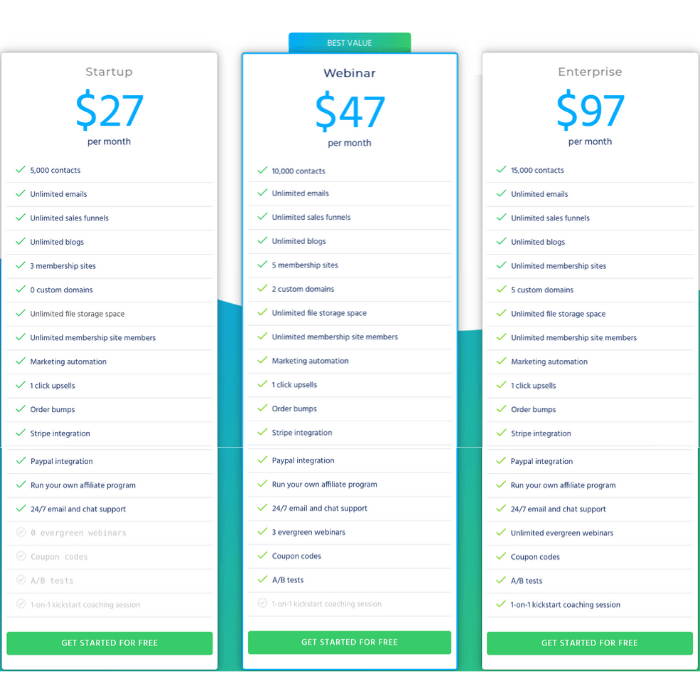 Basically, you can access more features if you choose the pricier package. People say Systeme.io is the French counterpart of Clickfunnels. The good thing about Systeme.io is that the most expensive package they have is the same price as the cheapest of Clickfunnels.
Pricing wise, I think Systeme.io is a good deal.
How Systeme.io Works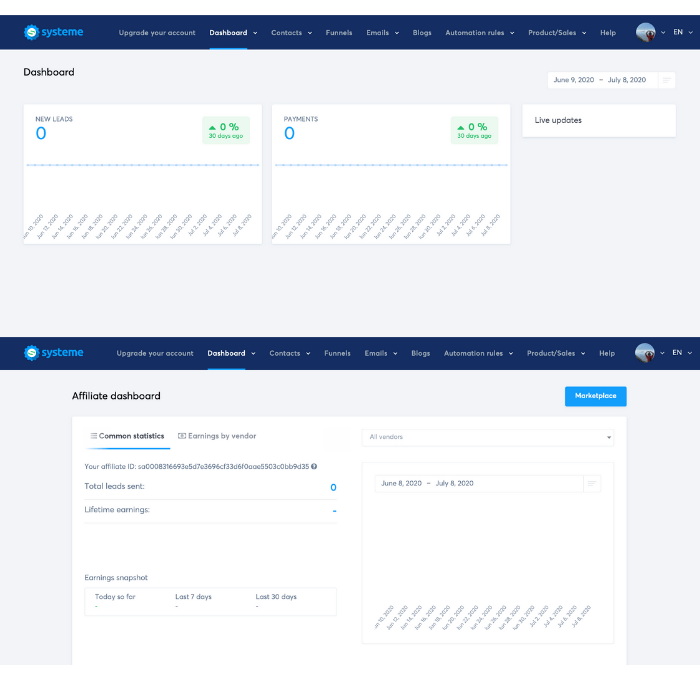 If you sell something online, you can direct more people to your product by having squeeze pages to gather emails and sales funnels to move them to action. You can also add order bumps to increase the money you get from customers.
If you still don't have a website to showcase your products, Systeme.io can help you create one.
Basically Systeme.io helps with all the elements you'll need to increase the number of people who notice and buy your products.
Sales Funnels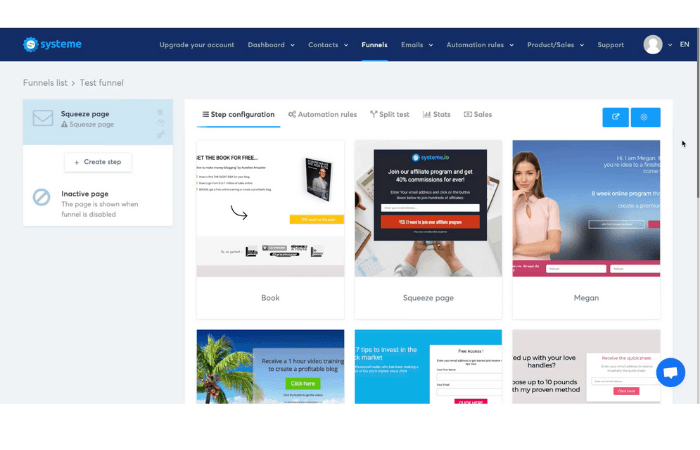 This helps direct potential customers to convert. It even has analytical tools like traffic stats, split tests, and sales tracking so you can monitor what strategies convert most
Automation And Workflow
Systeme.io also helps in scaling your business by creating workflows that direct contacts to specific actions. So, for example, if visitors give out their email but don't buy something, you can automatically send them follow-up emails or retargeted campaigns.
Email Marketing
Rather than integrating 3rd party autoresponders with page builder tools, Systeme.io has a built-in email marketing feature. It even has a filter component using tags so you can make specialized email campaigns.
Blogging
You can also create blogs in Systeme.io so you can provide more value to visitors. The blog feature lets you utilize layouts, text, images, and videos.
Course Builder
If you want to make your own digital product, you can also do so with Systeme.io. It can create online courses and membership sites.
Affiliate Program
Another feature Systeme.io has is the ability to let your audience market your products for you. You can create affiliate links for them, so they'll earn a commission for promoting your products. The platform can even automatically send them payouts and show them the earning stats.
Other than promoting your own products, Systeme.io also lets you gain a commission for promoting the platform itself. When someone signs up using your link, you'll gain a 40% commission.
Tutorials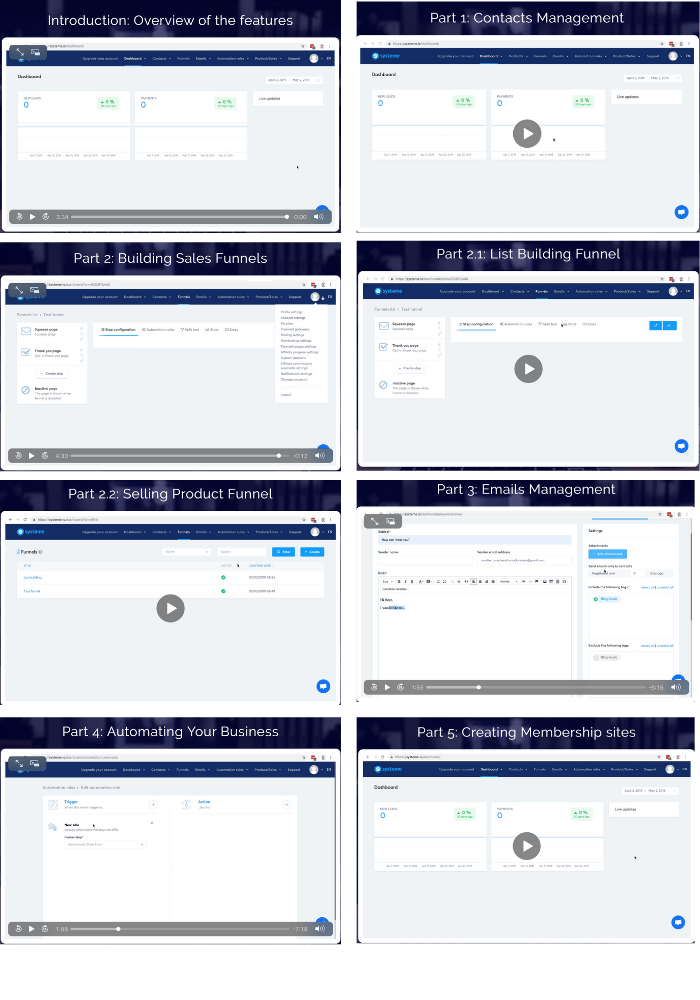 Systeme.io doesn't leave you alone to learn on your own. The members' area can let you access walk-through videos teaching you how to use the platform features.
System.io Pros
1. Affordable Package
Unlike its counterparts, Systeme.io is fairly cheaper.
2. Available In English, Spanish, And French
Amacker wants a worldwide reach so even if he's a French guy, English speaking people can use the platform.
3. User-friendly Interface
Complicated websites can grind my gears, I'll only end up spending my time figuring out where to find what I need rather than start making campaigns. It can be a huge waste of time, thankfully Systeme.io is user-friendly so I can have better use of my time.
4. Templates
If you're having a hard time coming up with page ideas, Systeme.io has templates you can use and personalize. The downside though is that other members will have access to the same templates so your pages will look generally the same.
System.io Cons
Systeme.io is not perfect, it has some flaws which can annoy you.
1. Inconsistency
If you tweak something out, it might not who on the mobile version, so you'll have to tweak both sides.
2. Cannot Erase Images
It can make things complicated especially when you have to get across a lot of media.
3. Limited Templates
You'll have narrow choices when it comes to templates which can be a bummer because you can't make your page unique with all the members using the same templates.
4. Email Subscribers Limit
You can only have as much as 15,000 email subscribers unlike autoresponders like Mailchimp which allows you a maximum of 50,000 subscribers.
5. Less Third-party Integration
If you need other features that are not available on the platform, you can't integrate these with Systeme.io.
6. No Email Campaign Templates
Unlike the funnels and squeeze pages, you won't have a DFY email template you can tweak so you'll have to start from scratch.
Is Systeme.io A Scam?
I don't think it is. Frankly, one thing that alerts my scam radar is overly hyped income claims, Systeme.io doesn't do that.
Aurelien Amacker has a good industry track record so I think he's a pretty decent guy who knows what he's doing.
Plus, Systeme.io delivers the features it claims to have to bump up your online income potential.
But if you think this all-in-one platform is the golden ticket to finding an online goldmine, you might want to adjust your expectations. You see, this platform can be helpful but not always necessary.
Systeme.io Closing Thoughts
If you need crutches to market your online business, Systeme.io can be a good choice. Its counterpart Clickfunnels is way too expensive squeezing out all the cash from you with all the upsells everywhere you go.
Upsells will pop-up with every turn and it can get really annoying. Plus, the cheapest package they have is priced the same as the most expensive of Systeme.io. This can a good choice if you're in a budget.
However, Clickfunnels does have some features which are not available Systeme.io like bots who can help you answer queries.
Funnel set-up, email autoresponders, page builders, webinar creators can cost tons if bought separately. You can get a good deal with Systeme.io for having all of these available on one platform.
But here's the catch:
Even the savviest and most amazing sales funnel won't convert if you have no traffic going through it. This means that aside from paying a funnel builder platform, you'll also have to fork out funds for solo ads or paid advertising.
The thing with paid ads is it can shoot up out of hand. Plus, it can take some time, trial, and errors to optimize your ads to highly convertible ones.
So, here's what I'm saying: $97 per month is just the tip of the cost you'll need to shell out. This can be a problem if you're just starting out and in a tight budget.
Making money online isn't complicated…
This video will show you exactly how to get started. Tap to watch now »
And remember this:
Sales funnels made from templates will have a hard time converting because too many people are using them.
Don't get me wrong, I'm not saying sales funnels won't work. I'm just saying it can be hard and no matter how expensive your marketing platform is, it's not an assurance you'll get sure results.
So, here's the point:
An all-in-one platform is not necessary to reach your online income potential, it can help but it's not vital.
However, because it's not a scam and the membership is cheaper than most counterparts, you can go ahead and try it out here. But just remember the downsides it comes with, if you're good with it, by all means, check it out.
However, if you want another option, one that doesn't involve having as many costs, Wealthy Affiliate can be a great alternative.
Here's a link to the in-depth Wealthy Affiliate review if you want to check this out instead.
How I Make A Living Online?
After years of working in call centres I finally figured out how to create a 5-figure monthly passive income stream and become financially free.
Thanks to the right training and a lot of hard work I kissed my old boss goodbye and booked a one way ticket to Thailand.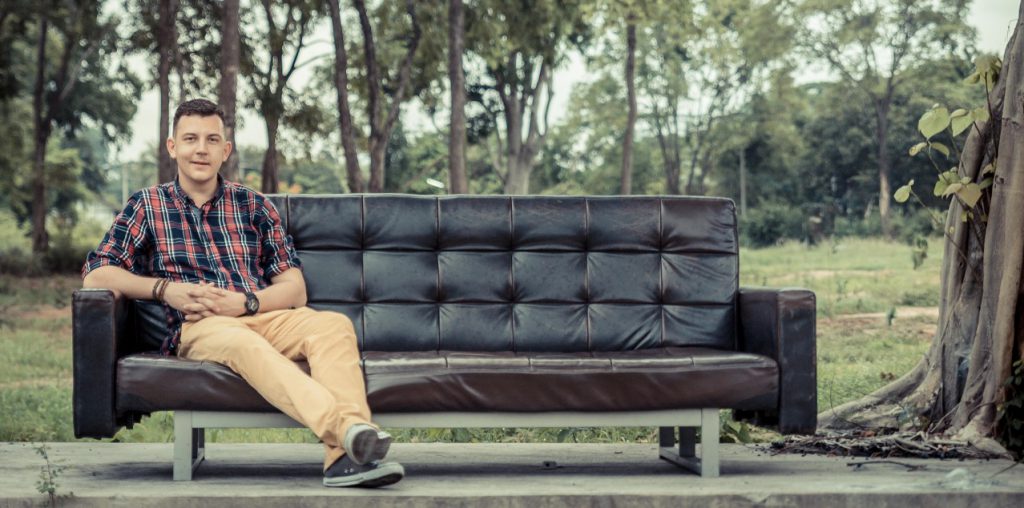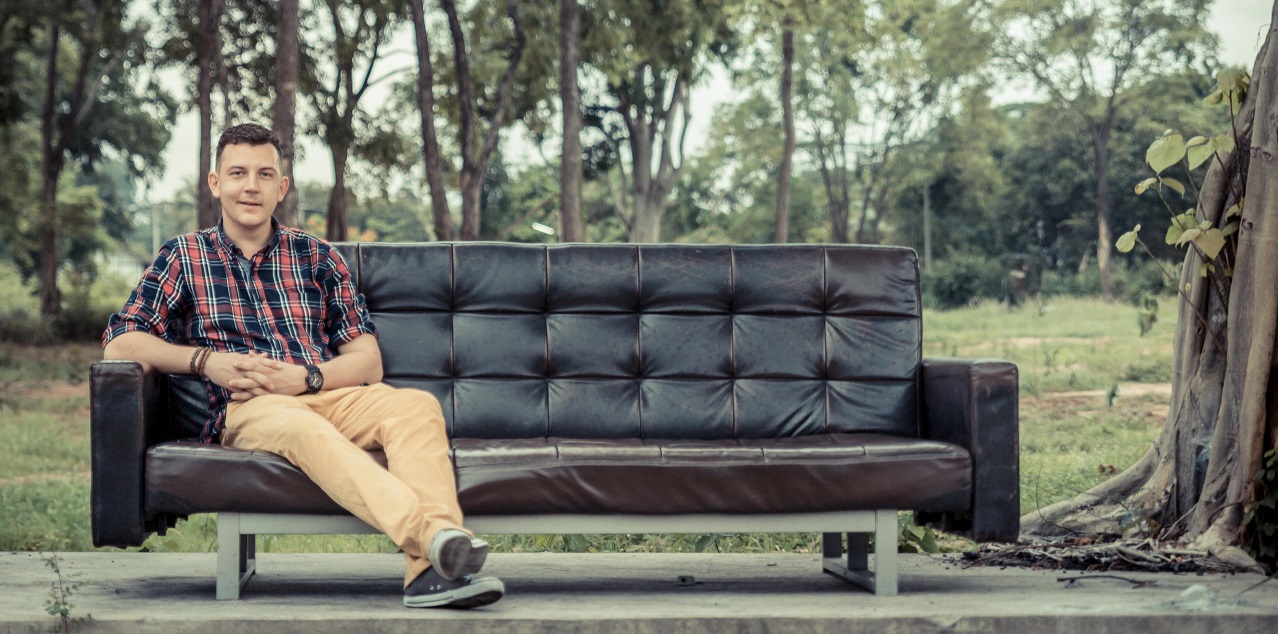 So if you're serious about building a thriving online business, click here for the exact step-by-step formula I follow.
Simon Crowe is on a mission to help as many people as possible kiss their bosses goodbye.
Take the free Commission Academy course to discover how to smash your online income goals and make your dream business a reality.