Hi, Simon here and welcome to my full Survey Spotter Review where we'll be putting this self-proclaimed income opportunity to the test!
I came across this cashback site one night when I was scrolling through my emails. Always on the hunt for new and different online income opportunities I decided to try it out. It is free to join after all! 😉
Some survey sites are more worthwhile than others so how does Survey Spotter measure up? Here's what I found out.
Survey Spotter Review At A Glance
About: Survey Spotter is an aggregate survey site that claims to help you make $300.
Price: Free to join.
Pros: Nothing.
Cons: No survey in the website itself, waste of time, low income potential.
Verdict: Survey Spotter is not a scam but there's no point signing up when they only redirect you to other sites.  

What Is Survey Spotter?
First impressions?
The site is really basic with nothing much except a simple sign up form and a title across the top saying you can earn $300 a month taking surveys in your spare time.
There's a basic FAQ's section and this 3 step guide to making money with online paid surveys:


They say they've signed up with online companies looking for consumer feedback and will reward you for completing online questionnaires to help them improve their branding and products.
According to the site you'll be able to start taking paid surveys as soon as you sign up and start earning.
The site is completely free to join, you just have to enter your name, email, sex and date of birth. It's open to all nationalities as far as I can tell.
Determined to find out more, I decided to sign up and try it for myself. To my surprise, I was redirected to a list of other survey sites (12 in total) and told to select all to be able to earn $300 a month…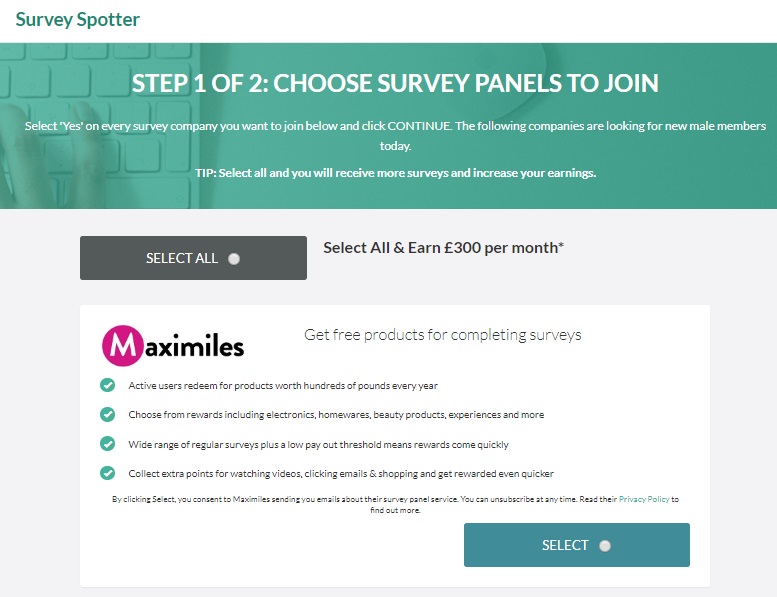 I selected all and clicked on the 'complete to final step' button.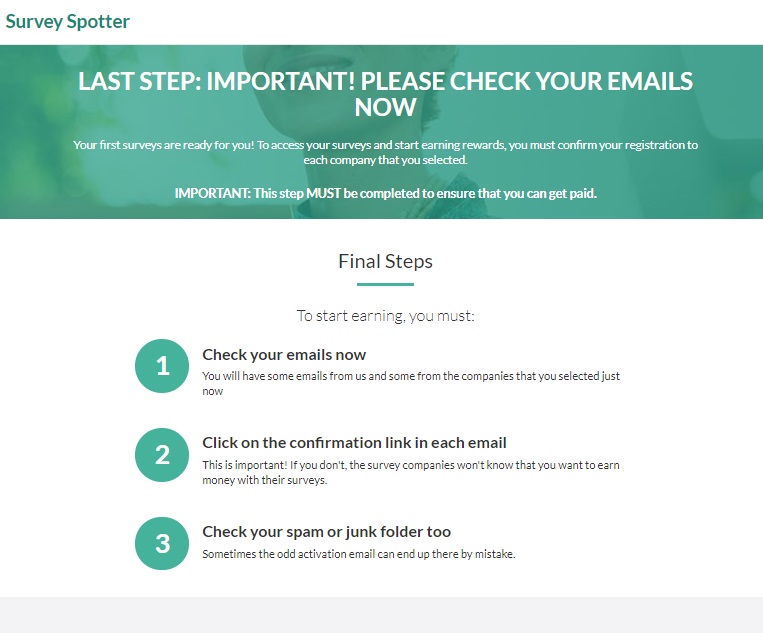 Sure enough, I checked my junk mail folder and within a couple of minutes I had a dozen or so notifications from several of the sites I'd signed up to.

At first glance Survey Spotter looks like your average paid survey site but on closer inspection it turns out this is nothing more than a survey aggregate site that redirects you to other sites.
Why Survey Spotter Is A Waste Of Time
Survey Spotter have no surveys. They have no members area or customer support team because they are not a survey site. They are simply acting as a middle-man!
Every time you sign up to one of their recommended survey sites and reach a minimum $10 balance they get a commission on your earnings.
There's really no benefit to you signing up and becoming a member – there no paid survey opportunities here that you can't find in 10 seconds doing a quick Google search.
In fact, I've reviewed 100's of paid survey sites here in the Make Money Online Blog. I'd say 20 Cogs, OhMyDosh (UK Only) and Swagbucks are my top 3, but feel free to browse through these reviews:
All of paid survey sites that are completely free to join:
There you have it! I've just given you access to way more sites than Survey Spotter will! There's just no point in signing up except to make the site owner a commission.
Can You Make Money With Survey Spotter?
Technically no you can not, because they are a survey aggregator website referring you to other survey sites and have no paid surveys themselves.
I'm not the only one who thinks this either. Here's a Survey spotter review from PaidFromSurveys.com I think you'll find insightful:
My Personal Opinion Of SurveySpotter.com
Survey Spotter make the bold claim you can make $300 a month filling out surveys. They base this on the calculation that the average survey taker takes 5 surveys a day for 5 days a week with the average survey paying out $3.
While it would be great if this was true, after reviewing hundreds of paid survey sites I can tell you the average survey site pays out no more than $0.50-$1 per hour and the number of surveys available are plummeting rapidly across the board.
Every other day I get comments from readers saying they were making fairly good money a year or two ago but now there's just no new surveys coming up.
There is money still be made as a survey taker, just not that much. If you go into this looking for a a full or even part-time income I think you're going to be disappointed.
Survey Spotter and paid survey sites in general are more for people with a lot of spare time on their hands looking to make a bit of extra pocket money on the side.
Sure, you could make an extra $10-$50 a month which is nothing to be sniffed at but is this enough to be able to call it a worthwhile side hustle?
The Bottom Line
Is Survey Spotter a scam? No it's not.
Should you sign up and as a way to make some extra cash? Honestly there's no point. They only give you links to online paid survey sites I've already given you.
Even if you sign up to 50 sites like this you're still earning far less than minimum wage completing mind-numbing questionnaires and giving companies access to your private information.
You just can't rely on this as a way to pay the bills…
If you want to seriously make a difference to your bank balance then you need to invest time into building a website and putting advertising on it.
Rather than spend an hour filling out surveys, why not use that time instead to build a real online business that will generate a real income for you month after month?
Sure, it takes time to begin with but it's well worth it. Put the effort in and you'll reap the rewards for a long time to come.
Simon Crowe is on a mission to help as many people as possible kiss their bosses goodbye.
Take the free Commission Academy course to discover how to smash your online income goals and make your dream business a reality.