Mobrog Paid Surveys review
Website: Mobrog.com
Been around since: 2011
Cost to join: Free
Minimum payout: $4
Rating: 5/100
Recommended: No
Quick Mobrog review overview
Mobrog is a paid survey website and app where at best you can earn $2 per hour giving private companies your personal information.
Aside from the very low payouts, you're going to find it hard to find surveys you qualify for and sometimes you're kicked out of a survey even when you're 30 minutes into it.
They do pay you cash into your PayPal account though so that's a plus.
I don't think Mobrog is a scam; they're a legit survey company who have been around since 2011 but is it worth your time?
Honestly not for me. There are just so many better alternatives out there that I've already uninstalled this app.
For the amount of work, time and energy you have to put into this, you get paid peanuts. The $1 an hour is nowhere near enough to keep me motivated for hours to sit there bored out of my head answering question after question about my personal life.
Honestly if I were you I would forget about silly survey sites like this. Why not spend your time building a real online business for yourself instead?
That's what I do and I've made a lot of money doing it. If you follow the step-by-step training then you can do the same.
Check out my number one recommendation for the exact blueprint I followed. (It's 100% free to start!)
You'll get instant access to 10 free lessons, 2 free websites to get you started and join over 100,000+ online entrepreneurs who are already building successful online businesses for themselves.
Plus you'll get one-on-one support from me.

What we'll cover in this Mobrog review:
What is Mobrog surveys about?
What happened when I tried it…
The 3 most common Mobrog complaints
Is Mobrog a scam?
What is Mobrog Surveys about?
Mobrog Surveys an a website and an app where you can apparantely get paid for giving your opinion and filling out different kinds of surveys.
They say you can earn anywhere from $0.50 to $3.00 per survey and once you hit the minimum $4 amount they pay you directly into your PayPal account.
They're owned by a German company called Splendid Research and have been around since 2011.
The Mobrog app is available on Android from Google Play and on Apple devices from iTunes.
Just like Opinion Outpost, Survey Club, Inbox Pounds and Inbox Dollars, Mobrog is built around the same idea:
Private companies and academic researchers want to learn about your spending habits and get your opinion so they can tailor their product launches and advertising.
These companies pay Mobrog and they in turn reward you for your time…. though as with all survey sites they don't pay much.
You could be answering questions about what car you drive, who your internet provider is, if you have any pets and so on.
Here's the office video explaining how Mobrog works:
What happened when I tried it…
So this is seems pretty straightforward and to most people looking for a way to make money online, getting paid to answer easy questions and giving your opinion seems like a no brainer.
But after reading  alot of Mobrog reviews online I was eager to try this out for myself. Using my laptop I headed over to Mobrog.com and clicked on the sign up button.
This bought me to a basic sign up form that looked like this:
It was easy enough to fill out and took me just a minute. Then I was asked to confirm my email address.
Sure enough, when I headed over to my inbox there the confirmation was waiting for me. I clicked confirm and was redirected to the member's area so I decided to check out what surveys I could do.
So as you can see, because the first survey is a pre-qualifying survey you don't get paid for it. It said it would take 5 minutes to complete.
It was a simple multiple choice survey that asks you about your marital status, household income and spending habits.
And this leads me onto one of the reasons I don't like survey sites, not only do they generally pay you peanuts, they ask more than just your opinion. This survey asked me how much money I was making per year and if I had been diagnosed with any life-threatening dieases.
Just way too intrusive for my liking…
After answering all the questions I was asked what kind of surveys I'd like to be involved with. I clicked on them all just to I could see what options were available.
Excited to see if I could make any money with this, I then headed over to the surveys tab…
"Unfortunately no surveys are available right now."
What?!
I'd just wasted 5 minutes of my life giving you some very personal details and this is all I get?
Then it tells me I can earn 64 pence ($0.85) if I invite my friends to join. For what? So they can waste time signing up to get the same message?
No thanks.
The 3 most Common Mobrog complaints
My first impression with this site was not great, but I understand that all websites and apps can have glitches from time to time and there's bound to some complaints.
So I started doing a little research to find out what others had to say. I was shocked to see Mobrog have A LOT of complaints against them.
There are 2,945 Mobrog reviews on Google Play with a 2.8/5.0 rating. As you can see, a vast majority of reviews are negative.

After reading lots of these complaints and checking out Mobrag reviews on Net Business Rating and TrustPilot, I can see a few common complaints that seem to come back again and again…
1. No surveys available
This is probably the biggest complaint – there's just no surveys for you to take.
Not only are you earning severely limited assuming your filling out mind-dumbing surveys hour after hour working less than the minimum wage, but if there's no surveys availabel this could be really annoying.
I was already frustrated after 5 minutes of being on the website, I wasted my time filling out my profile and pre-qualifying questionnaire for nothing.
2. Not able to qualify for surveys
I think the only thing more annoying then not having any surveys available is telling people half way through a 30 minute survey that they no longer qualify.
Honestly you could waste so much time on this and it's just not worth it.
Mobrog say there's a valid reason for this (watch their video below to hear what they have to say) but this doesn't change the fact you've just sat there for 45 minutes doing a survey only to get kicked out of it and not get paid.
3. Mobrog App glitches
There are lots of people giving negative reviews complaining about how slow and sluggish the Mobrog app is, others claiming they get kicked out ever few minutes.
Personally I found the site to be a bit out of date and in need of an update. To say they've been around since 2011, there doesn't seem to have been much investment into making this app or site easier to use and there are lots of bugs and glitches.
This is definitely not the best survey site I've come across.
What I like
They pay you via PayPal
A low minimum withdrawal of just $4
What I don't like
There never seems to be any surveys available
Lots of complaints from people getting half way through and told they don't qualify
They pay you next to nothing for sharing your personal details
At best, you can only expect to make $1-$2 per hour (if you're lucky)
Is Mobrog a scam?
Despite all the complaints and what I experiences with Mobrog, I don't think Mobrog is a scam, but it definitely has problems.
I'm not a fan of survey sites ingeneral just because they market themselves as an easy and care-free way to make money filling out simple surveys but in reality they pay far less than the minimum wage.
Aside from the fact Mobrog had no surveys available when I signed up, I think you're going to find it extremely hard to find surveys you actually qualify for and then there's the system issues you're going to have to contend with.
I just don't think it's worth it. It's barely a legit way to earn money because you're earning pennies at a time. I think it'll take you a few days just to qualify for the minimum $4 payout.
I don't see how anyone can make any money doing this and my best guess is most people quit before ever making a withdrawal.
Whenever I'm reving survey sites like this, I always find myself coming back to the same question…
Let me ask you:
How much is your time worth to you?
Surely it's more than $1 an hour?
I would never recommend taking surveys as a legit way to make money because there are way better ways you can earn online so why not focus your time and energy on building a real online business instead?
This is exactly what I did in 2014 and now I earn more than $6,000 a month online. If youd like to follow in my footsteps and follow the exact same training I did then check out my Wealthy Affiliate review here or click the button below to find out more.
The good news? The beginner's course is completely free.
No silly survey taking involved.
I hope you found this Mobrog review helpful. If you have any questions about anything I've covered here please feel free to leave your questions below and I will always get back to you, usually within 24 hours.
Also, if you've ever had any experiences (good or bad) with Mabrog then I'd love to hear from you! 🙂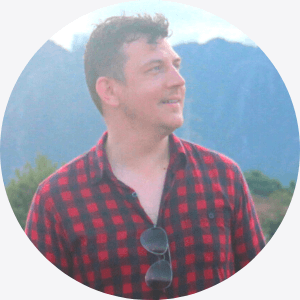 About Simon Crowe
Simon launched The Make Money Online Blog on a mission to help aspiring entrepreneurs kiss their bosses goodbye.
Get his free Affiliate Marketing Guide For Newbies to learn exactly how to make your dream business a reality.