If you've stumbled upon this Survey Freedom review, then you must be wondering:
Is SurveyFreedom.com a scam or legit?
Is it worth your time?
Can you actually make money with Survey Freedom?
If you're looking to make money online then these are very valid questions and in this detailed review, I'm going to do my best to answer them.
Survey Freedom Review At A Glance
About: Survey Freedom is an aggregates survey site to low-quality survey platforms.
Price: Free to join.
Pros: Easy and flexible way to earn extra cash.
Cons: Fake success stories, lied to about how much you can really make,.
Verdict: Survey Freedom is not an outright scam but they're not upfront about what they can really offer and how much you can make. Try something else instead.

What Is Survey Freedom Exactly?
Survey Freedom claims to be a legit paid survey site with surveys that pay up to $40 for your opinions, but the truth is Survey Freedom has no surveys.
Instead, the anonymous Survey Freedom owner takes your details before referring you to third-party survey sites so they can earn a commission every time you sign up through their links.
This is what's commonly known as an aggregate site and we've investigated our fair share of them here on the blog, including:
Joining a survey site 'middleman' like this doesn't help you in the least because all you're given is a list of survey sites you could easily find and sign up to yourself.
What Happened When I Signed Up
First, I headed over to the website and clicked the green Start Earning button to sign up for a free Survey Freedom account.
From there you're asked to confirm your gender and age, how many hours you're willing to put into this and how soon you'll be available to start. We're told this is so they can match you up with the best surveys. So far so good!
But what happened next set off alarm bells…
The last question asks about how much money you'd like to make taking online surveys with 4 options ranging from $500 to $5,000: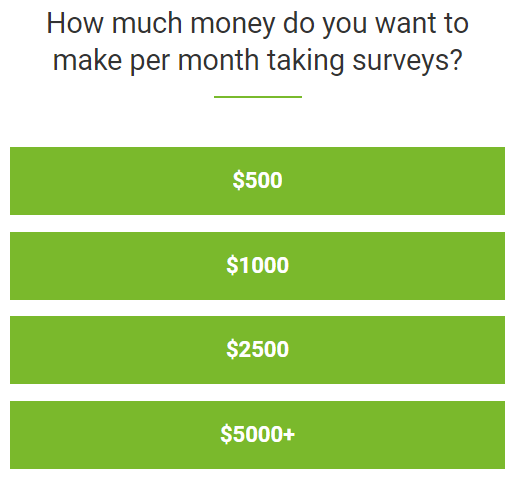 You could decide to go all in and sit on your sofa answering mindnumbing surveys for 16 hours a day, 7 days a week for an entire month and maybe you'd be able to make $200-$300 at the end of it.
But $5,000, seriously?!
Everyone knows survey sites aren't exactly known for rewarding their members well. In 2017, the team at NerdWallet tested 12 of the most popular survey sites like Toluna and VIP Voice where they spend 50 hours answering survey questions.
How much did they make after investing all that time and energy?
Not even $90 – less than $1.80 an hour.
So you see, Survey Freedom asking if you want to make $5,000+ a month is ridiculous. This will only give people unrealistic expectations and set them up for a massive letdown.
After answering I'm a man in my thirties, ready to work 40 hours a week and available to start immediately I was told I qualify for a whopping 3,273 surveys and asked to enter my name and email address.
I did that and it bought me to this page: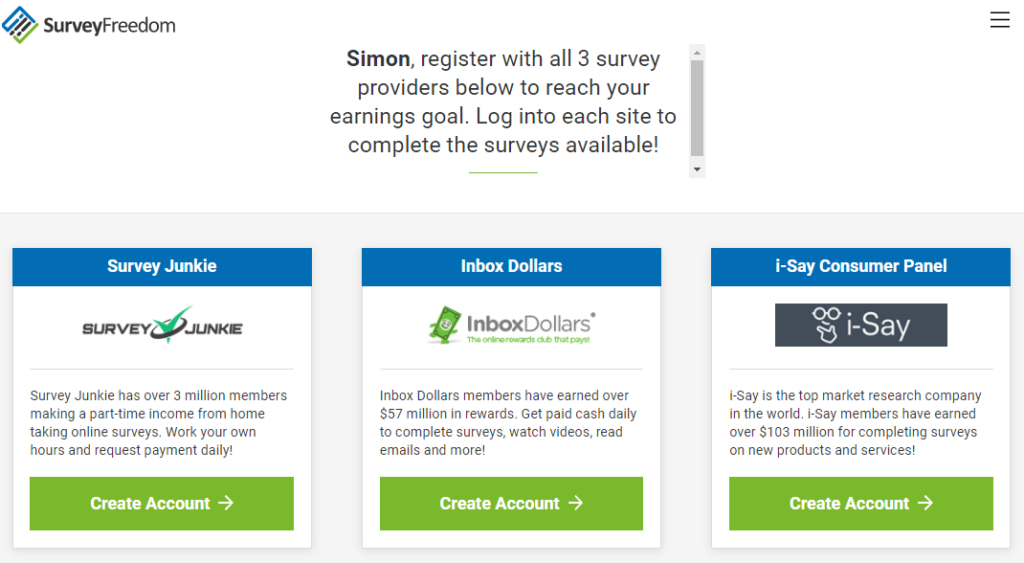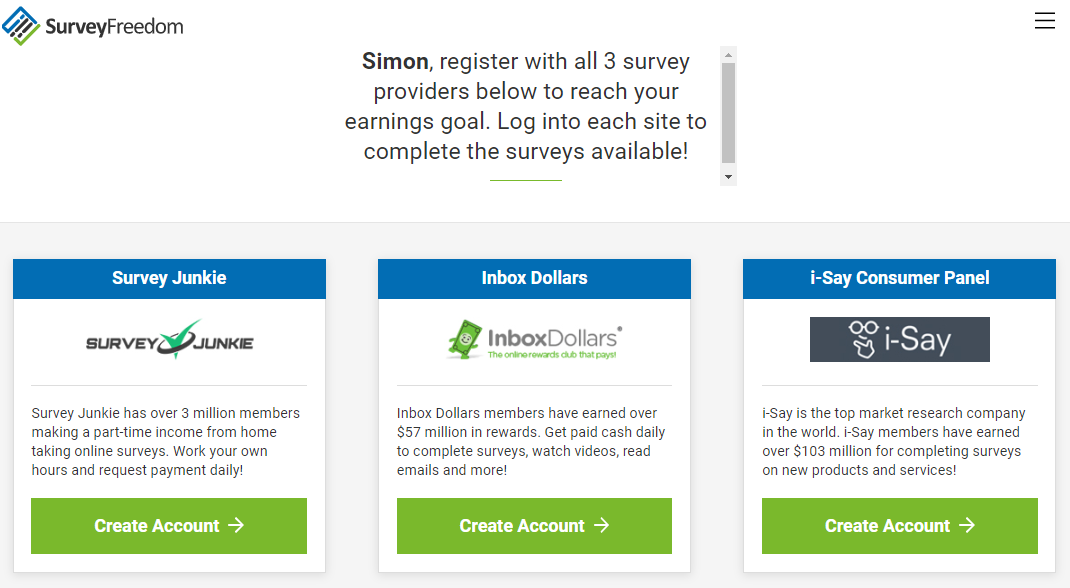 As you can see, instead of giving you a list of possible surveys, Survey Freedom only redirects you to 3 other survey sites and tells you to register with each one separately.
The funny thing is it doesn't matter what answers you give to the questionnaire…
Say you're a woman in your eighties looking for $2,500 a month but only willing to put in 5 hours a month and you'll still get this same set of recommendations. The whole thing's a farce.
But it gets worse:
When I tried hitting the Create Account buttons the 3 links were broken and all I got were blank screens!
That being said, I've reviewed these survey sites before so let me give you a quick overview of each:
1. Survey Junkie
Believe it or not, SurveyJunkie.com is just like Survey Freedom in that they have no surveys of their own and only redirect you to other sites. At best you should only expect to earn $0.75-$1.00 an hour.
Here's my full Survey Junkie review.
2. Inbox Dollars
InboxDollars.com is a rewards site with surveys that pay a dollar an hour, 2 minute videos that pay $0.02 and a search engine that pays $0.01 for every 4 searches. There are also a ton of complaints from members claiming they never payout.

Here's my full Inbox Dollars review.
3. i-Say
While not a huge money-maker by any means, i-Say.com is probably the best of the 3 with 30-minute surveys paying $0.80 a pop.
Here's my full i-Say review.
What I Like About Survey Freedom
Though I find taking surveys painfully dull, I get that for some it can be an easy and flexible way to earn a few extra dollars each month in their spare time.
After all, you can start for free, work around your own schedule, pretty much anyone can qualify and this is something you can do wherever there's a WiFi signal.
Survey Freedom's recommendations are certainly not the worst survey sites I've seen, but Swagbucks.com is a better alternative. You get a bit more money back for the time you put in, which is why I've rated them so highly in my Swagbucks review.
Survey Freedom Ugly Truths Exposed!
1. The Members' Success Stories Are Completely Fake
Scroll down the Survey Freedom homepage and you'll see reviews from supposed members giving 5 out of 5-star ratings and singing its praises. They say things like:
"Survey Freedom makes it easy to earn in my free time." and "Wow! I can't believe how much money I have made taking surveys."
Except, the testimonials are 100% fake as this Google image search shows: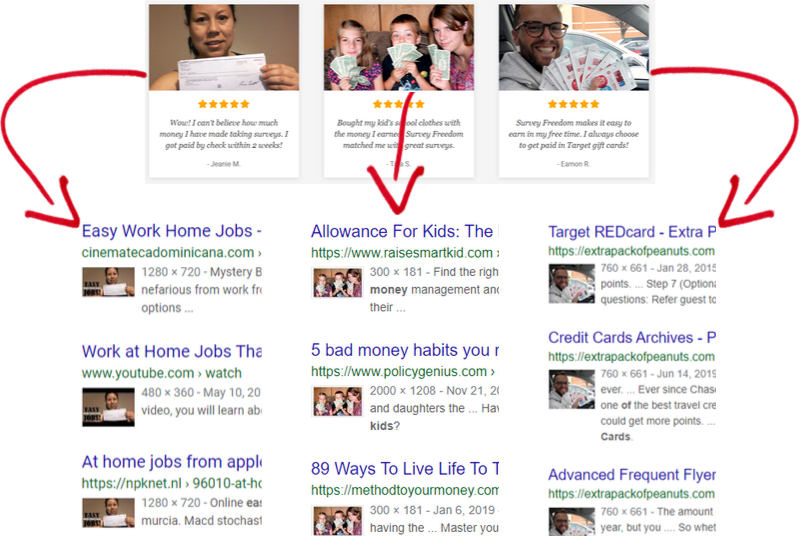 This is nothing more than a deliberate marketing ploy by the site owner to hoodwink you into thinking you'll be raking in the cash as soon as if you become a member, which we now know is simply not true.
Ultimately, this comes down to the issue of trust. Can you really believe Survey Freedom is a legit program when they're using scammy sales tactics like this? I seriously doubt it.
2. You're Lied To About How Much Money You Can Make
Now let's deal with the downright deceptive earnings claims. By far the biggest issue in my eyes is the fact you're led to believe Survey Freedom is the long-awaited answer to your money-making worries and you can earn enough money to replace your full-time income and quit your day job.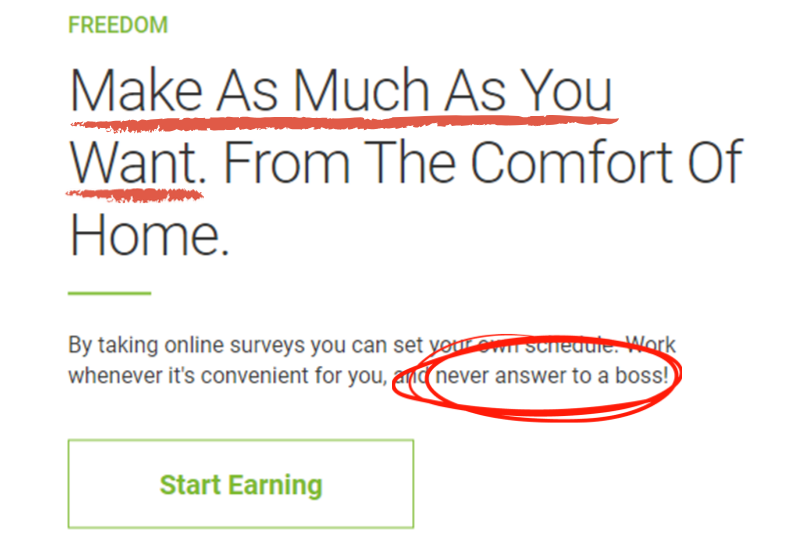 You're promised the opportunity to work from home taking surveys that pay $15 – $25 with some paying out as much as $40 and yet by looking at the list of survey sites they provided we know the most you can expect to earn is a measly $1.60/hour.
That's not taking into account the amount of time it takes to register for these sites or the number of times you might get disqualified and it's assuming there's always going to be a consistent flow or surveys available which is usually not the case.
As the video below shows so brilliantly, new members eager to get up and running soon quit once they realise how much time and work is involved for such little pay and I can't say I blame them!
It's not just your time you're giving up, you're also handing over a ton of personal information about yourself and your loved ones.
While answering questions about your favourite holiday destinations is harmless enough, you'll be asked to provide sensitive personal data like address details and dates of birth which could potentially put you at risk.
Is Survey Freedom A Scam Or Legit?
As far as first impressions go, Survey Freedom looks like a legitimate survey site with surveys that pay between $15 and $40. It's only after joining you see they have no surveys of their own and the surveys they recommend pay a fraction of the minimum wage and you realise you've been duped.
Based on this, it's safe to say I'll avoid SurveyFreedom.com in the future.
Should You Sign Up With Survey Freedom?
If you're looking to make anywhere near a decent full or part-time income, don't waste your time with Survey Freedom.
You're promised a limitless supply of high paying surveys but what you're given is the chance to earn pennies per hour so whoever created Survey Freedom can make a referral commission. That's the sole purpose of this site.
You'll end up wasting a ton of time and become incredibly frustrated once you see it takes months of solid work just to get to the $10 minimum withdrawal limit.
Survey Freedom is never going to be a serious earner so if it's a high-earning side hustle you're after, you should consider finding a better way to make money online.
Time To Have Your Say
How many surveys have you filled out in the past before you realised it was a waste of your time? Was it with Survey Freedom or another paid survey site?
Either way, scroll down and leave us your thoughts below and let's help the 1000s of people who still think signing up to these sites is the best use of their time and effort, even though there are a lot more lucrative opportunities out there.
Simon Crowe is the founder and editor of The Make Money Online Blog on a mission to help as many people as possible kiss their bosses goodbye.
Watch this video here to discover how to smash your online income goals and make your dream business a reality.