Spark by ClickBank was recently launched to be ClickBank's "first and only sponsored education platform.
Since it's ClickBank's (a major affiliate marketing marketplace) main affiliate training course, it's safe to expect a piece of training with exceptional quality.
But does it deliver, or will it leave you unsatisfied?
You're about to find out in today's review.
Spark By Clickbank Review At A Glance
About: Spark is ClickBank's primary affiliate training course.
Price: $9 plus $397 in upsells, but you'll also need a $100/month solo ads budget.
Pros: You may learn some new traffic methods but be warned, the training is based around reselling the training.
Cons: Highly deceptive sales page with stock photos and paid actors used to make it seem a legit income solution.
Verdict: Spark by ClickBank is a legit training course. But if you're looking to scale your affiliate marketing skills, it won't give much help as it's all just too basic.

What Is Spark By ClickBank?
Spark is ClickBank's new affiliate training platform. Currently, it's the only ClickBank-sponsored education platform.
In ClickBank's words, Spark is a "robust opportunity" made for new and experienced affiliate marketers.
But is it?
The website says ClickBank has pooled together a group of experts to come up with this new training course. The goal was to create a more straightforward course than previous courses like ClickBank university.
Thinking it's a leading affiliate marketplace, you would've expected their experts to produce remarkable training.
But the kicker is:
There are a couple of drawbacks. For one, this new ClickBank-sponsored course gives very limited information on how to leverage SEO.
If you're a beginner looking to learn a sustainable traffic source, organic traffic or getting seen on search engines without paid ads is the best choice.
Sadly, Spark touches too little on SEO as a traffic solution.
This alone lets you see Spark is not tailored for beginners like what they make it seem to be.
So, is it advanced training for experienced marketers then? You're about to find out shortly.
How Much Is Spark By ClickBank?
Spark by ClickBank is a $78, one-time fee affiliate course.
ClickBank made it affordable because they need more affiliates. The previous pricing for their earlier course doesn't encourage many to learn and become affiliate marketers for ClickBank.
Throughout the years, ClickBank has experienced a decline on marketers and product buyers.
This is because many of the products found here doesn't undergo a scam of not filtering system making it easier for scammers to leverage this marketplace to dupe people.
Funny how they created a brand-new training as the solution rather than putting up a filtering system to get rid of bogus vendors from the site.
What Can You Learn On Spark By ClickBank?
Spark by ClickBank teaches you the basics of affiliate marketing. It has 70+ videos spread into 17 mini-courses.
Course 1: 1st Steps
Like most courses, the 1st course is mostly an introduction to the training. You'll be told what you can expect on the succeeding courses and how you can make the most out of them.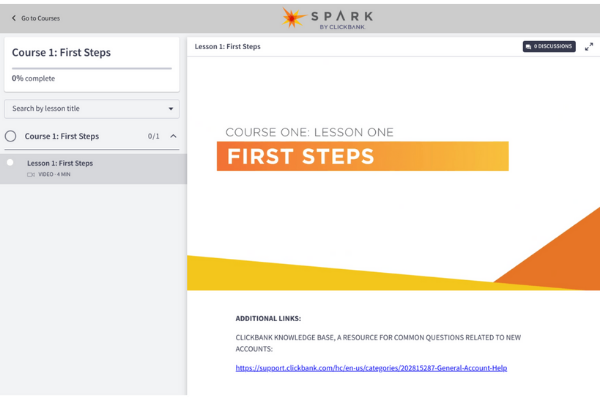 Course 2: Internet Marketing 101
This course will discuss what affiliate marketing is and basically a background on the industry.
The first part of the course will tell you about the different fields of internet marketing like performance marketing and direct response marketing.
The second half will deal more with affiliate marketing.
In this course you'll also get to learn about industry jargons and their functions like:
Analytics
Click-through rates
Open rates
Funnel
Paid search
Organic search
Digital display advertising
Course 3: How ClickBank Fits In
The 3rd part of the training will explain to ClickBank's role in your affiliate marketing journey.
It also gives you a tour of the marketplaces as well as show you products you can sell after the course.
Course 4: Product Owners
As an affiliate, you don't necessarily have to create your own products. You can simply get permission from a product vendor to promote their product so you can get a portion of the sale.
However, if you want to get 100% of the commission, you can also learn to create products to sell. This mini course will tell you what you'll need.
Course 5: Affiliate Marketing
This part will tell you more about affiliate marketing. I don't see the point in having this part when affiliate marketing was already explained in course 2.
This part will tell you more about affiliate marketing. I don't see the point in having this part when affiliate marketing was already explained in course 2.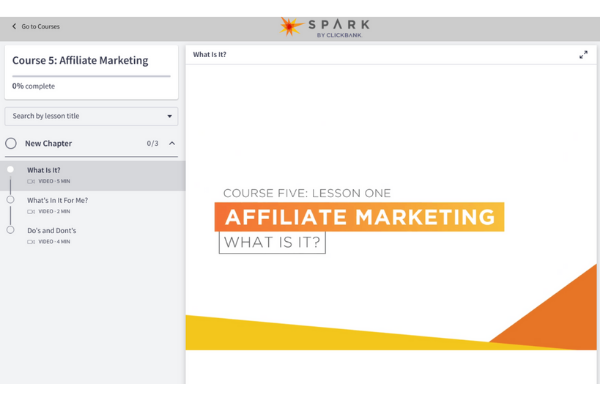 Here you'll be told again about how you can make money in affiliate marketing, do's and don'ts, and rounds back up again to what affiliate marketing is.
It's starting to get boring now.
Course 6: Direct Response Psychology
This part is divided into 3 steps:
You're basically taught how to find your audience's pain points, poke them, and offer them your product as the solution.
Course 7: Compliance
This part will tell you how you can comply with global law agencies, so you don't get into hot water.
Course 8: What Makes An Online Offer
Course 8 has 10 videos in total. It teaches you how you can effectively market your product to people online.
Course 9: Content Types
This mini course had 8 videos in total. It will tell you about:
Long form content
Case studies
Blogs
White papers
Infographics
eBooks
Video content
Template checklists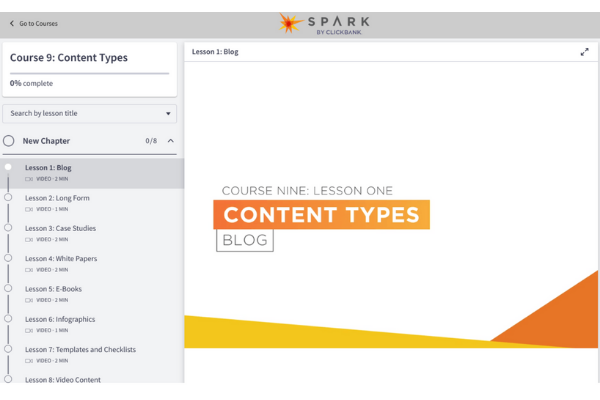 Course 10: The Tools Of Digital Marketing
You'll be taught about affiliate marketing tools like"
Click tracking
Autoresponders
Landing page builders
Graphic creation tools
Course 11: Outsourcing
This section will teach you what jobs in the process you can outsource, like creating blogs and graphics.
However, as a beginner, I believe you still have to know how it works so you know how to get the results you want.
If you know the ropes yourself, you'll communicate what your expected outputs are from the people you hire.
Course 12: Membership And Subscriptions
This just 1 6-minute video teaching you how you can host and price your membership site.
Course 13: Affiliate QuickStart Part 1
This section will focus more on how you become a ClickBank affiliate. You'll also be taught how you can select your niche and the products you can promote under it.
Course 14: Affiliate QuickStart Part 2
Don't get too hopeful you'll learn new things in this section, you won't.
This section just has 4 videos on:
What is an email list
How to build a lead magnet and opt-in form
Choosing an email responder
Free traffic
Practically the same things you've learned on previous sections. It's just redundant information.
I don't see the whole point why they had to have this section.
Course 15: Creating Your First Ad
This is another reason why I think Spark by ClickBank is not for beginners. Not only does it cover little on SEO, but it also promotes paid ads more.
The only thing Spark gives you an in-depth section is when it talks about paid ads.
You'll learn about:
Market research
Choosing the marketing channel to use
Creating your campaign
Optimizing it and using analytics
Course 16: Digital Product – QuickStart Part 1
In 3 videos, this section will talk about:
How to use ClickBank Marketplace
How to choose your first product
How to create your first product and how you price it
Again, I don't see the point of having this section when it's already covered in course 13.
Course 17: Digital Product – QuickStart Part 2
On the last section you'll be taught about:
Creating your sales page and thank you page
Launching on ClickBank
How to use upsells
Using ClickBank affiliate network
Although you get 70+ videos in total, Spark is just offering an insignificant improvement from ClickBank University.
Each video is just a few minutes long, not enough to cover most of the topics in-depth.
Just take outsourcing for example. You're only given 1 4-minute video on the topic.
4 minutes is definitely not enough to cover where you find freelancers, how you choose them, how much you pay them, how you set the agreement with them, and what you should expect from them.
If you just hire people without knowing all these things, you can end up flushing money down the drain without any output that's useful to you.
Spark also has a community. However, majority of the 273 people there are beginners like you. You won't get expert advice there.
3 Reasons I'd Wealthy Affiliate Over Spark By ClickBank
1. ClickBank Promotes Paid Ads Rather Than SEO
For beginners, SEO is the best traffic solution. It's wiser if you don't have deep pockets. In Spark's case, you'll be taught how to send your money in flames without any experience on it yet.
It won't yield you the results you want
2. It Teaches You About Hosting and Offering Membership To Your Site But Now How You Make Your Website
There's huge gap there. You'd end up relying in YouTube for the answers.
Come to think about it, most of what you're taught here are taught for free on YouTube.
The training you get is too generic. As I've mentioned just a minute ago it's not great for beginners because it promotes paid ads.
It's not for seasoned marketers too because the things you get here are too basic.
3. The Community Members Are Mostly Beginners
While beginners can help each other out, you'll need expert advice from proven marketers aside from the training course.
Spark doesn't provide you that, Wealthy Affiliate will.
Is Spark By ClickBank A Scam?
No, Spark by ClickBank is not a scam, it's a legit course with legit lessons. However, I won't recommend it to you because they focus on paid ads, the lessons are generic, and the community won't help you scale your skills.
Test Out Wealthy Affiliate For Free
Other than a structured training program, you'll get a community not just of seasoned marketers, but you also get in touch with the owners themselves!
Plus, you can test out this course for free. You can try out the 1st 10 lessons without cost to see if it's a good fit for you.
If you're interested to know more about the benefits of Wealthy Affiliate, check out this in-depth Wealthy Affiliate review.
What's Your Take?
Do you think you'll learn better in Wealthy Affiliate than in Spark? Do you feel Spark can't offer a competitive edge? Tell us what you think in the comments below.
Simon Crowe is on a mission to help as many people as possible kiss their bosses goodbye.
Take the free Commission Academy course to discover how to smash your online income goals and make your dream business a reality.