You may be forgiven for thinking ShoppingJobs.com is an online portal to a limitless supply of mystery shopping jobs, but take a closer look and you realise not all is as it seems.
In this ShoppingJobs.com review we're going to be asking: is ShoppingJobs a scam, legit or not worth your time?
Oh, and I should also point out at the very beginning that I am NOT working for or getting paid by ShoppingJobs.com to write this review.
I'm just a successful entrepreneur who helps people like you earn an extra income by finding legit online opportunities.
What is ShoppingJobs about, really?
With a name like ShoppingJobs and the slogan "Make shopping your job" the intention here is to make you think you're signing up for a free list of mystery shopping jobs.
In case you're not familiar with mystery shopping, it's when companies want to an outsider to come in and rate the quality of customer service disguised as just another ordinary shopper.
The idea is that as a mystery shopper you can get paid to browse your favourite stores and visit your local restaurants. While there's just not enough work to ever be able to do this full-time, it could be a nice little side-earner every now and then.
On the top of the website there's a picture of three ladies carrying shopping bags, and in the top-right you'll see a box that says:
"Free access to mystery shopping jobs plus more ways to earn."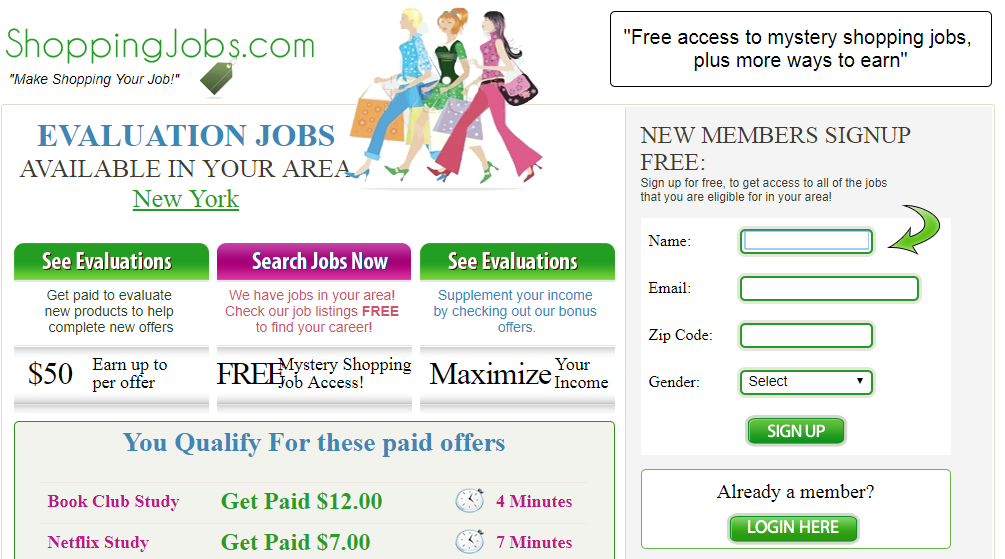 Signing up
You have to be at least 18 years and from the United States or Canada to join the site and as you can see, the sign up form is nothing too taxing, just asking you to enter your name, email, postal/zip code and gender.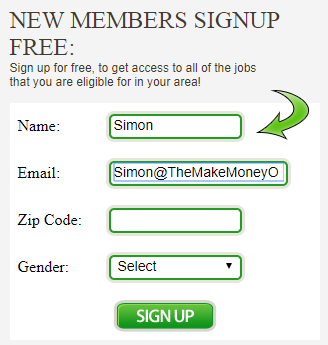 Once you're inside, you might not find what you're expecting…
When I first decided to write a review of ShoppingJobs.com I expected it to be very similiar to Shadow Shopper, where you pay to become a member and get access to all the mystery shopping jobs online, but after doing a bit of investigatingI discovered that's not what this site is about.
In a nutshell, ShoppingJobs.com get paid to send you to 3rd party websites to sign up for free trial offers.
They're not the only site to do this. Reward sites like Peanut Labs and SurveyBods.work in the same way but at least they're more upfront about it.
By marketing themselves as a free mystery shopping website they lure hundreds of people in who readily hand over their contact details and credit card info only to be bombarded with spam emails asking you to sign up for this trial offer or that promotion.
I'll give you an example of the type of 'jobs' available here:
If you sign up for Netflix through the Shopping Jobs rewards site you'll get $2 credited to your balance, but forget to cancel your subscription before the payment is due and you'll find yourself forking out for the full amount.
Another example of the types of so-called work available are signing up for the Stages of Beauty kit. Although they say it's free, you'll have to pay the $4.99 shipping fee and forget to cancel within 18 days and you'll find they've charged your credit card a whopping $69.99.
Let's be clear: spending $70 to make $2 is not exactly a legit money maker!
Don't let the fact this site is free to join allow you to let your guard down. If you're not extremely careful you could find yourself in a far worse financial situation then when you started out.
ShopperJob.com reviews: what others say
In the Work At Home Jobs forum you'll not find a single member who ever found a legit mystery shopping gig or who ever made any money from ShoppingJobs. Instead, all you read about is how people lost money through the site instead of making any at all…
Here's just a few of the most common complaints:
1. Never, ever pay to shop!
Here's a golden rule you should always follow: never, ever pay for the possibbility of working. Any legitimate work from home opportunity will not ask you to pay an application or admin fee.

2. They don't pay out
After reading lots of discussions on SurveyPolice forums I struggle to find a single person who has ever been paid out by Shopping Jobs, even after they reached the $50 minimum withdrawal limit. This should be a huge red flag.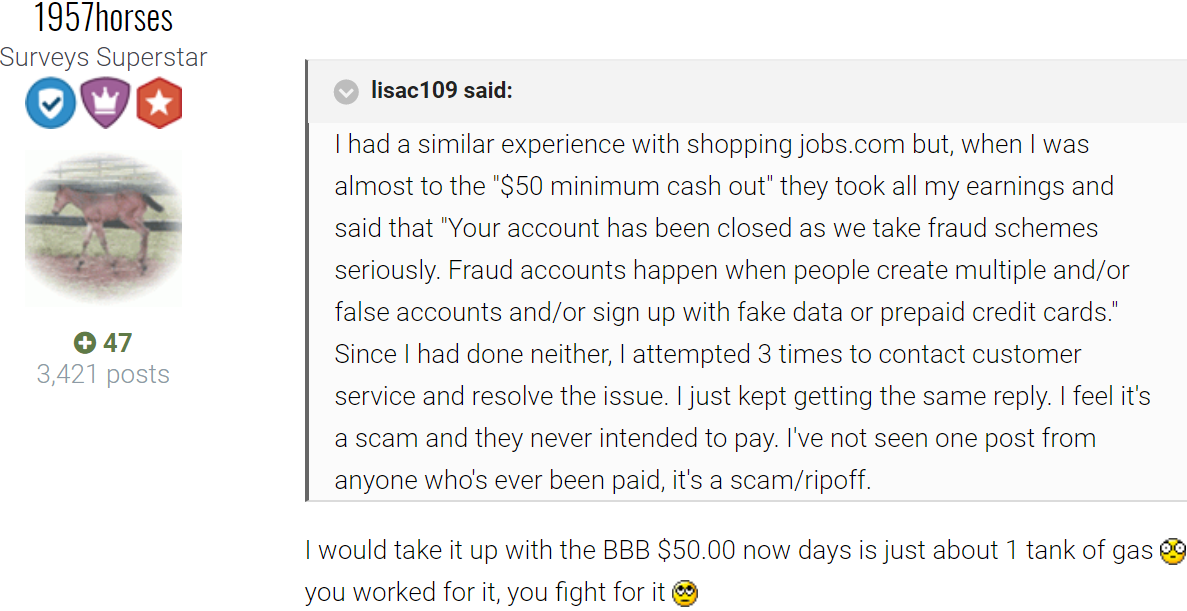 This is just my personal opinion but you've already been made to work a lot to accumulae $50 and you should not have to 'fight' to get paid what you're owed.
The fact members aren't getting paid and not getting the support they need tells me all I need to know about the kind of people behind this site.
Is ShoppingJobs.com a scam?
I think they use a lot of deceptive practices to lure people in, giving the false impression they're signing up for a free mystery shopping jobs site when in fact they're just going to be invited to sign up for bonus offers that could take way more money out of your pocket then they ever put in.
For these reasons I believe ShoppingJobs.com is a scam designed to make money for the website owners only, while you shell out for subscriptions and products you never needed or wanted.
These offers ShoppingJobs are sending you to are 3rd party websites and some of these are definitely scams. When registering with these sites, always make sure you read the fine print and always be very cautious when hading over your credit card details.
See this notice from the Federal Trade Commission for advice on avoiding mystery shopping scams and if you have any questions or concerns, please leave them in the comments section below.
Is ShoppingJobs.com right for you?
If you're looking to build a decent-sized income stream for yourself then completing a mystery shopping gig every now and then just isn't going to cut it, which is why in 2014 I quit mystery shopping gigs altogether and learned how to create my own internet business instead.
I followed this free beginners training course that you might want to check out. It'll show you everything you need to know about making serious money online.
Yes, you're going to need to invest the time and effort but it's definitely worth it. Follow the same blueprint I did and you can replace your full-time income too.
Simon Crowe is on a mission to help as many people as possible kiss their bosses goodbye.
Take the free Commission Academy course to discover how to smash your online income goals and make your dream business a reality.