Welcome to the Profit365 review where, together, we'll see once and for all if Jamie Lewis' latest course can help you earn big commissions or is just money-sucking waste of your time.
We'll be answering questions like:
Can you realistically earn $2,800 per day, and is it even possible?
Is Profit365 a scam that belongs in the trash can or the golden opportunity you've been looking for?
Because let's be honest:
95% of so-called 'make money online programs' out there are designed purely to line the pockets of the scam artists who created them, leaving you worse off than when you started!
Just so we're clear from the start: I am not getting paid to post this review.
The only reason I'm writing this review is to help you avoid get-rich-quick scams and find real affiliate marketing training that gets results.
If you're short on time, here's the quick bitesize version:
Profit365 Review At A Glance
About: Jamie Lewis' affiliate training promising to help you generate $2,800 daily.
Price: $34 for the front end, $465 for the upsells.
Pros: Has a 60-day money back guarantee.
Cons: Jamie Lewis is a serial product launcher. Solo ads are expensive and risky.
Verdict: Profit365 isn't a scam but it is low-quality training that overpromises and underdelivers.  

What Is Profit365 About, Exactly?
Profit365 went live on 7th February 2019 and money-hungry affiliates immediately started spamming the heck out of the email boxes across the land.
Watch the Profit365 promo video and you're hit with a barage of ClickBank commission snapshots from Jamie Lewis bragging about how rich he is. You see him walking up to people in a shopping mall, phone in hand, showing them how much money he's made.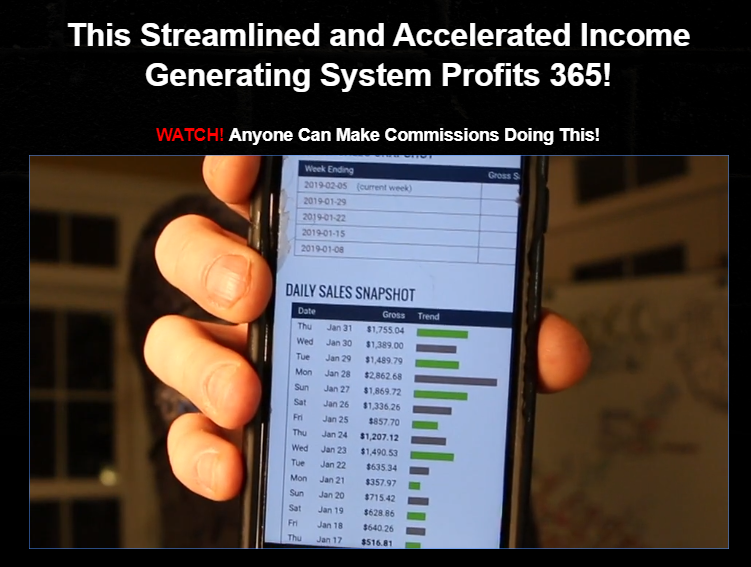 Jamie Lewis didn't even try to tone down the outlandish ridiculous claims of how 'crazy easy' it is to 'make cash on demand'.
At certain points in the video I honestly didn't know whether to laugh or cry – this is definitely the cheesiest sales pitch I've ever seen (and I've seen a few!)
He makes outrageous claims like:
"Watch the commissions fly in fast and live the life of your dreams!"
"All you do is create a ClickBank hoplink and blast it out to the masses!"
"I've learned the secret to a $2,800/day, $84,000/month, $1,022,000/year income!
But wait, It gets waaaayyyy worse!
Check out this Facebook video Jamie posted of him actually lying in a bed of money rapping about how great Profit365 is:
OK, so let's just agree this guy definitely likes to use a lot of hype and gimmicky sales tactics to promote his course (possibly the biggest understatement of all!) but something Jamie and I can definitely agree on one thing:
Learning how to make money with ClickBank can be very lucrative.
ClickBank.com is an online marketplace where you can sign up for free and get access to a wide range of products to promote. They have all kinds of online courses and eBooks and membership focused on gardening, fitness, cooking, languages… pretty much anything you can think of.
Just last week I broke through the $1,000/day barrier for the first time – twice!
And yes, that was thanks to ClickBank, I wrote about it here.
It's easy to hear things like this and think all you have to do is sign up to ClickBank and money miraculously starts pouring in .
The truth is:
I've put in countless hours of work to get to this level – it didn't happen overnight and I wasn't drinking cocktails at the beach (I don't want sand in my laptop!)
When Jamie talks about simply "grabbing links and smashing the masses" he's deliberately giving you the false impression that becoming financially free is as easy as spamming Facebook with ClickBank links – it's not!
The Training Over-Promises And Under-Delivers

Pay $34, beat your way past the 3 upsell pop-ups and reasonably, you'd expect a clear, step by step course on making ClickBank commissions you can follow.
I'm sorry to say:
This isn't what you get, not at all.
To say Profit365 is an anticlimax isn't putting it strongly enough:
There 6 videos of a women talking about why you should buy solo ads, but no direction on where you should buy them from, how to make money doing.
Nowhere in the training can you learn how to build a website.
Nowhere in this training can you learn how to build a list of email subscribers.
It's not just that – there are huge gaps in the course that's made up of old, recycled videos that Jamie's found somewhere online and chucked together to create a 'course'.
Despite the hyped-up claims, there's just nothing of substance or value whatsoever. It's certainly not going to help you make money.
In case you think I'm being too harsh here, check out this video Profit 365 review where you can see what is, or rather, what isn't covered in the training:
The Profit 365 Upsells
Every single Clickbank product I've ever reviewed have upsells that come with it. Personally, upsells are a pet peeve of mine because I believe there shouldn't be a need for upsells if the product is strong enough to stand on its own.
The sad fact is, upsells are primarily a way for the product owner and promoters to get more money out of you.
Profit 365 has 3 upsells which will cost you an extra $462 in total:
Upsell 1: Adwords Campaigns – $94
With this upgrade, Jamie'll send you some of his previous PPC (pay per click) marketing campaign templates.
Upsell 2: Weekly Profit 365 Reinforcement Classes – $174
This upsell gives you an 'all-access pass' to Jamie Lewis' weekly teaching webinars so you can get ongoing training.
In a radio show style format Jamie often invites special guests and runs live Q&A sessions.
Upsell 3: Profit 365 Business in a Box – $194
This is a 2GB zip file of Jamie's done-for-you website templates and video database – a compilation of some of the stuff he's used in internet marketing in the last 10+ years.
Can You Make Money All Year Round With Profit365?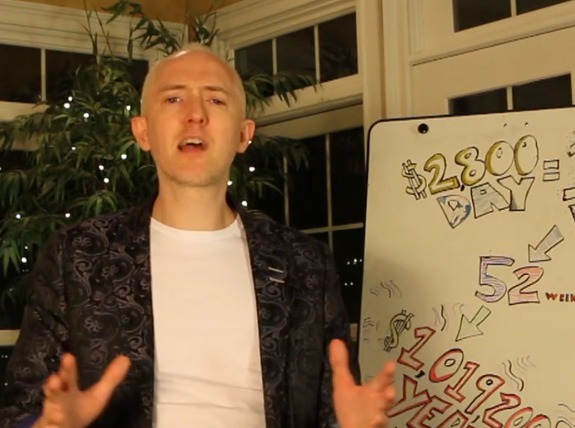 Here's the real question:
Will you make $2,800 per day if you follow Jamie Lewis' training?
You can make money on ClickBank but apply the Profit365 training and you'll lose $100's.
I say that because Jamie recommends you copy and paste his old spam emails and pay solo ad vendors to send out emails with your affiliate links out to his list of email subscribers.
Solo ads are outdated, they don't work and expensive. You'll end up spending a lot of money paying spammers to send spam emails on your behalf, emails no one will read or click through.
The only real way to make money through ClickBank in the long-term is by creating a website on say, bodybuilding, learning Japanese or any topic you're interested in, then filling it with helpful guides and reviews.
Over time people will start to find your site in Google search results and you'll get free traffic coming to your site daily, reading your content, clicking on your links and generating ClickBank commissions.


If you're serious about making money through ClickBank then you should check out this free beginners training course – follow that and you'll learn a system of making money online that actually works.
What I Like About Profit365
1. Money Back Guarantee
Ironically, Profit 365, which is a course on how to make money generating sales on ClickBank is also sold and promoted through ClickBank.
The good news for you is that this means you're covered by the 60-day no money back guarantee.
What I don't like so much…
1. Jamie Lewis Is A Serial Product Launcher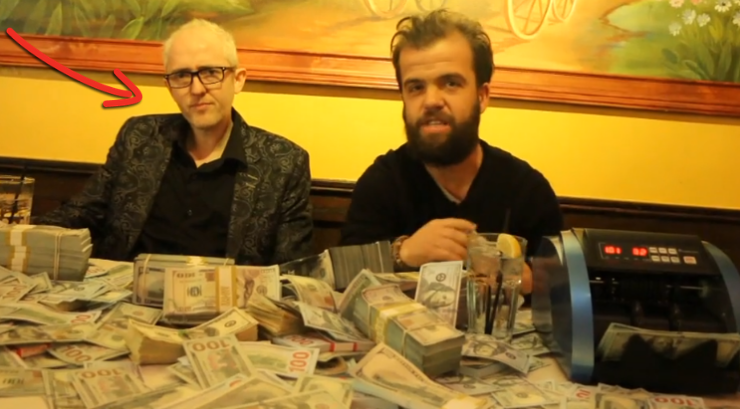 Remember those daily ClickBank snapshots?
Jamie Lewis says he makes $2,800 but how much of that comes from selling courses like Profit 365?
My guess it the vast majority of it. He makes money by building up hype around a product, launching it, getting his promoters to spam everyone on their list and make a few sales.
Two weeks later, once the hype has died down, Jamie's off working on another project, and so the cycle continues.
4 weeks ago Jamie released Profit Injector. 2 weeks ago he released Wealthy Agency, now it's Profit 365… seriously, what's next?
The vast majority of that money comes from sales of products like Profit365.
I see this kind of thing happening a lot:
As ironic as it sounds, there's a whole group of people out there who make money launching the same rehashed information again and again.
2. Solo Ads Are Dangerous For Beginners
As I said already, as a newbie, paying out for email swipe ads can quickly get out of control.
Any people you get clicking your emails are people who are just not interested in some spammy looking offers and are more likely than not already being bombarded with spam on a daily basis.
Plus, there's a lot of dubious solo ad vendors out there. As a beginner you have no idea who these people are and if you're actually getting what you pay for.
Ultimately, it's a high-risk, low reward strategy that doesn't work.
Is Profit365 A Scam?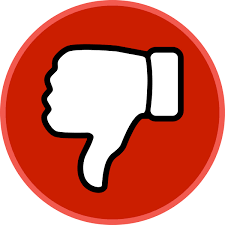 I'll be honest:
In my opinion, Profit365 is not a scam…
But it is very misleading.
I mean, at what point do the cheesy sales gimmicks cross the line from hype to downright deceit?
Earning a full-time income online is very possible, but not like he's telling you here.
Should you give Profit365 a try?
I wouldn't waste your time if I were you. It's never just a case of "Copy a campaign and watch the money flood in!"
Even if you manage to get a sale or two, this is in no way a long-term strategy and will start your online career off on the wrong foot.
Start Making Money Through ClickBank The Right Way
Jamie Lewis obviously knows a lot about affiliate marketing but rather than sit down and create a high quality affiliate marketing course that's going to help people, he chooses to create hype around releasing new programs every couple of weeks.
Anways, all this to say products like Profit 365 are here today and gone tomorrow. Once the hype fizzles out you'll never hear about this again. That's the nature of the 'make money online' business unfortunately.
While Profit365 is right about the earning potential of affiliate marketing – it's just completely wrong about how to get there.
If you're interested in learning how to build a real income stream online then check out Wealthy Affiliate's free beginners course.
They've been helping aspiring entrepreneurs how to replace their full-time incomes since 2006.
Here's the 4 step process they'll walk you through:


There's no need to pay out for expensive solo ads, no need for ad budget and I can tell you first-hand that the training actually works.
Basically, you can start a website on any topic you like and turn your interests, hobbies or passion into a profitable and successful business.
With step-by-step practical teaching and an awesome community of online entrepreneurs all helping each other succeed, I know it will help you get to where you want to be.
Questions Or Thoughts Of Your Own?
I really hope you found this Profit365 review helpful in deciding whether this is a program that's right for you or not.
If you have any questions at all, feel free to scroll down and leave me a comment and I'll be more than happy to help any way I can.
Simon Crowe is on a mission to help as many people as possible kiss their bosses goodbye.
Take the free Commission Academy course to discover how to smash your online income goals and make your dream business a reality.