Hi! My name is IG and welcome to my review of Pinwizz.
Today we're going behind the claims of "the world's first Pinterest automation system" and find out if you can really make $442 per click if you use this.
It's another "push-button-easy" which sent the alarm on. In this review, you'll get aware of the pitfalls you'll encounter if you buy this. But before telling you those, I'm going to start off by revealing its little secret in the What Is section.
I'll then go on to tell you what you can do in the members' area, so you'll realize for yourself you don't really need this at all.
I'll finish with my thoughts on the system and a suggestion of what you can do if you want to generate the right buyer traffic for your offers.
If you're ready, let's get started!
Pinwizz Review At A Glance
About: Pinwizz is a Pinterest automation system that claims to help you generate buyer traffic and get people to get convert so you'll get $100s every day.
Price: $17 for the front-end and $265 for the 5 upsells it comes with.
Pros: The system helps you target down your potential audience.
Cons: It's a rehashed system and the method taught is basically spamming.
Verdict: Pinwizz is a low-quality Pinterest automation, which by the way doesn't really do any automation at all. It won't get you traffic for your offers.

What Is Pinwizz?
Pinwizz is a Pinterest automation system made by Rudy Rudra and launched last October 2020 in the WarriorPlus network. It's supposed to help you generate traffic from your Pinterest account for your offers so you can earn from them
Here's the little secret:
A year ago, Rudy peddles Pinwizz under another name: Pinterest Traffic.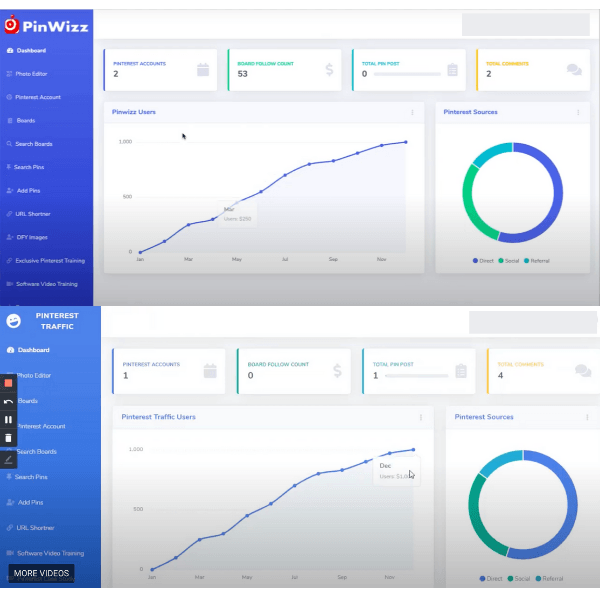 This tells you Pinwizz is just another white-label software that's going to be relaunched under another name in the coming months or year.
As you can see, the only difference Pinterest Traffic has from Pinwizz is the logo. The color scheme is the same and so is everything else.
Basically, Rudy banks on the fact that Pinterest is a fast-growing network which could potentially be a great audience pool for internet marketers.
The problem comes in when he presented Pinwizz to be a Pinterest automation tool when it does is search boards and pins for you. I'll explain more about it later.
If I think about a Pinterest automation tool, Tailwind first comes to mind. It's the fully functional automation tool Pinwizz only dreams to be.
I was able to use it myself back when I was managing 3 Pinterest accounts and I can tell you it's a way better tool that Pinwizz. I'll show you why I can say so after I finish showing you around the members' area.
Pinwizz Members' Area: An Inside Look
Pinwizz offers to generate traffic in 2 ways:
1. Uploading Pinterest content and putting your affiliate offer in the description area.
2. Commenting on pins and including your affiliate offer in it.
To help you with the 1st way, Pinwizz has a database of photos you can use to make content. But the problem is they all look too spammy.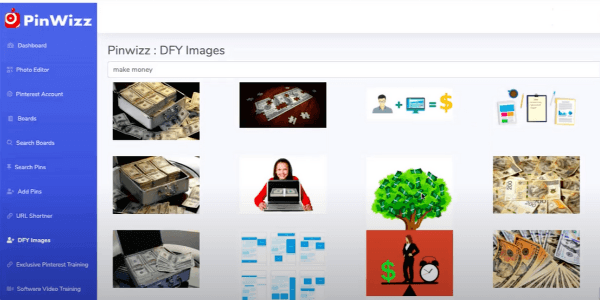 These are the photos you use when you're frantic in getting people's attention.
You also get a photo editor with very basic functions in the members' area. At best you can only add a text or crop your image with it.
If you want to make compelling pins, I'd suggest you use Canva instead. You get better stock photos and better done-for-you Pinterest graphics. It even allows you to post directly on Pinterest.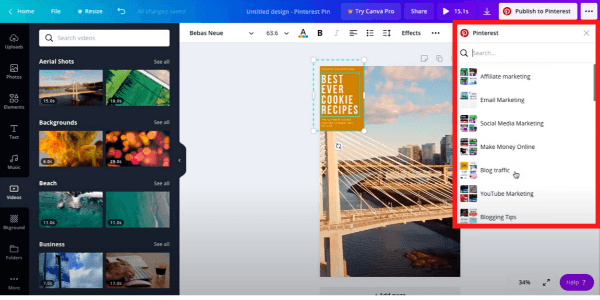 Another feature you'll find in Pinwizz is the board searching tool, something you do straight away on Pinterest.
What it does is search for boards in the niche you're targeting and start joining those boards so you can post pins and people there can check it out so the supposedly becomes your traffic.
The idea is you create pins and when people from your network view them, they get interested enough to click on the link in the description to check your offers and buy them.
One thing to keep in mind is, although many of the boards are free to join, a lot of them have rules you should follow to stay connected.
Usually these rules include not allowing certain types of pins or pitching offer links.
Given you're allowed to do those stuff and someone does check your pin, it's almost impossible to get them off Pinterest and on to your offers.
Usually, they just look at the photos on the list and scroll off. Rarely do they click on them and read everything on the description.
So basically, getting to your offers using this method is next to impossible.
How about the 2nd way?
Pinwizz also has a pin search tool. You supposedly search pins on your list and post comments on them which includes a link to your offer.
Things start going downhill from there.
You see, in the training you get, this what you're taught to do. You supposedly find pins and comment your affiliate link to each one of those.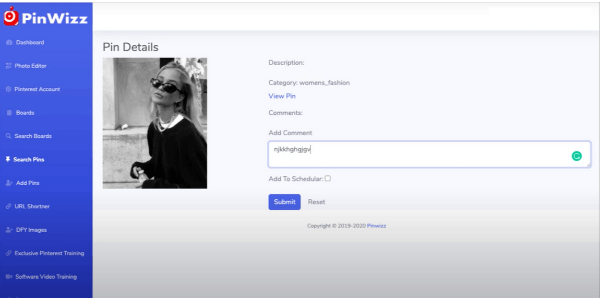 It's downright spamming.
You're taught to go to Pinterest every day and do the same things over and over again. Give a little random comment and pitch your affiliate offer.
This is Pinwizz's version of giving value to people.
The fact with online marketing is:
To get people interested in your offers, you have to give them something of value first. Only then should they be pitched offers.
If you do it the other way around, the timing won't be right, they're still not interested yet because they still don't see the value you can offer.
Pinwizz's traffic tactic is really problematic because you're essentially spamming everybody on your network. It's an intensely bad way to get your message across about your offer.
Another reason why spamming is so bad is that it gets you banned from the platform.
If you follow too many people on Pinterest (Pinwizz warns you to just do 100 per day) it won't be long until they get you expelled from the site.
Why?
Pinterest's algorithm picks up on you because they monitor how many people you follow daily. When they sense it's too much to be a normal following trend, you'll get banned.
Pinterest tries to maintain a natural following behavior and if you trigger their radar, bye-bye you go.
The Pinwizz Training
You'll get 2 types of training in Pinwizz: Exclusive Pinterest Training and Software Video Training.
The Software Video Training just basically teaches you the components of the members' area from the image database down to the pin search tool.
The Exclusive Pinterest Training actually starts out well.
You get taught how to choose a niche, offers, and how you'll get targeted followers.
It's after getting taught hose things that things start to go downhill.
The 4th video in this module tells you to have you pin comments include a call to action in a curiosity-enticing way.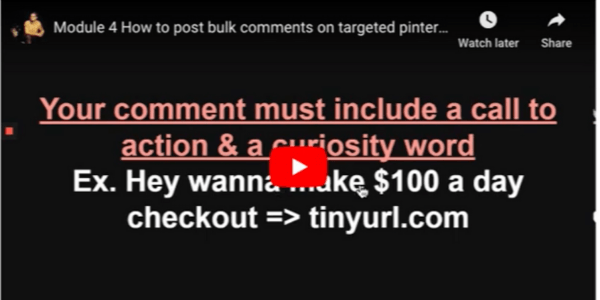 To me, it's utterly spammy and misleading. It's a mere clickbait where people end up getting disappointed in finding out the truth. (if you ever get anyone curious enough)
3 Reasons Why You Don't Need Pinwizz
1. Pinwizz Claims To Be An Automation System When It's Really Not
You have to painstakingly make and upload pins yourself and go to other people's pins one by one and put your comment in.
A real automation system like Tailwind does something like this: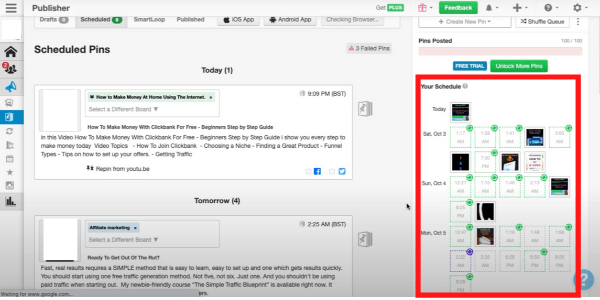 You know what pin goes when.
In Pinwizz's case, it just basically helps you find pins and comment on them, something you can do directly on Pinterest.
There's no solid reason why you should buy and use Pinwizz.
2. The Image Editor Is Too Basic
Honestly, you'll do better with Canva. You can make better pins there and you can post them directly in Pinterest.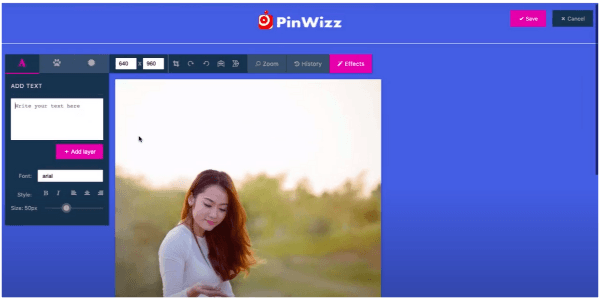 3. The Traffic Training Teaches You To Be Spammy
You're taught to follow 100 people per day and comment the pitch in their pins. You're giving no value and your pitch is even crafted to be misleading.
Truth be told, there's only one good thing about Pinwizz. It lets you target a potential audience by giving you the figures of how many people are following a specific board.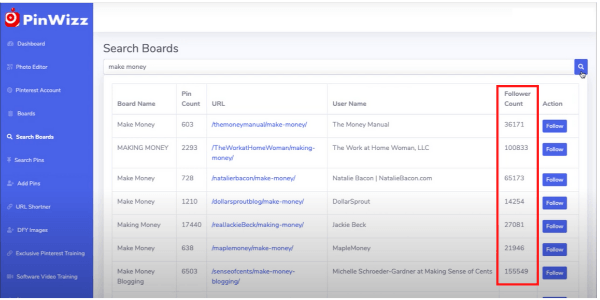 However, using this platform as an audience pool is problematic. It'll take you a very long time to build a solid following to help generate traffic for your sustainable income.
Even if you do it right: search for high-following boards, then comment on people's pins over and over until you build a relationship, it'll take you forever to do it for every person following one board alone.
At best, you'll only get 1 to 2 sales.
Pinwizz's method has no real interaction, you're just spamming out links.
If you want to make pins, use Canva.
If you want to schedule pins you post, use Tailwind.
Everything else you can do directly on Pinterest.
Best of all, you can use these 3 platforms without the cost, unless you upgrade of course.
Now if you're looking to learn about the best way to get traffic to your offers, Simon will give you a glimpse of how you can do so.
If you want to know more about what he just talked about, you can head on to Wealthy Affiliate to get the step-by-step training you deserve.
Is Pinwizz A Scam?
Pinwizz is a scam, yes. You'll get some functions in it but ultimately because this is just a rehash of a flopped system that promises what it can't deliver, I'd say it's a scam.
A Better Alternative
Again, if you want a top-class photo editor you can use for free, use Canva.
If you need Pinterest automation, Tailwind is the way to go.
If you want to learn how to get real buyer traffic for your offers, go to Wealthy Affiliate.
The training's name hints it's going to talk about affiliate marketing in general.
However, it has valuable training on traffic generation too, something you can use whatever online business model you prefer.
Actually, you hit 2 birds with 1 stone if you enroll in Wealthy Affiliate. You'll learn about affiliate marketing and the best traffic sources available for your business.
You'll be one more business model wiser!
To know more about what else you can get in the training, check everything out in this Wealthy Affiliate review.
What's Your Take?
Are you surprised Pinwizz is just a rehash? We're you dismayed knowing the traffic method taught can get you banned? Tell us what you feel down in the comments section.
Simon Crowe is on a mission to help as many people as possible kiss their bosses goodbye.
Take the free Commission Academy course to discover how to smash your online income goals and make your dream business a reality.