Russell Brunson has created the One Funnel Away Challenge which he claims will give you the life you want, the marriage you want and the family you want.
To join the 30-day challenge and build an online business he says pay $100 for a One Funnel Away Kit and you'll have everything you need to get started.
Is this program legit and does it really deliver, or is there more to this than meets the eye? That's exactly what we'll be asking in this review.
This One Funnel Away review is not sponsored in any way. I write this review only to help you find the best make money online programs and decide whether or not this is right for you going forward.
One Funnel Away Review At A Glance
About: Russel Brunson's 30-day course on building high-converting funnels.
Price: $100. $97/month or $297/month for his ClickFunnels tool.
Pros: A great course to learn how sales funnels can scale your income.
Cons: It's a funnel to his expensive software.
Verdict: One Funnel Away is a good course to learn about marketing funnels. Yet more than just being a course, it's a funnel to sell his software.

What Is The One Funnel Away Challenge?
Essentially, One Funnel Away Challenge is a 30-day course on how to build a high converting sales funnel (A.K.A. purchase funnel) that will generate sales for you around the clock.
The program was created by Russell Brunson, owner of ClickFunnels.com.
He believes that every person walking the planet is just 'One Funnel Away' from creating a life of financial freedom for themselves.
If you decide to join, the member's area will look a little something like this: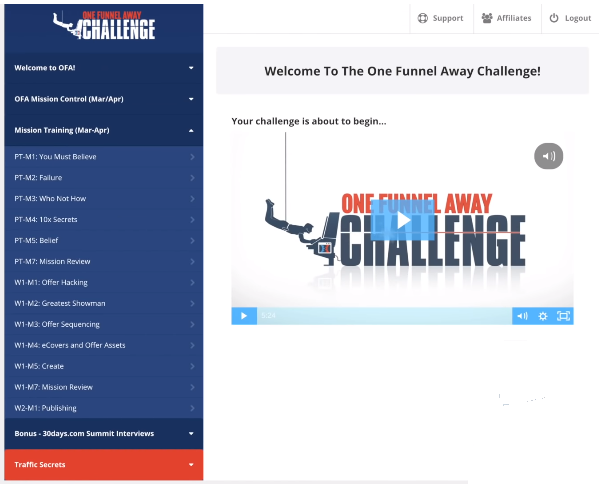 Russell Brunson designed the program to give you the daily training, live group coaching, practical advice and accountability you need to succeed.
What You Get Access To As A Member
Pay your $100 and here's what you get: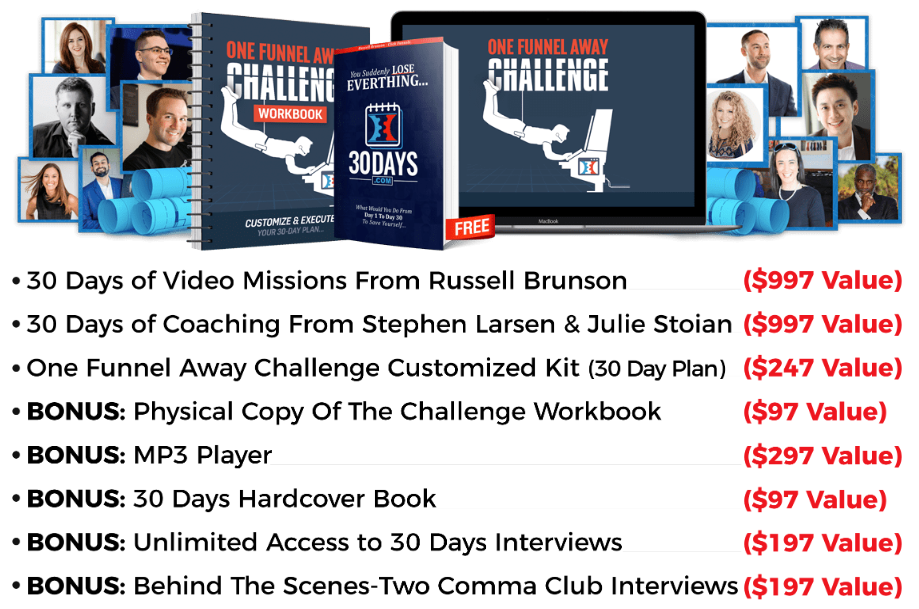 One Funnel Away Challenge Workbook
Whether you're a complete beginner or already have experience in affiliate marketing,
Russell Brunson's 30 Day Action Plan
In these core training modules, Russell and his team give you a 30-step action plan with daily actions you can take to build a profitable online business.
He shares his top techniques and strategies to build a sales funnel, including the practical how-to stuff like how to create a high-converting landing page and so on. He also goes into how having the right mindset is vital to success.
30 Days Of Live Group Coaching
As a One Funnel Away Challenge members you'll also be invited to live group coaching sessions run by Stephen Larsen and Julie Stoian who both work for ClickFunnels.
​30 Day Interviews With Successful Entrepreneurs
Inside the member's area, you'll also find 25+ millionaire marketers who share what they would do in the next 30 days if they had to start again from scratch.
One of those featured is a guy called Spencer Mecham, one of the top ClickFunnels affiliates who talks about how to build a 7 figure affiliate marketing business from scratch.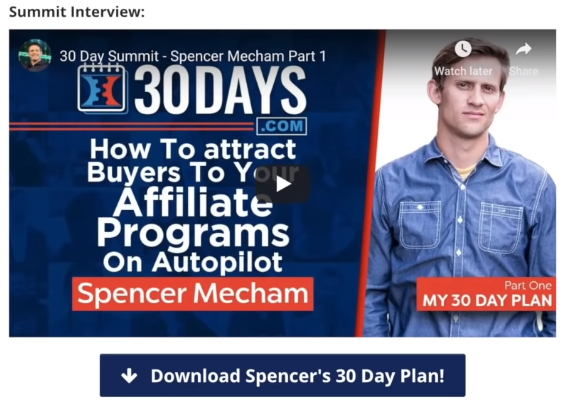 Private Facebook Group
As a member, you'll also get access to what they call the 'secret mission area' which is basically just a private Facebook group. Here, you'll be able to get help, support and coaching from Russell Brunson and his team.
The REAL Cost Of One Funnel Away
Read Russell Brunson's One Funnel Away sales page and no one would blame you for thinking that all you need to replace your full-time income and build the life you want is available for a one-off fee of $100…


Unfortunately, this just isn't the case.
The truth is that in order to be able to implement any of the training you're going to need to sign up for…
…you guessed it, Russell Brunson's very own ClickFunnels program!
How do I know?
Because he pretty much tells you outright that this is the sole purpose of the One Funnel Away Challenge: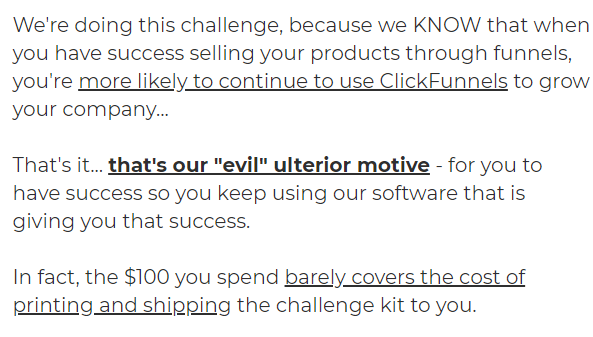 In effect, One Funnel Away is just a teaser product and the relatively low $100 front-end cost is just to lure you into one of Russell's sales funnels.
In a way, that's kind of what you'd expect though, right?
He is THE sales funnel expert after all! 🙂
ClickFunnels membership doesn't come cheap either; after a free 14-day trial you can expect to pay $97 or $297 per month.
That's a whopping $1,164 or $3,564 per year!

And that's not factoring in the cost of driving traffic through these sales funnels, which can be massive.
Even the best super-duper sales funnel in the world with all the latest gizmos won't make you a dime unless you've got traffic going through it, so now you're paying your monthly ClickFunnels subscription you're going to need to pay again for email solo ads or paid advertising before you can even hope of making a sale.
Paid ad costs can quickly escalate out of control. It's going to take a bit of trial and error to tweak and optimise your ad campaigns before they're running at a profit and this is going to take a little bit of time, especially if you're a newbie.
The bottom line is your $100 investment for the One Funnel Away kit is just the beginning and there are a whole host of additional costs you need to be aware of going into this that Russell doesn't tell you (but should!)
Why You Don't Need Expensive Sales Funnels
Done-for-you sales funnels like Funnel X ROI and 12 Minute Affiliate are all the rage right now but with everyone using the same funnels, people struggle to make them work due to over-saturation.
Here's an important fact to keep in mind:
Russell Brunson makes a living selling sales funnels.
This is literally what he's famous for, so OF COURSE he's going to tell you that you need his expensive sales funnel software before you can be successful.
While I completely agree any online business needs a sales funnel, the reality is your sales funnel can be as simple or as complex as you opted for a more expensive and complicated sales funnel doesn't necessarily mean you'll get better results.
And from my experience the opposite is normally true – the simpler it is, the better. Remember, all we're talking about here is a process you lead someone through to buy something. That's it.
Your sales funnel could be as straightforward as a blog post with a call to action at the end that takes people to a sales page, or a YouTube video that tells people to click on the link in the description to subscribe.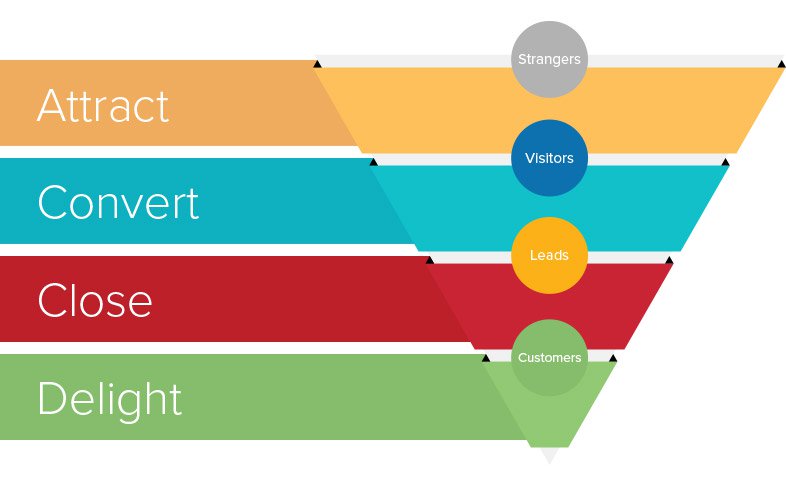 Miles Beckler puts it way better than I ever could, so I'll hand it over to him at this point. Watch this eye-opening video to discover the truth behind the whole manufactured sales funnel fallacy:
The bottom line:
Don't fall for the idea you need to pay out $100's per month in order to run a successful online business – you don't.
One Funnel Away Review Rating: 75/100
In my honest opinion, Russell Brunson is an excellent trainer and THE go-to expert when it comes to sales funnels. I've no doubt anyone taking up the One Funnel Away Challenge will get tons of value from it.
The interviews alone make the $100 asking price a worthwhile investment and it goes without saying that you can learn a lot from some of the most successful marketers and multi-millionaires in the industry.
Russell is teaching a legitimate way to make money online through affiliate marketing and as long as you're fully aware of the costs involved then enrol here and it could turn out to be the best decision you ever made.
On the other hand, if you want to build a lucrative affiliate marketing business without the high upfront costs and monthly overheads then Wealthy Affiliate is a solid option.
I've written a complete hands-on review of Wealthy Affiliate where I outline how this training platform helped me go from being a full-time customer service agent to becoming financially free and travelling the world in under 12 months.
Questions Or Thoughts?
Do you agree or disagree with my take on the One Funnel Away Challenge? Have you experienced huge success or monetary loss as a result of signing up to ClickFunnels? Scroll down and let us know in the comments below!
Simon Crowe is on a mission to help as many people as possible kiss their bosses goodbye.
Take the free Commission Academy course to discover how to smash your online income goals and make your dream business a reality.