I recently came across a new website called NiceCash.co that claims to give you a way to make $500 a day, starting today.
All you have to do is share the referral link they give you to sign others up to the site and you'll be raking in the cash.
They call themselves the #1 influencer network who give people like you and me a chance to make a lot of money in a short space of time because they are sponsored by some of the biggest brands in the country.
You've got to admit that sounds a bit too good to be true, but is NiceCash.co a scam or a legit money-making site?
Welcome to my NiceCash review because right here, right now we're going to get to the bottom of exactly what NiceCash is and give you the full facts so you can decide whether you want to join or not.
Here's what I found out:
What Is NiceCash.co And How Does It Work?
As soon as I saw the NiceCash homepage my scam detectors started sounding alarm bells because I've seen the exact same website layout before, many times.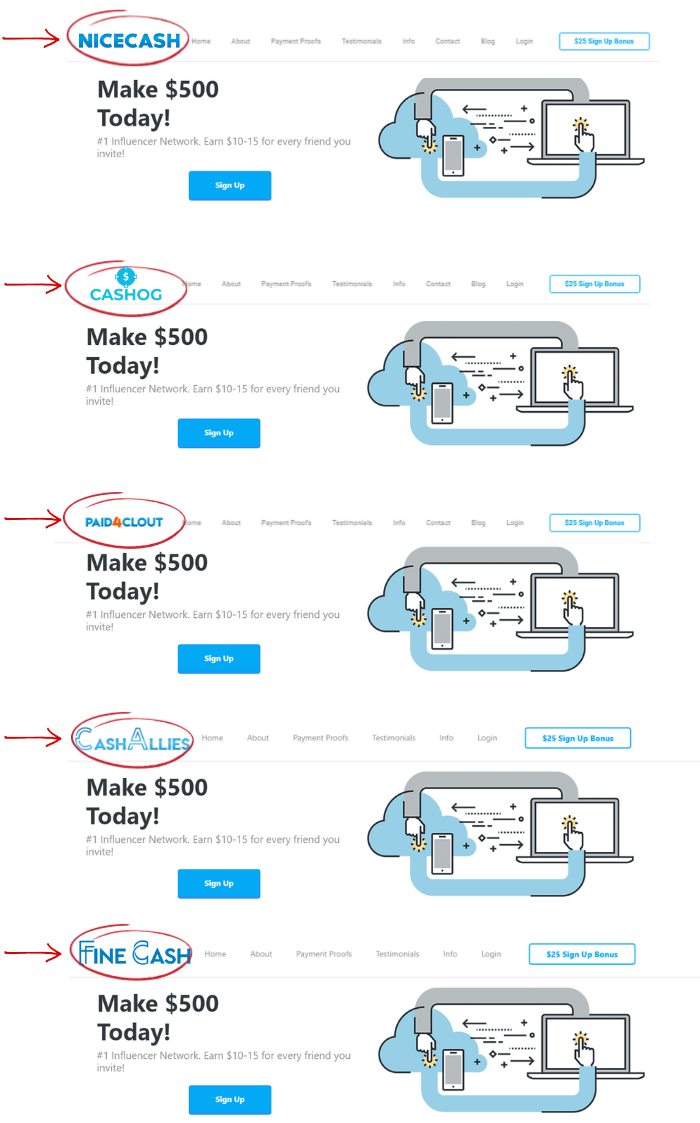 It's not just the same site template either, but the same 3 step process you're supposed to follow to make money, the same promises of earning $10-$15 every time you refer a friend to the site and the same $25 sign up bonus.


It turns out NiceCash is part of a much larger network of cloned scam sites littering the web. Here's a list of the scams we've been able to expose so far, but I'm sure there are dozens more out there:
By promising you'll make $500/day, each of these sites acts as an online portal harvesting people's private and confidential data.
People see the site is free to join and think they have nothing to lose, then go on to hand over their name, email address, password and PayPal account information without giving it a second thought.
How Do They Get Money To Pay Members?
If NiceCash and other sites like it were legit then one big question we need to ask is how are they getting the money to be able to afford to pay you $2 per click and $10 per referral?
The only explanation for how they can pay you they provide on their site is that their income will come from their partners who pay for the traffic they generate to their partners' sites.
I've searched the website high and low and there is zero evidence this is even viable. There are no advertisements to speak of and no other way to generate revenue for the site owner.
This isn't the only red flag-raising suspicion either… let's take a look at a few of the other things that point to this being a scam site.
5 NiceCash Ugly Truths Exposed!
The best way to avoid getting scammed is to know the tell-tale signs to watch out for. Spotting the red flags of a scam upfront will save you a ton of money, time and frustration down the line.
That being said, here are just some of the ugly truths about NiceCash I think you should know about:
1. None Of The "Happy Member" Testimonials Are Real
Scroll down the homepage and you'll see what are supposed to be real testimonials from happy NiceCash members who have made more than $27,000 since they joined.
These are the exact same names and images used across all the sites this scammer operates, so I did a quick Google search and as you can see, these are nothing more than fake stock images used to give you the impression people are actually making money with this when the truth is they're not.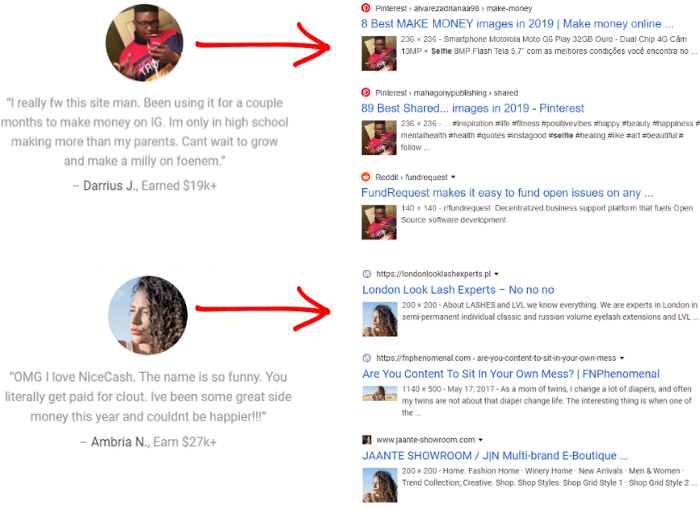 Are you willing to put in the time and energy to promote a site when you cant believe a single word you read on the homepage?
The only reason you'd ever need to fabricate fake testimonials is because you have no real success stories to speak of. I'm afraid this is the case with Nice Cash – all hype and no substance.
2. The NiceCash Creator's Real Identity Is A Complete Mystery
The fact we have no idea who owns and operates the site should raise serious questions about the legitimacy and trustworthiness of this program.
If this were a real work from home job site then you'd expect to see an address, contact number and at least some basic background information.
Think about it – legitimate companies always tell you who there CEO is, and even who is on their board of directors, but with NiceCash we get nothing.
And if they can not be honest and transparent enough to tell you who they are, how can you expect them to honour their promises of $500 a day in payments?
3. Nothing On The Website Can Be Trusted
Scroll down to the website footer and see their About page and you're told NiceCash have paid $44m out to 300k+ members since they launched the site in 2015. This is a total lie.
How do I know?
Because run a basic domain registration check and anyone can see this website was only created in September of 2019: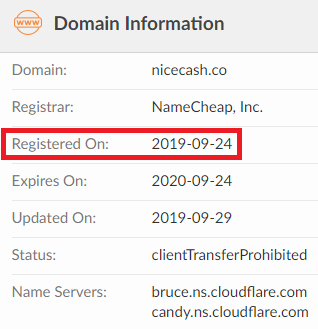 As I'm sitting here writing this review, the site is no more than 2 months which would mean they've paid out $22 million per month on average.
That works out at a massive $733,333 per day!
Do you smell a rat? Because I do! This is craziness.
Clearly, we're not being given the truth here. Yet another example of why these guys and their hollow promises can not be trusted.
4. They Are NOT Working With Big Brands
The more you spend time on the site, the more deliberate deception you come across…
There's a section of the website that explains they can pay you such generous of money each month because they're working with some of the biggest household names like Burger King and Wendy's.

Do a Google search or scour the members' area and you'll find no evidence of NiceCash working with these brands in any way.
Again, it's all just a rouse designed to make you think they are a highly reputable company when they're not.
5. No One Ever Gets Cash From NiceCash
Forget making $500 a day, they'll never pay you a cent.
It's the same story wherever you look – people believe the hype, create their free account then start promoting the heck out of the site believing for a big payday that never arrives.
Try to withdraw your funds and you'll be given some fake-ass story about how you've violated their terms and conditions, but the truth is they were never going to pay you. They just needed you to think they would so you'd share their links and promote their site for them free of charge.
More Helpful NiceCash Reviews
Bottom Line: Is NiceCash A Scam Or Legit?
Let's do a quick recap:
NiceCash has the identical website layout and content to dozens of other clone sites currently being used to scam people across the internet.
NiceCash doesn't add up. There are no ads or any other revenue sources anywhere throughout the site making this a completely unviable business model.
Fake testimonials are the only "proof" we're given that this site works.
The true identity of the NiceCash founder remains a mystery.
The claim they've paid out $44 million in 2 months is totally unrealistic.
No one has ever received payment from these guys.
So, is NiceCash.co a scam or a site you can build your future financial freedom on?
I sincerely hope I have done enough to convince you this is anything but a real money-making opportunity. Avoid this scam at all costs and save yourself the inevitable disappointment and wasted time.
My Favourite Way To Make Money Online
If you looking for real ways to make money online then the good news is there are plenty of them out there. You just have to wade through scummy scams to find them.
I have been earning a full-time income online for the last 5 years by creating income-generating websites that make sales for me around the clock. I do this by learning how to attract 1,000's of daily visitors and then recommending relevant products and/or services I know my readers will find helpful and useful.
This is what's known as affiliate marketing and if you haven't already, check out my free affiliate marketing guide to learn the exact step-by-step formula I follow and how you can get started.
Yes you have to give yourself and your business time to grow and yes, you have to work at it, but yes it is definitely worth it.
The end result will be you sacking your boss and escaping the 9-5 grind, finding true financial freedom and living life on your own terms.
Important: Leave a Comment If This Helped You
If you found this review helpful, please take a minute to let me know in the comment section below. It really helps me to know what kind of posts to create in the future to help you avoid scummy scams like this one so you can go on to achieve your online income goals
If you have any questions at all, be sure to leave those in the comments below as well and I'll do my best to help you out!
Simon Crowe is on a mission to help as many people as possible kiss their bosses goodbye.
Take the free Commission Academy course to discover how to smash your online income goals and make your dream business a reality.