In my honest SurveySay review you are going to find out once and for all if SurveySay is:
A legitimate way to make money from home taking surveys
A huge time-wasting exercise not worth bothering with
Or a total scam you need to stay away from
Visit SurveySay.com and you're told they'll match you up with companies looking for honest consumer feedback so you can earn some extra cash.
The problem is there's no end of fake work from home jobs out there promising fast and easy ways to make money but never actually deliver.
My reason for writing this review:
I'm a full-time internet entrepreneur who loves nothing more than helping people like you avoid work from scams and make your online income goals a reality.
SurveySay Review At A Glance
About: SurveySay is an aggregate site that directs you to third-party survey sites if you hand over your email address.
Price: Free
Pros: There's no real reason to join.
Cons: False advertising, no real surveys within the site, lots of complaints.
Verdict: SurveySay is not an outright scam but it definitely is a waste of your time. Don't bother signing up.

What We'll Cover In This Post:
What Is SurveySay?
SurveySay is a survey aggregate site that asks you to hand over your email address in return for a list of paid survey sites you can easily find yourself on Google.
This is a far cry from what SurveySay claims to be when they post hundreds of job ads on sites like Snagajob.com offering people full and part-time survey taking jobs.
This is false advertising. They have absolutely no surveys or survey taking jobs.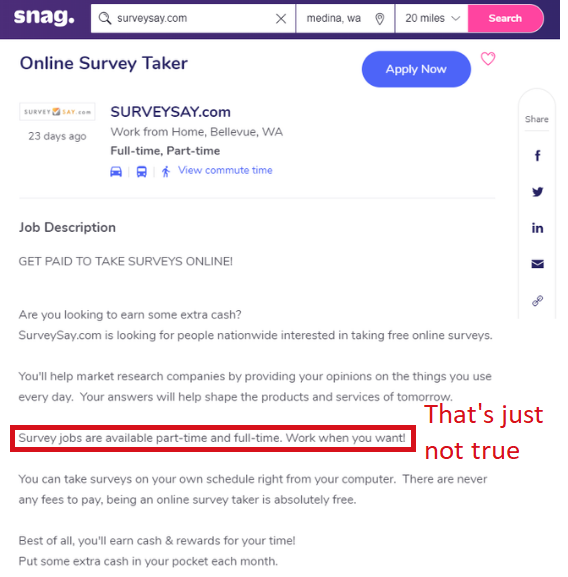 Just like American Online Jobs, Survey Momma and Survey Spotter, SurveySay is nothing more than a survey aggregate site where the sole purpose is for the site owner to make money off of you when you join paid survey sites through them.
That's literally the only function this site serves, so why bother even signing up?
What is SurveySay?
A huge waste of your time is what it is.
Can You Make Money With SurveySay?
Technically, no you can't, since all they do is direct you to other paid survey sites.
Sign up with SurveySay and you'll be given a list of third-party sites to join. They don't even recommend any of the better survey sites out there like Swagbucks (for ages 13+ only) and Brand Institute (best for medical professionals) either…
Instead, the SurveySay owners recommend any survey site that will pay them a commission, regardless of the reputation or trustworthiness of the survey site in question.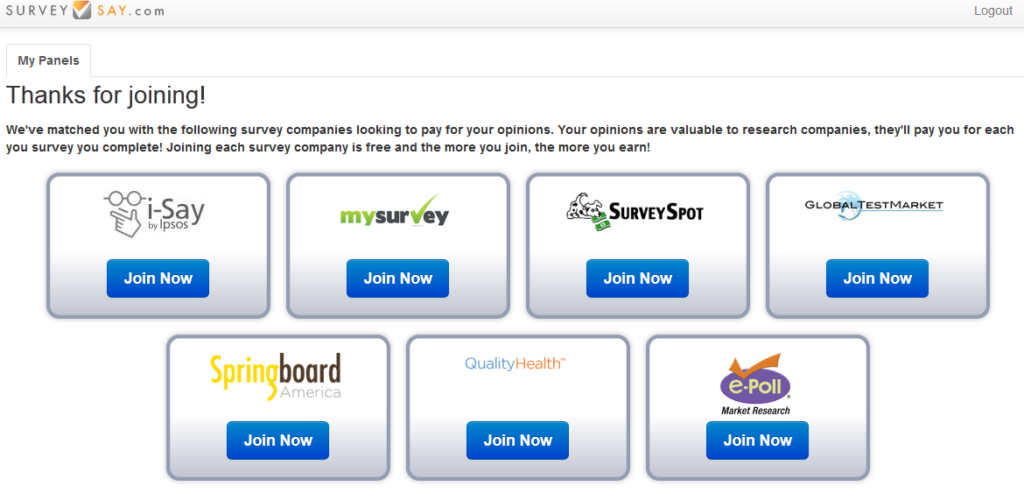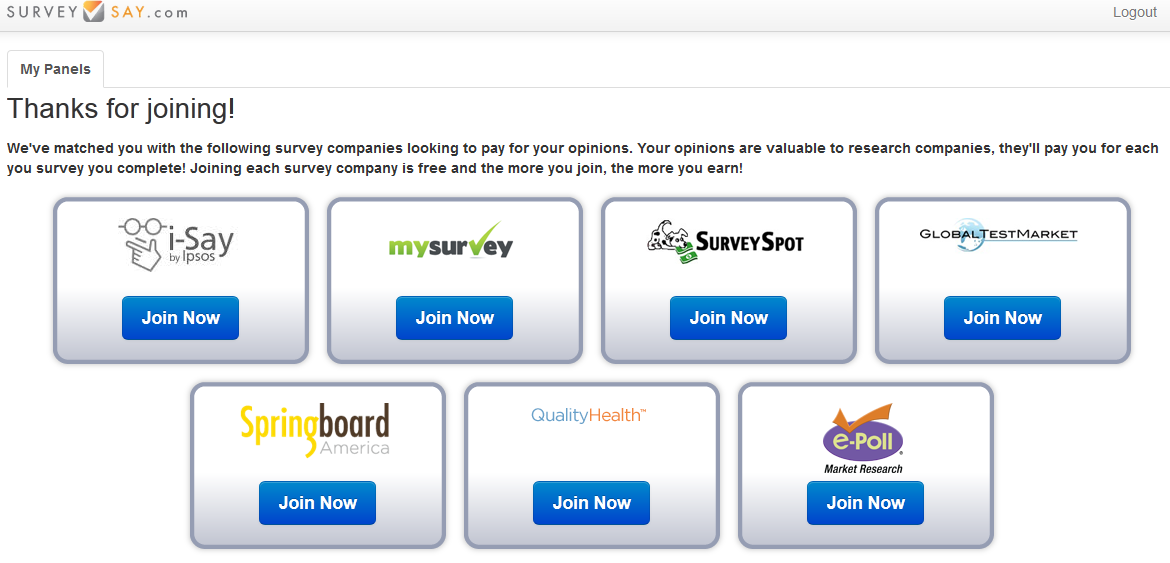 We've reviewed most of these sites here on TheMakeMoneyOnlineBlog.com so let's run through them to give you an idea of what you can expect:
1. i-Say
In my i-Say review, I point out that i-Say (previously Ipsos i Say) score a measly 1.8 out of 5-star rating after 400+ reviews on SurveyPolice.com with a lot of members complaining their accounts were unfairly deactivated before they were ever able to cash out.
2. MySurvey
MySurvey (link to my review) will only ever pay you in gift cards meaning you can't use this as a way to pay your bills. You also have to invest a heck of a lot of time to make an extra $10 per month, if you're lucky.
3. EPoll Surveys
EPoll Surveys (link to my review) is one of the oldest survey sites out there where, maybe 5 or 10 years ago, you could make a pretty decent amount of money.
Nowadays though you can expect to put in the effort and earn less than a $1 an hour with 30-minute surveys paying out less than $0.50.
Due to fewer and fewer surveys becoming available, you really can't expect to qualify for any more than 2 or 3 surveys a month.
As this video shows too clearly, trying to earn serious cash with surveys is like fighting an uphill battle. Many times you're earning points for gift cards or worse yet, for entry into sweepstakes for the 'chance' of winning instead of actually putting money in your account:
Survey sites promote themselves as an easy and care-free way of making money online but it doesn't take long to realise it is an incredibly low-paying, time-wasting exercise.
You can still make a few dollars as a survey taker, but if you're going into this expecting to make anything close to even a part-time income then you'll be bitterly disappointed.
SurveySay Reviews: What Others Say
I thought I'd look online to see if there was anyone else who felt the same way about this site than I did and I wasn't too surprised that on SiteJabber.com SurveySay has way more negative reviews from users then positive…
They've been given a 1.4 out of 5 star rating with the vast majority of reviewers giving them the lowest possible 1 star rating:

Read through the reviews and you'll see a couple of complaints come up again and again:
1. This Isn't A Real Way To Pay The Bills
Even if you had countless hours to spare and didn't mind giving these companies your private financial and personal data, would you honestly be willing to work for less than a dollar an hour?
That's the best-case scenario here.
This guy wasted I don't know how much time trying to get the recommended survey sites to work out for him, without success:

2. SurveySay Sell Your Contact Info?
A common complaint from users is that their inboxes get inundated with spam within hours of signing up to SurveySay.
Whether this is SurveySay themselves sending you more promotional offers to maximise their commissions or they're selling your contact details to the highest bidder I can't say for sure…

Is SurveySay A Scam?
Whether or not you think SurveySay is a scam, one thing's for sure:
This is not the reliable and legitimate work from home job you were counting on when you clicked on one of their work from home job ads.
If you want to earn a full or part-time income, DO NOT sign up with SurveySay.
You'll end up signing up to half a dozen or so low-quality survey sites and getting frustrated trying to find surveys you can actually qualify for in the hope of making far less than the minimum wage.
Want my honest advice?
Rather than spending hours filling out mind-numbing surveys, why not invest that time instead to create a profitable and successful online business for yourself that will generate a real income month after month?
That's what I did. Find out exactly how you can too right here.
Let Us Know What You Think
You've read this SurveySay review and now know what I think, but what are your thoughts?
Is it worth signing up to a site that just sends you to other publicly available survey sites, even it is free? Do you think that signing up to survey sites like this is a waste of your time and effort?
Got any questions? Scroll down and leave me a comment, I'd love to hear from you!
Simon Crowe is on a mission to help as many people as possible kiss their bosses goodbye.
Take the free Commission Academy course to discover how to smash your online income goals and make your dream business a reality.