By the end of this Legendary Marketer review you are going to know all the pros and cons of David Sharpe's program and whether or not this is the best program for you.
I am not a Legendary Marketer affiliate and my promise to you is simple: I will always put you first and give you my 100% honest opinion.
I should give you fair warning though – this is an incredibly in-depth review so grab a coffee, get comfy and let's jump right in.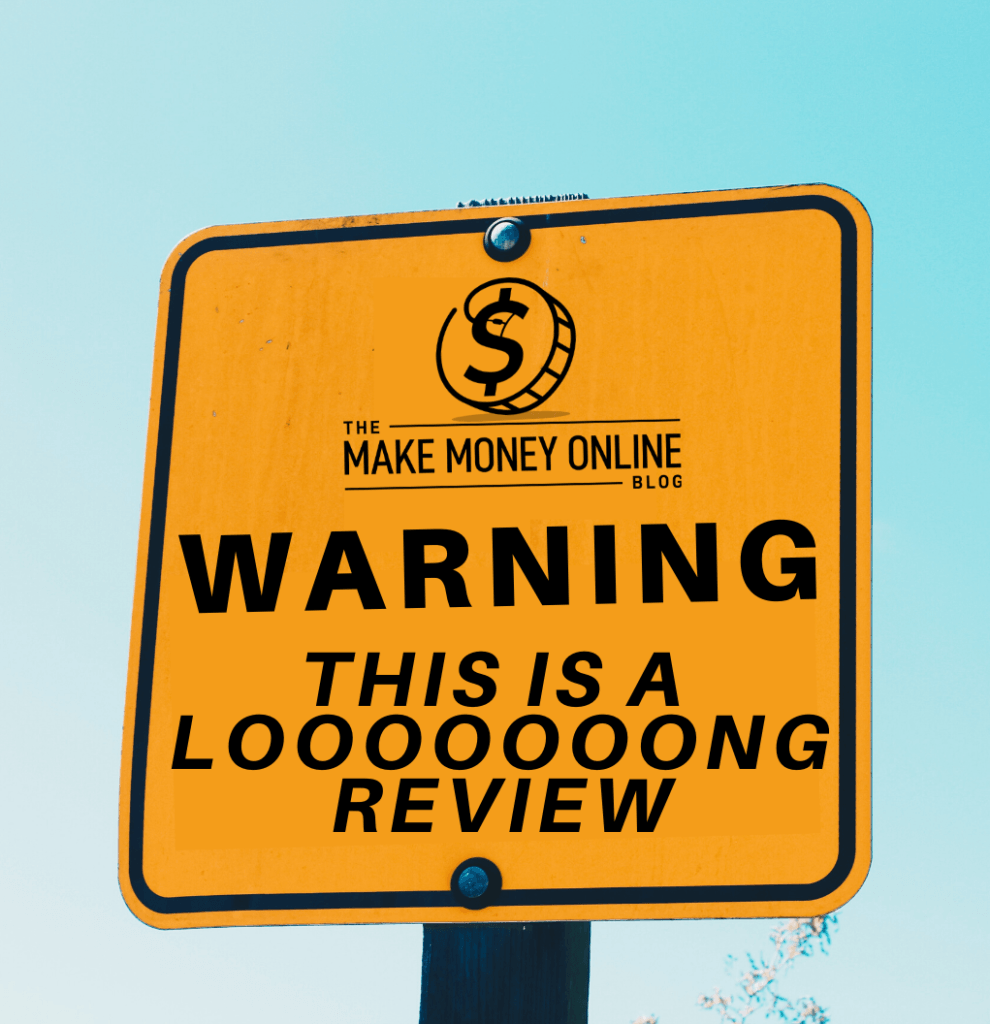 Legendary Marketer Review At A Glance
About: Legendary Marketer is a training platform for marketers wanting to scale their income.
Price: It has 5 packages from Pro Academy to Masters Academy with prices ranging from $99 to $3,497. There are also coaching programs with costs going up to $30,000.
Pros: Has a free version, powerful training package,
Cons: Super steep price, shady owner's background, unclear refund policy, lack of support.
Verdict: Legendary Marketer is a good training for intermediate and advanced marketers to supplement their knowledge. But it also reeks of a pyramid scheme. Proceed with caution.

What Is Legendary Marketer?
Legendary Marketer is a relatively new training platform designed to help experienced internet marketers develop the skills they need to take their income to the next level.
According to their about page their mission is:
"To Help People Start An Online Business Or Grow An Existing Business Using Cutting Edge Sales, Marketing and Management Strategies."
They offer a top-notch educational program with personal one-on-one advisors for those looking to learn how to start an online business, whether that's affiliate marketing, local SEO, lead generation or selling your own courses and events.
One good thing about Legendary Marketer is they make it clear success online comes through the high-income skills you need to build an online income.
Success is earned.
They never purport to be a shortcut to riches program and do a good job of setting realistic expectations about the time and effort it takes to create a lucrative income stream online.
Quick-fire stats:
Dave Sharpe has generated more than $250 million in online sales
The LM Facebook page has 54,000 likes
They have a 2/5 star rating with the Better Business Bureau
They are based in St. Petersburg, Florida
At $30,000, Lifestyle Experience is their most expensive course
Who Is CEO David Sharpe? A Founder With A Rather Chequered History
David Sharpe has been featured in Forbes and called an icon in the internet marketing industry by Entrepreneur.
Watch this video and you'll hear him share his inspirational rags to riches tale of how he went from homeless heroin addict to successful entrepreneur:
I love life transformation stories and this one is amazing! Seriously, anyone who can turn their life around like that deserves all the credit.
Dave's online career started when he began searching online for a way to make money…
He dabbled around for a bit when he stumbled across affiliate marketing and eventually became one of the top-selling affiliates of My Lead System Pro (MLSP); a program similar to Legendary Marketer in the way they offer high ticket (AKA expensive) training packages.
MLSP is an amalgamation of both affiliate marketing and multi-level marketing (MLM) often referred to as 'high ticket affiliate marketing'; a business model I think has stuck with Dave to this very day.
According to BehindMLM, Dave Wood was also involved in promoting MLSP in 2011 and this is how the two Davids met. Together, they discussed the idea of starting a new high ticket affiliate program with a digital MLM style compensation plan. Empower Network launched a few months later.
Focused on delivering internet marketing training, Empower Network took off and like many MLMs, soon developed an aggressively loyal cult-like following.
Ranked affiliates #1 and #2 at the top of the Empower Network pyramid, David Sharpe and David Wood inevitably enjoyed lucrative commission checks as there downlines grew.
Here's a picture of them in 2012 celebrating combined commissions of over $778,000: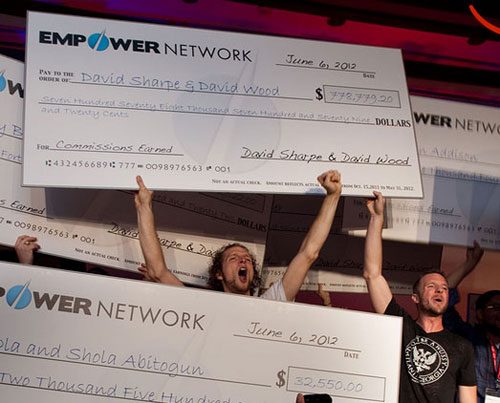 Fast forward to 2014 and David Sharpe stepped down from Empower Network. The official reason was health issues but according to Wood, Sharpe left because he was "worried about his reputation".
Things then quickly got nasty between the two of them and court cases ensued…
Sharpe still had a 40% stake in Empower Network and demanded he be bought out, but with cracks already starting to appear in the unsustainable pyramid-style model, Wood simply didn't have the cash to give him what he wanted.
They finally agreed a settlement in 2015 and Empower Network went bankrupt in 2017.
I've never dealt with Empower Network directly here on The Make Money Online Blog but I have exposed many pyramid schemes like it, (programs like Too Damn Easy, Mailbox Profits and Instant Cash Solution) where I warn readers repeatly against the dangers of joining pyramid schemes disguised as genuine work from home opportunities.
With a 99% failure (that's according to the FTC) people who join set themselves up for failure while the 1% at the top rake in the cash…
Not long after Empower Network's very public demise, David Sharpe went back to promoting My Lead System Pro for a while before launching Duplicate Dave which later become known as Legendary Marketer.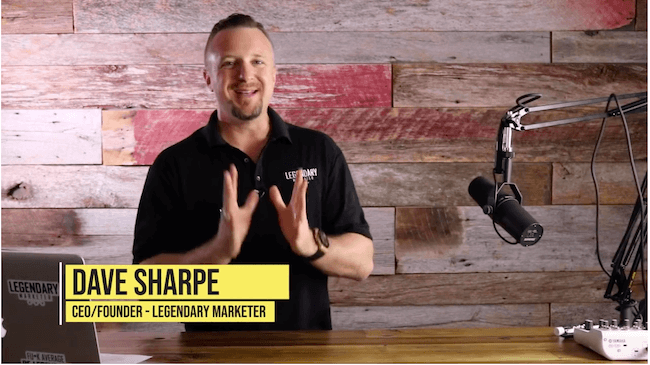 Now you know a bit about Dave's background, I hope you can see why I am very wary of Dave's ethics (or lack thereof).
Let's not forget there were 10,000's of real people who were strongly encouraged to "go all-in", max out their credit cards and remortgage their homes to "guarantee their financial future" only to lose everything at the hands of this guy.
Can a leopard change its spots?
Yes absolutely.
I'm just not sure this one has…
Legendary Marketer's Training And Costs
Inside the members' area, you'll be presented a whole range of training packages at ever-increasing prices.
Dave follows the value ladder model as a subtle way to ease you into the bigger ticket items that pay big bucks to him and his affiliates.
On your first encounter to Legendary Marketer you'll be offered a free giveaway in return for your email address, then asked to pay a relatively low monthly fee in order to get more training and so on, until you reach the $30,000+ mark.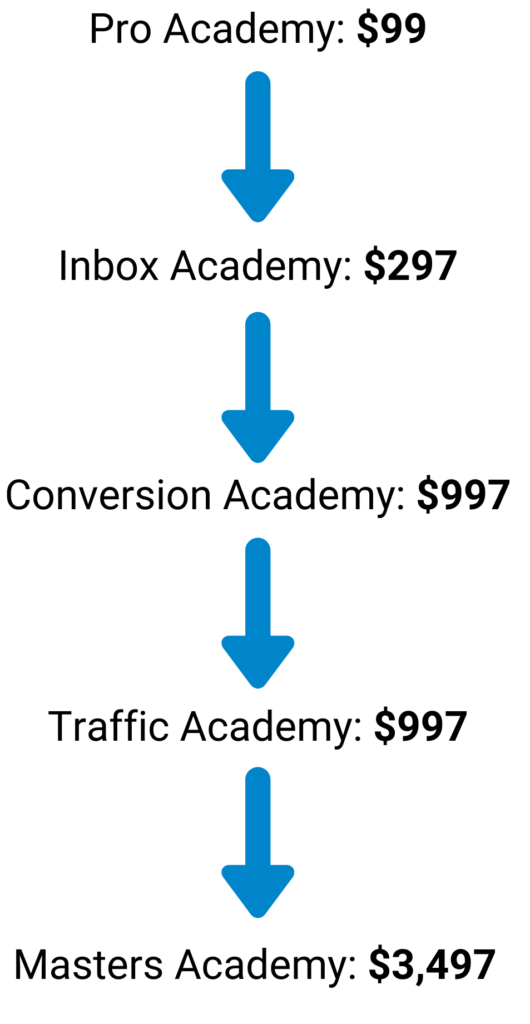 Here's a full breakdown of what's available with price tags attached so if you do decide to go ahead and join, you can at least go in with your eyes wide open knowing what to expect:
15-Day Online Business Builder Challenge (Free)
As a new Legendary Marketer member, this is your starting point. Create your free account and you'll get 15 video lessons with daily assigned tasks. Next lessons are unlocked 24 hours after you've marked the current lesson complete.
You're also assigned a Business Plan Advisor who you're told to schedule a call with so you can get help and support along the way.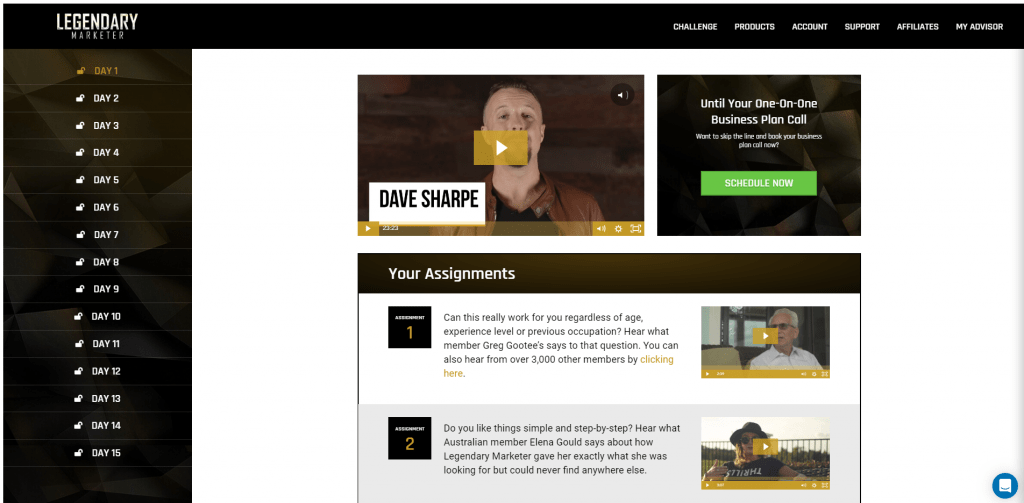 The course touches on the various elements of running a business, including the importance of having the right 'wealth mindset' and high-income skills.
I completed the full 15-day challenge and I have to say I really enjoyed it.
The training is very well put together and easy to follow. Dave has an engaging teaching style and he mixes it up with lessons he's learned from his own experience, interviews with other successful internet marketers and other teachers to cover different topics.
Legendary Marketer's Club Membership ($30/Month)
Previously, members were paying $30 a month for a series of 8 courses that covered paid traffic methods like Instagram and YouTube ads but these have now been bundled together as a separate course called 'Traffic Rolodex' and sold at a one-time fee of $247.
Following the recent 3.0 update, Legendary Marketer's Club membership now gets you an invite to a weekly webinar with live Q & A sessions with experts teaching various aspects of running an online business such as storytelling, copywriting, YouTube marketing and maximising conversions.
As a member, you also get access to hours of past training in the Marketer's Club library.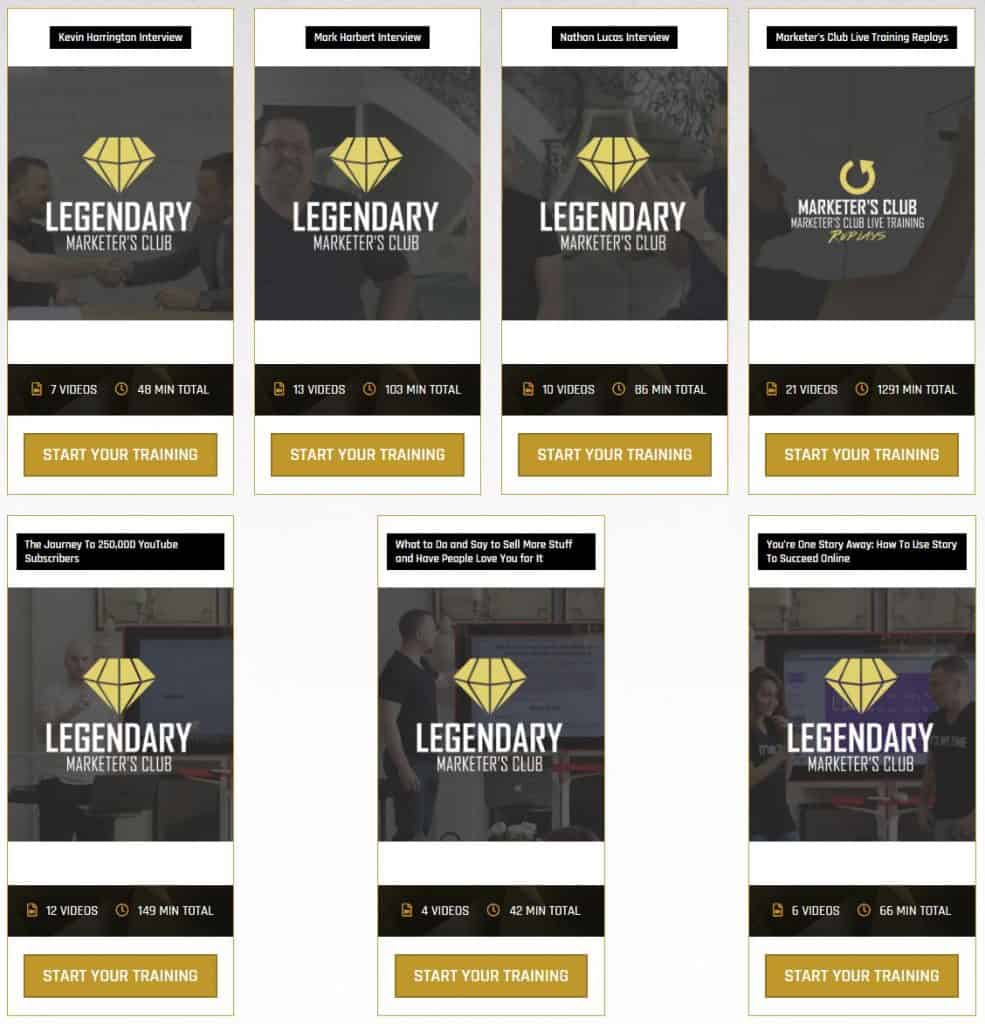 Dave interviews experienced online entrepreneurs who are earning 6 and 7 figures a year so you'll find a lot of value here. These guys know what they're talking about and only teach strategies that have worked for them.
Legendary Marketer's Business Blueprints ($2,500)
There are 4 Business Blueprints available for $2,500 each, but buy what's called the Business Blueprint bundle as you're going through the 15-day business builder challenge and you get all 4 for $2,500.
1. Affiliate Marketing Business Blueprint
Affiliate marketing is how most people start online and it's still my all-time favourite way to make money because once it's set up, it can be very passive.
As an affiliate marketer, you're essentially earning a commission for selling other people's products or services.
They deal with payments, customer service and delivery. All you have to do is send people to their site and wait for your commission check to arrive.
Affiliate Marketing Business Blueprint claims to teach you how to attract a consistent stream of traffic, find the right products to promote and make your first sale.
2. Digital Products Business Blueprint
This course is going to run you through what you need to know to create digital courses and find the right buying audience to sell them to.
The beauty of becoming a digital product creator is that you only need to invest the time and energy into creating that course once and you can sell it many times over.
3. Coaching and Consulting Business Blueprint
Online coaching is yet another highly lucrative online business model you can take advantage of if you're willing to put the work in to make it happen.
The Coaching and Consulting Business Blueprint will run you through how to find your target audience, create an enticing offer to get your first clients and how to offer the best online coaching experiences.
4. Events and Masterminds Business Blueprint
A throwback to Dave's network marketing days, this business blueprint will teach you the practicalities of planning, hosting and profiting from running live events.
Live Experiences ($8,000, $12,000 and $30,000)
Next up the value ladder is Live Experiences; Legendary Marketer's most expensive products on offer to members. They can last anywhere from a couple of days to a week. Prices include your hotel stay.
Marketer Mastermind: $8,000
This event will cover various traffic, lead generation and conversion techniques from some of the top online marketers today.
Legendary Entrepreneur Mastermind: $12,000
According to the sales page, this event is all about becoming the "best version of yourself" and covers topics like health, wealth and general well-being hacks.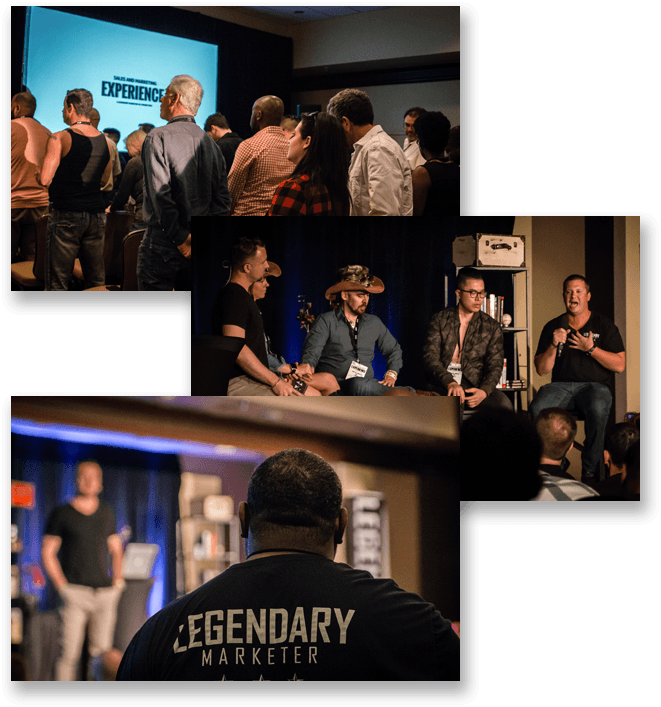 Lifestyle Experience: $30,000
Lifestyle Experience is Dave's invite-only 'inner circle.' This usually involves a stay at a resort outside of the U.S. and is supposed to be for those wanting to take their success to the next level.
As a Lifestyle Experience member, you'll also have 12 months access to Dave's personal coaching group.
Making money online isn't complicated…
This video will show you exactly how to get started. Tap to watch now »
Legendary Marketer's Affiliate Program
With prices like these, it's easy to see why a lot of people are promoting this program right now. The affiliate program has 2 levels: basic and pro.
Basic is free and you can earn between 10% and 30% every time one of your referrals buys a training product.
Pro is only available for those willing to pay for the privilege as you have to be a monthly member of the $30 Legendary Marketer's Club to be eligible for a higher rate of 30% – 60% commissions:
This isn't your normal, straight-forward affiliate program though and there are a few weird caveats in the terms and conditions you should be aware of.
For example, the first 3 times you sell a product you haven't bought yourself you get diddly squat, despite generating the sale.
Then there's what they call the 'Tuition Reimbursement Program' which gives you your money back for any training product you've bought if you manage to sell it to 10 other people within a 24 month period.
What Happened When I Tried To Join The Basic Affiliate Program…
In a nutshell:
I applied, waited for 2 weeks and heard nothing.
When I followed up I was told I'd been refused for "not having enough experience" despite the fact I've been a full-time internet marketer for 5+ years and earned $100,000's in commissions.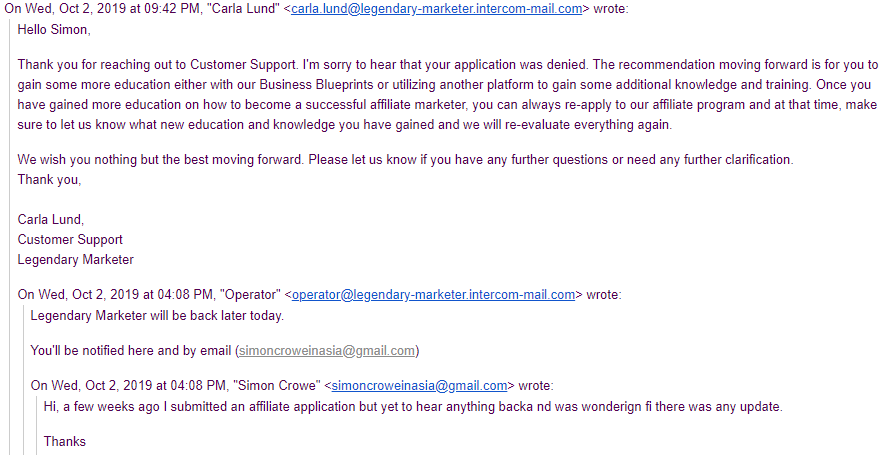 When I asked them about this I was told to apply again, so I did, only to by Brett that I'd been refused again with no other reason than "because they have the right to."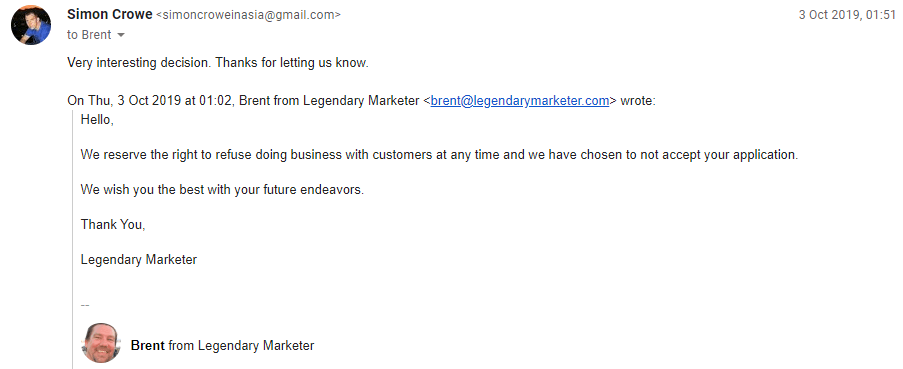 So yeah, a really negative experience overall that seriously raised my suspicions about this program…
Though they can not legally say you have to be a paying member before you can promote their products, I think this is exactly what's happening.
And that brings us to a very important point:
Is Legendary Marketer A Pyramid Scheme?
It depends…
It depends whether their main source of income is recruiting new members or selling training, or in other words if the number of customers is greater than the number of affiliates.
Unfortunately, their income disclaimer doesn't give us any idea of what the customer vs. affiliate ratio is, so we simply don't have access to this data yet. Hopefully, they'll update it soon.
If the vast majority of people are paying money to David Sharpe for the right to promote his products then Legendary Marketer is a pyramid scheme and you've got a problem on your hands because as everyone knows, pyramid schemes are unviable and unsustainable in the long-term.
If there's more customers than affiliates, however, then Legendary Marketer is here to stay and you have nothing to worry about.
Most Helpful Positive Legendary Marketer Reviews
Most Helpful Negative Legendary Marketer Reviews
What I Like About Legendary Marketer
1. You Can Try It Out For Free
The 15 Day Business Builder Challenge gives you the chance to test drive the training platform and see if it's a right fit. You get to see Dave Sharpe in action and decide if you like his teaching style and if this is the direction you want to go in moving forward.
2. The Training Packs A Powerful Punch
I really like the layout and design of the members' area and it's clear a lot of time and money has gone into improving and developing the platform.
I like the way the training is presented too – the short videos are superbly edited, engaging and communicate exactly what you need to know in an easy to follow way.
3. Legendary Marketer Is Great For Affiliates
As you've just seen, people promoting Legendary Marketer are making up to $10,000 per sale which explains all of the overly positive reviews I've been seeing online lately.
If you're looking for a high ticket affiliate program to promote, this is it.
What I Don't Like So Much…
1. The High Price Means It's Inaccessible To Most
Is Legendary Marketer overpriced?
In my opinion, absolutely.
Is Dave Sharpe going to lower the prices any time soon?
I don't think so… I mean, why would he?
He needs to keep his affiliates motivated.
At $2,500 for the Business Blueprints and up to $30,000 for the Lifestyle Experiences, we're not talking about pocket change here and that makes this very high-risk for you.
I don't think you should ever pay this much for an online course, especially considering there are plenty of better alternatives out there.
2. Is It A 30 Or 3 Day Refund Policy?
I've seen a lot of reviews of Legendary Marketer telling people who are thinking of signing up that they are covered by a full 30-day money-back guarantee but read the refund policy and you'll see it's not quite as simple as that…

While your first month's Marketer's Club membership fee is covered by a full 30 days' money-back guarantee, from the 2nd month onwards it's just 3 days.
Pay for any of the Business Blueprints and again, you can only get your money back in the first 72 hours.
But it gets worse:
Affiliate fees (which make up to 60% of what you're paying) are non-refundable.
In real terms, this means if you go ahead and buy a Business Bundle at $2,500 you have 3 days to claw $1,000 of that back if you happened to join up through a Pro affiliate's link.
3. Apparent Lack Of Support
Throughout the 15 Day Business Builder's Challenge, you are constantly told to schedule a call with your personally assigned 'Business Advisor' who's apparently there to guide you through the process of launching your first online business.
Except, take a look at the Legendary Marketer complaints on the Better Business Bureau website and you'll see many people feel let down by the support that's offered.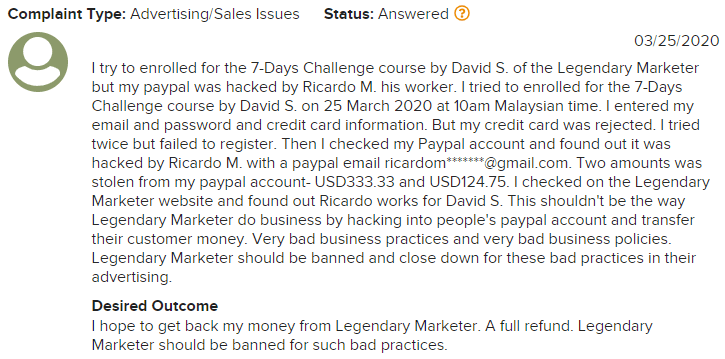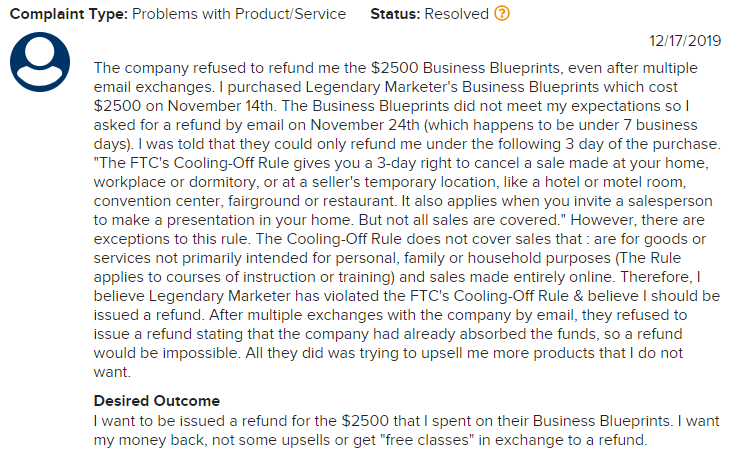 Be under no illusion, these so-called Business Advisors are there for one reason and one reason alone: to generate sales for David Sharpe.
Sure, they'll ask you what your goals are and what your current financial situation is, but it's only with the intention of pitching products to you.
What many new members don't realise is that these coaches are getting 20% commissions every time they convince you to upgrade or buy yet another training package.
Is Legendary Marketer A Scam? No, But Proceed With Caution…
As I said in the beginning, affiliate marketing is a legit and lucrative online business model.
However, you need to understand Dave Sharpe comes from an MLM/pyramid scheme background and he's transferred some of the concepts to this new program – I just can't shake the feeling this is affiliate marketing done wrong.
Legendary Marketer calls itself a High Ticket Affiliate Marketing program which is basically affiliate marketing combined with an MLM model where you have to pay to play.
Is Legendary Marketer Right For You?
If you have a few thousand dollars to invest then the training here is solid, but the high costs mean it's worth thinking twice before jumping in head-first.
By all means, take advantage of the free 15-day challenge and see whether it's a right fit or not, but seriously sit down and ask yourself if you can really afford to pay upwards of $2,500 for this before getting your credit card out.
2 Better Legendary Marketer Alternatives
I don't think Dave is going to lower the price of his training anytime soon which means if you want proper affiliate marketing training that's not going to cost you an arm and a leg then you're going to have to look elsewhere.
Here are 2 solid options I can vouch for personally:
Ranked #1: Wealthy Affiliate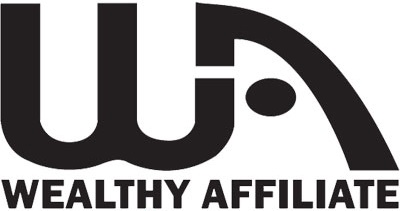 Rating: 98/100
Price: $49/month or $495 per year
WealthyAffiliate.com is hands-down the best affiliate marketing training platform I've ever come across. This is the exact training I followed that enabled me to generate over $7,000 per month online and become my own boss.
Read my SUPER In-Depth Wealthy Affiliate review right here to find out more.
Ranked #2: Invincible Marketer


Rating: 97/100
Price: $67 a month, $430 lifetime or 3x $130 for the first year then $199 per year
Invincible Marketer gives you a 60 step action plan to replace your full-time income in 24 months.
With a growing library of training courses and helpful online community, Project 24 is a great option if you want to start your first income-generating website or take your existing site to the next level.
Check out my Invincible Marketer review to get the details.
Questions? Comments?
Wow – you survived! :-O
I know this was a really long review, but if you're considering spending $1,000's on a training program I think you deserve to know exactly what you're getting into. If you have any questions at all, do feel free to scroll down and ask.
Also, if you've read this far, I'd love it if could leave me a quick comment to let me know if you've found this helpful or useful. That way, I'll know the couple of days it took me to put this review together weren't in vain! 😀
Simon Crowe is on a mission to help as many people as possible kiss their bosses goodbye.
Take the free Commission Academy course to discover how to smash your online income goals and make your dream business a reality.