If you're looking to launch your freelance writing career you're probably asking:
Is Write To $1K a scam or legit?
What's covered in the course?
Is it worth the price?
And is this training really going to get you to where you want to be?
You've landed in the right place because that's exactly what this review is all about.
If you have any questions or thoughts, be sure to share your comments with us at the end of the review and I'll get right back to you! 😊
Write To $1K Review At A Glance
About: Write To $1K is a 7-module, 54-lesson training course on becoming a freelance writer.
Price: Lifetime fee for $165 or 3 installments for $65.
Pros: Owner is a real person who knows the niche, you can make money with freelance writing, has success stories.
Cons: There are more profitable ways to make money online.
Verdict: Write To $1K is a legit course if you want to become a freelance writer. You get a solid, structured course at an affordable price.

Course creator Elna Cain is an experienced full-time freelance writer who really goes out of her way with Write To $1K to provide aspiring writers like you with the best knowledge, training, tips and resources you need to successfully carve out a career for themselves.
The training is well structured and gives an easy-to-follow roadmap to help writers get paid what they're worth.
What Is Write To $1K, Exactly?
Write To $1K is a step by step writing course created by Elna Cain for those interested in learning how to become a full or part-time freelance writer.
The opportunity for bloggers and writers to make a full-time income online is growing by the day and more and more people are jumping on the work from home bandwagon.
According to WriteTo1K.com you can become a well-paid writer in just a few weeks if you apply the lessons within the course.

If you've been doing your homework you'll know there are no shortage of online training programs out there promising you rapid substantial earnings.
Most turn out to be bogus or low quality courses haphazardly put together to sell for a quick buck, like these I've reviewed recently:
In sharp contrast, Write To $1K is the real deal. It's written by an author with a proven track record, it's well structured and worth the reasonable price tag.
Here's what I think:
If you're an aspiring freelance writer and want to start getting paid well for regular work, the Write To $1K course can get you there (as long as you have a good writing style and strong work ethic).
What You Get
Write to $1K is a comprehensive course made up of 7 modules, 54 lessons plus a few really cool bonuses. All the lessons are laid out in an easy-to-follow video format.
Let's take a look at what's included and you'll see it's packed with practical how-to's and helpful step by steps.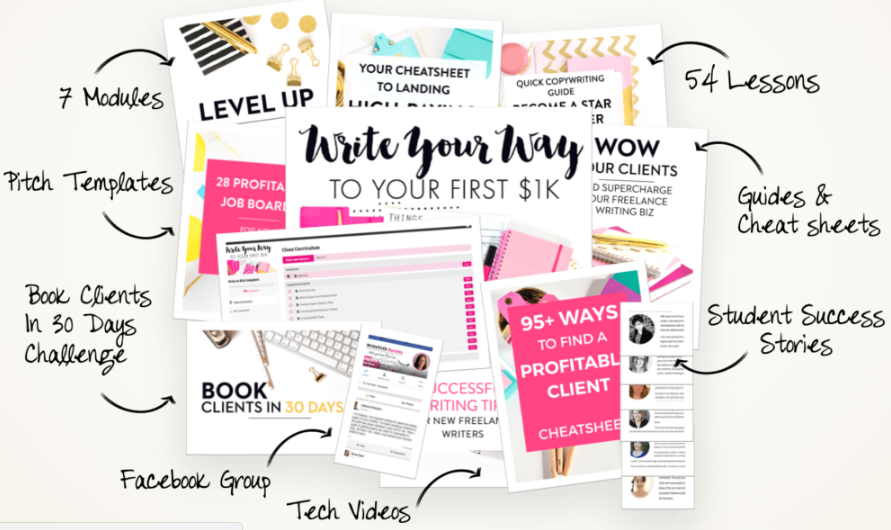 Here's a quick overview of what you're going to learn:
Module 1: Laying The Foundation
This first module is going to focus on transitioning you from having an employee to a self-employed freelancer mindset. You'll be taken through how to set your online income goals and deciding the best niches to focus on.
Module 2: Building Your Writer Platform
This module is about how to build your online brand in the right way through launching your very own website and social media channels.
Module 3: Building Your Portfolio
Before you're ready to approach prospective clients you need a good portfolio. In this module, you'll learn how to put your best foot forward in making that all-important first impression.
Module 4: Finding Writing Clients
Now we're getting to the making money part! What I really like about module 4 is that you don't just learn how to get any old client, but you to get the kind of clients you feel happy to work for; those who give you a consistent work flow and pay you what you're worth.
Module 5: Your Pitch
Now you know the kind of clients you want, it's time to secure them! What's really impressive (one of the many things I should say) about Elna is that she's amazing at securing clients – she has a 75% success rate and shows you exactly how to do the same.
Module 6: Your First $1K
In module 6 we get to the real meat of the course – how to actually write your articles in an engaging and structured way.
I like the fact she talks about building an outline structure you can follow when writing. This is a huge time saver for sure.
Module 7: Your Freelance Business
Now you're up and running with a steady list of clients and consistent work coming in, you're now officially a successful freelance writer. Module 7 deals with basic housekeeping for the self-employed like invoicing, taxes and efficiency systems that make life easier.
Bonus 1: Private Facebook group
No matter how detailed the training is, you're bound to have questions at some point along the way. This is where the Write to $1K community comes in.
Ask questions and get answers, bounce ideas around and share your progress updates inside the private members only group.
You've Got Two Pricing Options
So how much does all of this cost? Well, there's two options:
Either pay a one-time lifetime fee of $165 or pay three installments of $65 = $195 in total.
There are no monthly fees and nothing else to pay for.
I have to say this is a very fair deal. Some courses can cost up to $1,000's or even $10,000's but at either the $165 or $195 option, this is very accessible.
Elna also has a 30 day refund policy in case you're not 100% happy.
Is Write To $1K A Scam?
I can't tell you how good it feels to finally find a legit writing course! When you've reviewed so much training that turns out to be utter rubbish, it's so refreshing to come across the real thing.
I can honestly recommend Write To $1K if you're serious about setting up on your own and working from home.
Still not convinced?
Let me give you 3 quick reasons I know why Write To $1K is NOT a scam…
1. Elna Cain Is A REAL Person
Whenever I'm weighing up whether a training product is a scam or legit, one of the first things I look at is the reputation of the person behind it.
With Write To $1K I have to say I am super impressed!
Elna Cain is an online entrepreneur, established writer and stay at home mom of twins – exactly how she finds the time I do not know…!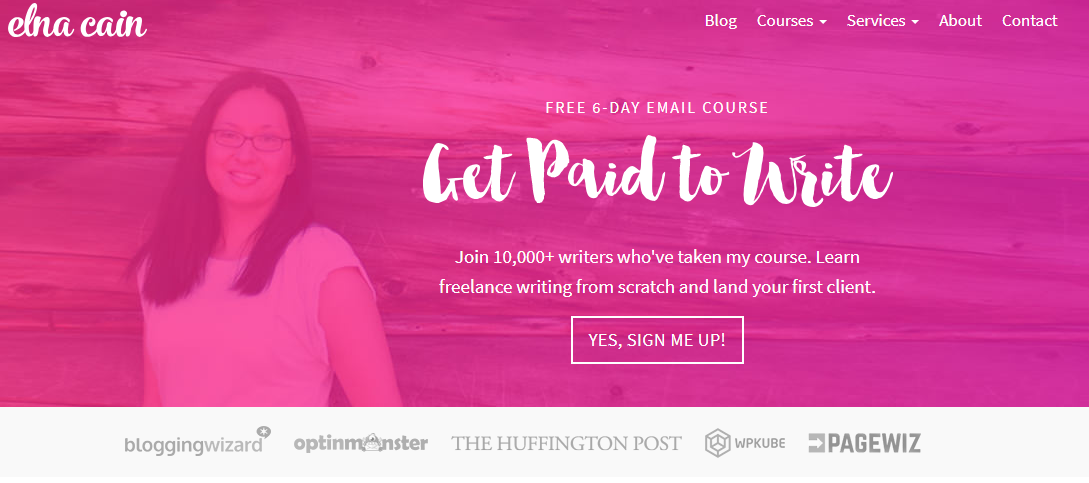 When you want to learn how to do something, it's always best to learn from someone who's already doing it. Elna Cain runs a successful writing freelance business and has two very successful blogs you can check out at TwinsMommy.com and ElnaCain.com.
She has also been published in the likes of The Huffington Post and The Blogging Wizard.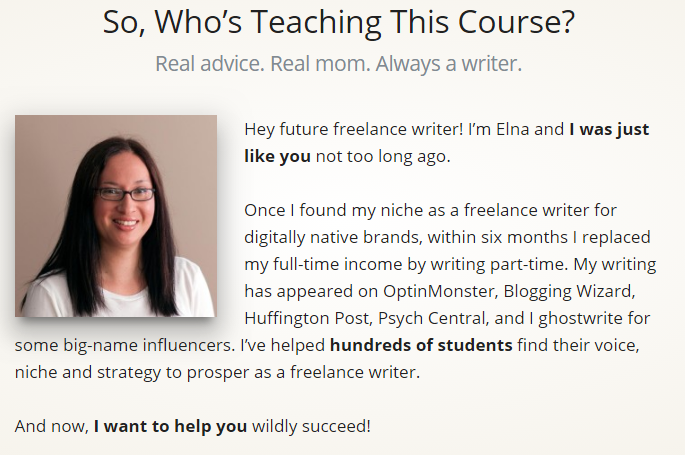 She not only has a very impressive blog portfolio, she knows what she's talking about because she's gone through the whole process of becoming a successful freelance writer the hard way herself. She's the real deal.
2. You Really Can Make Money As A Writer
Bloggers and online business owners go to websites like Upwork.com to outsource content creation and find high quality, reliable freelance writers.
Work hard, meet deadlines and build a solid reputation for yourself and you'll be in high demand… and the demand is only growing.
What I'm trying to say is that with Write To $1K you're learning an actual business model that makes sense and that you can earn money with in the long and short-term.
With this, there's no outrageous claims or promise of an easy push-button system or magical software that will lead you to riches or any of that other nonsense…
Just a pratical step-by-step that I believe if you apply and work at consistently, you could find a new online career for yourself.
Couldn't you just sign up to these sites and get started on your own?
Sure you can if you want to, but there are two ways to become a freelance writer:
Go it alone or follow a proven blueprint.
By going it alone you're going to fall for all the same common pitfalls and make all the same old mistakes all newbies make when they're starting out. In the end it'll take you a lot longer to get to where you want to be.
By learning from Elna you're following what has already proven to get results. With the Write to $1K training and community of other freelancing writers, how could you not be successful?
My advice?
Learn from her mistakes, not yours. It's a whole lot easier that way!
3. Students Share Real Success Stories
I can't tell you how many work from home scams I've come across with fake video testimonials, bogus earnings and fake success stories. Hundreds.
I know the Write Your Way To $1K training is solid because the success stories are from real people getting real results.
Go to WriteTo1K.com and you'll see tweets from happy students. Click on the name and it'll take you to their profile. You can retweet it and like it too.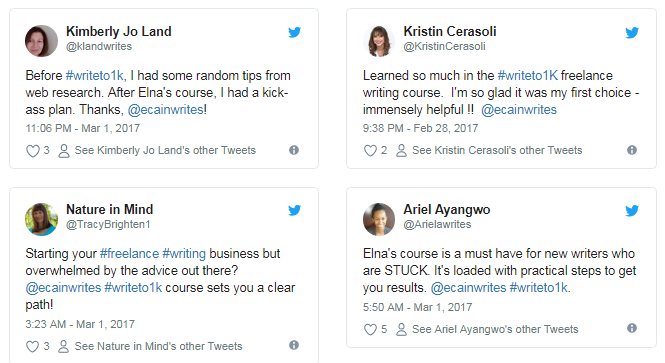 These people have hundreds or thousands of followers and have been on Twitter a long while. All this to say, the testimonials can be trusted.
This means if people like this are getting results, it's legit and there's no reason you can't do the same and follow in their footsteps.
Is Write To $1K Right For You?
Let's start by saying who Write To $1K is NOT for:
Those looking for an automated way to make money online (HINT: they don't exist)
Those who lack the self-discipline or motivation to work on their own
That being said, I'd say Write to $1K is perfect for beginners who are looking to:
Learn how to become a full-time freelance writer
Start working from home writing about topics that interest them
Build an online income stream from the comfort of their own home
There's no getting around it; freelance writing is not easy and you're going to have to be ready to apply yourself. Yes, you're given the formula to follow but it's only you who can take action and make your dream a reality..
You're not going to become a millionaire overnight by doing this but it can be a great way to start working from home doing something you love.
WriteTo$1K is definitely a legit course I can recommend.
Lots of people have become successful writers because of it, so if this is something you definitely want to do, go ahead and enrol. I know you won't regret it.
Alternatively, if you're looking to start a blog of your own and learn how to make money from it, you can do that too. Just like Elna is doing.
And remember:
You don't have to be great to start, but you have to start to be great! 💪💪
Simon Crowe is on a mission to help as many people as possible kiss their bosses goodbye.
Take the free Commission Academy course to discover how to smash your online income goals and make your dream business a reality.