I make a full-time online but I'm still on the lookout for new and exciting ways to ramp up my earnings. When I came across Wow Earnings I knew I just had to do a thorough review of it.
They say they'll give you everything you need to start making money online, but is Wow Earnings a scam you should stay away from or a real opportunity worth investing your time in?
I've reviewed a lot of survey and get-paid-to reward sites recently and so far Swagbucks is the best I've seen. Let's see how Wow Earnings does in comparison.
Just so you know: I don't work for Wow Earnings.
I'm just a regular guy who finally learned how to generate a full-time income online.
Now spend my time helping people like you stay away from scammy time-wasters so you can stick to what works.
Wow Earnings Review At A Glance
About: Wow Earnings is a side-income option by clicking on links in emails and completing surveys.
Price: Free to join.
Pros: None at all.
Cons: Redirects you to another site, defunct.
Verdict: Wow Earning is not an outright scam but has now been shut down. If you want to make money taking surveys, try instead.

Wow Earnings have been around since 2003 but go to WowEarnings.com and you'd think it hasn't been updated since then. The site is full of glitches and broken links.
Wow Earnings say you'll be making decent-sized lumps of cash within minutes of joining but when I tried signing up I couldn't. Not for lack of trying I tried every which way but never got any confirmation emails through and was unable to login.
In a nutshell: Wow Earnings is now a defunct site that's been abandoned by its owners meaning it's impossible to make a single penny with this.
If you're sick and tired of mind-numbing paid survey sites and get rich quick scams then check out this free beginner training right here.
You'll get step-by-step lessons on everything you need to know about making money online and an amazing community of entrepreneurs on hand to support you every step of the way.
What Is Wow Earnings About?
Wow Earnings markets itself as an easy and care-free way to earn an additional side income by simply clicking on links in emails and completing surveys.
My first impressions landing on WowEarnings.com is that this is a very old site that looks like it probably hasn't been updated since the dawn of the internet.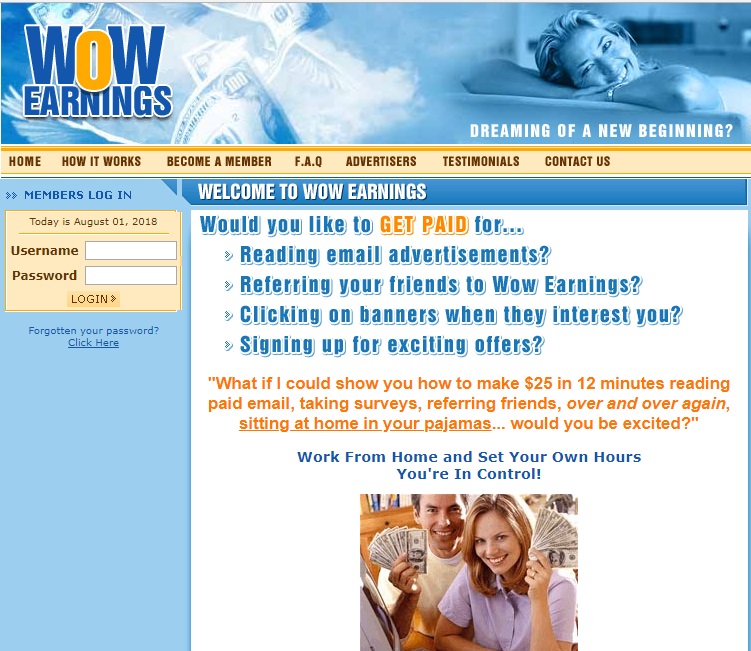 Putting aesthetics aside for a second, I was more interested in what this rewards site had to offer in terms of making some actual money.
Wow Earnings is free to join and you can withdraw funds once you've accumulated a balance of $12 or more.
On top of the homepage you're given the big and bold promise you can make $25 or more in the next 12 minutes.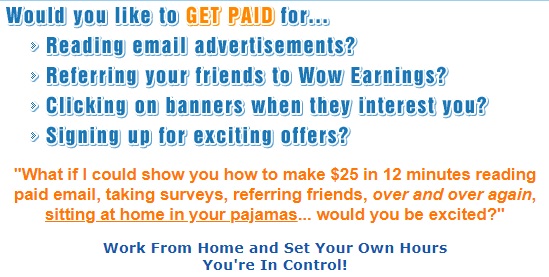 I see the people behind Wow Earnings are promoting their site as a way to work from home full-time and set your own hours, a pretty bold claim when you think sites like Amazon MTurk and Gigwalk offer cents for completing very medial, repetitive tasks.
Usually, earnings from sites like these are so minimal and the tasks so time-consuming it's hardly worth your while.
Wow Earnings reminds me of other get-paid-to sites like PrizeRebel, Cashback Research and Peanut Labs in that they offer 4 main ways of earning.
Let's go through each one and see what kind of money you can realistically earn:
4 Ways To Earn With Wow Earnings
1. Sign Up For Free Trial Offers
Sign up and you'll be given lists of free trial offers to sign up to in reward for points. This could be trying out membership websites with 14 day trial periods, signing up to monthly magazine subscriptions, applying for a credit card and so on.
I don't really class this as a money-making method because forget to cancel subscriptions and you end up worse off than when you started.
I really wouldn't recommend this unless you're extremely organised and disciplined, but even then the payback is so low I can't see how it's worth it.
2. Read Emails
That's right, they're saying you can make money clicking links in emails. Many people complain their inboxes were hit with avalanches of promotional emails and spam after signing up.
Let me tell you what's really happening here:
Wow Earnings sign up to companies who offer an affiliate program meaning they get paid every time they send someone to the company's site.
Wow Earnings is the one making the most money out of this and giving you only a tiny fraction of their commission in the hope you'll stay incentivised enough to keep handing over your personal contact information.
3. Click Banner Ads
The third way you can make money is clicking on advertising banners, the kind you see in website sidebars.
This is just ludicrous. How is it helpful or useful to pay people to click on advertising banners? No real customers, no real traffic, no real revenue being generated.
4. Refer Friends
For me, this is the earning method with the most potential for scaling up. They pay $1 for every friend or family member you refer to the site.
What Happened When I Tried To Join
With every review I write, I sign up myself to give you a proper idea of what it's like on the inside. I didn't get very far with Wow Earnings but what I encountered trying to become a member might surprise you…
It started out straightforward enough; just fill out a pretty simple sign up form:

Then a strange thing happened, I clicked the Join Today button and was redirected to an entirely different site called OpinionGateway.com.
I thought maybe it was just a glitch so I went to the WowEarnings.com homepage and tried to sign in. Apparently, my password wasn't recognised so I went ahead and requested a new password.
After waiting an hour I got no emails, no notifications, no nothing. Worse yet I've never actually been able to see inside the member's area.
It's clear Wow Earnings is now defunct and all but abandoned. With tons of broken links and the sign up forms not working, I'm sorry to break it to you but you ain't gonna be making any money here.
Is Wow Earnings A Scam?
Maybe not, but its glory days are well behind it.
There's seriously no point even trying to sign up as they just send you to yet another survey site OpinionGateway.com. Very little is known about Opinion Gateway and I couldn't find a single Opinion Gateway review anywhere online. I wouldn't trust it.
Why Sites Like WowEarnings.com Are Shutting Down Left And Right
Read what it says on their "How it works" page and you'll see why they've shut down:

Wow Earnings get paid (or at least got paid) from advertisers to send traffic (website visitors) to advertiser's sites. This is a flawed business model that just makes no sense.
There's absolutely no value in paying people to land on your site and click ads unless Wow Earnings members are buying something so the advertiser can earn some kind of revenue.
Even if this were the case, you're signing up to Wow Earnings to earn money NOT to spend it so it doesn't make sense for you either.
This is why survey and get-paid-to sites like Zap Surveys, Dollar Surveys and Speak Up Surveys are a dying breed.
If you're determined to go down the survey route then the highest rated survey site I've reviewed so far is Swagbucks. Check out my Swagbucks review here for more info.
A Better Way To Earn Online
Honestly, the best advice I can give you is to forget about crappy reward sites like Wow Earnings. Earnings are anything but "Wow!" and if your experience is anything like mine you'll be left feeling underwhelmed.
Survey sites pay way less than minimum wage, if anything at all.
Sure, they promote themselves as a fun and easy way to make extra cash, but in truth, you're working hard filling out long, tedious surveys and giving away your personal information for $0.50 an hour at best – it's just not worth it!
I wasted a ton of time trying to make surveys work but they never did. That is until I stumbled across an online community and training platform called Wealthy Affiliate.
They offer a full step-by-step course on how to start an online business. I followed the training, put in the work and today I earn more than $7,000 as a result.
If you're serious about changing your financial future for the better then get started with this free beginners training course.
What's Been Your Experience With Wow Earnings?
Did you join Wow Earnings?
Were you wowed or was it an anticlimax?
Let us know in the comments.
Got any questions about starting online? Let me know and I'll get right back to you.
Simon Crowe is on a mission to help as many people as possible kiss their bosses goodbye.
Take the free Commission Academy course to discover how to smash your online income goals and make your dream business a reality.