Head on over to TubeProfitSniper.com and you'll see a very simple website telling you you can make $2,293.26 per day after just 17 minutes set up.
If you believe this sounds too good to be true, you'd be right.
Tube Profit Sniper Review At A Glance
About: Tube Profit Sniper is a YouTube traffic app that's said to generate leads so you can make $1000s per day.
Price: The Lite version costs $97/month while the Pro version is currently at $67/month. The 5 upsells total to $300.90.
Pros: Nothing. Nada. Zilch.
Cons: The owners are serial scammers. Plus the income claims, testimonials, live streaming, and social media accounts are all fake.
Verdict: Tube Profit Sniper is a blatant scam. It can only provide you duplicate content and spamming strategies that will get you penalized by Google.

Is Tube Profit Sniper a scam or legit?
Yes, I think it is and in this review, I'm going to show you why you should put your wallet away and keep your $67.
Honestly, I never seize to be amazed at what these people are willing to tell you to get your money.
If you're sick of scams and seriously want to reach your online income, check this out.
What Is Tube Profit Sniper?
Tube Profit Sniper is supposed to be YouTube traffic app that gets you 23,439 "cloned clicks" so you can generate free traffic from YouTube and Google in 3 days.
It's also said to be the "easiest way to drive unlimited video viral traffic" so you can generate $1,000s in income per day.
At least that's how the sales page puts it.
Simply said, this software promises to get you buyer leads you'll convert to paying customers.
In reality, it's just another done-for-you and "cracked-the-code" software Vick Carry and Rich Williams peddle almost every month.
What this software does is use other people's video content and make it seem like you originally made it. It's not just unethical, it's also annoying because it involves a whole lot of spamming.
How Much Does Tube Profit Sniper Cost?
Tube Profit Sniper has 2 versions: Lite for $97/month and Pro for $67. The Pro version is said to be originally priced at $267/month but is currently discounted to a special price for a limited time.
There are also 5 upsells totaling to at least $300.90 (some upsells have 2 price options).
Tube Profit Sniper Is 100% A Scam
It's a strong statement I know, but I'm going to show you why this is a scam in my opinion.
According to BusinessDictionary.com, the definition of a scam is:
"A fraudulent scheme performed by a dishonest individual, group, or company in an attempt to obtain money or something else of value."
In this review, I'm going to present to you evidence which points to the fact Tube Profit Sniper is nothing but a shady scam you should in no way get involved with.
You're about to see everything on TubeProfitSniper.com is completely fake and NOT to be trusted.
Let's get into it.
1. The owner of TubeProfitSniper.com is a serial scammer
The first tell-tale sign that this is a scam is that I've seen it before, under different names, different domain names, but essentially it's the same scam.
You see, it's very rare to see a scammer own just one scam. Once they get a taste for misleading people into parting with their hard-earned cash they often take it up to scale, as is the case here.
The mastermind behind Tube Profit Sniper is also behind the Kindle Sniper scam, the AZ Sniper scam and Amazon Code scam. Both of these are get rich quick schemes I've reviewed before and I couldn't help but note some similarities.
Tale a look at the screenshots below and you'll see for yourself: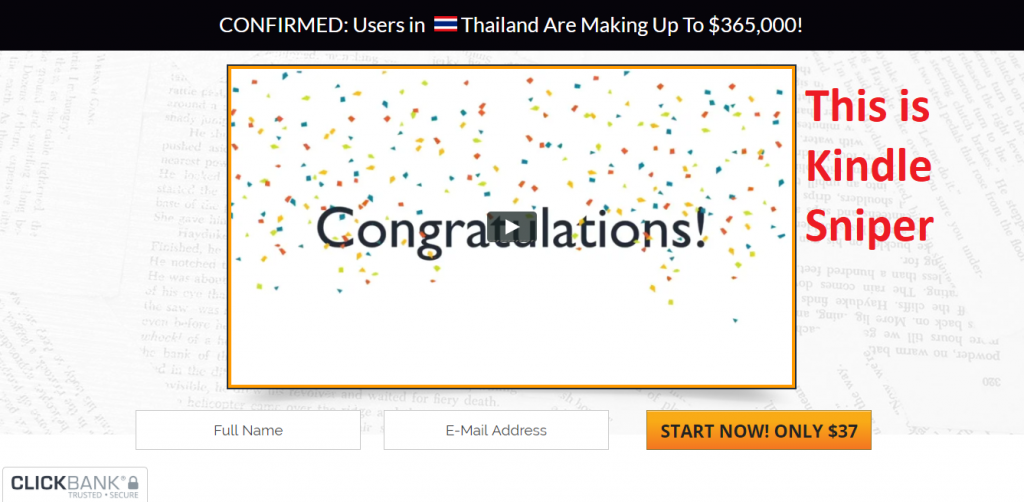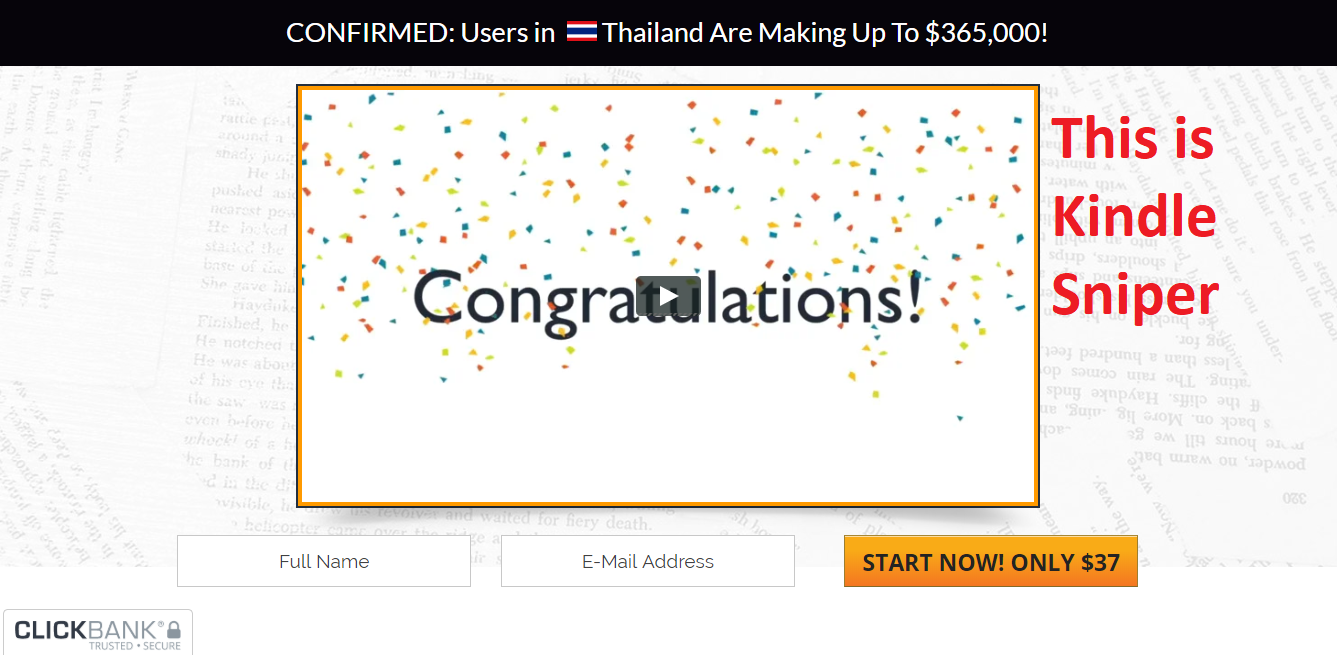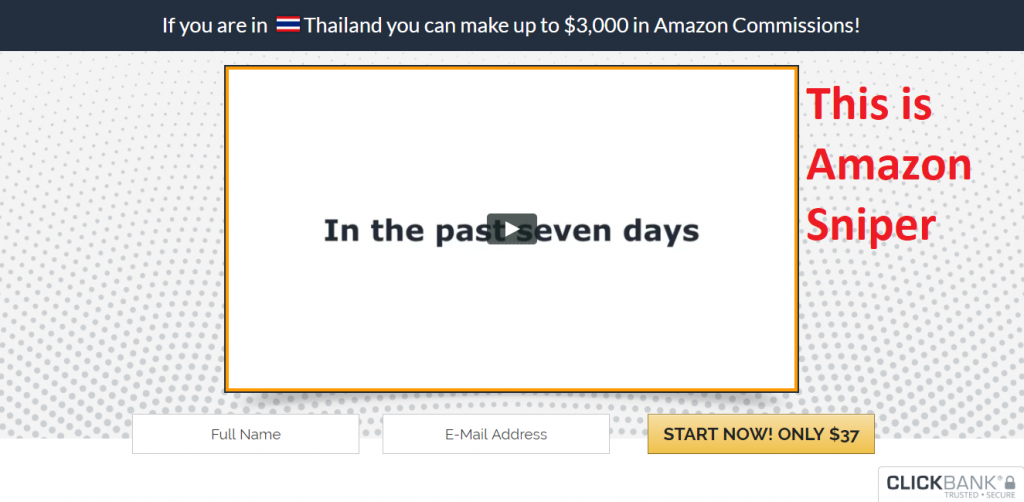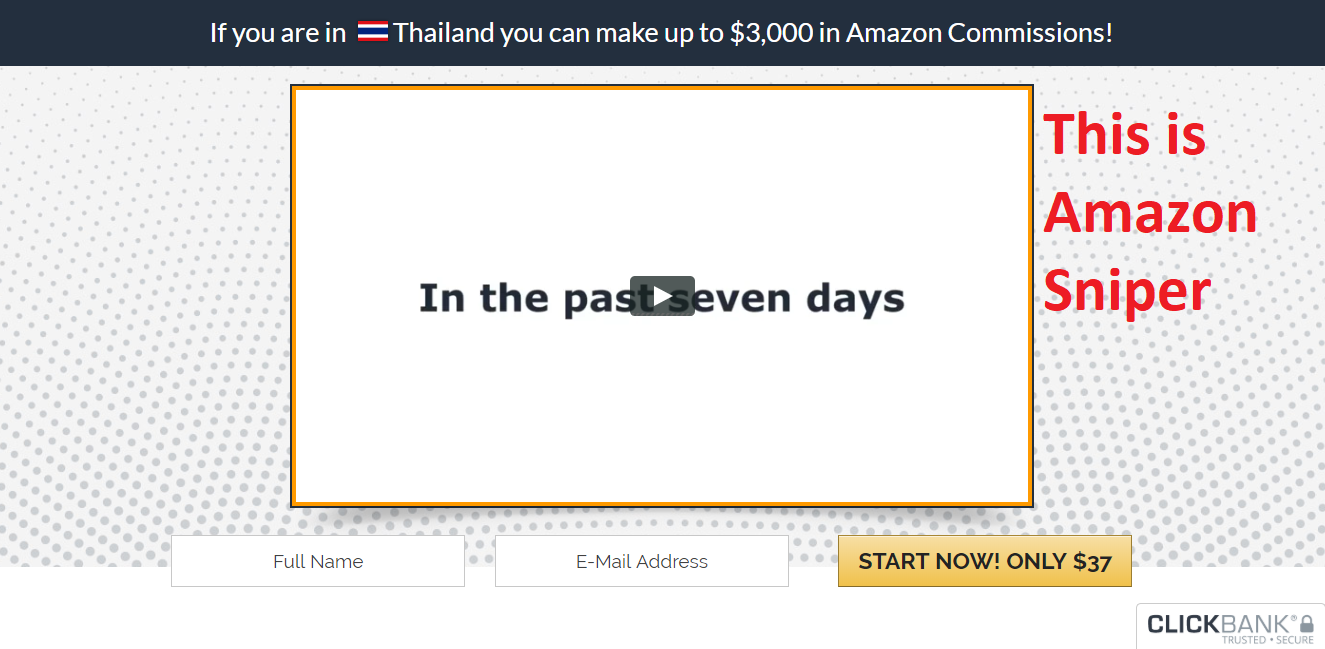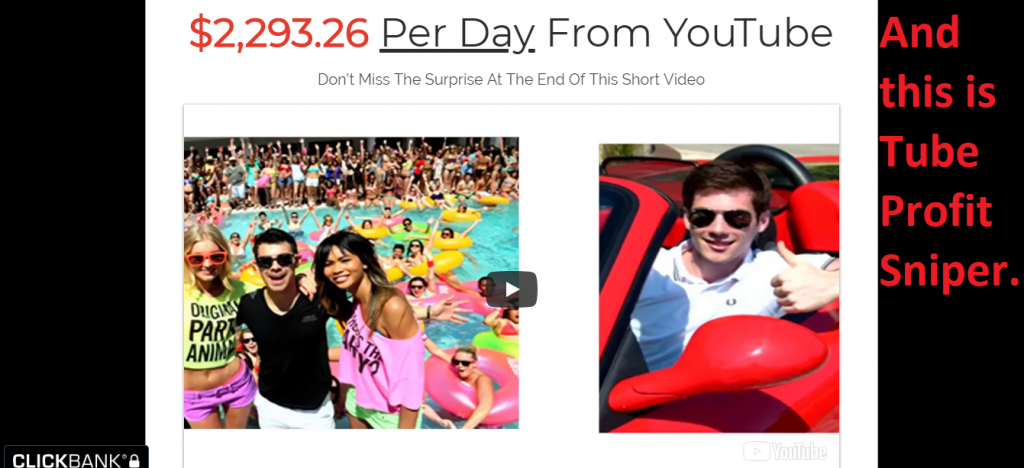 Sure he's played about with the colours and added cheezy photos of Lamborghinis and party girls to sex it up a bit but the web layouts are almost identical.
You can see they all have the same localised banner across the top of the page and they all take you to a shady $37 ClickBank product.
What all of these phoney get rich quick schemes have in common is their sales videos or full of hype because they want you to go ahead and buy the $37 eBook or phoney training course.
2. The crazy income claims are 100% fake
Let me tell you it is very possible to make money online, and a lot of money too, but it doesn't happen overnight and you need to go about it in the right way.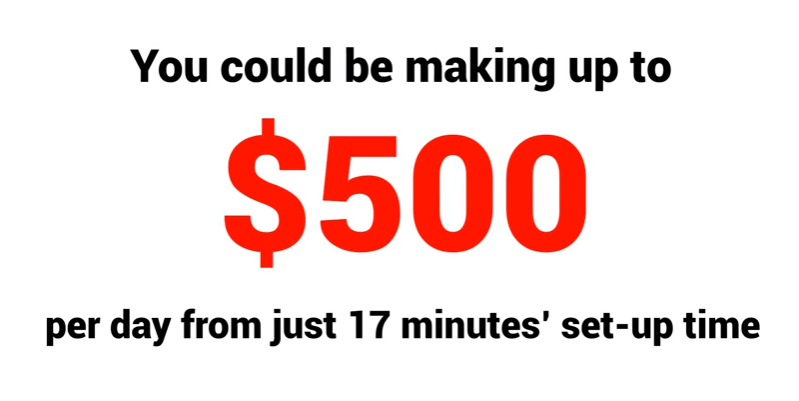 The video presentation starts tries to grab your attention right from the get-go with stories from supposedly real members like Mike James who made $572.84 in just 7 days and Cindy Batista who made $565.45 in the same time.
Near the end of the 45-minute video, the narrator even goes on to say you'll be earning a whopping $180,000 a year so you can be free to quit your job, go travelling around the world and buy that expensive sports car you've already wanted – yeah right!
The problem is it's easy to throw any numbers out there, but you need actual proof to back them up.
It's easy to make the claims but where's the business model? how is this money going to be made exactly?
Rather than giving you an actual online business model that makes sense, rather than explaining the process of how making money online with the system works, instead, you're bombarded with promise after promise of fast and easy cash.
The best part?
You don't even need to do any work – it's all automated! Talk about playing with your emotions!
I've lost count of how many push-button system and magical software type scams I've come across, but it's in the hundreds. Don't fall for it!
3. The testimonials are 100% fake
What about those terrible success stories? First off, it's so obvious they're reading!
Work from home scams have no choice but to head to sites like Fiverr where you can hire someone to say whatever you want because what they're offering you doesn't work.
Here's the guy from around the 20-minute mark (here's the full video in case you haven't seen it yet)…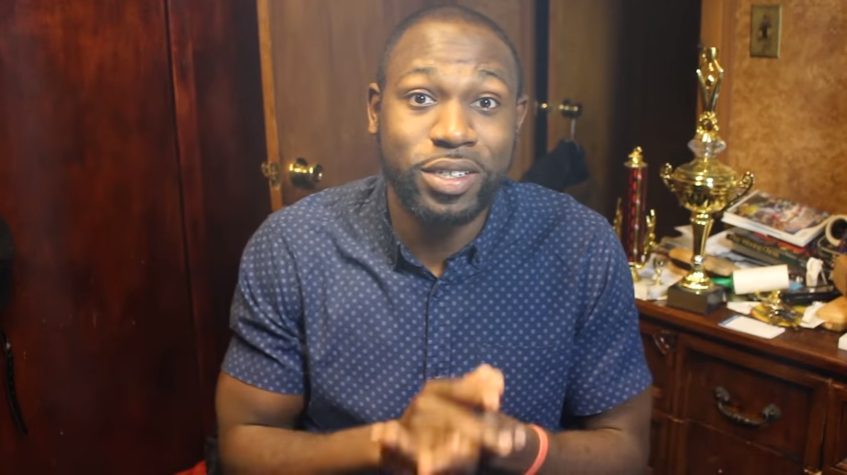 Compare this photo with his Fiverr gig offering his services as a video spokesperson: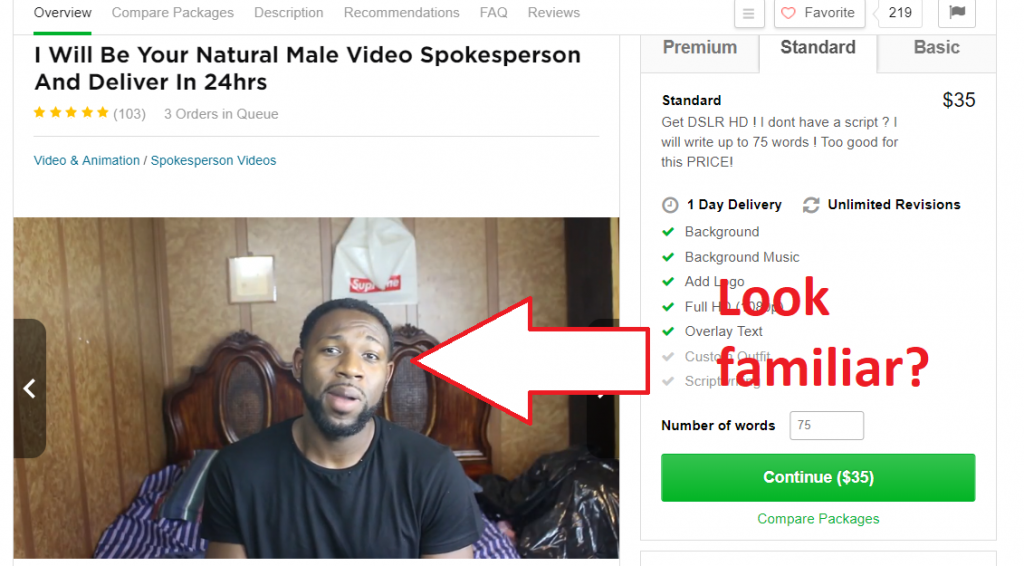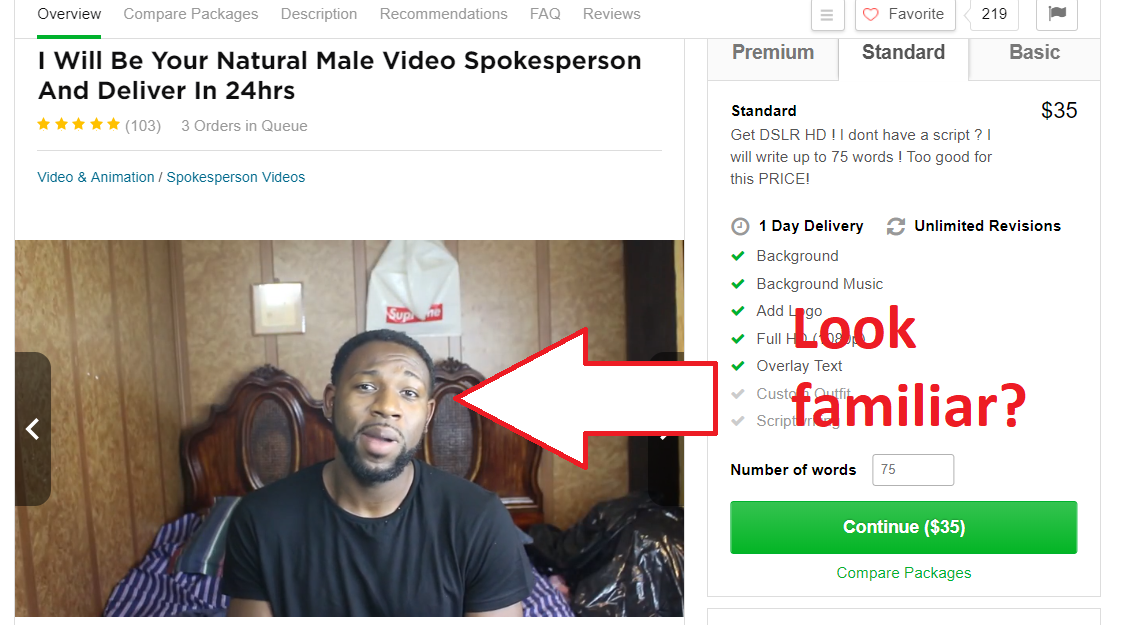 It's the same guy! It's like this for every single phoney testimonial in this sales video. Yet another reason this is a scam that can not be trusted.
4. The live streaming is 100% fake

When you're watching the video you'll see a red flashing bar that says "streaming". The impression you're given is that this is a live video with 1000's of viewers. With only 20 limited spaces left this creates a real sense of urgency.
But not if you know this is completely fake…
How do I know?
Because this is just a YouTube video that's been embedded on the site, available for viewing at any time.
5. The social media account are 100% fake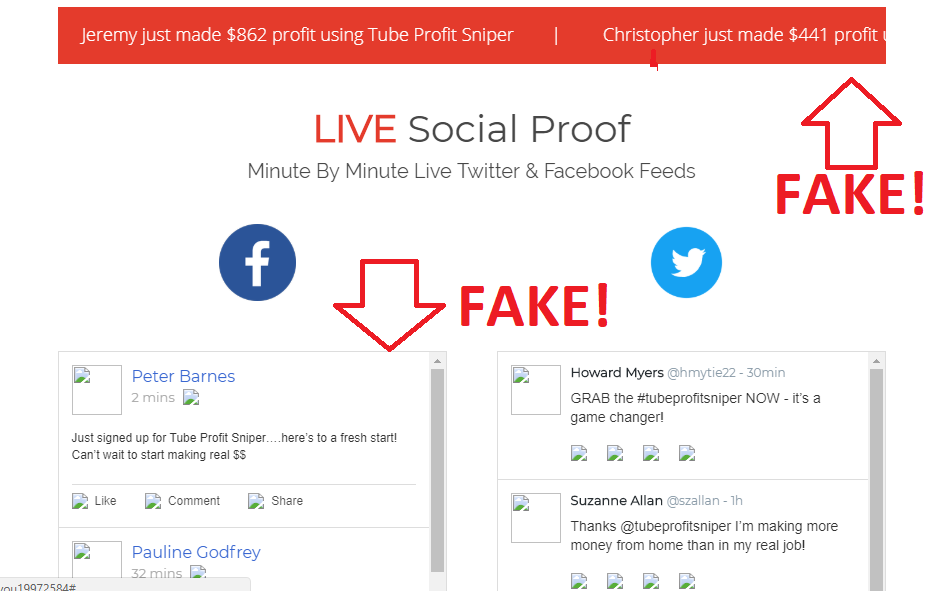 There's a red bar which wants you to think these are real people getting real-time results from this training. The only problem is watch it long enough and you'll see the same names and dollar amounts start coming back again.
It's like an automated computer program running them in circulation.
And the Facebook and Twitter accounts? yeah they're fake too. I can't click on the like or follow buttons and even the images aren't loading.
Believe me when i say nothing you see on the Tube Profit Sniper website can be trusted.
Whether it's the hyped up earnings claims (cancelled out in their disclaimer by the way) or the fake social media proof or the fact every day is "the very last day of this great opportunity" or the lie he tells about mentoring you as his student one on one with his team of support staff – it's all complete BS.
What Do You Actually Get With Tube Profit Sniper?
At the time of writing this review, once you submit your email, get to the check out page and select your method of payment, you'll be sent an email giving you access to nine video lessons giving you just 2 hours of training in total.
I say at the time of this review because I personally believe this could be changed at any time. The sales presentations are vague enough so that the scammer can start promoting another dud training program at a moment's notice if it means him making more money in commissions.
Here's a quick overview of what the training covers:
How to create a YouTube Channel
How to add your channel artwork
How to come up with ideas for your first few videos
How to compete against the bigger channels out there to get views
How to create, edit and upload videos
How to add video descriptions to make sure your video gets ranked
When it comes to making any decent amount of money on YouTube, there's a lot of new skills you need to learn and you'll have to be willing to work for free at first before you start getting decent view numbers.
I very much doubt you can learn everything you need to know from watching a few low quality videos.
Let me be clear: I'm not saying you can't make money on YouTube.
There are lots of successful YouTubers out there doing it full-time, but ask them if it's automatic or fast and I know they'll tell you they've put a lot of work into creating the best content for their channels and building up their subscribers.
It takes time, patience and a strong work ethic.
What's more is that all this information is already available online for free. Sites like VideoCreators.com show you how to create and run a successful YouTube channel.
The Right Training = The Right Results
If you're serious about turning your internet access into a legitimate income stream you're going to need more than a couple of hours of videos – you need a solid step-by-step program you can follow to acquire the right knowledge and skills it takes to succeed.
You're also going to need a whole community of online entrepreneurs who can encourage you, answer your questions and guide you along the way.
This is why Invincible Marketer gets my highest rating. It's the all in one training centre that's specifically designed for newbies like you.
Check out my Invincible Marketer review here to get the details.
Thank you so much for reading my Tube Profit Sniper review and hope you've found it helpful. If it helps 1 person from falling for this get rich quick nonsense it's worth it!
Simon Crowe is on a mission to help as many people as possible kiss their bosses goodbye.
Take the free Commission Academy course to discover how to smash your online income goals and make your dream business a reality.