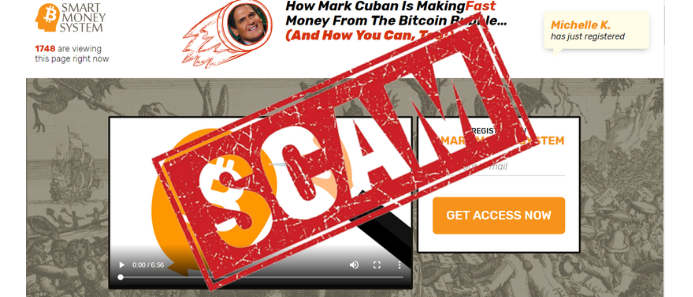 Hi, I'm Simon and welcome to my Smart Money System review where I'll do my best to answer the question: is Smart Money System a scam? (Spoiler alert: Yes it is!)
With so many crypo currency scams out there promising you outlandish returns on your investment it's hard to know what's real and what's not.
If you've been tempted to pay a deposit and start investing with these guys, please do read this review to the very end because I really think it's going to open your eyes to how these scams really work so you can know what to look out for in the future.
Here's what I found out.
Smart Money System Review (Quick Overview)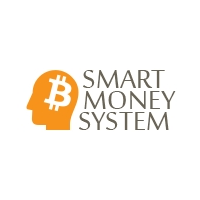 Product Name:
Smart Money System
Website:
SmartMoneySystem.co
Created by:
We don't know
Minimum deposit:
$250
Summary:
This is nothing more than yet another Forex trading scam. It's not the first and definitely won't be the last.
Despite them claiming to have developed some "revolutionary and innovative" complex algorithm that can accurately predict trades and guarantee you profit from economic bubbles, people lose any funds they deposit into their trading accounts.
Smart Money System have colluded with GCC Brokers which is an offshore scam operation of unlicensed and unregulated brokers. The more money you transfer to them, the more money you lose. Fact.
You may see your investment account show a profit at first but this is a ruse to get you to part with more of your hard-earned cash. Mention the trigger word 'withdrawal' and mysteriously your balance drops to zero.
Rating: 1/100
Recommended: No – avoid at all costs!
Wanna Make Money Online But Tired Of Scams?
What Is the Smart Money System?
Head on over to one of the many Smart Money System websites and you'll see the same video from these guys claiming they have somehow developed a trading sotware that can exploit economic bubbles and guarantee you make a fortune even when the bubble bursts. 
We're told this non-existent software uses complex algorithms to predict shift in the value of cryptocurrencies which gives you trading signal alerts which have been 'proven' by someone calling themselves an expert.
How do you take advantage of this irrestible offer and start raking in the profits?
Give them your name, phone number and email address, deposit a minimum $250 of your hard-earned cash with their recommended broker and wait for your expert coaching call.

How the Smart Money System Really Works
Exactly like Push Button System and Cambridge Method, the only purpose of the Smart Money System websites and promo videos are to convince you to deposit as much money as possible with one of their unregulated and unlicensed offshore brokers.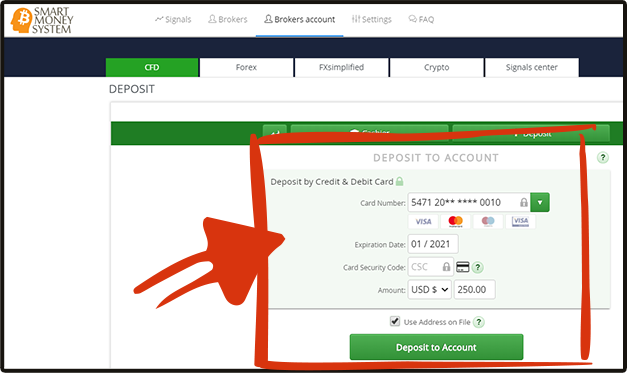 In my case, I was sent to GCCBrokers, but whatever broker site you're sent to, the scam works in the same way…
They tell you to activate your account and wait for your call from a 'Smart Money Coach' who will walk you through how to make your first profit online.
In reality, these money coaches are nothing more than glorified sales agents based in eastern Europe who are trained to hound you with calls to extract as much money out of you as they can.
They'll tell you to increase your profits by investing way more than $250. People who have succumbed to this scam have reported losing anywhere between $10,000 and $100,000 (yes really!) with these online con artists.
At no point will you ever see any evidence of how the magical trading software works, no training on how to trade or given any idea how it all works.
4 HUGE Smart Money System Red Flags!
1. Smart Money System Is Fake News
I've been able to find two Smart Money System websites so far but I'm sure there's dozens more out there.
SmartMoney-System.com and SmartMoneySystem.co are identical in every way. Both sites have:
Fake Scarcity Tactics
Look at the top left of the website and you'll see there's 2,000-4,000 people on the website at any time… except this is a fake computer-generated number that stay the same regardless of what time of day or night you visit the site.
Fake social proof
Yet another sign you should trust nothing on this site are the fake facebook testimonials found at the bottom of the page.
You're expected to believe these success stories are from real members in real time but try liking, commenting or viewing the user's profiles and it doesn't work. These are nothing more than fake status updates that rotate every 24 hours to try and fool you into thinking this is legit.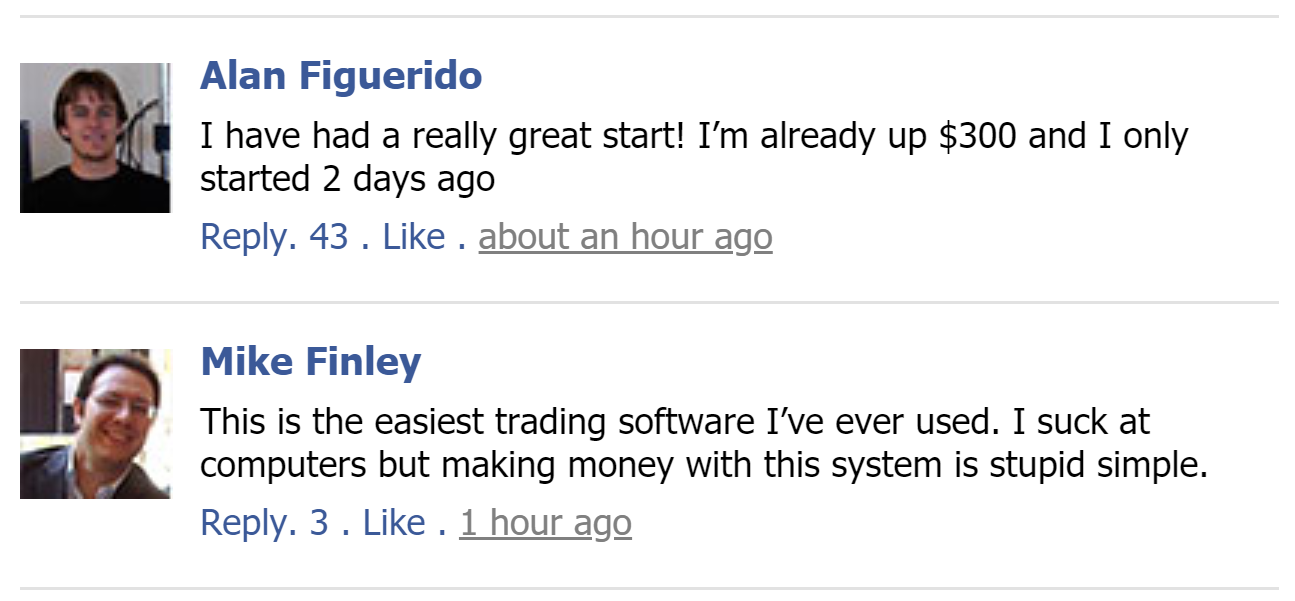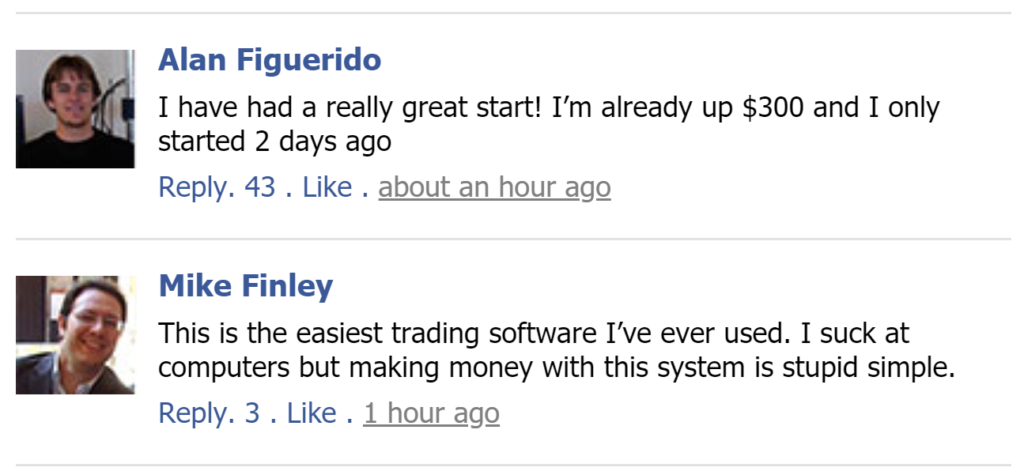 2. Where's this stock market cracking software then?
Seriously, where's the complex algorithm that guarantees you will always come out on top and never lose? I don't see it anywhere.
We're told the software was designed to identify trading signals but at no point are we ever given a real explanation or real proof as to how it works.
Any legit trading platform would show you their track record on wins and losses, they'd be a history you could look at. With Smart Money System we're told to blindly hand over $250 to one of their recommended brokers.
3. The Disclaimer Contradicts The Sales Spiel
Whenever I'm reviewing a potential income opportunity I find it's always a good idea to check the fine print. In this case, Smart Money System's disclaimer completely contradicts the sales video and bold income claims.
Take a look and they say everything you see and hear on the site is 'for educational purposes only' and they make no claims of income or success.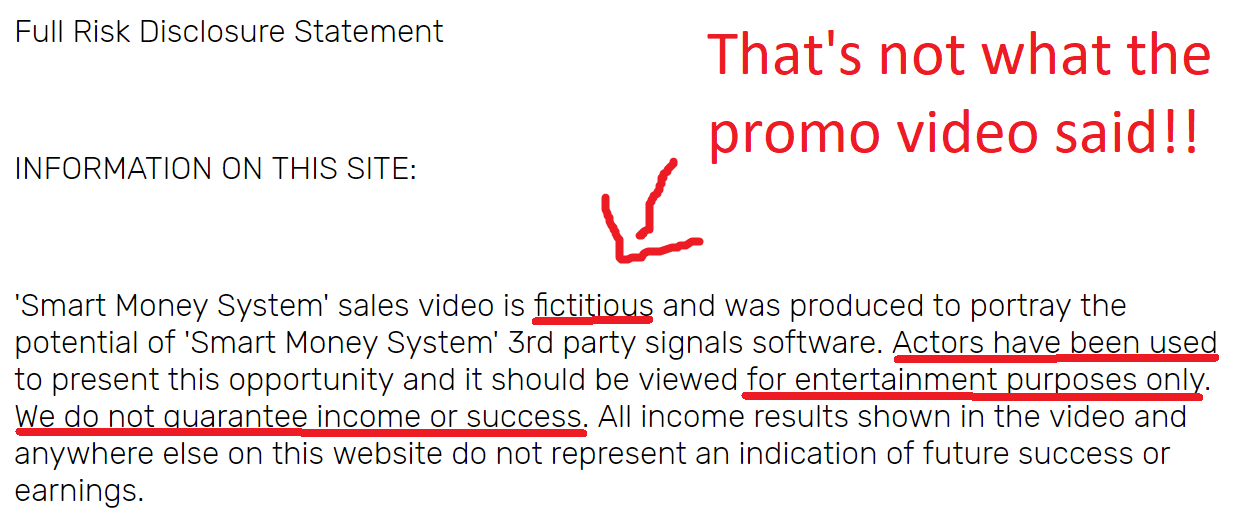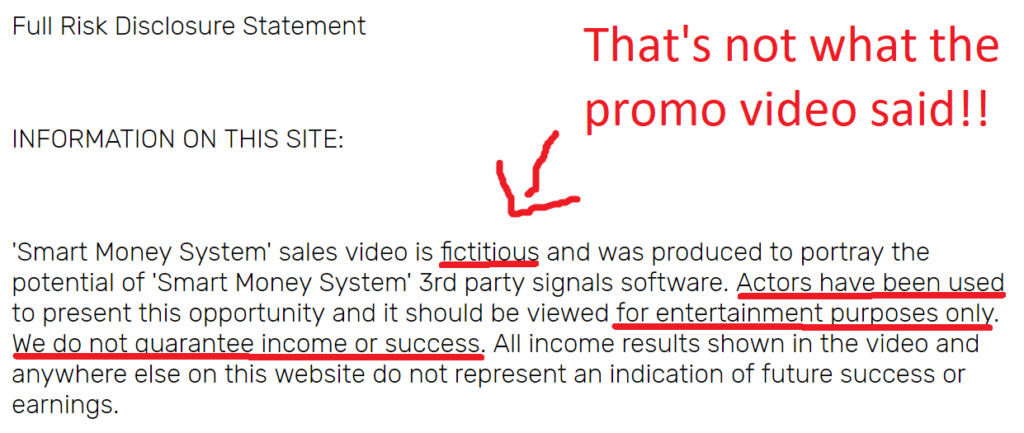 4. Offshore Brokers Are NOT To Be Trusted
This is the biggest red flag of them all.
After I created my account I was redirected to GCC brokers. I could tell immediately these offshore brokers are completely unregulated and untrustworthy…
First off, the website is unsecure, meaning any credit card info you give them could be used by fraudsters and hackers.

Secondly, the GCC Brokers site says they're registered in 'Honk Kong' (no, that's not a typo!) meaning they're completely unregulated and you have no legal way of getting a penny of your money back.

Let me be clear as possible as I can:
Deposit any money with these so-called brokers and you will never see your money again!
More Smart Money System Reviews
It's absolutely heart-breaking to read the reviews from people who have been duped into investing with Smart Money System and their partner in crime, GCC Brokers.
Again and again you read the same story – they sign up, are pushed into making a desposit, then harassed until they deposit even more, but come withdrawing time things very quickly change.
This review shows just how pushy these sales people are and how manipulative and deceptive this scam really is. You may see your balance go up as a way to entice you into depositing more…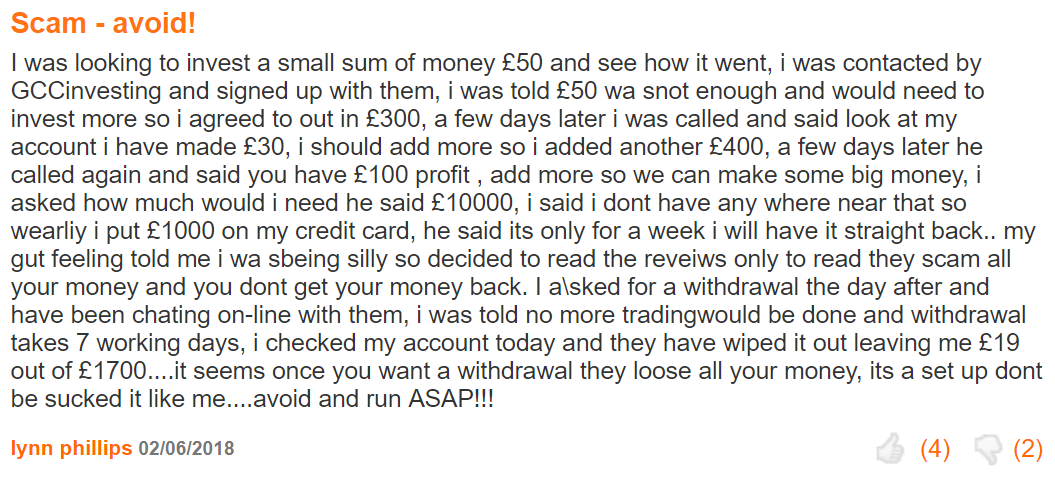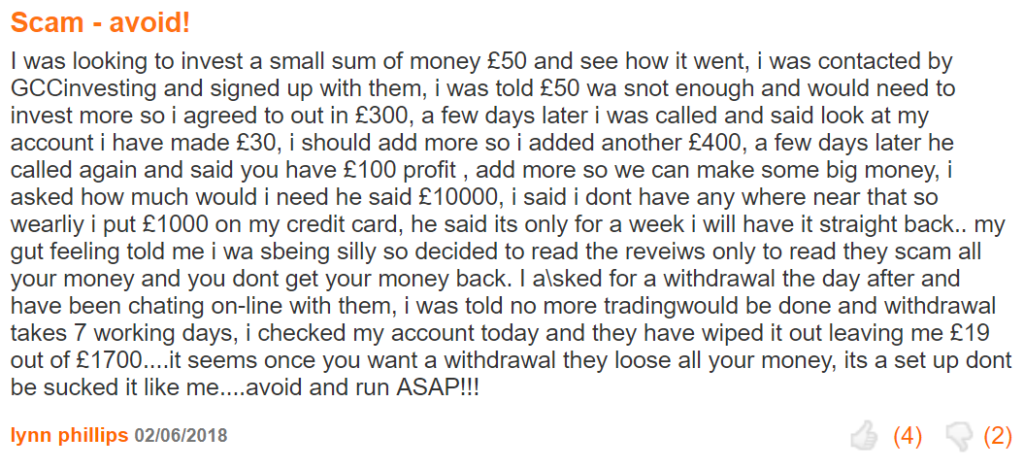 Here's a good example of how you'll be harassed with sales calls from your 'money coach' pushing you to invest more and more.


This next review is acts as a stark reminder for me as to why I set up this blog in the first place, to try and help people falling victim to scams like this. This is from a pensioner who lost £21,000 ($27,000) and wiped out their life savings…


This is all very depressing reading but there is some good news. This smart person scammed the scammer and managed to convince them to return his £5,000 deposit! Good for you! 🙂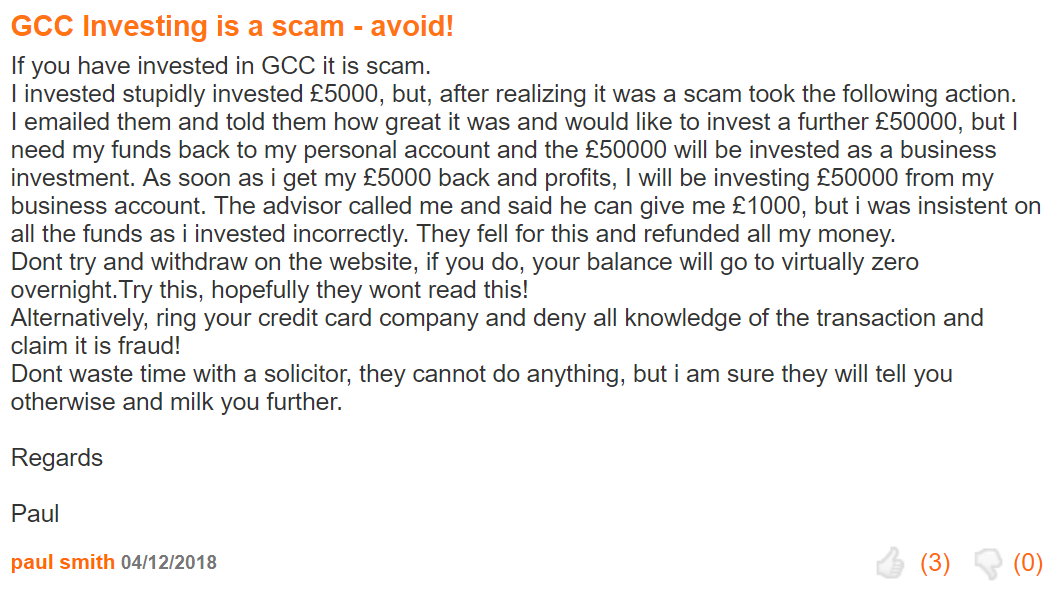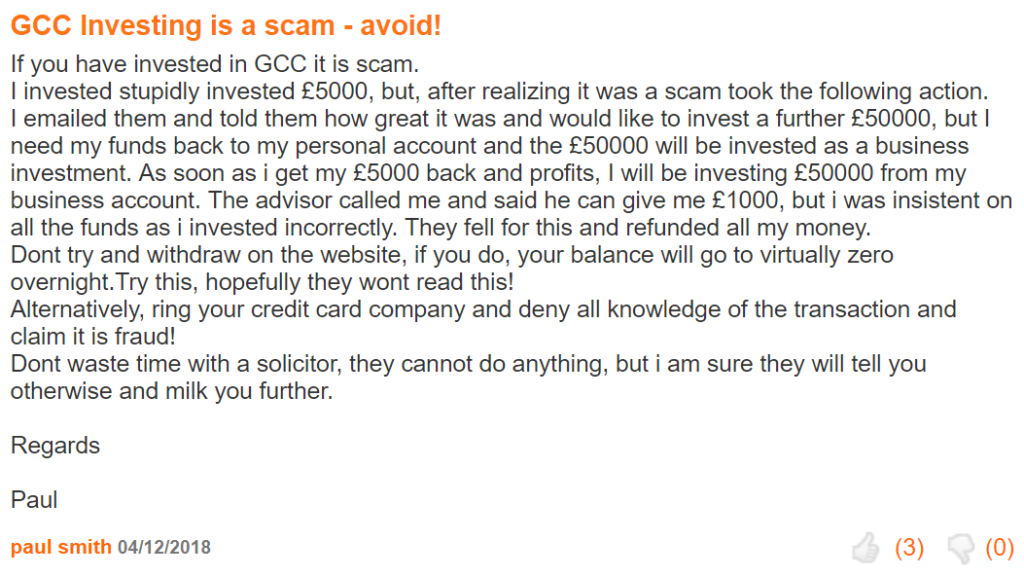 Is the Smart Money System A Scam?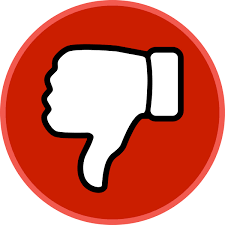 I sincerely hope I've done enough to convince you that the Smart Money system is a total scam and under no circumstances should you deposit any money with them.
There are so many of these forex trading scams around now, all claiming to have created some kind of magical algorithm that can guarantee profits but no such software exists.
As you've seen, Smart Money System is nothing more than a deceptive sales page designed to persuade you into making a despoit with one of their unregulated brokers so the site owner (whoever he is) can take his cut.
Thankfully, know you've seen this review you don't have to fall victim to this scam and you can keep your money in your account where it belongs!
How I Make Money Online
There was a time between 2005 and 2015 where I fell for at least a dozen scams and lost $1000's as a result – but still I never gave up looking for real ways to make money online.
My breakthrough came 4 years ago when I eventually realised there's no such thing as a magic money making system or automated push button software out there that's going to make me rich quick.
The only way to become financially successful online is by building a legitimate online business.
Unfortunately most people will always fall for scams like these because they're not ready to put in the hard work required to make real money online.
I don't gamble my financial future on the stock market and I don't recruit people into pyramid schemes. I make a full-time income through affiliate marketing.
Today I make $7,000+ every single month in passive income because I followed this step-by-step formula.
If you're serious about building a strong financial future for yourself and you're ready to hustle to make your goals come true then you can follow the exact same beginner's training course I did and make a real difference to your bank account balance.
The best part?
You can get started for free! I mean it – no credit card details required so you can put your wallet away!
Simon Crowe is the founder of The Make Money Online Blog and is on a mission to help as many people as possible kiss their bosses goodbye.
Get his free Affiliate Marketing Guide For Newbies to learn exactly how to build a real income online and make your dream business a reality.