Earn anything from $195 per day to $10,000's per month.
Sound too good to be true?
If you're looking for the best work from home job and aren't sure if Point And Click Profit is right for you, you've come to the right place.
They promise if you sign up you'll start making money within a couple of hours, but is Point And Click Profit a scam to avoid?
The fact you're even reading this review right now means you have your suspicions and yes, Point And Click Profit is a total scam and an expensive one at that.
Point And Click Profit Review At A Glance
About: Point And Click Profit is a make money online program that supposedly turn you into an eCommerce account manager, selling stuff on eBay so you can earn $195/day.
Price: $97.
Pros: None.
Cons: Rehashed scam, the owner using an alias, fake news endorsements, fake earning claims, connected to a pyramid scheme.
Verdict: Point And Click Profit is a definite scam. It's utterly misleading and you can't make anything for what you're paying.

In case you're short on time and just need a quick summary of my findings, here's my Point And Click Profit review boiled down to just a couple of paragraphs.
Everything on the website is completely false and not to be trusted. It's full of blatant lies and crazy contradictions. Even the sales page doesn't match up with what you're asked to buy at the check out stage.
The site says you're getting a step-by-step training program on how to list items on eBay for well-known brands and companies.
Sounds fair enough, but in truth you're actually getting is access to the lowest level of an expensive pyramid scheme called Easy1Up where the only way to make any money at all is to promote that same pyramid scheme to unsuspecting victims.
The membership goes from $97 up to $1,000, meaning a lot of people out there have lost a lot of money. And as you'll see in this review, they have not a cat's chance in hell of getting any of their money back.
My honest opinion?
I do NOT recommend this program. In fact, stay as far away from this work from home scam as you can. You will only lose money with this.
If you're looking for a serious work from home program that gets results then I suggest you check out Wealthy Affiliate.
They have a free training course specifically designed for beginners that will give you a proven blueprint and take you step by step through the whole process of making money online.
I'll be straight with you: there are no short-cuts to success and you'll have to be willing to put the work in, but they teach a legit internet business model that could replace your full-time income for good.
Point and Click Profit review
I always start these reviews with an open mind but I'll be honest – my first impressions are not great.
As soon as you land on PointAndClickProfit.com you're told there's only 2 positions available…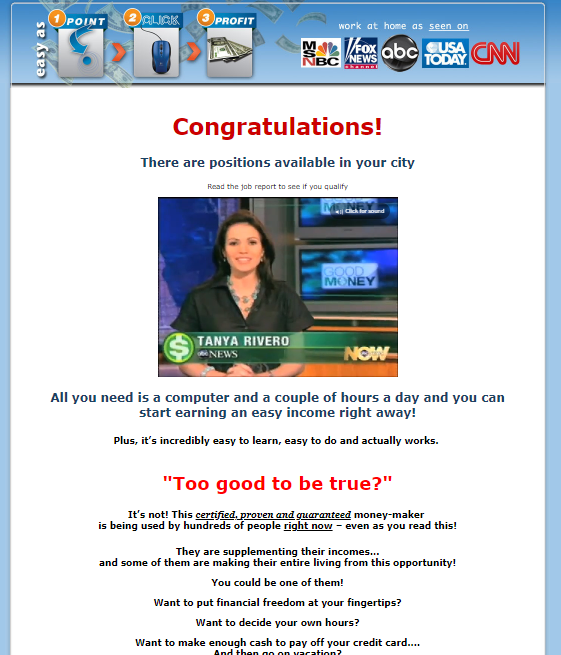 Everyone knows this is complete bogus because no matter what time of day or night you land on the site it always says the same number of positions.
It's no more than a rarity tactic designed to make you feel like one of the 'lucky few'.
There's also a random ABC News video that has nothing to do with the site whatsoever. It's one of the first things you see. This is so you give the site more credibility than you should.
This site is clearly full of hype and nonsense. After reviewing hundreds of so many so-called get rich quick work from home programs I can tell you it gets a lot easier to spot a fake scam from a legit opportunity very quickly and Point and Click Profits?
Well, it's setting all the scam detection alarm bells off.
What is Point And Click Profit about?
Claims vs. reality
According to the Point and Click Profit owner, Amy Jensen, earning money from home is as easy as 1, 2, 3 with the only limitation of the huge amounts of money you can earn being the effort you put in.

So how do you make money exactly?
Well, if this sales page is to be believed (it isn't by the way) you make money by becoming an eCommerce account manager for big companies like Adidas, Home Depot and Sony.
In other words: by selling their products for them on eBay.
After reading the sales jargon you couldn't be blamed for thinking that this work from home opportunity involves creating listings on eBay, answering customer queries and helping to manage package and posting, that kind of thing.
The website says the amount of money you can earn depends on how many items you can list for auction on eBay.
They even give you this earnings table with your potential daily, weekly, monthly and annual earnings based on your volume of eBay listings: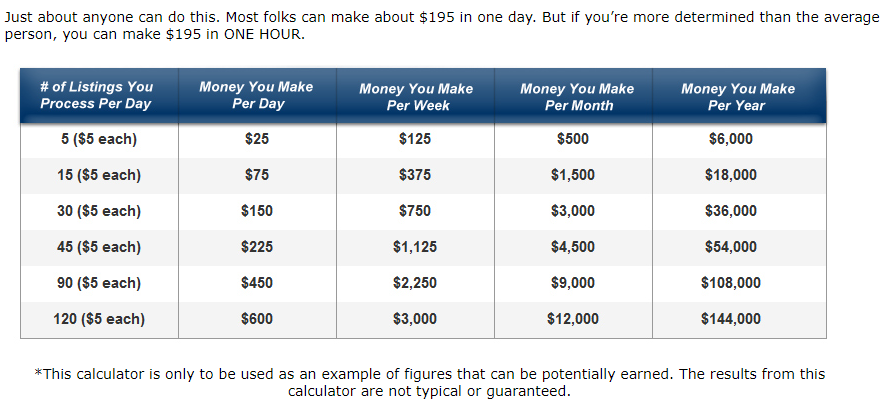 But there's just one problem:
This website complete contradicts itself. It's weird that the sales page talks about listing stuff on eBay for other people, but click on the "Add to cart" button and you're asked to pay $97 for a program called Easy1Up.
Easy1Up is an expensive pyramid scheme which starts at $97 but with up sells that go up to $1,000 but more on this later.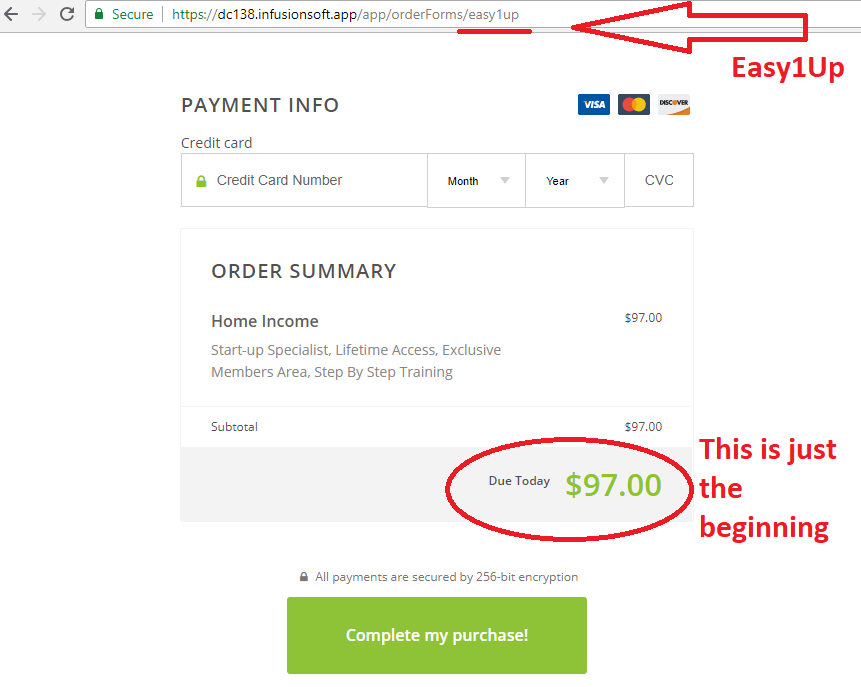 So why the contradiction? Why does the front landing page talk about eBay and then take you to checkout for a pyramid scheme?
I think because the person who put the website together is simply an opportunist who uses the site to promote whether he/she wants and will just change it at any time.
Let me clear here: I believe the only person profiting from Point and Click Profit is the owner. Yes Point and Click Profit is definitely a scam and you should absolutely not hand any of your hard-earned money over to this con artist.
Still not convinced? Let me show you why I'm so sure this is a scam.
5 reasons Point And Click Profit is a scam
1. Different names, different guises but the same old scam
Point and Click Profit has under gone many changes since the scam was first invented a few years ago. It was once known as 'Online Suppliers Club' but has now been shut down. It was also once known as 'Limitless Commissions' but that site's been shut down too.
All the sites have the same images, same spiel of a rags to riches story and the same hype.
Regardless of what this scam is called and under what name is raises it's ugly head, they all promise the same copy and paste quick ad easy road to effortless and limitless internet earnings.
They target the most vulnerable people in the most desperate financial situations who want to believe the hype so much they shut down their rationale and swallow any false promises fed to them.
Don't forget, the up sells on this thing are huge – up to $1,000, nearly $2,000 in total. So many people have fallen victim to this thinking the $199 was all they had to pay but the scammer kept pushing them for more. All the while with no hope in hell of ever seeing a refund.
2. Amy Jensen is a fictional character
Just like the long line of Cami White scams, one of the biggest signs of a work from home scam is when the owner won't even stand by their own product.
Why the anonymity?
Because they have something to hide. Plus when angry scam victims start asking for their money back and the complaints start rolling in, it's easy to just shut one website down and start all over again on another.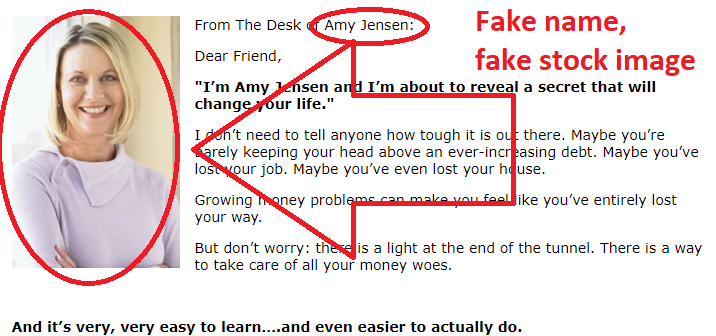 3. Fake news endorsements
I mentioned this at the beginning but I think it's worth mentioning again – scammers often use well-known logos and brands to give their website a false sense of credibility.

Unfortunately instead of doing their research like you are doing by reading this review right now, most people just swallow whatever's put in front of them without questioning it.
All it takes is a simple Google search to find out (to my great surprise!) that this work from home scam has never been featured on any of the news networks.
I hope you're getting the picture here, you can not trust anything you read or hear on the Point and Click Profits website.
4. Fake job description and earnings claims
Apparently $195 is the average that people are earning with this opportunity, only spending a couple hours per day.
You're told you can earn anywhere from a few hundred dollars a month to tens of thousands of dollars a month.
This is completely bogus. I don't care what company it is, no-one will pay you $5 a pop just for listing items on eBay. Sites like Amazon Mechanical Turk and pay just $0.01 to $0.05 for this kind of work. So again, it just doesn't add up.
5. To get your money back you'll have to promote the Easy1Up pyramid scheme
Now let's get to the bottom of how you actually profit with Point and Click Profits. I've already mentioned the sign up page asks you to hand over $97 for an Easy1Up membership.
This is for the Elevation Elite membership, just the 2nd tier in Easy1Up's 5-tier payment system. At this level you can get paid commissions for signing others up to this ponzi scheme but only for those who upgrade to your membership or lower.
Now here's how the scam really works – you're strongly incentivised to pay for the higher levels of memebrhsips in the hope of being able to dupe others into joining the same pyramid scheme under you so you can get a share of the profits.

Is this really how you want to make money? By finding and conning other potential scam victims? I don't think so.
This is not just a pyramid scheme, it's a really expensive one. Your initial $97 is just to get your foot in the door so they can try to squeeze even more money out of you. Don't fall for it!
Point And Click Profit reviews – what others are saying
Having read through various reviews and complaints left by others on sites like the Better Business Bureau, there's not one positive review of Point and Click Profit. That should tell you something!
Here's some of the most common complaints:
1. Silence when asking for a refund
This program is supposed to come with a 100% money back guarantee but time and time again, once people realise they've been duped and ask for their money back they soon find their only chance is to take legal action.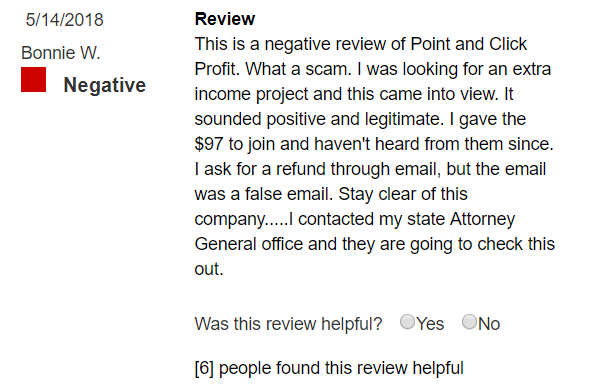 2. Spam emails and calls asking you to hand over more money
As we already know, $97 is just the beginning in this costly scam.
If you give these con artists your contact information you can certainly expect to be strongly encouraged to upgrade to the higher, more expensive levels of Easy1Up memberships.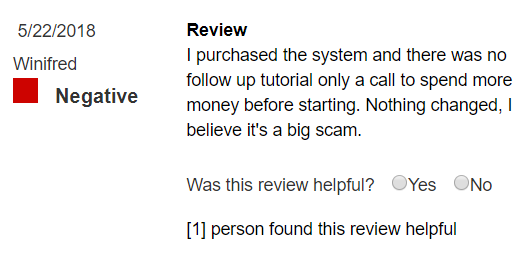 You don't have to be scammed by these crooks
Right now the Point and Click Profit system owner is promoting Easy1Up, but next week he or she could decide something else.
These crooks don't care whether or not you actually succeed online, for them it's just about getting as much money out of you as possible.
The good news for you is you don't have to fall for it like hundreds of others have.
If you really want to learn how to make real money online then I suggest you find a legitimate program like Wealthy Affiliate which has a course perfect for beginners and is free to join.
This is where I got my start back in 2014 and I'm still a member today. Why? Because the training is legit and it gets results.
Talk To Me!
Thank you for checking out my Point and Click Profits review. If you've had any experience with this scam or have any unanswered questions, share them in the comments below. I'd love to hear from you. 🙂
Simon Crowe is on a mission to help as many people as possible kiss their bosses goodbye.
Take the free Commission Academy course to discover how to smash your online income goals and make your dream business a reality.