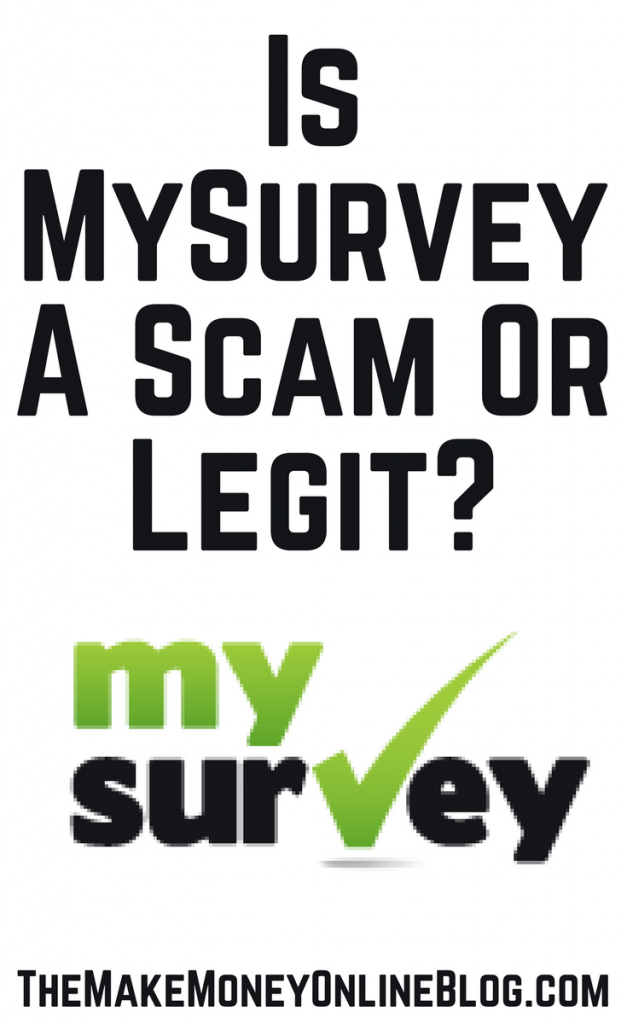 I'm always on the look out for online survey sites that pay cash and when I saw MySurvey claimed to be the best survey site in the world I just had to dig a little deeper…
The question today is: is MySurvey a scam or a legit way of making money? I'll share my findings with you below in this full MySurvey review.
And to be clear:
I am not an affiliate for MySurvey.com and unlike most sponsored MySurvey reviews out there I am not getting paid so you can rest assured this is an honest and unbiased review.
I'm just an online entrepreneur who is always looking for websites to help people make money online in an ethical, legitimate and worthwhile way.
MySurvey review – the quick version
If you don't have time to read the full review, let me quickly summarise:
I have tried MySurveys and it didn't take me long to see this is a huge waste of time. As I'll show you, to try and make any decent amount of money you're going to have to spend hours and hours filling out tedious surveys working less than $1.50 an hour.
Many members report getting kicked out of surveys half way through and very recently, hundreds of members have had their accounts blocked for no reason.
Is MySurvey a scam? I don't think so, but I can't recommend them as a legit way to make money online either.
Swagbucks are one of the better survey sites I've come across but even so, I can only recommend them as a way to make an extra $20-$30 per month.
Getting rewarded with points for answering easy multiple choice questions in your spare time sounds good in theory, but you're never going to make a full-time income doing this.
In truth, you're getting paid peanuts to handover a lot of your personal information when you could better use your time to create a real online business for yourself.
There are free beginner's courses like Wealthy Affiliate (where I got my start online) that can show you how to create websites based on a topic of interest or passion you have and turn them into thirving, profitable online businesses.
The full MySurvey review 2019
Paid surveys are nothing new and MySurvey has been around since 1946, long before websites were even a thing…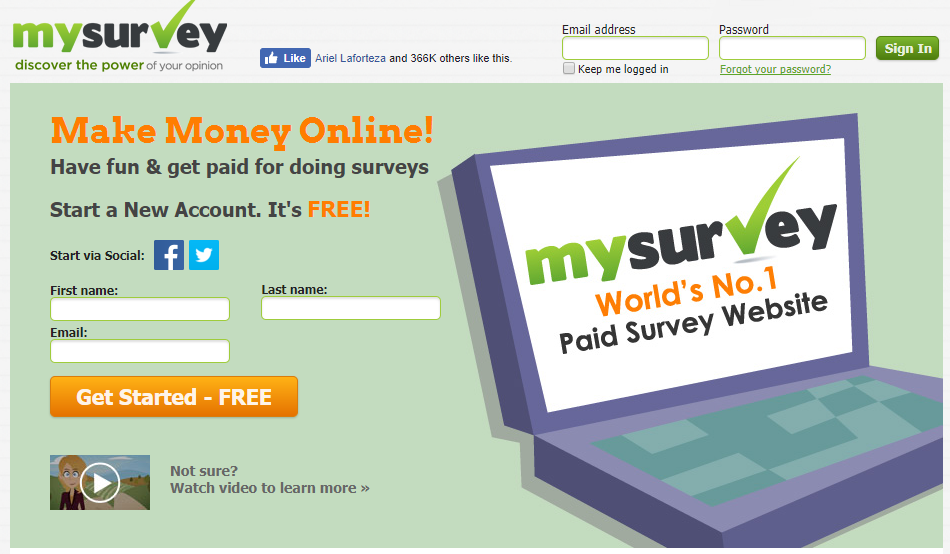 Back in the day they used to send consumer surveys the good old-fashioned way in the mail.
Since then they've fully embraced the mobile age – the MySurvey app is available for free download on Google Play and iTunes.
Here's a inside look at what you see inside the member's area:
Having a long track record in the consumer feedback industry is definitely a big plus, but I have strong reason to believe their best days are behind them.
I say this is because there has been a huge surge of complaints made against them in the last 12 months. Take a look at their Google Play ratings for example: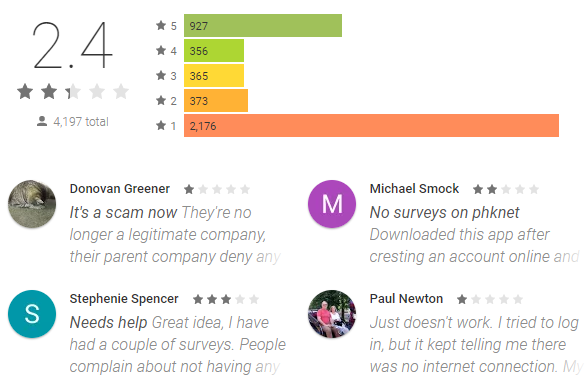 You can clearly see that 66% of 4,000+ reviews are negative. Never before have I seen an app get this many bad reviews, ever. Also on SurveyPolice.com MySurvey is ranked #106 out of 108 survey sites they've reviewed.
There's definitely something wrong here and looking through the MySurvey reviews, you can see there's a few running themes that keep coming up time and again…
You'll only make $10 a month IF you put in the hours…
How much money can you make with MySurveys? Honestly, not much. $10 in the minimum payout and there a lot of complaints from people saying it's takes way to long to reach this amount.
Once you get to 1,100 points you can redeem them in exchange for $10 gift cards at places like Amazon, WalMart and BestBuy. If you're looking for money in your PayPal you'll need a minimum of 1,200 points for a $10 withdrawal.
On average, MySurvey's surveys take 30 minutes and will earn you 30-50 points.
1,200 points at $10 means that 120 is worth $1 and per hour, if you take surveys back-to-back, you'll be earning the unimpressive sum of around $0.80 an hour.
Because of this very low payout rate, you'll find tons of complaints from people saying it takes way too long to reach the minimum amount and most users are only able to cash out once a year.
It's also worth keeping in mind that surveys aren't available all the time. All in all, the amount of money you can actually earn with this is severely limited.
While taking online surveys might seem easy on the outset and it's a better way to spend you time than sat watching TV, you could spend hours on this and still not make enough to buy a Subway sandwich.
Recently they've started blocking people's accounts…
Things have really gone downhill with MySurveys recently with multiple users reportig that their accounts have been shut down for no reason, often before they've made it to the $10 threshold.
No explanation, no valid reason, just your account is closed and that's the end of it.
You can imagine how frustrating this would be when you've put inmore than 20 hours, almost made $10 and up pops an error message.
To make matters worse, in every case I've read about where members have their account closed, the customer support has been all but lacking.
It's not very reassuring to know if you do ever experience problems with the MySurvey app that you can not count on getting the right support when you need it most.

People who have been with MySurveys for years are leaving in droves
The MySurvey.com website seems to be in a serious state of decline and the owners seem to be abandoning the members altogether, resulting in hundreds of people (some long-standing members) uninstalling the app or cancelling their membership altogether.
The MySurvey app is riddled with glitches, any resemblance of customer support no longer exists and people aren't getting paid even the small amount of money they were promised.
My guess is they owe $1000's in unpaid rewards and I wouldn't bet on any of them getting paid.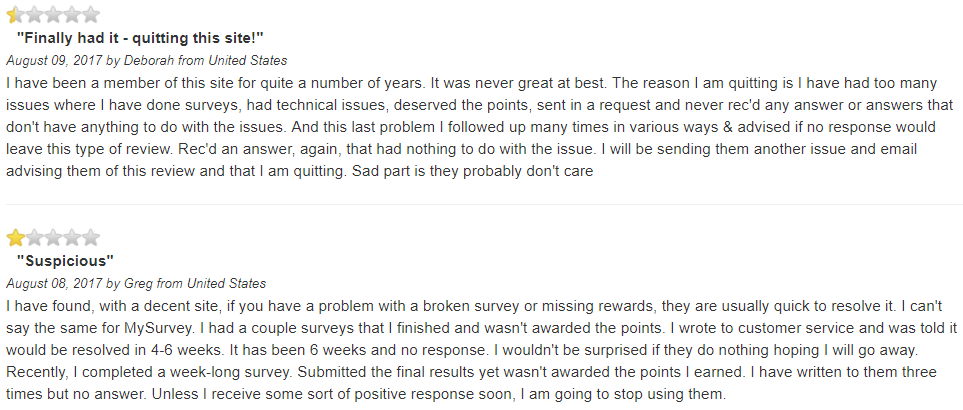 Is MySurveys a scam? No, but you can do better…

Survey sites have been around for a long time and to be honest, I'm surprised people are still investing time and energy into sites like these.
I guess making making some extra cash while killing time sounds good but if you sit down and work out how much money you're actually making per hour it's peanuts.
Add onto that the fact your account could be deactivated or suspended at any time for any reason and you're not guaranteed to get a payout and I really can't recommend MySurveys as a legitimate way to make money online.
Is MySurvey a scam? No, I don't think so but there are so many better and more worthwhile things you could be doing with your time.
I have tried survey sites like these and it didn't take me long to realise I was wasting my time and it's just not worth it, not to mention it's boring as heck.
If you're looking for a serious way to generate a full or part-time income online then the best way to achieve this is through creating an internet business.
The good news is there are beginner's courses like the one at Wealthy Affiliate that can guide you through how to do this step-by-step.
The beginner's course is 100% free – no credit card details required.
If you are currently a member of MySurveys and have had any experience with MySurveys, good or bad, please leave your feedback below. Also, if you have any questions about this review, just ask.
Related posts:

Simon Crowe is on a mission to help as many people as possible kiss their bosses goodbye.
Take the free Commission Academy course to discover how to smash your online income goals and make your dream business a reality.