MyJobIsFirst.com claims you can make $10 every 30 seconds, but Is My Job Is First a scam or legit?
If what they say is to be believed then they've paid out over $786,469 to their members so far and you can quickly and easily make $50-$100 each and every day.
The main page of their website even has a money sack overflowing with $20 bills…
These are bold claims but I want to dig a little deeper and find out if this is true or not.
Why am I writing this review?
Because one of the biggest struggles I faced, in the beginning, was finding accurate information about the best ways to make money online, so now I've made it my mission to help people like you get to where you want to be.
My Job Is First Review At A Glance
About: My Job Is First is a make money online opportunity that supposedly pays $10 for a 30-second task.
Price: Free sign up.
Pros: Nothing.
Cons: Empty promises, rehashed scams, poor grammar, can't contact owners, doesn't pay out, identity theft risk.
Verdict: My Job First is an outright scam. They make you believe you can make fast and easy money when you really can't.

What We'll Cover In This Post:
What Is My Job Is First Exactly?
At first glance, My Job Is First seems like a perfect solution to make extra money online.
The site is free to join, you don't need any skills or previous experience to make money and it seems like you have nothing to lose.
They say they're going to pay you a $25 joining bonus and $10 for every other person you can sign up.
You're led to believe you can transfer your earnings to PayPal when your balance has reached the $300 mark.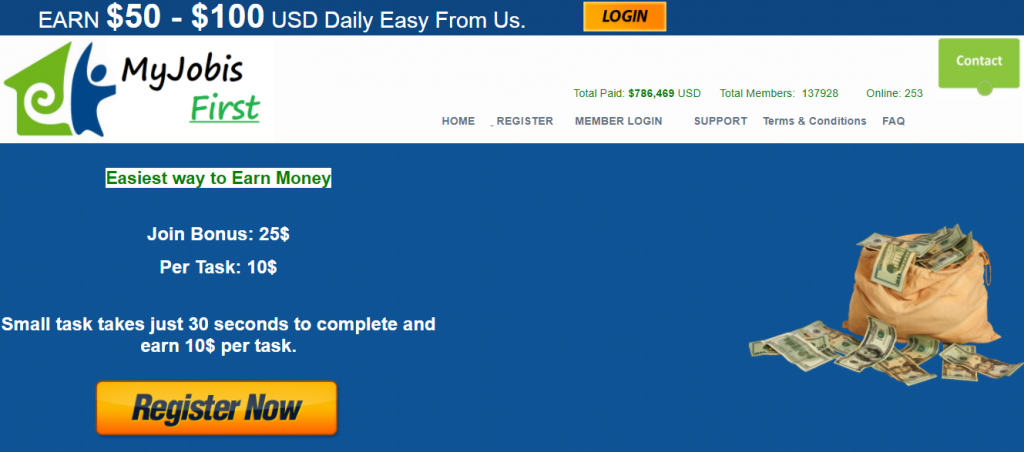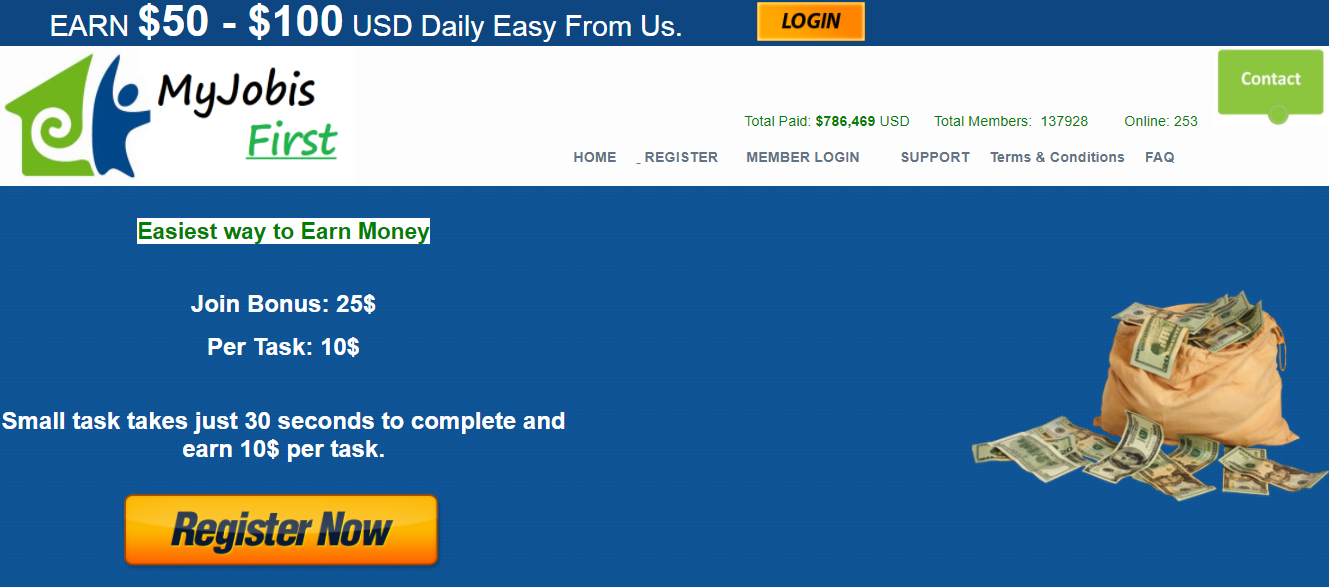 If this all sounds too good to be true it's because it is. And I'm going to show you why…
6 Telltale Signs My Job Is First Is A Scam
After reviewing hundreds of make money online programs and get rich quick schemes, I usually know within a few seconds whether something is a scam or not.
My Job Is First screams "scam!" and here are a few red flags to watch out for:
1. Empty Promises Of Fast And Easy Money
In typical scam-like fashion, this website appeals to the 'get-rich-quick' mindset with hyped-up promises of fash and easy money with little or no work required.
Trust me when I tell you:
There are legitimate work from home jobs out there but they take hard work and persistence. Like anything else in life, you only get out what you put in.
People always on the lookout for shortcuts and quick-fixes to making money online are exactly the type of people this scammer is looking to target.
2. We've Seen This Scam Many Times Before
MyJobIsFirst.com was created in August 2017 and honestly, I don't think the site will be up for long. Just yesterday I did a review on Money Come First and Pay Each Month; websites with almost the exact same layout with the same appalling grammar, that are running the same scam.
There are dozens of websites like this all over the internet. When one site gets too many complaints they simply shut it down and resurrect it under a new name and logo.
Trying to protect people by exposing scams like these is a constant game of whack-a-mole; as soon as we shine the light on one scam, another pops up in its place.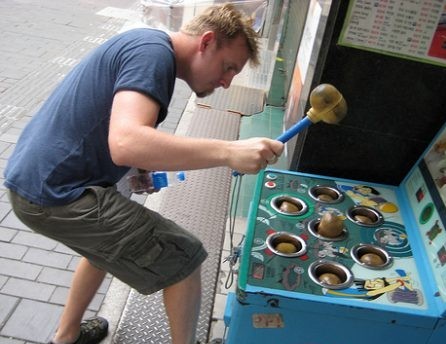 3. The Spelling And Grammar Is Really Bad
I know I'm a bit of a geek when it comes to this, and just because a website is littered with grammatical errors and spelling mistakes doesn't mean it's a scam, but it can be a good indication of one.
Let me give you a typical example from the site. I never realised you could make so many mistakes in one sentence…
"Small task takes just 30 seconds to complete and earn 10$ per task."
'Task' should be 'tasks', 'takes' should be 'take', it should be 'you earn' instead of 'earn' and the dollar sign is in the wrong place.
Enough said!
4. There's No Way Of Contacting The Owners
A legit jobs site will have a contact page, a phone number, an email address, links to social media accounts as well as a physical address.
This site has none of that.
Ok, they have an email address ([email protected]) but when I tried to send them an email it immediately bounced back as undeliverable.
We have no clue who the site owner is, but of course, this is exactly what he wants. That way when people are chasing for payment he can quickly shut the site down.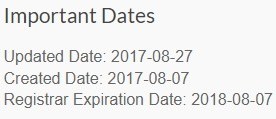 After running a domain background check all we know is it was created in August 2017, but we don't know by who, where they're located or how to contact them.
5. They Don't Pay Out, Ever!
Under the FAQ's section, they say if you don't log in for 30 days your earnings will be lost.
The truth is no matter how much you see that balance go up, you're never going to see a dime of it because they never payout.
They say there's a minimum $300 withdrawal limit. Not only is this an extremely high threshold for a site like this, but many users have reported when they try to withdraw funds, they're asked for their social security details and never receive any payment.
The internet criminal behind this site never had any intention of paying you. They promise you payment so you will spam their links on Facebook and Twitter and enrol others into the scam for free.
This is a scam designed to get scam victims recruiting other scam victims.
6. There's A Real Risk Of Identity Theft
Why do they promise to pay you for sharing their website link and encouraging others to sign up? Because they want your contact details.
You can sign up for free with just your name, email address and password – no problems, right? Wrong!
This is where the My Job Is First scam gets really dangerous…
The vast majority of people use one or two passwords for everything. This scammer is on the hunt for your personal information so he can try and commit identity fraud.
With just your email and password he will try and access your PayPal and eBay accounts, your email accounts and whatever else he can get his hands on.
Add on to that the fact he asks for your social security number when you try to withdraw and you've got a high-risk situation on your hands.
Is My Job Is First A Scam? Yes!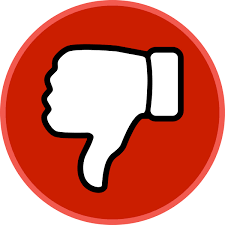 Do not waste your time with this scam and definitely do not give them your personal information.
Anyone promising $10 for 30 seconds' work is lying to you.
There's always an ulterior motive and in this case, it's to get your private information whilst fooling you into promoting this scam so he can get hold of other people's private information.
As I said before, there are hundreds of ways to make money online but it's not going to be by signing up to scams like these.
If you're really looking to make an honest living online and you're ready to put in the work then check out this free beginner's training course.
It's a full training program with tools and support that will show you how to create your first internet business from scratch. The beginner's course is free and it's the same program that enabled me to replace my income and quit my boring day job.
Follow the training, take massive action and you can do the same.
Thanks for reading this My Job Is First review. If you have any questions, thoughts or comments then share them below and I'll be more than happy to help you out.
Related reviews:
Simon Crowe is on a mission to help as many people as possible kiss their bosses goodbye.
Take the free Commission Academy course to discover how to smash your online income goals and make your dream business a reality.