Crypto investments and secret algorithms: if you see this as your golden ticket to success then this is probably your first encounter with crypto.
If you want to avoid being scammed by Mind.Capital, you're in the right place. In this review, I'm going to tell you what I found out about this 'money-making opportunity' that will make you think again.
I'll run you through:
Its Background
How To Start
The Compensation Plan
What I Don't Like About It
Why I Say It's A Scam
And Lots More
Mind.Capital Review At A Glance
About: A uni-level crypto-fiat platform that uses an advanced algorithm to beat the roulette system.
Price: Initial investment of $100 to $100,000.
Pros: None that I can think of.
Cons: Unrealistic algorithm, unregulated by financial bodies, Ponzi scheme.
Verdict: Mind.Capital is an unstable place to put your money into. It solely depends on a magical algorithm to make recruits, the real source of your income.

Gonzalo Garcia-Pelayo: Gambler, TV Personality, MLM Genius?!
What do you get when you cross gambling with show business? Mind.Capital.
Don't get me wrong, not everything in the TV industry is fake. Just most of it.
TV Series (fictitious characters), advertisements (fake product claims), and entertainment shows (fake audience laughs) just to name a few.
Mind.Capital founder Gonzalo Garcia-Pelayo is a self-proclaimed gambler who claimed that he created a system that can beat roulette. He is also a producer, director and radio and TV personality.
He doesn't have much experience in the MLM or crypto fields which leads me to believe that he's not the only guy behind Mind.Capital; someone else is working on the MLM side of this opportunity.
Crypto MLMs are quite popular nowadays. Why?
Because most people don't know much about this yet so it's easy to convince people they can make good money out of this.
Mind.Capital claims that it's the first crypto-fiat platform with multiple functions that uses an advanced algorithm to make money.
The funny thing is:
That's what other crypto MLMs claim too!
It was launched in December 2019 and based out in Madrid, Spain.
Not just that:
His website includes testimonials. Not about his credibility as an MLM expert, but about his gambling expertise!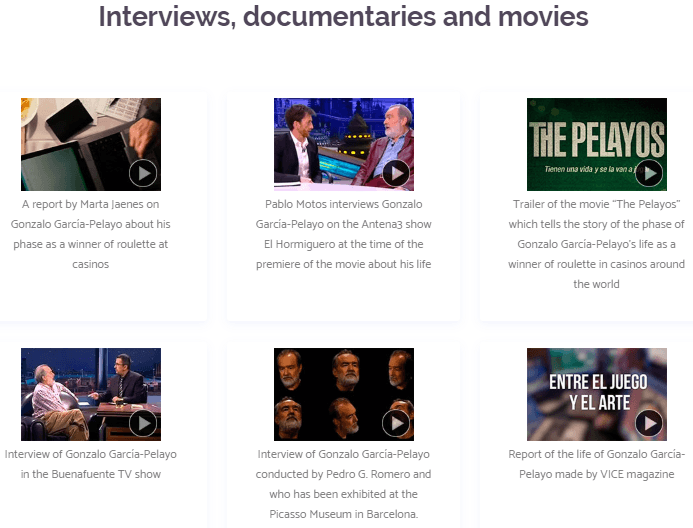 I don't think this helps build with his credibility with this MLM in any way!
How Does Mind.Capital Work?
You start by investing between $100 to $100,000. Feel free to use a credit card. The amount you put in will then be converted to bitcoin.
Here's the deal:
The promise is a daily return between .5% to 1.5% that is made by the "magical money-making algorithm".
You can also make money by recruiting people and building your own downline and you can earn a commission until 10 levels below you.
And get this:
There's nothing to sell because Mind.Capital doesn't offer retail products which means their activities are illegal. (I'll talk more on that point later)
Just wait for some time and you'll see financial authorities running after them.
Mind.Capital's Compensation Plan
For the full-detailed version in the compensation plan, check out this link.
The commission percentage gets higher as your level gets higher: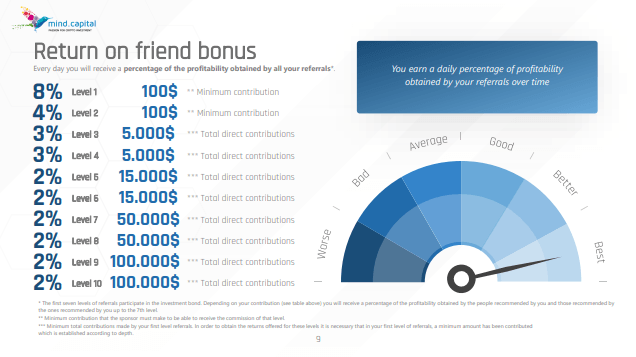 They also use a uni-level compensation structure for the residual income from the recruitment pay.
level 1– 8%
level 2 – 4%
levels 3 and 4 (needs to generate $5000 in downline investment) – 3%
levels 5 and 6 (needs to generate $15,000 in downline investment) – 2%
levels 7 and 8 (needs to generate $50,000 in downline investment) – 2%
levels 9 and 10 (needs to generate $100,000 in downline investment) – 2%
To me though, I'll just choose to recruit people 5 levels down with this structure.
I mean it has the same commission percentage from level 6-10 but with a less requirement in downline investment. I don't really see an incentive to recruit after 5 levels here.
Now the main way to make money with Mind.Capital is through ROI from "magical bots". They say that they can generate up to 1.5% returns every day.
This is crazy:
Because if that is so, why do they have to waste their time for $100 investments from members?
Here's why:
Because there is no such thing as revenue from "magical bots". There is no algorithm at play here. The real source of revenue for Mind.Capital is new investment from recruits, not the bots.
This makes them fall in the Ponzi scheme arena which is entirely illegal. Just think about it: no more recruits, no new money coming in, and no more payout for everyone. And eventually this will happen because time will come where there will be no more people to dupe into signing up for this.
What I Like About Mind.Capital
There is really nothing to like.
What I Don't Like About Mind.Capital
1. Basic Errors
First impressions are the website are "Wow, amazeballs this is a beautiful site!" but look a little closer and you'll see the site is full of flaws. I know I did.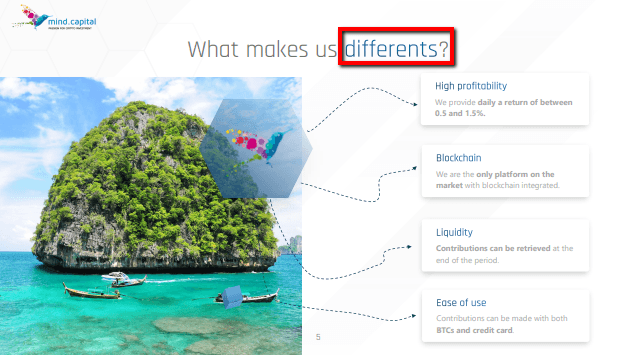 I mean humans make errors, but if they put so much effort into creating an interesting website, they should have put the same level of effort into their marketing tools.
This is just a simple typo that they made, if they can't even correct a minor thing, how sure are we that they're checking and correcting loopholes in their system?
2. Magical Algorithm
Trading bots making large ROIs? Really? Check out Kangot and Forsage, they're pretty much the same.
If there was a magical algorithm making huge ROIs, they won't bother receiving little amounts of investments around. It will just be a waste of time when you're earning more than those amounts.
If the magical algorithm was real, they just have to sit back and wait for their money to grow without effort. But we know the real score about this.
3. Not Regulated By Financial Authorities
Mind.Capital originated from Spain, which is part of the European Union. This means they have to be regulated by the ESMA.
But they never mentioned even a single license from financial authorities that they've secured.
Here's the kicker:
CNMV issued an official warning against Mind.Capital. It says that Mind.Capital is suspected to be involved in scam operations and operates without proper authorization. Not being regulated means Mind.Capital is committing a security fraud and it means you can get into big trouble when you promote it to others.
4. It's A Ponzi Scheme AND A Pyramid Scheme
They're basically giving you the wrong idea about where the revenue is coming from, claiming that the magical algorithm does all the heavy lifting.
It's also a pyramid scheme and pyramid schemes don't last for long. Without new recruits, a company like this will collapse.
Only the naive can fall for this. So don't be that guy.
5. It's Risky
Even if Mind.Capital is legit, there are no guarantees in investment systems. There's always the risk that you can lose money.
And you never get assurance that you're going to get returns even if it's just to break even.
Is Mind.Capital A Scam?
It absolutely is! There's not even a single doubt about that.
It's common for crypto MLM schemes to prey on the gullible because these kinds of systems are pretty new, and this is what this company is doing exactly.
Other than that, there is no evidence that the magical trading bot really exists. If it did, it won't be hard to provide proof of how it works to create revenue.
It has no license to do business and it operates under a pyramid and Ponzi scheme.
These are the basic points in a checklist to see if a money-making opportunity is a scam and Mind.Capital has all the boxes checked.
Yes, you might earn with this for a while, but it won't last for long. And if you've recruited friends and family into this, get ready to lose them too.
Closing Thoughts
The reality is there is no magical trading bot to success. Get-rich-quick schemes will get you nowhere. Or in big trouble with financial authorities.
Either you can keep on looking for that ever-elusive easy way to success or you can start putting forth the effort into building a real online business.
Sure it will require some work, but this is the kind of work that will be worth it. By the time you've established your empire, you can earn while you sleep.
If you're interested in a money-making opportunity that really works and is legit, check out this in-depth Wealthy Affiliate review.
The great thing about affiliate marketing is that you can start from scratch because you'll have a training platform and support system to guide you through. You'll also have access to the essential tools you will need to build your business.
Unlike pyramid and Ponzi schemes, affiliate marketing is sustainable. You have products to market plus you get to choose what products you want to promote.
If you want to get started and try it out for free, check it out here.
How I Make A Living Online?
After years of working in call centres I finally figured out how to create a 5-figure monthly passive income stream and become financially free.
Thanks to the right training and a lot of hard work I kissed my old boss goodbye and booked a one way ticket to Thailand.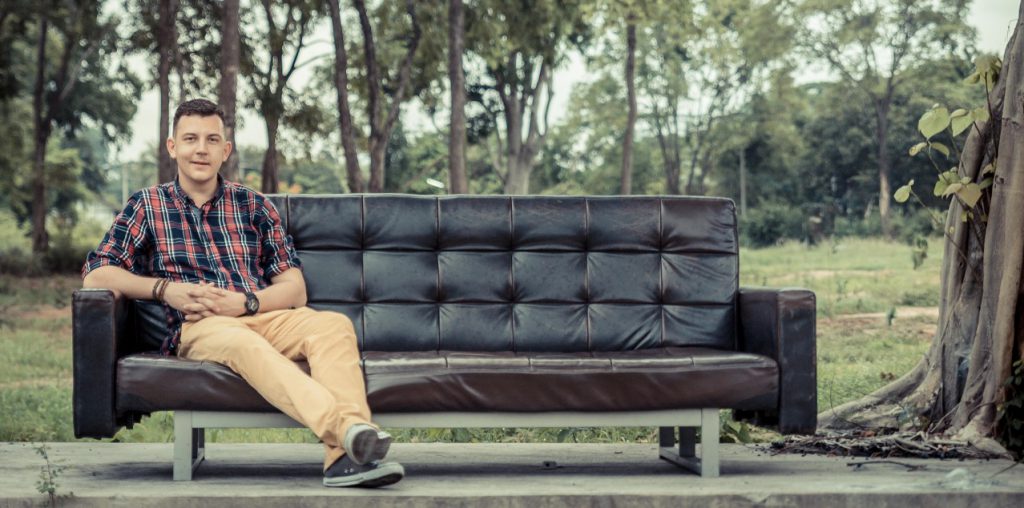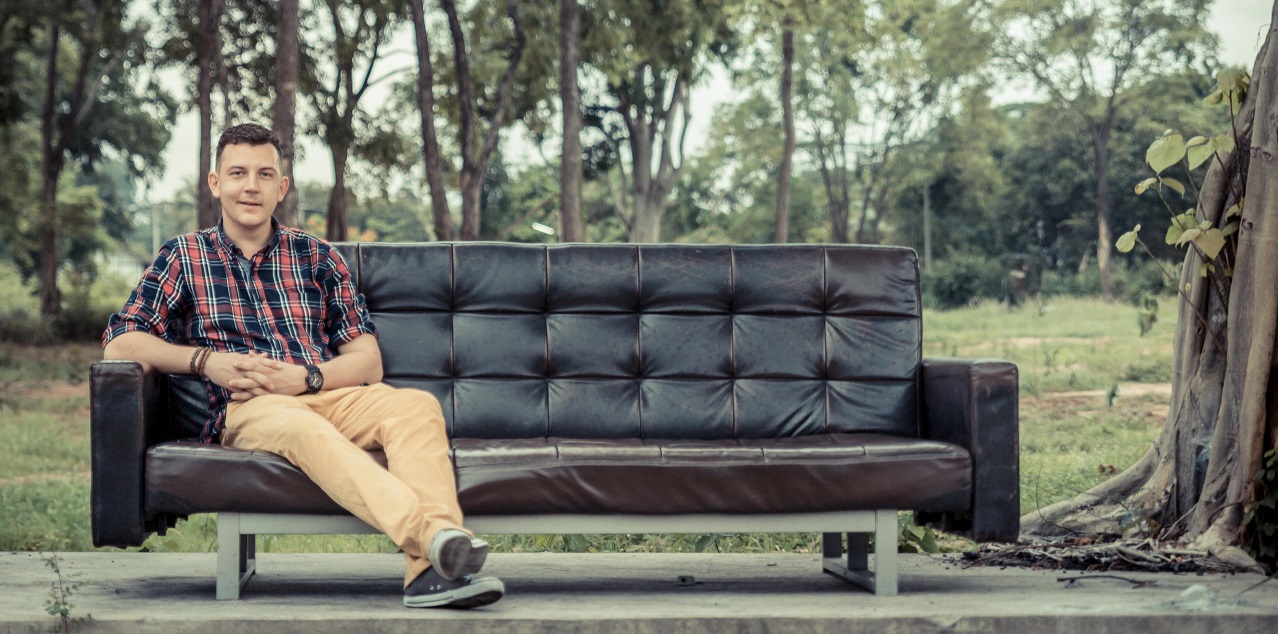 So if you're serious about building a thriving online business, click here for the exact step-by-step formula I follow.
Simon Crowe is on a mission to help as many people as possible kiss their bosses goodbye.
Take the free Commission Academy course to discover how to smash your online income goals and make your dream business a reality.