First it was Legerweb, then Leger Opinion Surveys and now it's LEO.
Whatever you want to call it, in this review we'll be asking:
Is LEO a scam, a time-waster or a legitimate money maker?
I am willing to try anything (within reason!) if the end result is more money in my pocket. That's why I've been trying and testing paid survey sites recently; I want to find out what works and what doesn't so I can help point you in the right direction.
Because let's be honest: while there are decent sites out there like Swagbucks, most paid survey sites fall into the "not worth it" category because they pay peanuts per hour and take up too much of your time.
If you're ready to start earning a legitimate and steady income online then you should definitely check out my free 4 day video series here.
Oh, and before we get into the review, you should know I'm not connected with LEO Surveys in any way so I'm free to say what I see in an effort to help you to avoid dead ends and achieve your online income goals.
Leo Review At A Glance
About: Leo is a Canada-based survey site but is available for residents in different countries.
Price: Free to join.
Pros: Legit, have the option to get rewarded with cash or air miles.
Cons: Has lots of glitches, no surveys available at times.
Verdict: Leo is not a scam. With no surveys available all the time and with the little reward value for each one, you won't make a sustainable income from this.

What Is LEO?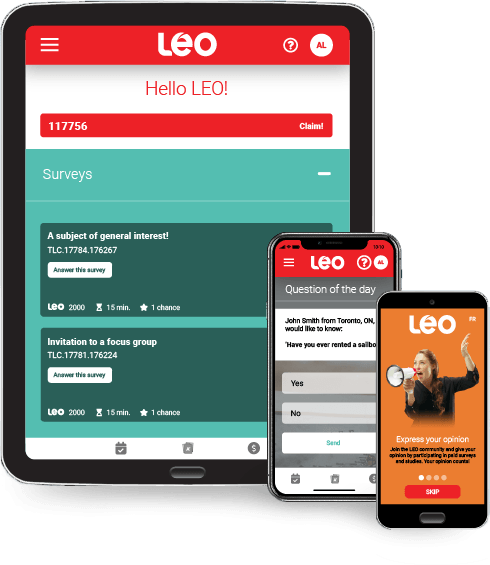 As far as first impressions go, LegerOpinion.com doesn't look like a scammy site.
I like it, the landing page looks professional and trustworthy enough and there are no spammy ads.
From the homepage, we can already learn a few things about LEO:
1) You earn money for answering surveys – not surprising as LEO is a survey site.

2) They're Canadian-owned but open to US residents.
On their FAQ and About pages I found out they have 400,000 members and have paid out a total of $26,506,551 since 2004.
I also learned that LEO gives you a couple of options; once you get to $20 survey dollars you can cash out directly into PayPal, or if you accumulate 20 air miles you can enter your air miles collector number and have them added to your account.
Nowhere on the site could I find any information about how many surveys there are or how much money you can make with LEO. I don't think it's unreasonable for them to give you at least a rough idea of how much you can expect to earn.
At this point, I decided that there was not much else to do, except to try to sign up.
So that's what I did.
Signing Up for LEO: An Inside Look
The initial sign up form is pretty simple, you just have to enter your name, email address and a password: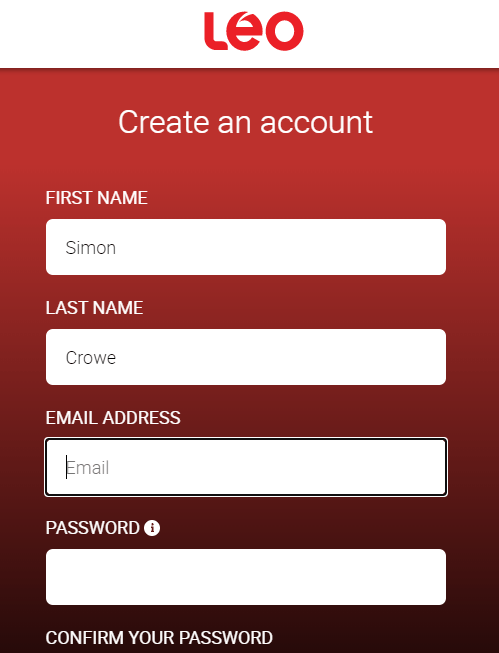 Once you've confirmed your email you're taken to the dashboard area…
It looks like before I can see what kind of surveys are available and how much money I can make I'm going to need to fill out 7 pre-surveys first: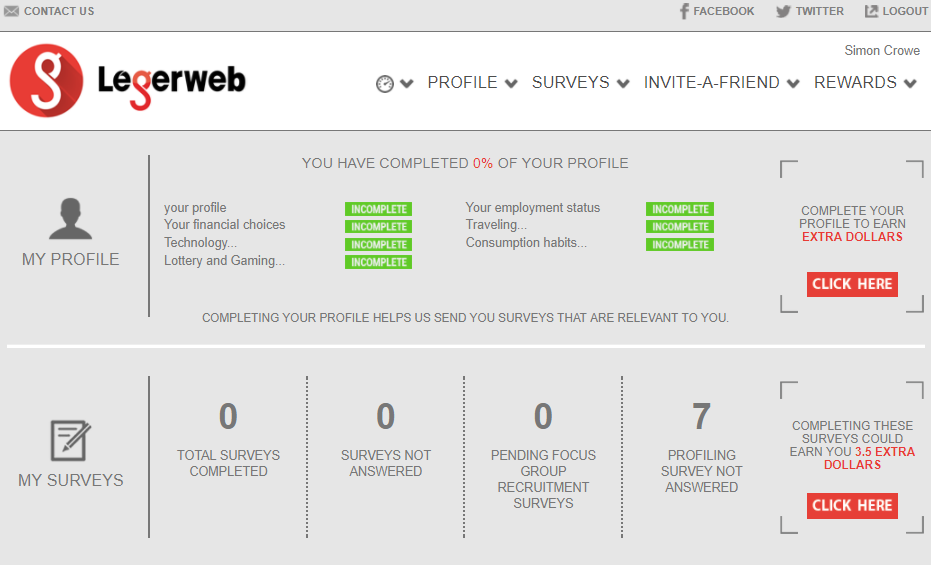 Though pre-qualifiers might seem tedious, I think it's better to give them your personal details now so they can match you up with better surveys in the future. One of the biggest complaints from survey takers, in general, is getting blocked out from a survey midway through because apparently you "don't qualify."
Saying that, the pre-survey surveys probably took me 20-25 minutes in total and if I'm honest, I found the questions way too invasive.
They ask you everything about your personal life like:
Who lives with you?
How much money do you earn?
What insurances do you have and when are they up for renewal?
What vehicles you have?
What's the total worth of your assets and so on.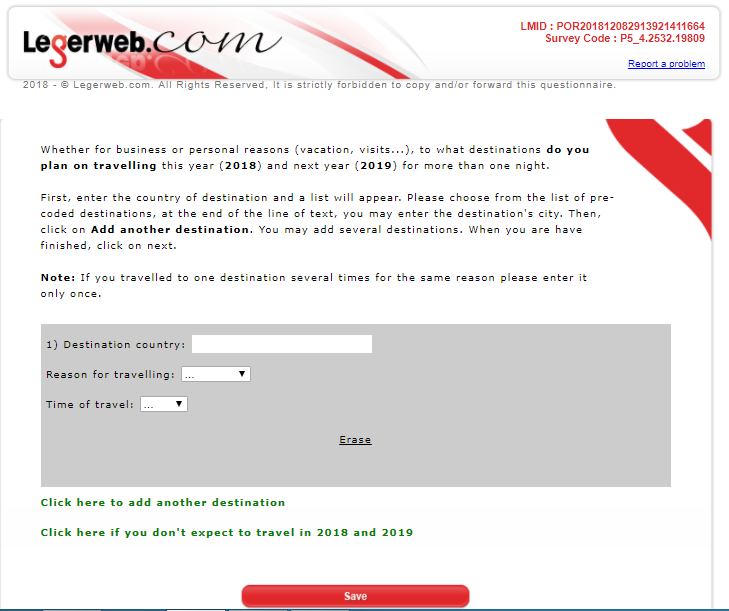 For each survey, you're given $0.50 and 5 entries into the monthly draw so at least that's something.
How Much Money Can You Make With LEO?
After clicking on the different tabs inside the dashboard area I can see there are really only 3 ways to make money, or be in for a chance of winning it:
1. Surveys
I know, shock horror! 🙂
Unfortunately though, even after completing all of my profile, there are no surveys available for me. Whether this is because of my demographics I don't know.
The profile surveys took me 20 minutes and brought my balance up to $3.50.
2. Prize Draws
Every month LEO have two $1,000 jackpots, a $100 prize and 1,000 air miles reward. The more surveys you take (assuming they'll be made available), the more entries you have.
This isn't something you can bank on as it's purely down to the luck of the draw, but with 400,000 members maybe you'd be better off buying a lottery ticket…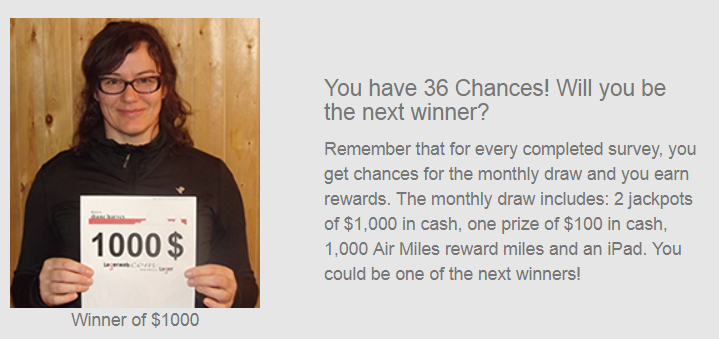 3. Referring Friends
It seems the third and final way you make money is by referring friends to LEO. On the website they give you a box to enter your friends' email addresses and promise $1 every time someone signs up and completes at least one survey.
LEO Reviews: What Others Say
Read LEO reviews from existing users on sites like Survey Police and you hear the same couple of issues come up again and again.
1. The LEO App Is Full Of Glitches
The LEO app has been downloaded 10,000+ times on Google Play. As you can see, has more 5-star ratings than anything else: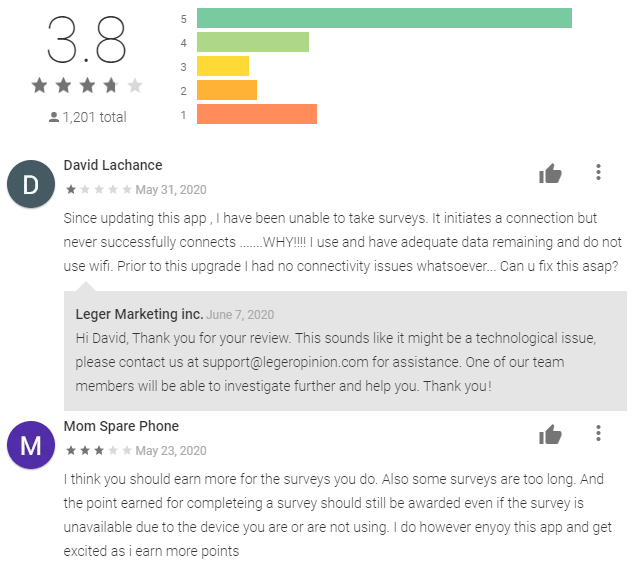 On the whole, people are happy with the app, but there is the ocassinal glitch to contend with.
If you're taking surveys with LEO then using the website might be your best bet.
2. No Surveys Available
I'll be interested to see if I get any email invites for surveys but I doubt it. This is the biggest reason you're really going to struggle to earn any money at all with this site. It could take you six months or more just to reach the $20 cashout limit.
It may be different for you if you have children or own your own house say, but for me, this is not a serious money earner.
Businesses who want consumer opinions are starting to turn to Facebook and Twitter to get quicker, more honest feedback meaning fewer surveys are available.
Survey sites like LEO, UTellUs Panel, Inbox Pays and SurveyBods are currently offering just 1 or 2 surveys per month on average and that number is getting less and less.
At $0.25 – $1.00 per survey it doesn't take a genius to see taking surveys is not a legitimate option to earn extra money.
The Bottom Line: Is LEO Right For You?
I don't think LEO is a scam but I don't think it's a legitimate way to make money either. The registration process is long, tedious and frankly, invasive and there are no surveys to take at the end of it.
When you look at all the so-called paid survey sites out there, you're very rarely going to make you more than $10 a month, which is why I quit taking surveys and started an online business instead.
I followed this free beginners training course you might want to check out. It'll show you everything you need to know about making serious money online.
Yes, you need to invest time and effort to make your business grow initially, but eventually you can replace your full-time income.
Simon Crowe is on a mission to help as many people as possible kiss their bosses goodbye.
Take the free Commission Academy course to discover how to smash your online income goals and make your dream business a reality.