i-Say.com is another survey site who claim they're all about "fun and rewards".
I've read mixed reviews about i-Say online so I decided it's worth checking this site out for myself.
In this review, we'll be exploring whether i-Say is a scam or safe and more importantly, is this a legit paid survey site that's worth putting your time and energy into?
On the front page of their website they say you can "Take surveys, share your opinions and choose your rewards" but is it really that easy?
The idea of taking surveys and making money online is something that's always been interesting to me because if it works out, you can choose your own hours and work anywhere and answering survey questions seems simple enough.
With that being said, however, let's just say I've been unimpressed so far with the level of payouts these sites typically offer. Yes, some are better than others and so far the best I can find is Swagbucks but even they only pay a couple of bucks an hour.
Will i-Say do any better? Let's find out.
i-Say Review (Quickie Version)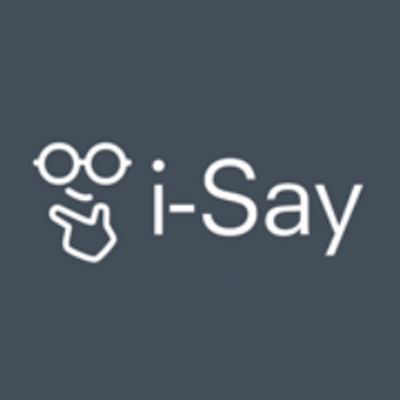 If you're short on time then let me get straight to it:
Is i-Say a scam?
No I don't think so, but I understand why many users say it is.
Whether it's a scam or not, I can hardly recommend i-Say as a legit way of making money. Sign up and it won't take you long to realise just how time-consuming and low paying this is.
By the time you've found a survey you're qualified for and actually done the survey, you're making $1.80 an hour at best.
We've all got bills to pay and mouths to feed but this just isn't worth it, not when there's so many better ways to earn money online.
Want my advice? Stop wasting time with silly surveys sites like this and better invest your time to create a real online business for yourself so you can earn some serious money.
What Is i-Say?
i-Say until very recently was known as Ipsos i-Say and they've been around in one form or another since 1975. They're definitely one of the biggest survey companies out there and yes, they're completely free to join.
I like the layout of their site – it's simple and straight to the point. It's easy to sign up and you'll get instant access to a list of surveys.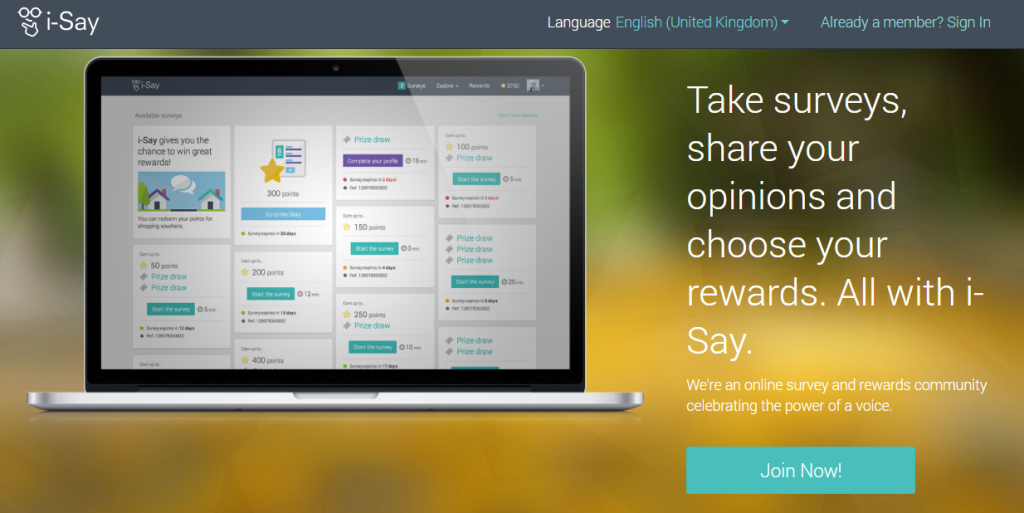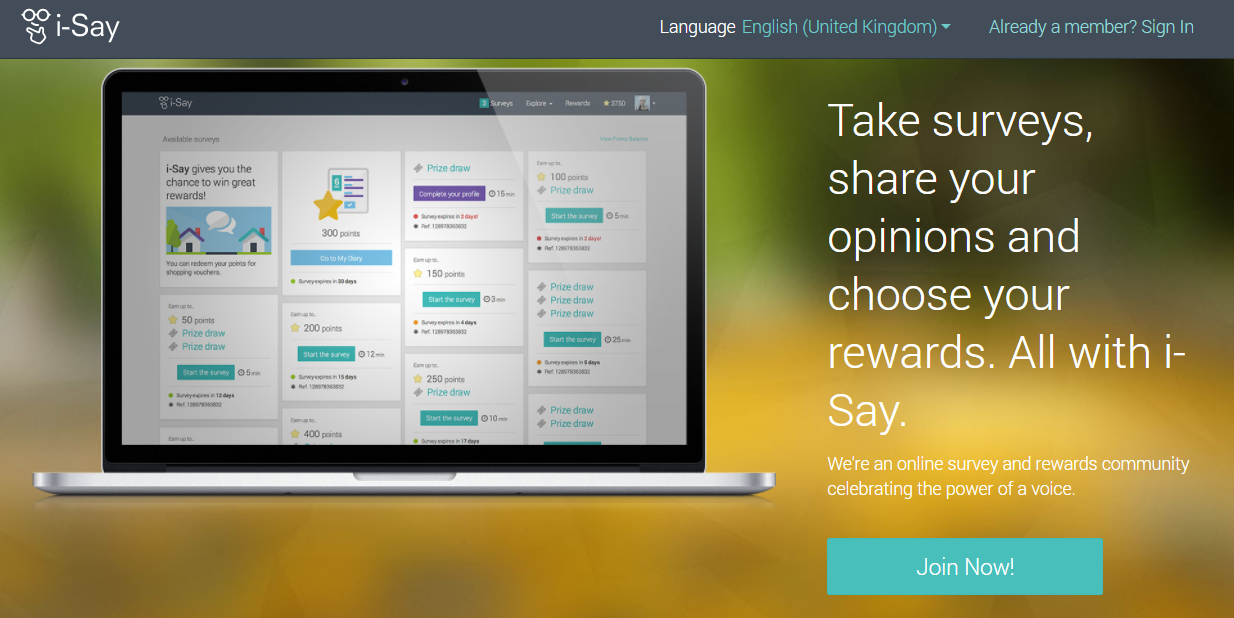 Before you take a survey they'll tell you how long it'll take you and how many points you can earn.
They have a survey app available on Google Play but it has gotten a lot of bad reviews – more 1 star reviews than 5-star reviews in fact, with just a 2.8-star rating overall.

We'll look at why in a sec…
How Much Money Can You Really Make?
1 point is $0.01, so 100 points is $1.00. That's pretty easy to work out. Surveys can range anywhere from $0.30 to $1.50, with the vast majority paying $0.90. They shouldn't take you longer than 30 minutes to complete.
Okay let's do the math: $0.90 30 minute survey times 2 works out at an hourly rate of $1.80. This is assuming there are always surveys available and you qualify for them.
The main way you earn points is by taking surveys but they also have a refer a friends scheme where you get 100 points for each person who signs up.
i-Say have a loyalty program too, though it hardly pays anything, it's an added incentive. Complete 100 surveys and earn 300 bonus loyalty points.
Yep, that's $3 so nothing to shout home about.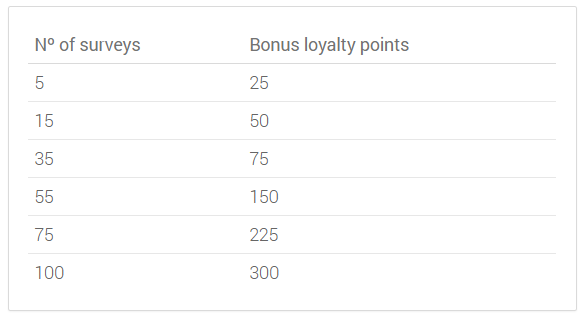 Yes, they run various competitions but I'm looking at i-Say from a money-making perspective and as your odds of winning anything are so small, I'm not even going to factor this in…

As you can see, this is not a real money maker which is a shame because I had high hopes for this site. If you've got a lot of spare time you might be able to earn $10 a week doing this at best.
If you're not careful, you could find yourself wasting a lot of time with this with very little to show for it.
What Others Say About i-Say
So why does the i-Say app have such a low rating and what do the members say?
After reading dozens of complaints and reviews there are clearly a handful of concerns that come up again and again:
1. i-Say Doesn't Pay
When people put in the work they expect to get paid, which is fair enough!
The i-Say website says once you've got to 1,000 points ($10) that you can redeem your points for gift cards, but lots of members are still waiting for people months down the line.
Answering survey questions is already time-consuming enough as it is, without having to waste more time trying to chase for payment. I don't see why you'd want to invest a lot of hours putting the work in when there's no guarantee you'll ever get paid.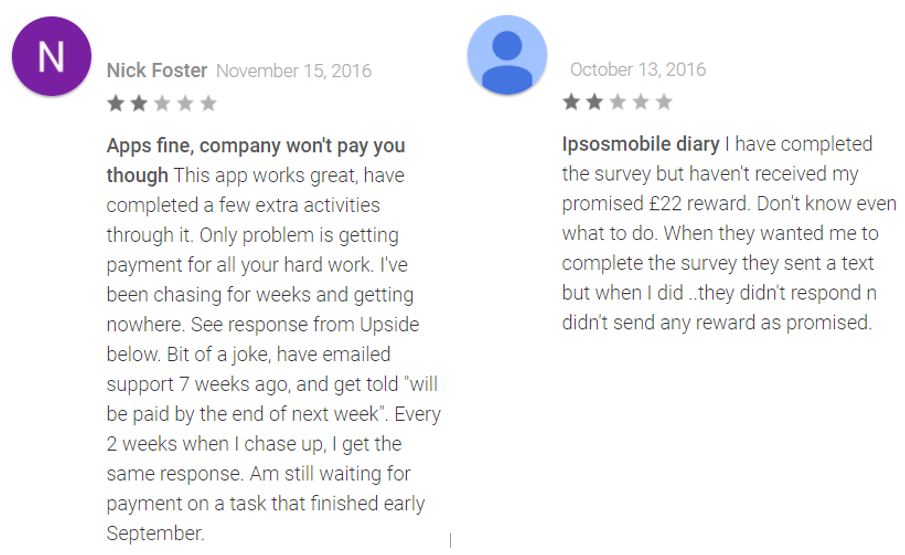 2. i-Say Find Lame Excuses To Close Accounts
There are lots of members reporting on Survey Police that accounts were suddenly and closed or suspended, often right before they reached the minimum withdrawal limit.
I can't imagine how frustrating it would be to spend hours filling out tedious surveys only to be told you're account closed for some random made-up reason.
One member had $20 worth of points saved up when he got an email from i-Say saying his account was deactivated because they say their emails are going into his spam folder.
How on earth would i-Say know this and on what planet would this justify closing someone's account without paying them? Either the i-Say customer support team are a little trigger-happy in closing accounts or they are intentionally trying to avoid giving members what they're owed.
This is hardly reassuring but it gets worse:
Nearly every person complaining about accounts being deactivated say they've tried to contact support but just get ignored every time: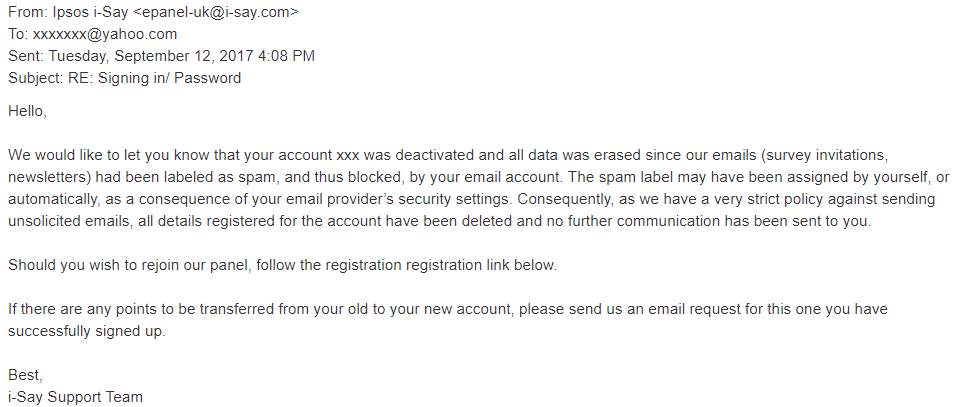 What I like
Been around in some form or other since 1975
The website layout is nice
What I don't so much…
The app has a lot of glitches
Tons of members accuse i-Say of not paying out
Too many accounts have been deactivated for no real reason
Very time consuming with little reward
Is i-Say A Scam?
I-Say is free as it should be (never pay for access to surveys!) so you definitely won't lose money with this site, but I don't think you can make much money either…
I'm going to give them the benefit of the doubt and say I don't think i-Say is a scam, but it's not hard to see why many users accuse them of running a scam operation.
I certainly won't be investing any time with this site. Not just because of the payout issues, but because paid survey sites, in general, are not a worthwhile way to earn money online.
In a recent survey about surveys, 70% of people are never able to make more than $100 a month, no matter how many survey sites they join or how many hours they put in. That's consistent with other survey companies we've reviewed like American Consumer Opinion, Survey Junkie and Univox.
You've got to admit, working for less than $2 is just not worth the effort and at this rate, I think you'd struggle to earn $20 a month with i-Say.
If you want a legit and safe way of making money online then you'd be better off using your time and energy and investing it into building an online business you can earn monthly revenue from. Sites like Wealthy Affiliate have really good courses for this and you can get started for free.
Creating an internet business takes a little more time and effort but the rewards are far greater and they last a lot longer.
Read my full and in-depth Wealthy Affiliate review to find out how you can get instant access to the right know-how and support.
I hope this i-Say review helped save you a lot of time and frustration. If you have any questions at all please leave them in the comments and I will get back to you personally.
Simon Crowe is on a mission to help as many people as possible kiss their bosses goodbye.
Take the free Commission Academy course to discover how to smash your online income goals and make your dream business a reality.