Welcome to my Consumer Opinion Institute review where we're going to find out if this is a good way to make extra cash or just another scam you should avoid.
Because here's something worth remembering:
Not all so-called "opportunities" are worth it.
You have to weigh up if the pay is worthy of your time which is why as well as figuring out whether this is a scam or not, we're also going to find out how it works and how much you can really make from it.
If you're ready, let's get started!
Consumer Opinion Institute Review At A Glance
About: A survey research site that offers cash and prizes for your opinion.
Price: Free to join.
Pros: Pays immediately through PayPal. Surveys are quick and easy.
Cons: The website needs a facelift and they're not currently open to new members.
Verdict: The amount of money you can make with this is severely limited. At best you can get 2 surveys per month paying between $1-$5. 

What Is Consumer Opinion Institute?
Consumer Opinion Institute is a site offering cash for completing surveys. It is owned by TNS Global which later merged with Kantar Group. Kantar Group has a market research leg that handles Consumer Opinion Institute.
Consumer Opinion Institute started operating back in 2009, which in online terms is a lifetime so that is a good sign.
A not-so-good sign is it doesnt look like they've updated the website since then. Take a look at the screenshot below, it really doesn't inspire you to try it out: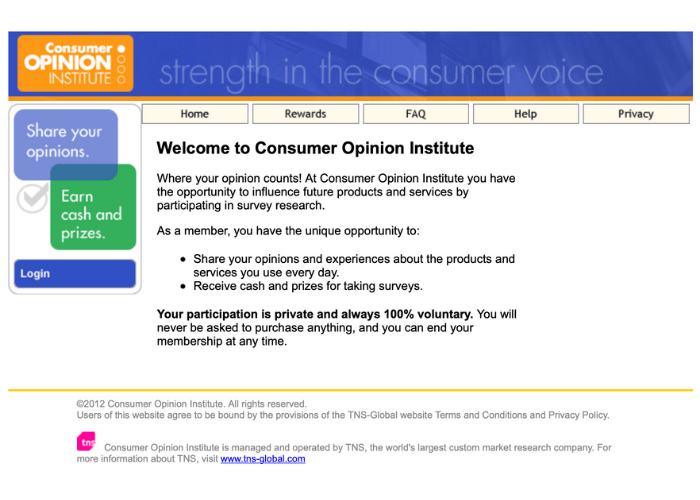 How To Get Started With Consumer Opinion Institute
Joining Consumer Opinion Institute as a panel member is free. However, it is only open for US residents. During the registration, you will be asked profiling questions like your name, occupation, lifestyle habits, and household information.
Consumer Opinion Institute asks these questions in advance so they can send you appropriate surveys and because they don't usually ask for screening questions before every survey like most survey sites. I'll tell you why in the next section.
The website doesn't mention any age requirement to join so we can only assume they'd require panelists to be at least of legal age.
Here's the thing though:
If you check out the website today you won't find a signup button anywhere. I don't know whether that's because they send out targeted email invites or no longer accept new panellists.
I guess you could always try contacting the support team if you're super keen on signing up, but honestly it might not be worth the hassle.
How To Make Money With Consumer Opinion Institute
Consumer Opinion Institute only has one earning option: surveys. You can get the surveys in two ways:
1. They'll send you an online survey via email
2. They'll send you a survey through the mail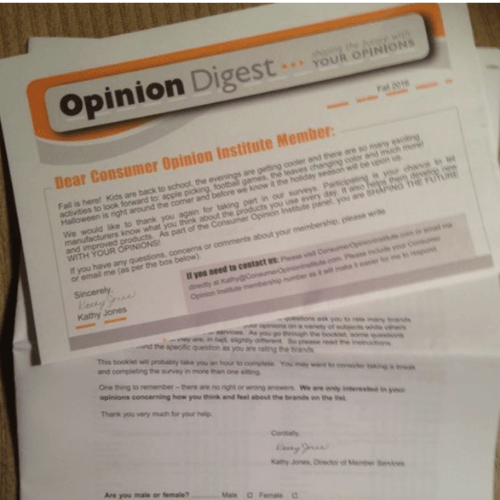 Most of the time it's surveys through the post as online surveys are rare. This is why it only makes sense for them to accept US panelists.
When you qualify for a survey, they'll send you a physical check (which is why I assumed you need to be at least 18 years old so they can cash the check).
The good thing is you get your rewards right away. The bad thing is the process takes longer than online surveys because you have to post it back and wait for them to receive it.
This is also the reason they ask screening questions during sign up to make sure you qualify beforehand.
If you do get an online survey invite, you simply log in, click on the survey and follow the instructions. This is the only time they might ask additional screening questions.
I actually don't get why they go to all the effort of sending surveys through snail mail instead of doing it all online. It's anything but convenient and they have to pay postage costs.
For physical surveys, you can only get as many as 2 surveys per month which pay around $1-$5 each. The surveys are not that long though, they say it only takes 10-20 minutes to finish each one.
This means with Consumer Opinion Institute the maximum earning potential just $10 a month. On the bright side, it'll only take 40 minutes.
As for the email surveys, they don't bother giving details on how much you can make or how you receive payment.
Does Consumer Opinion Institute Have An App?
No, Consumer Opinion Institute doesn't have an app. There's no need for one because they focus on sending out surveys the good old-fashioned way.
You can use your smartphone to access the website through a browser. This can be quite annoying though because the font is too small to read so you'll have to constantly zoom in to sections you want to read.
Pros Of Consumer Opinion Institute
Free to join
Pays cash
You'll get the payment for surveys right away
Pros Of Consumer Opinion Institute
Website is outdated
There's no app
Limited surveys per month
Low earning potential
No explanation given on how you get paid with online surveys
Is Consumer Opinion Institute Scam?
No, Consumer Opinion Institute is not a scam. It has been around since 2009 and a reputable company runs it. However, at best you can only get 3 surveys from it per month so the earning potential is not very high.
It's only good for some extra cash but never as a way to make ends meet.
Then there's the mystery of the missing signup button. If surveys are your thing then check out Swagbucks. They pay more on average and always have surveys available.
Consumer Opinion Institute Review: Closing Thoughts
With Consumer Opinion Institute, you can get only make as much as $10 a month. That's assuming you'll be sent surveys to begin with.
Realistically, this isn't going to be something you can rely on to pay your monthly bills. $10 can barely afford you one meal, let alone a whole month's expenses!
On the other hand, if you want to make a full-time income online from home then click here to read my full Wealthy Affiliate review.
They'll take you by the hand and guide you through how to create a real and profitable online business and you get to check out the first 10 lessons for free!
The best part of building your own online business is after you've established it, you can earn from it month after month without being stuck in front of your computer.
Don't take my word for it though, test drive Wealthy Affiliate for yourself and let us know how you get on!
Got Questions?
Have you tried Consumer Opinion Institute? How did it go? Do you have questions on affiliate marketing? Feel free to drop them in the comments section below!
Simon Crowe is on a mission to help as many people as possible kiss their bosses goodbye.
Take the free Commission Academy course to discover how to smash your online income goals and make your dream business a reality.