Affiliate Millionaire Club is neither a club nor a way to become a millionaire.
It's just a deceptive scam designed to take your money.
And I'm going to prove it in this review.
Affiliate Millionaire Club Review At A Glance
About: A "secret system" for creating done-for-you affiliate websites that generate as much as $1,200 per day.
Price: $47 one-time membership fee.
Pros: Comes with a 60-day refund option.
Cons: An unknown owner, actors used to give bogus testimonials, fake scarcity tactics and overly hyped up promises it falls far short of delivering on.
Verdict: Ignore the deceptive sales page – buy this and you'll end up with a website that generates zero traffic and sales. You might want to invest your time and money elsewhere.

What Is Affiliate Millionaire Club?
Affiliate Millionaire Club is a software claiming to create income-generating websites for you. According to the Better Business Bureau, it is owned by Ameena, LLC from Ivyland, Pennsylvania.
Mohamed A responded to one of the complaints at BBB.org claiming to be its CEO: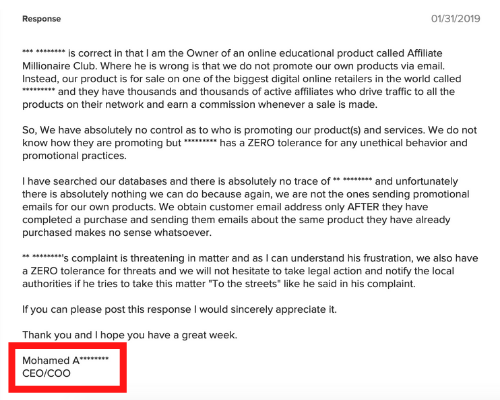 Maybe this Mohamed is the same "Mo" who narrated the sales video. The website has been around since 2013 but the sales video was uploaded in 2017.
The 10-minute sales video begins with Mo introducing himself before showing us a screenshot of the members' area and more screenshots of "your dashboard" with your income increasing as the minutes go by.
Then there's the member success stories:
You're shown a number of testimonials from "members" vouching for how much money they made for doing almost nothing. It was funny watching the testimonial of the first old guy who keeps glancing on his script, he makes everything so obvious!
I didn't have to rack my brains out to figure out the testimonials are made by actors hired from Fiverr. Here's proof: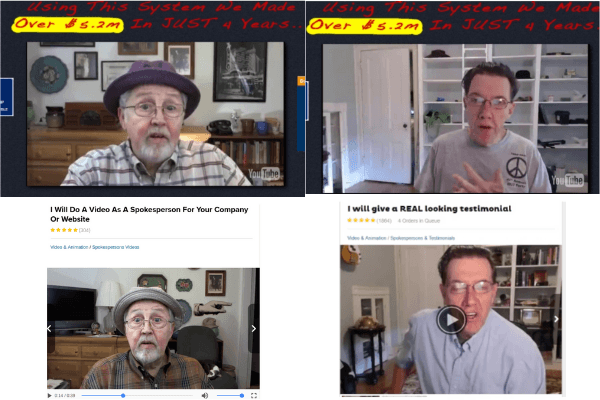 But the deception doesn't end there…
Next, we're shown photos of people achieving success with Affiliate Millionaire Club. There's a guy called Tom Williams who lives in Clearanceville, Texas.
Except there's no such place!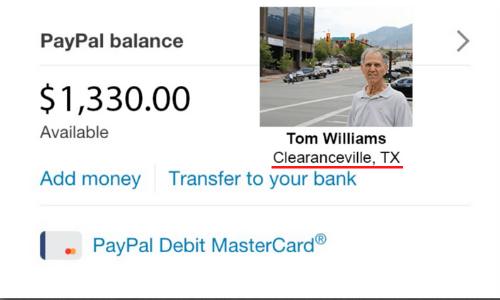 Mo then goes on to show us his Bank of America and PayPal accounts so we can see how much money he's made. I wish he did a better job at editing because anybody can see he used photo editing software to manipulate it.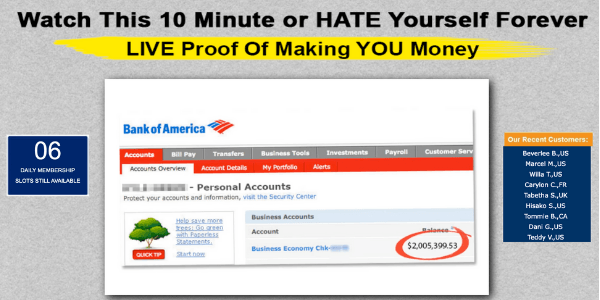 He also brags about his cars, houses, and vacations which kept him so busy he even forgot about his lived ones. What a story!
He also shares the tragic story of when his friend who was duped by a make money online scam, stressing that the Affiliate Millionaire Club is not one of them!
Anyway, I can go on and on about the video but it doesn't take a genius to figure out everything about it is bull. 
The website is no better either: there's no useful information about how Affiliate Millionaire Club works and all you get is the salesy video, the usual "only limited slots available!" gimmick, and the super fine printed disclaimer saying there's no assurance you can make money with it.
Here's my point on everything I said about the videos and the website:
It's all hype and not an ounce of value!
If you heard the video and see the website everything about it is an effort to aggressively get into your pockets. Here's the truth, the more assertive an opportunity needs to sell, the less value there is in the product.
Think about it:
If you found a diamond in the gutter, no one needs to tell you how much value it has!
I know I sound like I'm ranting, but here's my last point in this section. Affiliate Millionaire Club has also been infamous for spamming people, once you give them your email address, you'll get an email from them almost every hour in the day!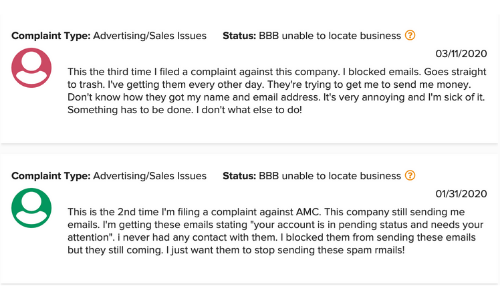 How Much Is Affiliate Millionaire Club?
To get started with Affiliate Millionaire Club you have to fork out $47 for the one-time membership fee. In return, Mo promises to build you 10 money-making websites. This includes the domain, hosting, unlimited bandwidth, and 24/7 support.
Sounds like a good deal but I'm going to show you why you should take these claims with a bucketful of salt.
How Affiliate Millionaire Club Works
Supposedly, the membership fee gets you 10 done-for-you websites that will start generating money for you within minutes.
These websites are the same websites they give to everyone who joins. And they look like they were made in 1993. They're just one-page websites stuffed with random spun content there's of no use to anyone.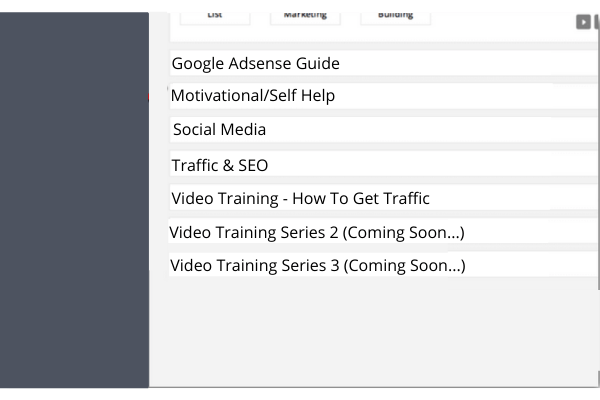 I can guarantee you'll never make money with this.
Why?
Because you get the same generic content they give to everybody. Google has a unique algorithm preventing duplicate content and cookie-cutter websites from ranking. So, you won't have anything in your favor.
Inside the members' area, you'll also get outdated material on how to create and run a website to generate income. The problem is it's only explained in a mere 2 paragraphs. How much are you going to really learn from those?!
Here's another problem with cookie-cutter websites:
You have zero control over the design. You can't customize it to make it better to generate more visitors and income!
Think about it:
If you rely on done-for-you websites, what happens to you when the website breaks or shuts down? You'll be left with nothing!
The reality is, you need to learn to make one on your own if you really want to make money from it.
I tried making a website myself. It's actually not that hard. Just a few tutorials and I was able to build a WordPress website using Elementor in just a few hours. (I got so particular on how it should look, it took me time thinking)
You can use Wealthy Affiliate's easy-to-use website builders and choose from 1,000s of WordPress themes to get the look you want. Try it out for free and you can have your income-ready website up and running in under 30 minutes.
Still, on the fence about done-for-you vs. do it yourself? Here's a video that'll help:
Affiliate Millionaire Club obviously uses the affiliate marketing business model. Affiliate marketing is one of the best ways to start an online business but not the way Affiliate Millionaire Club portray it.
It takes time and effort but push through and the earning potential is HUGE.
What legit opportunity doesn't take work anyway? Online or offline, legit businesses take some muscle to work and grow. Shiny shortcuts? They're mere fantasy.
Pros Of Affiliate Millionaire Club
9 Cons Of Affiliate Millionaire Club
Owner doesn't show who he really is
Overly hyped claims and blatant lies
Appeal to emotions using typical sob story by scams
Uses scarcity tactic
Uses fake testimonials
Cookie cutter websites with outdated content
Outdated guides
Spams your email
Disclaimer bursts the bubble
Is Affiliate Millionaire Club A Scam?
Affiliate Millionaire Club definitely is a scam. Not a speck of doubt. The red flags pile up one on top of the other; the dodgy owner, fake testimonials and scarcity tactics are just a few reasons it's a scam.
A Better Alternative
Stay away from this cookie-cutter website maker, it's just a rip off not worth $47. A better course of action is to learn how to generate a full-time income with affiliate marketing the REAL WAY without the hype.
Affiliate marketing works by following these 4 simple steps:

You basically create a website around any topic you're interested in, create compelling and original content to get rankings and finally, make money from it by promoting relevant products you know your audience will love.
Wealthy Affiliate offers the best training out there to walk you through the entire process from beginning to end. And you can start learning for free.
Read our full Wealthy Affiliate review here to find out more and get started.
Simon Crowe is on a mission to help as many people as possible kiss their bosses goodbye.
Take the free Commission Academy course to discover how to smash your online income goals and make your dream business a reality.