Welcome to the only Insurance Return Checks review you'll ever need to read because right here, right now I'm going to answer this very important question:
What are Insurance Return Checks – a program you join to get insurance checks sent to your door or an elaborate scam designed to deceive?
Before we get into things, let me just congratulate you on taking the time to do your research. Fewer people would fall for scams if they did exactly what you're doing now.
And just so you know:
I am not associated with Insurance Return Checks in any way.
I write this full and frank review as someone who makes a full-time living online to help you avoid misleading scams that leave you high and dry so you can better invest your time into real money-making programs.
Insurance Return Checks Review At A Glance
About: Insurance Return Checks is Robert Baillieul's insurance platform that supposedly gets you a share of the insurance checks the US government gives back to its citizens.
Price: $7 for initial fee, $90 automatic charge after 30 days. Forget cancelling and you'll end up paying $594/year.
Pros: Nothing at all.
Cons: There are no insurance return checks, not upfront that what you'll really be paying is a newsletter.
Verdict: Insurance Return Checks is undoubtedly a scam. You're led to believe you're getting some monetary freebie but in reality they're pitching newsletter subscriptions.

Downright Dirty And Deceptive Sales Tactics
You and I both know there's no end of scammy programs out there promising fast and easy cash on autopilot and, unfortunately, Insurance Return Checks is one of them…
The Insurance Return Checks sales page was created by Robert Baillieul and his copywriting friends over at Lombardi Financial to try and hoodwink you into thinking there are checks floating in cyberspace with your name on them and all you have to do is sign up and cash in as they land in your mailbox each month.

In the promo video they tell you thousands of Americans have been regularly collecting these "IRCs", giving you example after example of people cashing in up to $37K a year:
Lawyer Lisa: Her IRCs are bringing her in an extra $37,376.64 every year. That's an average of $3,114.72 per month.
Investment Officer Martin: His IRCs bring him in an average of $6,117.60 per month.
Ex-US Navy Captain: Gets $1,712.98 from his IRC.
Communications Worker Elizabeth: Gets $20,388.48 a year; that's $1,699.04 a month.
Sounds great right? Sign up and just start receiving checks! However, with this program, not all is at it seems…
Here are 3 dirty untruths these guys won't tell you (but should!):
1. Insurance Return Checks Don't Actually Exist
They say insurance companies are returning millions of dollars to ordinary Americans every year. All you have to do is sign up to Robert Baillieul's 'plan' to start collecting your checks.

If you think this all sounds too good to be true then you're absolutely right.
Lombardi Publishing's team of expert copywriters are professionals at what they do and they know exactly which strings to pull and what buttons to press.
They don't exactly lie to your face as this would be breaking the law, so instead, they imply insurance companies are ready to send you checks.
They subtly hint there's free and easy money to be made, but of course, this is all smoke and mirrors.
Insurance Return Checks reminds me of the Cash For Patriots scam I exposed recently that dupes you into thinking there's some kind of US government program where you sign up and get 'Trump checks' sent to your door.
The only difference is with IRCs we're told it's some kind of cashback system from insurance companies. In both cases, the sales pages are highly misleading.
2. They Employ Blatant Fear Mongering Tactics
Less than 5 minutes into the sales video you'll hear an almost state-by-state rundown of how insurance premiums are supposed to be rising by up to 30% in some cases except we're given nothing to back this up.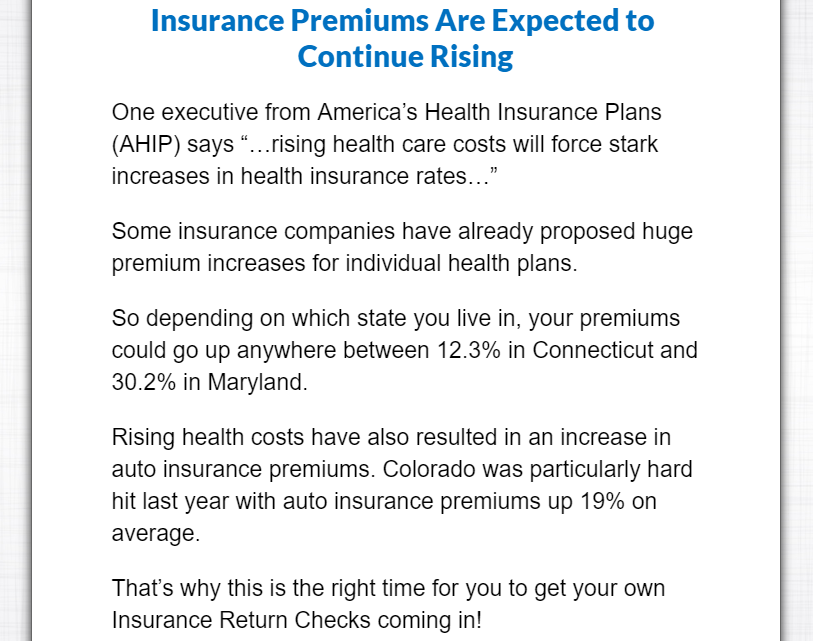 This is sleazy sales tactics used to scare you into clicking their sign up button and one you shouldn't fall for.
3. They Target The Elderly And Retired
Promising to be the solution to America's apparent 'retirement crisis', the worst thing about this misleading, manipulative sales page is that Lombardi is intentionally targeting retirees and veterans with their misleading sales pitch.

I wonder how many hundreds of elderly folks have seen this and, thinking this is a legit program, have gone ahead and signed up.
They'll throw big numbers around, but fail to be upfront and honest and what Insurance Return Checks are and how much money you're going to need to invest to be in with the slightest chance of making these kinds of returns.
What Is Insurance Return Checks Really?
OK, so let's do a quick recap on what Insurance Return Checks is NOT:
It's got nothing whatsoever to do with the fact health insurance premiums are supposedly rising.
You won't get random checks dropping on your doormat from insurance companies.
There's no 'secret plan' out there you don't know about where insurance companies are sending people checks for no reason.
So what is Insurance Return Checks exactly?
Insurance Return Checks is nothing more than Robert Baillieul's very clever sales pitch designed specifically to sign you up to his Passive Monthly Income newsletter which gives tips on investing in dividend stocks.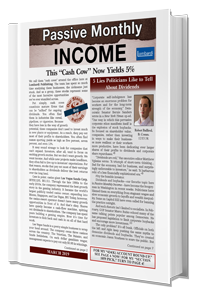 You basically get recommendations on the best companies to invest in for the best returns, a private members-only website and email alerts telling you when to buy and sell.
But before you rush ahead and sign up, these newsletter don't come cheap:
Click the 'Order Now' button and you'll be asked to pay $49 for a 6-month trial subscription and unless you cancel, your account will be billed another $297 before the 6 months is up and from there you'll be charged $594 per year.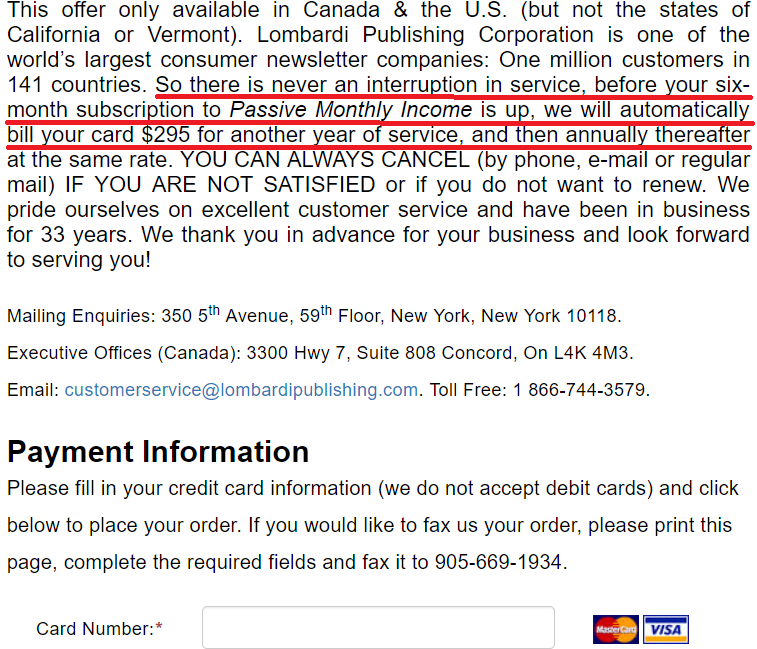 You're also going to need to invest a heck of a lot of money to get anywhere close to the kinds of returns they promised in the video and even then it's not guaranteed.
Is Insurance Return Checks A Scam?
'Scam' is not a word I use lightly but in this case, I have to say that yes:
Insurance Return Checks IS a scam.
If they just came out and said, "Look, if you're interested we've got this monthly newsletter that can help you make money from the stock market." then I'd have no problem, but the fact they deliberately mislead people with fake ass advertising just pisses me off big time.
I'm not the only one saying this either:
Look at other Lombardi Publishing reviews online and you'll find dozens of complaints from people who feel ripped off.
It seems like there's an ongoing issue with Lombardi taking money out of people's accounts even after they've contacted them to cancel their subscriptions.
Lombardi have just a 1.5 out of 5 star rating on OpportunityChecker.com: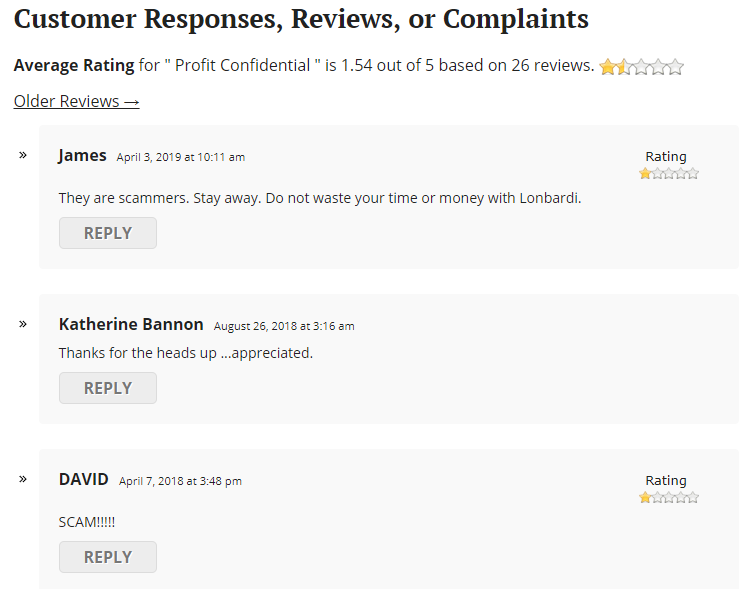 They're not doing much better with the Better Business Bureau either: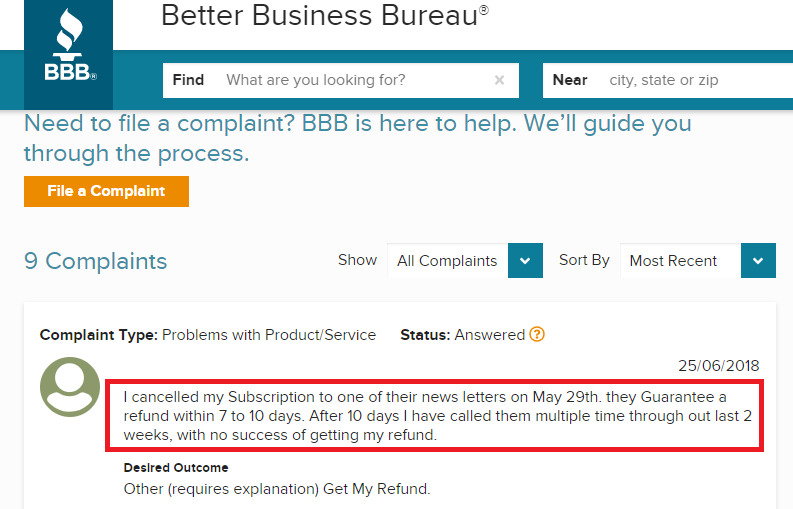 You know what?
Even if I were to start investing in the stock market then these would be the last guys I take financial advice from…
If they're not even honest enough to be transparent with you on the sales page or to honour subscription cancellation requests then what reason do you have to believe they'll tell you the truth after you've handed them your hard-earned cash?
You Don't Have To Gamble To Make Money
One thing they are honest about though is following their advice and investing your money does not guarantee a return. Lombardi's legal disclaimer makes it clear that there's always a risk involved.
Even with the best advice, you should always invest your money with extreme caution and never more than you're ready to lose.
Here's a great video on the pros and cons of investing and some of the risks involved:
However you try and dress it up, investing is always going to be a gamble and while I might dabble here and there, I would never base my whole financial future on the unpredictability of the stock market. It's just too risky for me.
Affiliate marketing is a tried and tested way to replace your full-time income without breaking the bank.
Broken down, the 4 step process to making money online looks like this:


With 4 billion people surfing the net every day, affiliate marketing is a massive 6.8 million dollar industry and growing year on year.
As a member of WealthyAffiliate.com, you have the opportunity to grab your slice of this ever-growing pie. With their step by step video training, ordinary people from all over the world can earn a living from the comfort of their own home.
Compared to paying out for overpriced newsletters and gambling on the stock market, investing $49.00 per month into the Wealthy Affiliate training to learn how to build an online passive income for yourself is the smarter option any day.
I've written a SUPER in-depth review of Wealthy Affiliate where I outline exactly how they help me earn $7,000+ per month online.
Questions Or Thoughts Of Your Own?
Are you sick of being scammed, or almost being scammed by hyped-up products that promise you the earth but leave you disappointed every time?
Have you had any experience with Insurance Return Checks or Lombardi Publishing?
What are your opinions on stock market investing vs. affiliate marketing?
Scroll down and let us know what you think. We'd love to hear from you!
Simon Crowe is on a mission to help as many people as possible kiss their bosses goodbye.
Take the free Commission Academy course to discover how to smash your online income goals and make your dream business a reality.