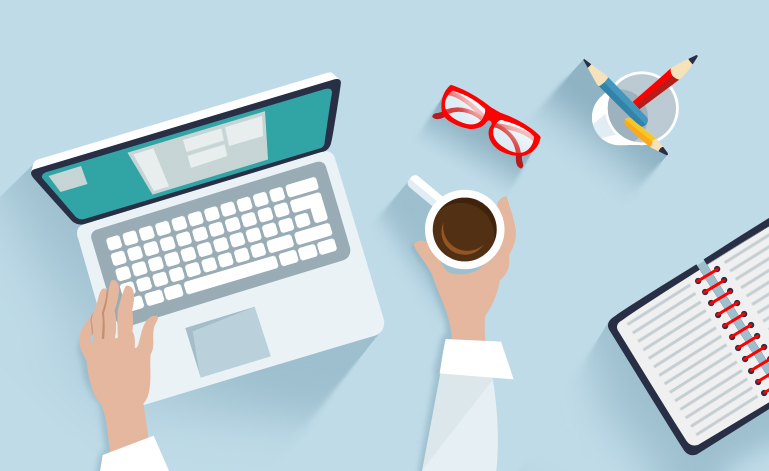 Last Updated 10th May, 2017.
Every now and then I get a question from someone who wants to know how to start a website business.
Sometimes they ask if they need to be a programming expert, or how much it costs.
Sometimes they ask what they have to do to start a website business. But mostly, people want to know if it really is possible to make money online.
The answer is yes, absolutely you can.
You really can start a website business and make good money too. In fact, it's how I've earned a full-time income for the past 2 years.
My website businesses are the only reason I am living in Thailand right now and loving life everyday.
The truth is, there are lots of different ways to start a website business, some better than others – so you just have to find a way that suits you.
This post will help you do just that, including links to further training, 4 methods of earning, and how to get help building your first website business.
The Most Effective Ways to Make Money with Your Website
It might surprise you to know that there are practically an endless number of ways to monetize a blog. So many in fact, that you could easily get stuck trying learn or choose from all of them.
That is exactly what happens to a lot of new bloggers, and it's exactly what I don't want to happen to you.
So instead of spouting off a list of strategies, we're going to look at only the most effective methods used by successful bloggers. We will start with advertisements because it's a method everyone knows about.
1. Make Money with Ads on Your Website
I know of some popular sites like Buzzfeed and Huffington Post that make money with ads on their site.
If you're thinking of trying to make money with ads on your blog you will most likely use Google's Adsense program.
There are plenty of other ad programs to choose from but Adsense is the most popular, highest paying and easiest to use.
There is no cost to sign up for Adsense (or any other ad program that I know of). All you need to do is complete an application and provide Google with info about your website.
Once completed, you'll receive a line of code to copy and paste into your site.
From there, it's a matter of gaining traffic (site visitors) to your website make the ads profitable.
More traffic = more ad revenue.
The upside of this business model is that it's super simple.
Of course, there's a little more to it than just getting traffic.
How well an ad performs will depend on where's located within your site.
You don't want people to view your website as spammy so you'll want to think carefully about the number of ads you allow on your site.
How Much Can You Make with Ads?
There is no set rate for how much money you can make with ads, mainly because of the high number of variables. It depends on what topic you choose for your website, visitor engagement and of course the number of visits to your blog are all factors that affect how much you can earn.
However, just to give you a rough idea of how much you could earn, let's take The Huffington Post as an example:
They get about 25 million visitors a month. Each visitor averages at 2 page views. Last time I checked, The Huffington Post was making monthly $2,330,000.
I can see other sites who have more monthly visits but don't make as much, so it's really ard to pinpoint. The point is, you need a lot. But it's a super easy way to start.
About a year ago I decided to experiment with Adsense one of my websites which has on average 100 visits a day. I admit I didn't spend too much time but I made $0.12 per day from Google.
I think with some perseverance and patience you could make money with ads on your blog, but I don't recommend it, especially if you're a beginner.
There is nothing wrong with being a beginner, but with a new website business it's important to get some money coming in quickly, so you can see that it is possible.
The problem with putting ads on your website is that it could take a long time and you'll probably just end up discouraged. So let's take a look at some other ways to start a website business.
2. Offer Services on Your Website
One way you can start a website business is by offering services to your visitors. A lot of online entrepreneurs like this option because it is easy to get started with.
All you really need is a "Hire Me" page with your contact information so people can reach you.
The type of service(s) you decide to offer is completely up to you. You just need to ensure that the service you offer is relevant to what your website is about.
What Type of Services Make Money?
Coaching is a great service to offer anyone who visits your website. The people who have found your site are most likely looking for specific information and many of them will pay hundreds or even thousand of dollars for coaching.
Freelancing is another service you can offer to make money with your website. The majority of bloggers either are or were freelancers at one time. Good freelancers are in high demand in almost every market.
Public Speaking, if you're confident, can be a very lucrative way to make money online. Especially with business to business markets. Speakers get to travel the world and demand premium rates at the same time.
Here's just a few topics (or niches) you could apply to your coaching, freelancing or speaking service:
Travel
Interior Design
Fashion
Fitness
Customer Service
Gardening
Self-Confidence
Photography
Musicianship
Entrepreneurship
3. Sell Products On Your Website
I know many people that have started a website business where they promote their own products and make a good living. You could sell anything, depending on what you're good at.
Starting a website about topics related to products you make yourself can be a great way to start a business online.
But selling your own products isn't the only choice you have. In fact, you can sell pretty much sell anything you can think of on your website. Just keep this points in mind:
Pick the right products to sell – find things that your website visitors are interested in and again, make sure they're relevant to the topic of your website – otherwise you'll just be wasting you time.
Pick products that don't have to be shipped or stored – having to rent a storage room or paying for big or heavy packages can be expensive and a full-time job in itself. It can be done, but you need to be organised.
4. Start An Affiliate Website
This is my favourite way to start a website business.
Actually, it's the only online business model that I follow on everyone of my websites.
Affiliate marketing is the one method that many successful website business owners use to make up at least part of their income. As I say, I use affiliate marketing for 100% of my income.
You can see it for yourself; visit any any successful site and you'll see links to well-known places like Amazon, Nike, WalMart…
These websites will encourage you to to the click the link or buy via their unique discount code. Those codes are not just to help you save money…the website owner is earning money from each sale they help produce and the code tracks sales.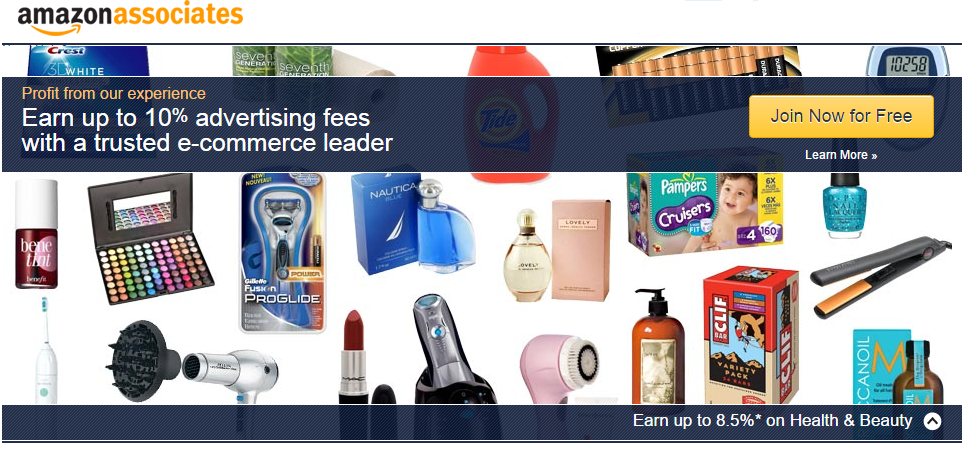 Starting an affiliate website is simple.
It's just like the other ways I've already mentioned in this beginner's guide but it's better because you provide good quality, honest and valuable content on your website and then link to specific, relevant products you use or recommend.
Rather than have random ads plastered on your site, you can make specific recommendations based on what the visitor is reading. It's very targeted.
If someone is reading a post you wrote about how to organise a kid's birthday party, you can recommend some fancy dress costumes you think are great.
Or let's say you start a website about bodybuilding – you can link to some top quality whey protein that you have used and can recommend.
You just need to join the affiliate programs that offer the products you want to sell.
Through your unique affiliate link, you'll get credit for clicks, referrals, and of course, sales.
Affiliate programs are free to join but they all pay a little differently. Amazon has the most popular affiliate program, but they only pay up to 4% on each sale.
If you blog about running, you might be better off joining Nike's affiliate program, which starts at 11% and goes up according to performance.
Some digital products pay 75%! On pricey items like video courses which can cost $300+, you can make hundreds of dollars per sale, and several sales per day.
Also remember: you can also combine affiliate blogging with other methods mentioned above to increase your online earnings!


Time To Start Your Website Business
As I hope you've already seen, there a lot of different ways to start a website business. It'd be impossible to list them all in this guide, but I've given you the ways which are the most popular and effective, especially if you're a beginner just starting out.
Whichever business model you choose, you're going to need to start a blog. And whilst there are free blogging platforms out there like SiteRubix that allow you to start a blog for free, it's always far better to build something that actually belongs to you. This is why I always recommend starting a blog on your own paid domain. Here's my guide to starting a blog with WordPress from scratch, to help give you the best start.
WordPress, combined with the powerful hosting and publishing platform Siterubix provides is one of the easiest ways to make your own website for free.
This is how I made my first website, infact, this is what I used to launch all of my website businesses – and you can too.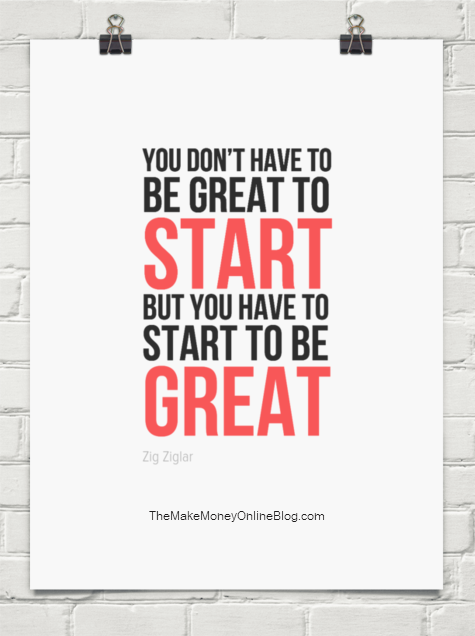 I've always found the best way to make money online is by building affiliate websites.
The great thing about owning an online website business is you don't necessarily have to choose one method or the other.
In fact, the most successful people all agree that you must have multiple income sources.
The more years I gain in this business, the more I realise how true that is.
This is why I started my second, third and fourth websites on different topics – so I can diversify my income.
Whichever option you decide is best for you, or if you're still not quite sure on what next steps to take – the worst think you can do is to wait and do nothing.
You have to get started.
They'll never be a perfect time and you'll never feel like you know enough.
You just need to start right where you are with what you have. Just do it.
Get instant access to the training, website builders and community support you need to start a successful website business (for free)
So are you ready to start your own website business? Then I have some great news. I'm going to show you where you can get all the training, help and support, domains and hosting all in one place.
Are you ready?
I attribute 100% of my success online to the training, support, and connections I found at Wealthy Affiliate.
Here's my 4,880 word Wealthy Affiliate review.
Wealthy Affiliate is for beginners like you. All the training courses, the community support, the beginner-friendly website buidlers were all put together to help total newbies learn everything they need to know to start a website website you can be proud of.
Everything that I've ever done online is a direct result of the training I received at WA.
They showed me how to choose what my website should be about, what to write about, how to attract targeted visitors to my new site and of course – how to make money.
And the best part of all is – you can do all of this for free!
But rather than just telling you about it, I wanted to give you a quick tour to show you just a few of the features offered. Let's take a look:
There's so much going on at Wealthy Affiliate so, instead of me just telling you about it, let me show you what you'll get instant access to as soon as you become a free member.
Here are just a few which I've benefited from the most.
Step-by-step interactive training modules
Every video course and tutorial is comprehensive and literally takes you by the hand an guides you through how to start your website business from the ground up.
I love the action steps at the end of each lesson and recommend you complete these before moving on to the enxt lesson. It's easy to track your progress and the comments area means you can get answers to anything you're not quite sure about.
Foolproof website building tools
It's never been easier to start a website. Trust me, I don't consider myself technical at all but here I am! With the SiteRubix website builder anyone and I mean anyone can build a beautiful, professional website of their very own.
Oh and when I say built, I really mean just click a few buttons 🙂
Fast, expert support and advice around the clock
As an affiliate member you have lots of ways to get advice and answers to your most pressing questions.
You can join the conversation in live chat, raise a ticket with the technical support team, add your question to the lesson discussion area and or send a direct message.
I'm on hand to to help you out anyway I can. The whole community is there to encourage and support one another and it's been an absolutely lifesaver for me at times!
It's the 24/7 live support that can be a real life-saver and spur you on to make sure you really make a success online.
Ever been stuck, frustrated and not knowing where to go next?
You don't have to at Wealthy Affiliate because there's literally hundreds of other members all committed to your success.
I love this about Wealthy Affiliate.
Best of all… I will help you personally
I would not recommend Wealthy Affiliate if I wasn't completely convinced by it.
If you're serious about learning how to start a website business then this is the logical next step for you.
I am on Wealthy Affiliate every single day helping people like you find out what to create a website about, generate ideas, getting people to their websites and make that all important first sale.
I will support you every step of the way because I really want to see you make it online.
Here's a screenshot of my current Wealthy Affiliate profile…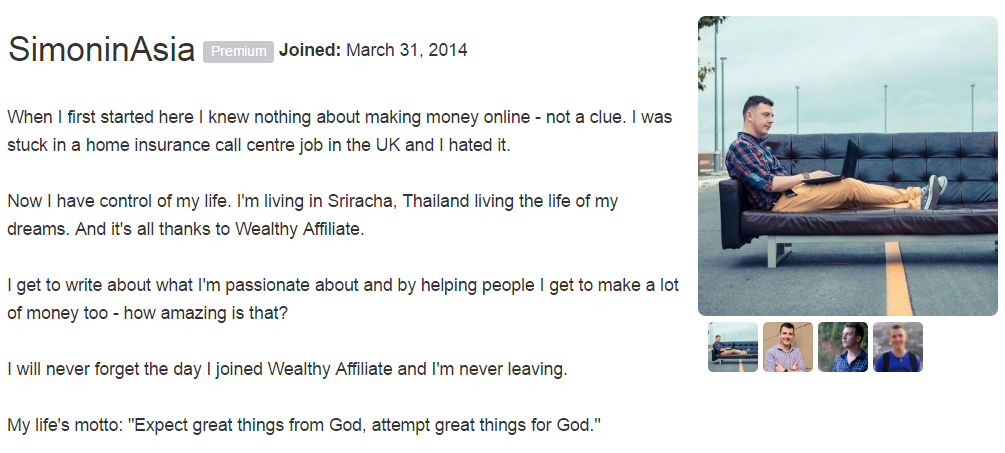 Wealthy Affiliate will give you access to all this & more with your free Starter membership
This is where Wealthy Affiliate really shines. I don't know of any other platform that will grant you full access in just a few seconds with an email and password.
You'll be inside, viewing the training, meeting the community, and working on your business at absolutely no cost to you.
If you like what you see, there is a Premium level that unlocks more powerful, advanced tools and training to help you further your business.
This is optional and your choice – something you could maybe think about further down the line once your website starts making you money.
Next steps
Ready to get started? Follow this quick walkthrough to make sure you get the most out of your time at WA:
1. Create your free Starter account
Click here to get started or read my How to join Wealthy Affiliate in 5 simple steps post.
2. Complete Your Profile
Once you're on the inside, you need to complete your WA profile by adding an image (can be anything you want) and a short bio by way of introducing yourself to the other Wealthy Affiliate members.
Everyone is super friendly and helpful and once you're all set up I'll pop by and say hi.
Your future starts here!
I would never recommend Wealthy Affiliate if I didn't wholeheartedly believe in it and if I didn't think they could help you to get to where you want to be.
I joined Wealthy Affiliate over 3 years ago now and looking back, it's easy to see it's one of the smartest moves I ever made. Now it's your turn.
I just want to share one more picture with you… It's one of my favourites because it's from the time I spent Christmas in a refugee camp on the Thai/Burmese border. Let this be a reminder that whatever your dreams are, everything is possible if you're willing to learn and put in the work.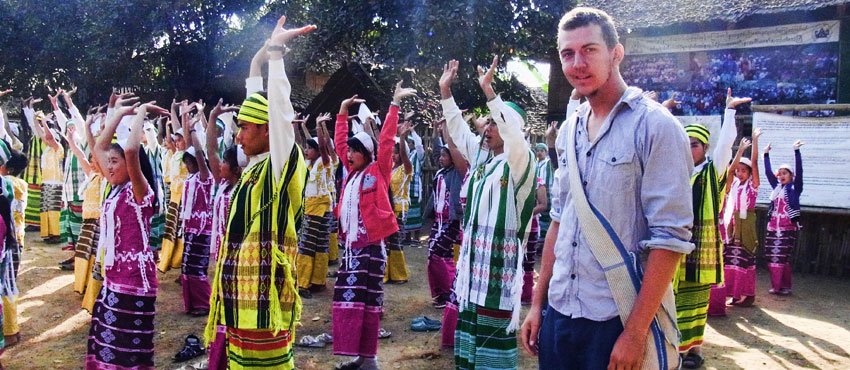 I want to take this opportunity to wish you every success and I really want you to know I will help you in any way i can.
The Longer You're Not Taking Action, The More Money You're Losing
The biggest difference between people who create successful website businesses and people who fail, is those who make it didn't give up.
Remember: it is possible for you to be successful and live the life that you want.
Let's do it! I'll see you in the inside.
If you have any questions at all about Wealthy Affiliate or how to start a website business, leave your questions below and I'll get back to you as soon as I can.
Simon Crowe is on a mission to help as many people as possible kiss their bosses goodbye.
Take the free Commission Academy course to discover how to smash your online income goals and make your dream business a reality.