Google Opinion Rewards is Google's one and only attempt at paid surveys. Coming from such a respected company I have high hopes for this one.
In this Google Opinion Rewards review we're going to be asking: is Google Opinion Rewards legit or a just a worthless sap on your time?
First impressions: I like it. It reminds me of the 1Q app I reviewed recently where you get a few cents for answering single straightforward questions.
How will this one compare? There's only one way to find out so let's get to it, here's all you need to know so you can decide whether this app is worth downloading or not.
Google Opinion Rewards Review At A Glance
About: Google Opinion Rewards is a downloadable survey app that just asks 1-2 questions at a time.
Price: Free to download.
Pros: short, quick and easy surveys.
Cons: Only pays on Google Play credits, doesn't have as much surveys available as before.
Verdict: It's a legit survey app you can try if you want to minimize spending on Google Play downloads by earning reward points.

What is Google Opinion Rewards exactly?
Google Opinion Rewards is a survey app but with a huge difference. Instead of the long and drawn-out surveys that could take you 20-45 minutes to complete, these surveys are only 1, maybe 2 questions long and take just a few seconds.
You can download the app from the Google Play Store for android or the Apple App Store for free.
Here's a quick video walkthrough explaining exactly how the app works:
You'll get a notification telling you a new survey is available. They're all quick and easy with maybe only 1 or 2 questions each.
Questions can range from, "Which logo do you like best?" and "Which promotion is most compelling?" to "When do you plan on traveling next?"
The biggest selling point for me is that the questions are short and snappy. Whether you're on the bus or waiting for a train somwhere, it should only take a couple of seconds to give a couple quick-fire answers.
Downloading and setting up the app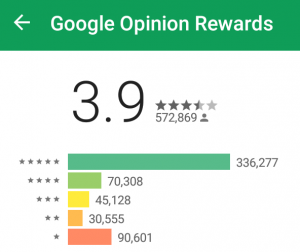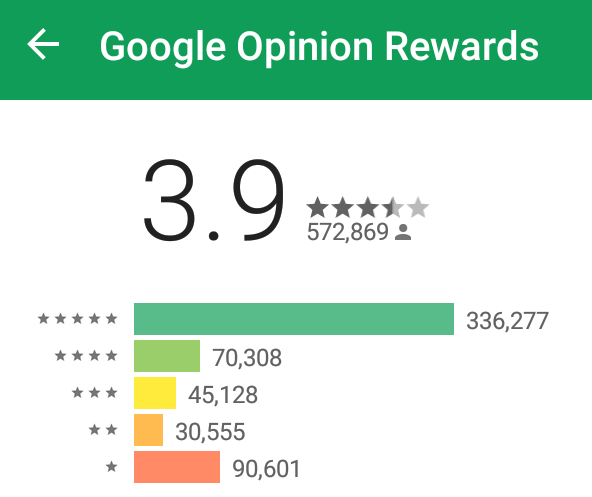 Ok it's time to try out the app!
Immediately the Google Opinion Rewards stats are pretty impressive – over 10 million downloads so far and nearly 600,000 reviews.
It seems to have mostly positive feedback from users too with a 3.9 out of a possible 5 star rating. It could definitely be a lot worse.
Installing takes less than half a minute and you're given a quick overview of how the app works. Pretty straightforward so far…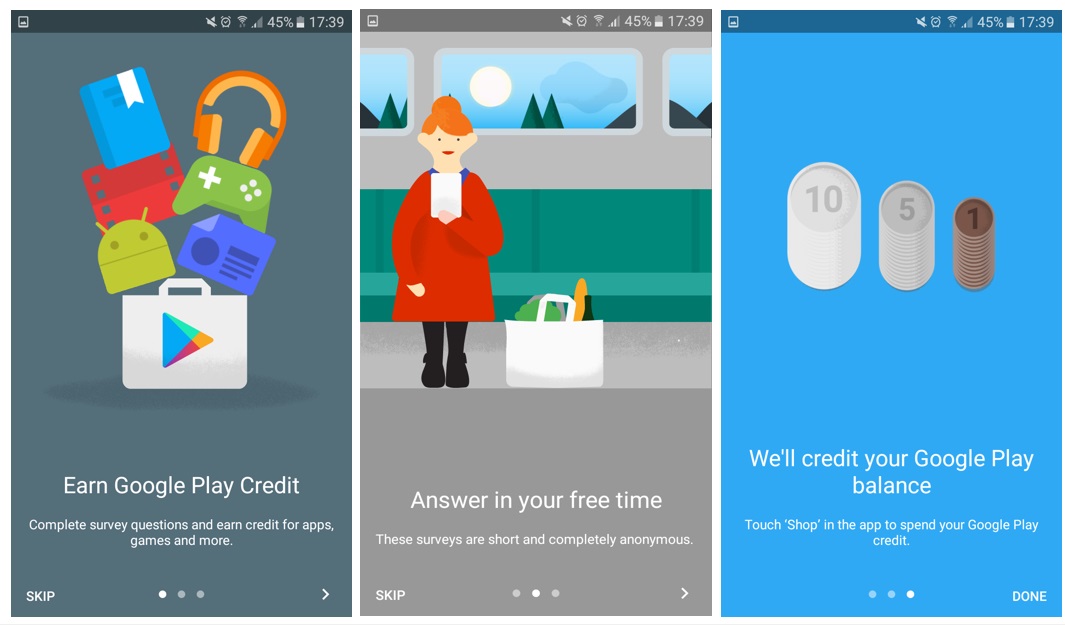 Then you're asked to sign up which literally just involves entering your name, address and date of birth.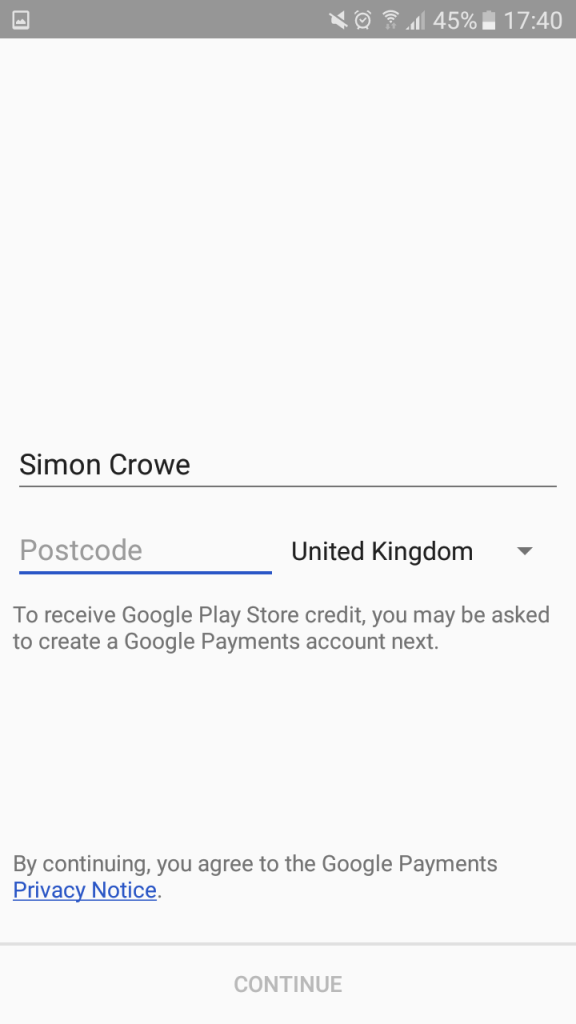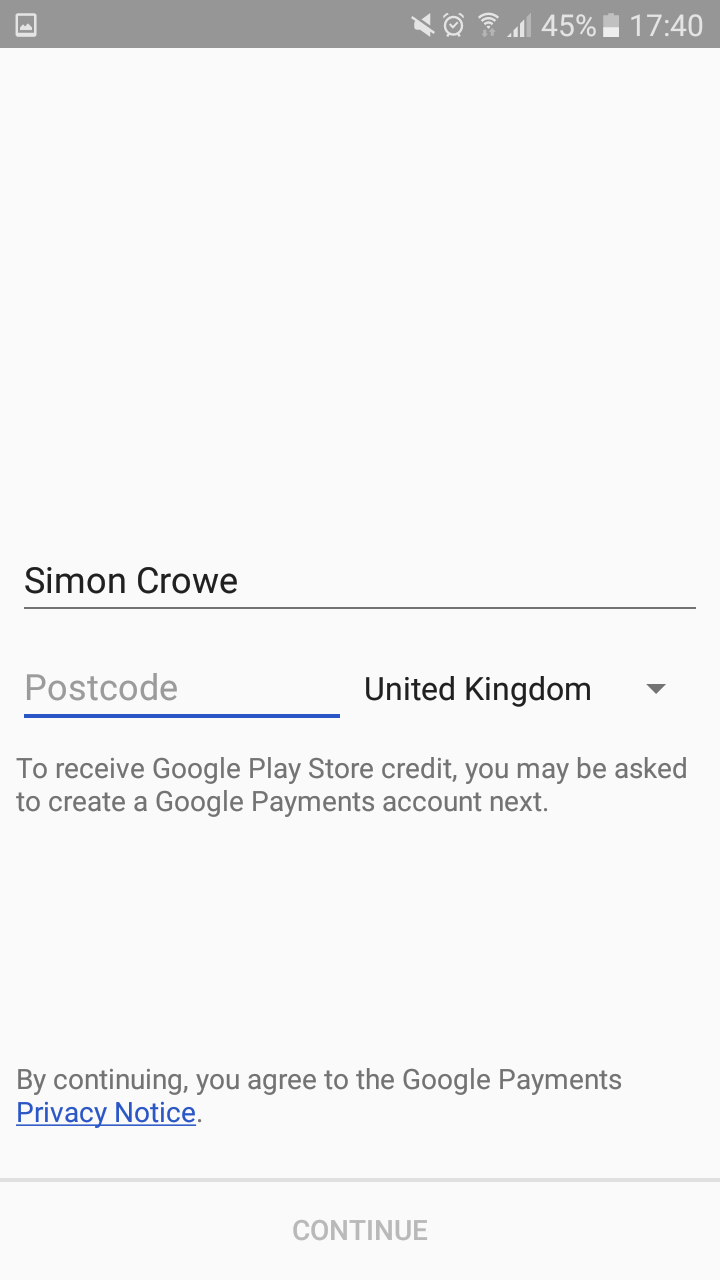 Continue on and you're given a practice survey. You won't get paid for this one unfortunately but it does help you find your way around the app.
When I did it showed me pictures of a few symbols and asked me what I thought they meant. Some were multiple-choice and others needed a short sentance answer. Nothing too overbearing at this point.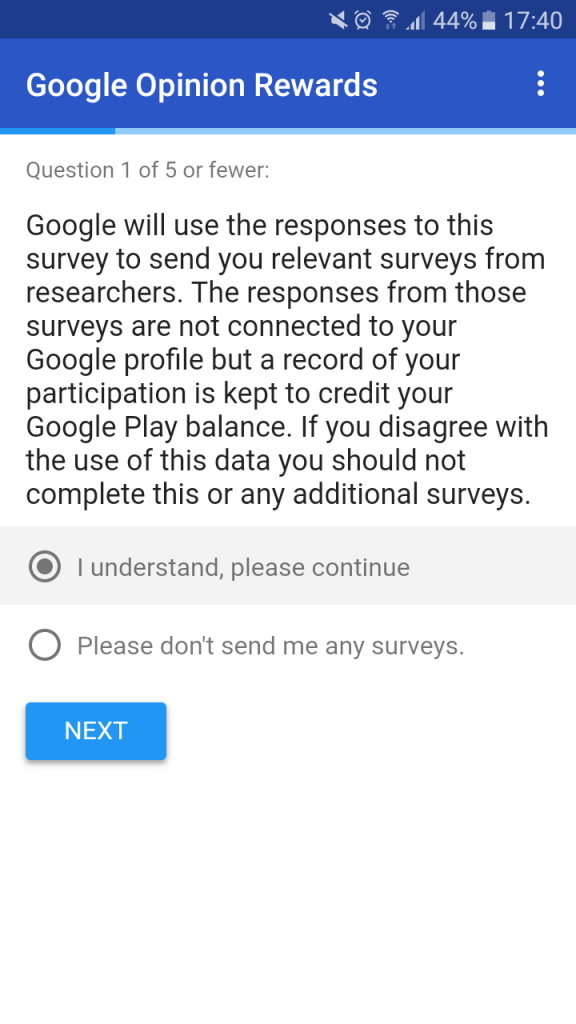 A couple of minutes later I'm at the main page. It's telling me there's no surveys available at the moment but the app is running and ready to go so let's see how it goes.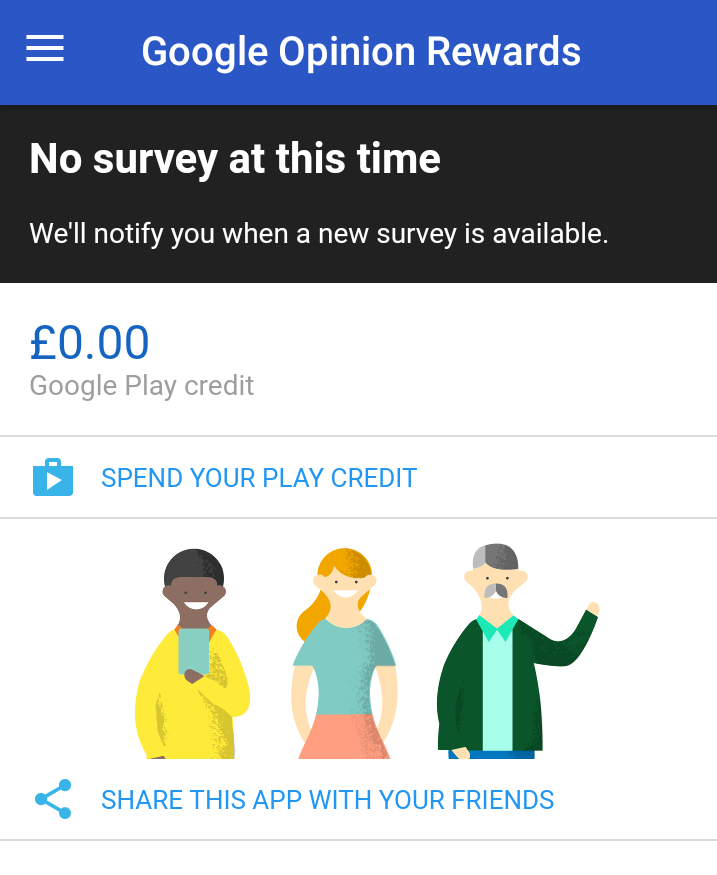 You're also given the option to share the app, though it doesn't look like they give you any bonus points for signing family and friends up.
How much money can you expect to make? Truthfully, not much
You might be expecting to me to say here that you'll get paid directly into your PayPal account but Google in their wisdom have decided they're only going to pay you in Google Play credits. Yeah, that's right.
I've never in my life bought anything through the Google Play Store so I had to do a bit of digging to find out what this Google currency can get you. It turns out quite a few things, including:
Google Play books and movies
Google Play music which is pretty much identical to Spotify Premium
If you're into gaming you can buy in-app upgrades for games.
As Google own YouTube, you can hire a movie.
Still, I'm looking for apps that put money in my bank account so I can spend it on whatever I want so this could be a deal-breaker for me.
More Google Opinion Rewards reviews
After doing a bit of investigating I've found the vast majority of reviews are highly positive. People find it to be a quick and easy way of earning a few extra cents here and there.
Though from half way through 2017 there seems to be a lot less surveys than they once was…
There's not half the amount of surveys they used to be
With one Reddit member saying she earned just $0.50 in a year due to no surveys coming through and this is echoed by a few reviews left on SurveyPolice.com.


It may be that turning on your GPS tracker will result in more surveys, especially if you're heading downtown to do shopping. As this reviewer put it, the more you're out and about, the more new survey notifications you're likely to receive:

Google picks up your location and asks you questions about the store you just visited. Whether this is true or not I'm not sure. Feel free to drop a comment if this has been your experience!
Update: I know it's still early days but I installed this app 24 hours ago and I'm yet to get a notifcation or earn any Google Play credits.
Is Google using the app to build a profile on you?
We may or may not be getting into conspiracy theory territory here, but we all know Google is a huge technology conglomerate who's main revenue source is advertising.
It's not beyond the realms of possibility to say Google are using this app to get more information about you and your purchasing decisions.
For example, if you turn your GPS on you may be asked about whether you've visited the local Home Depot recently or you may be asked when you're next planning to buy a car.
I suppose if they wanted to, they could use this information to display targeted ads your way, especially when the app is connected to your Google account.
What I like
Short, easy quick surveys
What I don't like so much
You get paid in Google Play credits only
There's a lot less surveys than they used to be
No referral program
The verdict: Google Opinion Rewards is legit
Overall I like the fact there's only one question to answer so its not time-consuming, the app is easy to use and they do pay. You can download it, try it out and let us know what you think in the comments 🙂
Will I keep it downloaded on my phone?
No I don't think so. I'm just not much of a gamer and I can't for the life of me think of any reason I would ever use for Google Play credits. If they started offering a PayPal option then I'd keep it installed and look out for notifications but as it is now, this app is not for me.
From the feedback, it seems there's not enough surveys here to make it worthwhile either, but this could be down to where you live.
Regardless, let me state the obvious: whether you're looking for a part-time income or some extra help to get through the month, like with many of the apps out there, Google Opinion Rewards really isn't going to cut it.
That's why if you have the passion and energy to succeed then you'd be better off investing your time into creating a real internet business for yourself. This is exactly what I did in 2014 and I now earn $6,000+ a month.
I followed this free beginners training course that I think you'll want to check out. It'll show you everything you need to know about making serious money online in a legitimate way.
Yes, you'll need to put in time and effort to make your business grow, but the earning potential is unlimited.
Simon Crowe is on a mission to help as many people as possible kiss their bosses goodbye.
Take the free Commission Academy course to discover how to smash your online income goals and make your dream business a reality.