In today's Digital Blueprint review, I'll reveal the sneaky scheme behind this program.
It's actually one of the biggest reasons why I don't trust this.
After making almost 200 reviews, when checking out make money online opportunities, I always go for those that are upfront. Misleading ones like Digital Veteran Blueprint kill my trust the moment I realize it's not what it claims to be.
I'm pretty sure you'll feel the same way.
To save you the effort in researching about Digital Veteran Blueprint, I'll tell you all the things you need to know before deciding to try a program out or not.
Is Digital Veteran Blueprint an affiliate marketing business model? Or something else?
You're about to find out.
Digital Veteran Blueprint Review At A Glance
About: Digital Veteran Blueprint is a funnels people to funnel to OPM Wealth.
Price: It's a high-ticket program where you can end up spending $27,500 for the most expensive membership option.
Pros: Nothing.
Cons: You're initially made to think it's affiliate marketing when in reality it's a funnel to a pyramid scheme.
Verdict: Digital Veteran Blueprint is a blatant scam. You're not given a useful eBook, just a lousy hyped funnel to get you interested in their real scheme.

What Is Digital Veteran Blueprint?
In a nutshell, Digital Veteran Blueprint is a program bridging to OPM Wealth. It's a 29-page eBook made by Josh Snyder.
The eBook is described as "shocking blueprint reveals the fast-track way to launching your own thriving side hustle".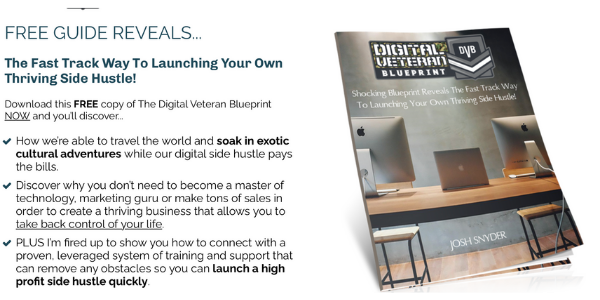 One, it's shocking. Shockingly shabby.
Two, it's not a fast-track method. They just say so because people tend to get persuaded with shiny shortcuts.
Three, it's not a side hustle. Yes, you start off without cost but once you get to the "one-on-one mentoring" you can end up spending $27,500.
For ordinary people like you and me, spending that amount for a business is not meant for a side hustle.
Digital Veteran Blueprint was used to be known as Digital Jetsetters, I guess nobody is interested in it anymore hence the name change.
This brings me to the idea it's not as awesome as how the owner makes it seem. After all, why need to rebrand it if it was doing good?
What do you get in the eBook?
Lousy information.
It's just Josh having 1/3 of the book for introduction telling you he didn't like his job, so he decided to start his own business.
The rest of the 19 pages are merely generic and stretched content which doesn't even explain what they are promoting, OPM Wealth.
Once you get the eBook, you'll only get the vague idea that you'll be earning from "velvet rope" products another term for expensive items.
Then you'll be connected to a "personal coach" not to teach you how to do the business but just to persuade to spend and spend until you have no more.
OPM Wealth? What's That?
Nope, OPM Wealth is not an affiliate marketing business model. It's a direct selling business model teaching you to sell high-ticket items.
Many people describe is as a borderline pyramid scheme.
You'll be given the training and some templates you can use to sell the items costing from $2,000 to $15,000.
Here's their logic:
If you want to make $50,000 and your product costs $5,000, you have to sell to 10 people to reach your goal.
On the other hand, if you sell a $25,000 product, you only have to sell to 2 people.
Where in the world are you going to find those 2 people willing to spend that much?!
Since getting someone to buy your products will be challenging, your course of action will be shifted from selling expensive items to promoting the training and recruiting people to make money.
Essentially, instead of mining gold, you'll be selling the shovel.
This is why many dub it as a pyramid scheme. You'll be making money mostly from recruiting people, not from making money for selling the products.
How Much Is Digital Veteran Blueprint?
You can start off for free in Digital Veteran Blueprint. The spending starts when your "personal coach" starts coaching to spend and spend on membership. The cost can start at $2,000 and can go up to $27,500.
You'll be asked to take a quiz that slyly makes you reveal your credit score.
Hmm. Strange…
The truth is, they'll want you to spill that information so they can help you to improve your credit score and get a loan to pay for membership.
The problem is, no matter how good your credit score is, no bank will make you borrow money to invest in a pyramid scheme that uses Bitcoin to pay for membership.
Yep, you heard it right, there's cryptocurrency here.
Of course, you'll be coaxed into getting the more expensive membership to get more commission percentage.
But even the cheapest membership costs an arm and a leg!
Here's the membership rundown:
$2,000 – Hermes membership
$5,000 – Apollo membership
$8,500 – Athena membership
$14,500 – Poseidon membership
$27,500 – Zeus membership
They even cunningly named the membership after Greek gods, so you'll subtly feel more powerful for getting more expensive membership packages.
By the end of it all, you won't feel powerful. You'll feel weak to the knees knowing how much money you flushed down the drain.
What Do You Get Digital Veteran Blueprint's OPM Wealth?
Digital Veteran Blueprint's OPM Wealth will get you a supposed training, one-on-one sales coaching, and high-ticket products.
As I've mentioned earlier, the "coaching" is just a scheme to entice you to buy the membership.
Your "personal coach" won't teach anything more than how you should let them lumber you off $1000s of hard-earned money just so you can get of the "financial freedom you deserve".
As for the training, you're told it's 12 minutes long when in fact it runs for 30 minutes deivided into 4 chapters.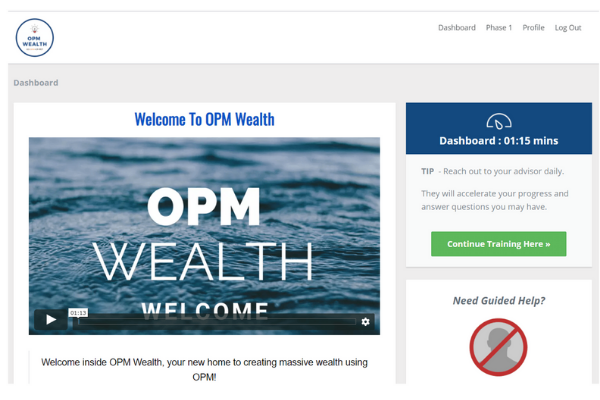 Chapter 1 will tell you about how the US economy went downhill, how inflation rates affect everyday life, and how many Americans have no savings.
Basically, whetting you up for the main course where you'll end up with empty pockets.
Chapter 2 will talk about how the middle-class jobs will get extinct in 5 years.
They're hoping you're in this category, so you'd consider other income options like this "side hustle".
Chapter 3 talks about franchise businesses like McDonald's and Netflix. Does it mean OPM Wealth is about franchising?
I highly doubt it. He can't even explain what this topic has to do with OPM Wealth.
Chapter 4 is where he glimpses of what OPM Wealth really is. Basically, it's just a done for you membership system to sell high-ticket products.
Here's the problem:
When it comes to the high-ticket products, they won't teach you how to pick ones that convert well.
They'll just tell you the logic I've mentioned earlier about how you can sell to fewer people if you pitch them an expensive product.
Since you don't know what products to choose, you'll end up with lousy ones nobody will be interested to buy.
So, you recruit people to people to make 60% of what they pay for. This ends up being a pyramid scheme because the main income source is recruitments, not product selling commission.
In the end, you just spent $27,500 in membership for a program that does nothing to help you make money.
If you ever got perked up with the hype-y sales videos, take everything with a grain of salt, especially when you've talked to any of their personal coaches already.
Is Digital Veteran Blueprint A Scam?
Yes, Digital Veteran Blueprint is a scam. An expensive scam. First, you're not told it's just a funnel to OPM Wealth and second, you'll be working on a pyramid scheme that crumbles in no time, leaving you with nothing.
88 percent of members will be on the bottom level of most pyramid schemes and will lose their entire investment.
Pyramid Scheme Vs Affiliate Marketing?
This is not a hard question to answer.
However, some may still be interested in this pyramid scheme thinking it's an easy way to make big money.
No, it's not an easy way and no, it doesn't bring you big money.
I'm not saying people haven't made money in pyramid schemes. However, once the recruitment dries up, nobody will make money anymore.
The reason why it's made illegal.
Plus, it's unsustainable. You might (I'm not saying you will) make money for a few months but that's it.
In any business you try to pursue, a sustainable one is always the best choice, that's why I prefer affiliate marketing over it.
With affiliate marketing, people won't have to crossroads when they see you. You won't burn bridges with family and friends, and you won't end up frustrated from making no money with your high-ticket products.
"But I don't know how to do affiliate marketing."
For now, but once you take a good quality affiliate marketing course like Wealthy Affiliate, you'll know how the business goes from tip to tip.
You'll know what a niche is, how you leverage it for your website, how you monetize your website, and how you drive interested visitors to you offers to make money.
There are more things you can learn with Wealthy Affiliate once you give it a shot.
You don't even have to take your wallet out to learn anything at the start, it has 10 free lessons you can test out to see if it's a good fit for you.
If you're interested to know more, check out this in-depth Wealthy Affiliate review.
What Are Your Thoughts?
Did you think Digital Veteran Blueprint is cunningly useless? Do you think it's better to invest in a sustainable affiliate business instead of an illegal pyramid scheme? Tell us what you think in the comments below.
Simon Crowe is on a mission to help as many people as possible kiss their bosses goodbye.
Take the free Commission Academy course to discover how to smash your online income goals and make your dream business a reality.