I'm always looking out for real money making opportunities online, especially if it means I can make money on my mobile phone whilst I'm on the go.
I've been reviewing a lot of survey sites lately and most turn out to be overly time-consuming and vastly underpaid, but will Darwin's Data be any different?
In this review, we'll be asking if Darwin's Data is a scam you should forget about or a legitimate site worth pouring your time and effort into.
Darwin's Data Review At A Glance
About: Darwin's Data is a survey site. It allows you to share your opinion on legal disputes in exchange for digital cards.
Price: Free to join.
Pros: Unique, longer surveys that pay more.
Cons: Being accepted as a survey taker takes a long time, lack of available surveys, only pay on Tango gift cards, surveys are time-consuming,
Verdict: While there's not much evidence to say it's a scam, Darwin's Data is not worth your time. It's time consuming and pays little, add that to the limited surveys available.

What is Darwin's Data exactly?
Darwin's Data claims to be an online survey site that pays you $25 in digital cards for giving your opinions in an hour long survey.
But unlike other survey sites like Zap Surveys and Prize Rebel, instead of answering questions about your spending habits you're answering questions about legal disputes, making this site unique.
They say they'll show you a video describing a legal dispute and ask you what you think.
The homepage gives you a 3 step process to getting started:
Darwin's Data review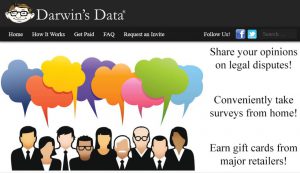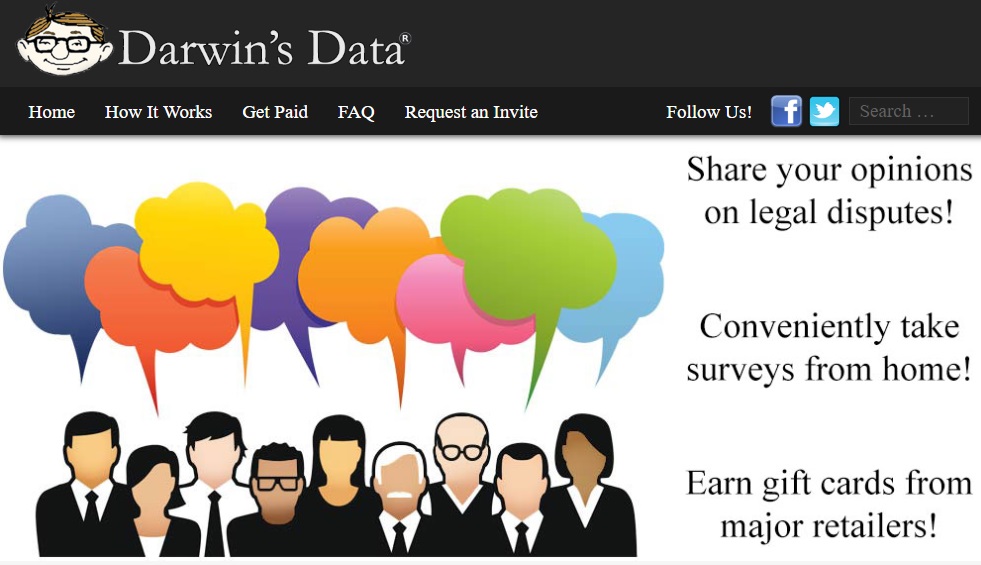 To find out if this site adds up to the claims they make, let's dive in and see what happens after I sign up and get in the members area.
Taking my first look at DarwinsData.com didn't leave me with a great first impression…
The site is very basic, using stock images and a simple layout I'm sure I've seen somewhere else before.
Clicking on the 'How It Works' tab opens up a slideshow explaining the three step process to getting paid: register, take surveys and receive your $25 Tango card. Seems pretty simple so far…

To get started I clicked on the 'Request an Invite' menu option and was presented with a pretty standard form to fill out.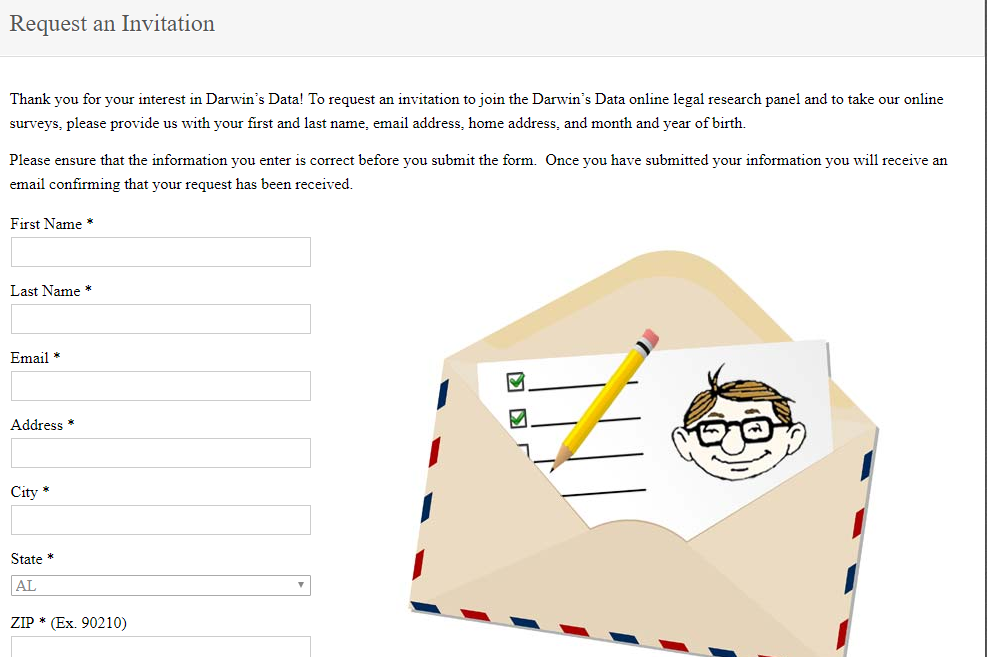 Their site does state you have to be a citizen of the United States and at least 18 years of age to be eligible to take their surveys and you must have a driving license or be a registered voter.
The form took me just a minute or so and I got this message:

They also sent me an automatic email confirming they've received my request for an invite.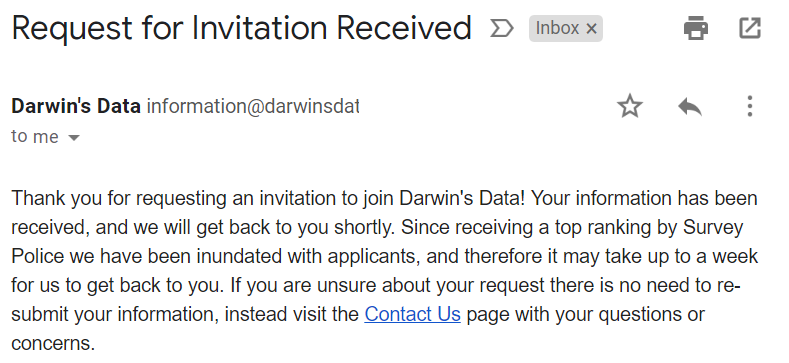 After that I waited for a few days… A couple of weeks… It's now been over a month since I started this review but still nothing.
I think a month is ample time for them to review the limited data they ask for and approve or disprove your application. Very disappointing to say the least!
How much money can you make realistically?
I guess to try and give you the best answer possible I'm going to have to look at Darwin Data reviews on sites like SurveyPolice.
The answer?
Seriously not much.
Tons of users say after completing their first survey they haven't received another survey in over 12 months. That's $25 per year.
Think Darwin's Data is the real money maker you've been looking for? Think again.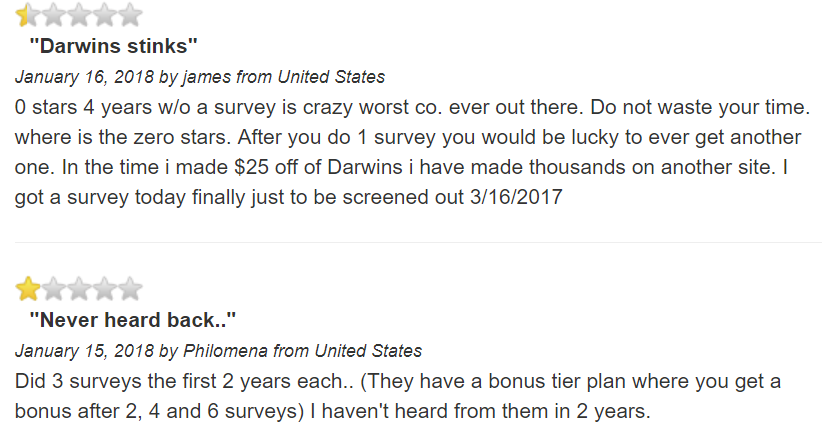 What I like about Darwin's Data
Free sign up
It's unique in the sense it's asking about legal disputes
Longer surveys that pay more
What I don't like so much…
Long waiting times to be accepted (if ever)
Severe lack of surveys
They only pay you in Tango gift cards
Surveys are low paying and very time-consuming
Is Darwin's Data right for you?
I honestly don't think they're a scam, but I can't recommend them as a legit online opportunity either. It turns out Darwin's Data is just like 99% of online survey sites out there – more 'faff' than results and a waste of your time.
A better option 
While there's still tons of paid survey sites around, most of them pay you far less than the minimum wage to hand over your private information, are labour intensive and time-consuming with high disqualification rates and that's if you're lucky enough to get a survey invite.
After waiting a month I still can't even get accepted – sites like these are on the decline with companies looking to social media to get the feedback they're looking for.
This is the exact reason I quit wasting my time with silly survey sites and started my own legit online business.
If you're ready to make REAL money online with the right training and community support then your dream of earning a full-time income online can become a reality.
Check out this free beginners training course I took 4 years ago that taught me how to earn $6,000 a month.
Your Darwin's Data Reviews
If you've had any experience with Darwin's Data we'd love to hear from you! Share your own review in the discussion below! 🙂
Simon Crowe is on a mission to help as many people as possible kiss their bosses goodbye.
Take the free Commission Academy course to discover how to smash your online income goals and make your dream business a reality.