I recently stumbled across the CashOG website which claims to be an influencer marketing platform that works with big-name brands like Wendy's, Burger King, Battle Royale and Dunkin' Donuts.
They also say you can make use your social media accounts to generate $500 per day by bringing traffic to their site – CashOG.com, and they can do this because well-known advertisers are paying them.
You might have clicked on one of their links to their site and are wondering if this is a real and legit way to make money online, but there are a lot of scams out there that make big promises but only waste your time and money and leave you no better off in the end.
Well, you've come to the right place because, as I will reveal in this CashOG review, there are a lot of things about this program you should know before joining!
Here's what I found out:
CashOG Review At A Glance
About: CashOG calls itself an influencer marketing platform. You're supposed to earn $500/day for posting links and making referrals.
Price: Free to join.
Pros: Not even 1 pro at all.
Cons: Empty promises, fake testimonials, unknown owner, part of a large network of scams.
Verdict: CashOG is a scam. No matter how much you make on the dashboard, you won't be able to cash it out. Avoid at all cost.  

7 Proven Facts That Show CashOG Is A Scam
1. Empty Promises Of Fast And Easy Cash
Ever heard your grandma say if something sounds too good to be true then it probably is? This couldn't be more true with this program!
CashOG creators want you to believe making $500 a day online is as easy as sharing a few spammy links on Facebook…
Let's be honest, $500 a day is A LOT of money and while it is possible to make that much online, reaching this income level doesn't happen overnight. The people who make that much are the ones who have built an online business and worked at it consistently over a period of 5 years or more.
"Get rich-quick-schemes promise participants can obtain this high rate of return with little risk, and with little skill, effort, or time." – Wikipedia.org
There's also the fact that this business model doesn't quite add up…
I mean, how could any company afford to pay you $10 per referral when there are zero ads on the site?
And why would they when they could easily get more clicks and referrals for a lot less money? They could run low-cost advertising campaigns on Google ads for example and pay just $0.01 per click.
The truth is the CashOG website is filled with hyped-up and outrageous unrealistic earnings claims.
2. CashOG Has No Real 'Happy Member' Testimonials
Now let me show you how every single member success story you see on the sign-up page are completely fake…
I ran each testimonial's picture through Google Images and found out that these random images have just been pulled from the web and these so-called members don't even exist.
Take Darrius J for example; he's a high school student who's supposed to have made more than $13,000 with CashOG:
Then there's David L who has supposedly made more than $10,000:
And finally, here's Ambria N who claims to have made more than $27,000 since she signed up:
This is clear evidence whoever made the website is feeding us bullcrap and is willing to say anything to get us to sign up.
But it gets worse:
Click on the video testimonials page and you'll see a number of videos from people telling us how this program has been the answer to their money-making worries.
There's even an official CashOG YouTube channel full of members' success stories like this one:
The problem is that because I've exposed so many scams here on TheMakeMoneyOnlineBlog, I know I've seen this guy before. Posing as a CashOG member, he's actually just a paid actor who has a gig on Fiverr where offers fake video testimonials.
Here, take a look: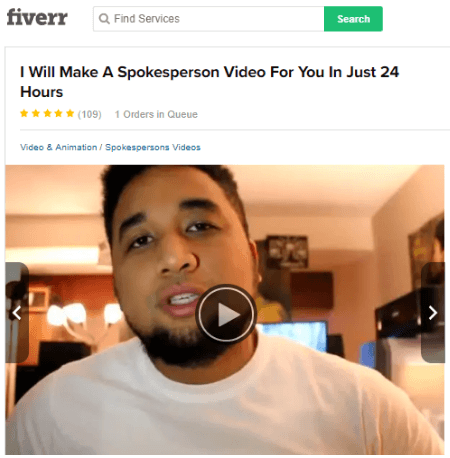 If this "number one influencer network" is so great, then why the heck do they have to pay people to make fake testimonials and make up people to endorse it and pull pictures from the internet to make their product seem more legitimate?
3. CashOG Was Founded By An Unknown Entity
A legit site will have a contact page, a phone number, email address, links to social media accounts and an actual address. This site has none of that.
We have absolutely no clue who the founder is, but of course, this is exactly what he wants. That way, when people start waking up to the fact this is a scam the anonymous con artist can very quickly shut the site down you'll have no way of contacting them.
4. CashOG Isn't The Only Site This Scammer Operates
When I started this review I thought we were dealing with just one website but the more I dig, the more sites identical to CashOG.co I find. If this doesn't prove this is nothing but a huge scam then I don't know what will!
So far, I've managed to find at least 12 other sites with the exact same templates and empty promises. They are all designed to extract your private details from you, including:
Here are a few screenshots of these websites so you can see what I mean: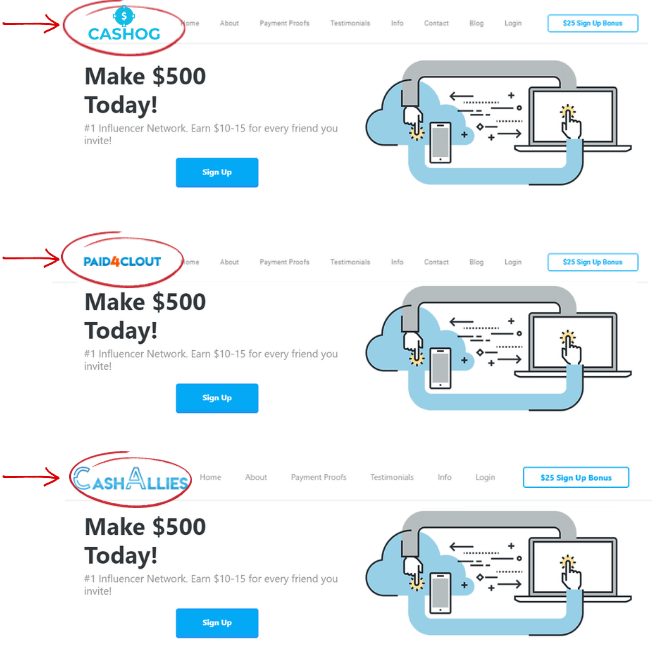 Why litter the web with cloned websites?
Because once a particular site receives too many complaints from members trying to get paid, the owner shuts it down and sticks a new website up somewhere else under a new domain.
It's a cat and mouse game but don't worry, our team here at The Make Money Online Blog fully intend to expose them all! 🙂
5. CashOG Say They've Paid Out $44 Million To Members But Have Never Paid A Cent To Anyone
Hit the Payments proof tab of the website and you'll be told CashOG members are always grateful they get paid on time, except the scammer behind this plethora of sites will never, ever pay anyone.

Sure, you'll share your links on social media and see the number of referrals go up, along with your balance. Request a withdrawal once you've reached the minimum $10 amount and you'll even be given a date when the funds will be deposited into your PayPal account…
The problem is the payment date comes and goes with no difference to your PayPal balance, and that's when you realise all the time and effort you've put into this has been for nothing.
This scammer has no intention of paying you, yet he tells you he will as a way to incentivise you to share his links and recruit other members for him without him needing to pay out a dime in advertising costs because the members who still think they're going to get paid are doing all his marketing for him.
6. This Scam Artist Sells Your Info For Quick Cash
So why is this guy so keen to get you to sign up and to recruit others? Because CashOG is a phishing scam. There's one thing he wants from you above all and that's your personal information.
He wants to collect as many names, email addresses and PayPal account information he can get his hands on so he can sell this on to the highest bidder and pocket the cash for himself.
7. People Who Sign Up To This Put Themselves At Risk
As a consequence of creating an account, not only will your email inbox be pummelled with spam but you open yourself up to the very real risk of identity fraud.
Part of the genius of this scam and the reason so many people have fallen for it is that it's free to join. It's easy to let your guard down and think you have nothing to lose but that couldn't be more wrong.
When you realise you're never getting a payout and you've been duped it's too late – the unscrupulous owners already have your personal contact information and will do whatever it takes to exploit it.
The best advice I can give you is to never sign up in the first place and avoid the risk of identity fraud and your account being compromised.
Most Helpful CashOG Video Review
Now For Some Good News…
I'm sorry to be the bearer of bad news here, I know that the idea of making $500 a day online sounded like everything you've been looking for but this is not your golden ticket to financial freedom. Far from it!
But don't lose hope just yet!
I make more than $7,000 a month online and show you the exact same formula I follow to get the same results. But first, there a couple of things you need to know about running a successful and profitable business online:
It takes time to learn. It took me 2 weeks to make my first sale and 12 months to replace my full-time income.
You need to put in the work… but it's worth it! While running a legit online business opens you up to limitless earning potential, this is not an automatic money-maker and it'll take more than sharing a few links of Facebook.
The best training platform I've come across for aspiring entrepreneurs looking to earn money online can be found at WealthyAffiliate.com.
Check out my in-depth Wealthy Affiliate review where I lay out how they've been teaching people how to find financial freedom online since 2005 and how you can become their next success story!
Comment Below If You Have Any Questions!
If you'd like to share your own experiences with CashOG or would like me to answer any questions about legitimate ways to make money online then scroll down and get in touch or leave me a message via this contact page and I'll get back to you personally.
And as always, stay safe out there! 🙂
Simon Crowe is on a mission to help as many people as possible kiss their bosses goodbye.
Take the free Commission Academy course to discover how to smash your online income goals and make your dream business a reality.