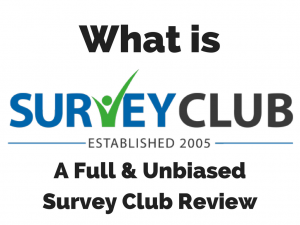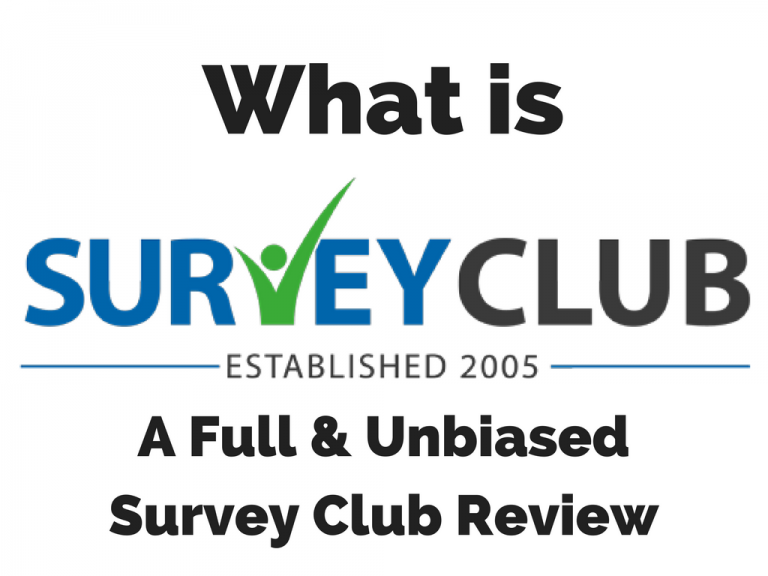 Survey Club Review
Overall Ranking: 20/100
Cost to join: Free
Minimum payout: $10
Website: SurveyClub.com
Quick Survey Club overview
Survey Club is an online survey said where you could potentially get paid to take surveys. From my experience, if you do choose to go ahead and start surveys for them you can expect to struggle to find surveys you qualify for, have issues with website glitches and put in a lot of time completing mindless surveys for a few cents on a gift card.
Survey Club is not a scam and you might be able to make a few extra dollars a month but you're not going to make any serious money online doing this. If you've read my recent Opinion Outpost review you'll know I personally don't have time for silly survey sites that pay you cents for hours of your time.
The work/reward ratio just isn't enough to get me motivated to sit for hours bored out of my head doing surveys. I just think there's so many better things you could be doing with your time.
If you're looking for more viable ways to make money online then you can check out my number one recommendation to learn how to earn money online by building a real online business.
You'll get instant access to 10 free lessons, 2 free websites to get you started and join over 100,000+ online entrepreneurs who are already building successful online businesses for themselves.
Plus you'll get one-on-one support from me.

Questions we'll answer in this Survey Club review
What is Survey Club about?
Does Survey Club work?
What do others say?
Is Survey Club a scam or legit?
Does taking surveys really pay?
Let me start by saying I'm not in any way affiliated with Survey Club so, unlike many of the fake reviews you can find online where they give an overly positive slant to try and sign you up, I've tried to make this review as honest and unbiased as possible.
What is Survey Club about?
Survey Club is a little bit different to your usual survey site in that they're more like a directory for survey sites. Prevously known 'Survey Club Research' they were launched in 2005 and claim to have 16 million members.
Available in the U.K., U.S., Australia and Canada, Survey Club is free to join and the sign up process is pretty simple and straightforward. Once you create your profile you'll be offered surveys you can take to earn reward points you can redeem as gift cards.
Here's Survey Club's walkthrough video which explains what Survey Club is about:
If you can find surveys you qualify for, you'll be answering multi-choice questions about your internet suppliers, what kind of phones you have, how you find and book your holidays and so on.
16 million users might sound like a lot but I think you'll find only a tiny fraction of those are active survey takers today. Most people sign up to try it out, take a couple of surveys and realise it's not worth their time.
I personally would never waste my time taking surveys like these but there's a lot of hoo-ha about about survey sites like Survey Club and I can understand why…
The idea of getting paid cash taking surveys online is the first real exposure most people have to concept of making some extra money online to supplement or replace your full-time income. But the reality is, taing surveys is boring as hell and you're going to need to take a whole lot of surveys and waste a lot of hours to get anywhere close to making $10 a day.
And you don't even get paid in cash, it's likely you'll just get an Amazon or Walmart gift card.
For me, I just can't get past the fact that the time you're putting into this could be better spent elsewhere. I'm serious.
Does Survey Club work?

I found the sign up process pretty simple and it didn't take me more than a couple of minutes to get my account set up.
1. Create your free account – and confirm your email. Straightforward enough.
2. Answer a few questions about your nationality, gender and family situation – this is so they can match you with surveys you qualify for.
3. Get access to a list of surveys – some display what you'll get rewarded for filling out the survey but I found most don't.
It's important to keep in mind that Survey Club aren't the ones who will pay because they're basically a directory of different survey sites.
This is why when people ask if Survey Club pay out or not, it's really not down to them to pay you at all; it's up to the third party survey sites they send you to so it really depends on them.
After signing up you'll get a daily email from Survey Club with at least one survey you can complete. The rewards you can get seem to vary from survey site to survey site ranging from $0.50 up to $10 per survey.
As you'll have to earn $20 in rewards before you cash out it might take a bit fo time before you see any benefit from the time and effort you put in and as I say, I think most people get bored and give up before then.
I couldn't finish a survey…
As I say, the sign up process was easy enough, but I couldn't actually get round to completing a survey because I just kept hitting error messages and glitches.
When I tried the first survey I got this message:

I thought that maybe this was just a one-off so I tried another, but a couple of minutes in I was hit with this message:

2 out of 2 surveys didn't work, not a great first impression at all! So I reckoned I'd wasted enough time and didn't try any more.
But apparantely glitches like this are quite common and there are tons of complains from people online saying they've experienced the same thing.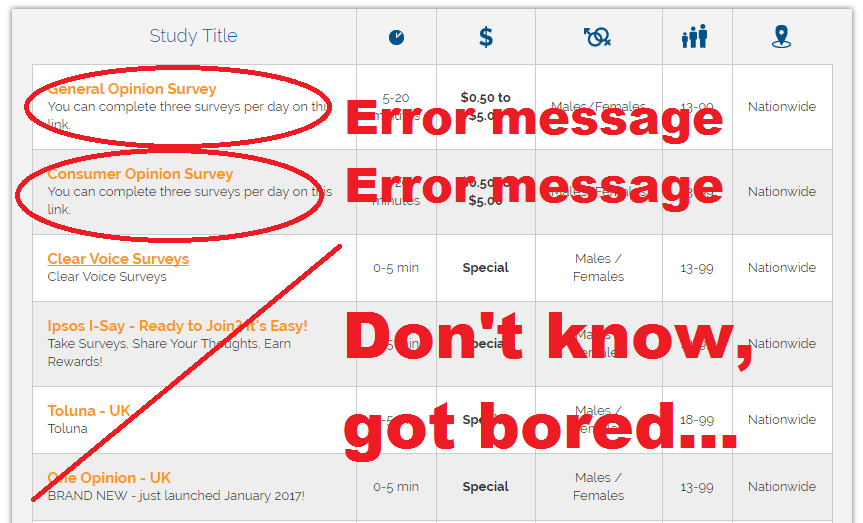 Is Survey Club a scam or legit?
I have to say I don't think Survey Club is a scam. Partly because they're more of a survey directory site than a survey site themselves and generally, people do seem to get paid. But they do send you a lot of spam (more on that in a second.)
Is Survey Club Legit? In a sense yes, but definitely not worth it. You're talking on average $0.50 per survey which could take you 20-30 minutes.
$4 for 4 hours work?
Nah I don't think so.
I say generally because there's some people online who say Survey Club is a scam and are angry because they never got paid out.
Let me tell you, if I sat there taking mind-numbing surveys o accumulate points and then for some reason an error came up and I couldn't even get my gift card, I'd probably be annoyed as this guy who wrote his complaint to the Better Business Bureau: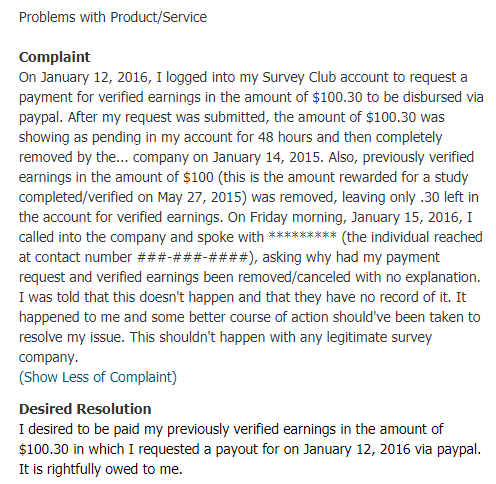 Lots of Survey Club Spam Complaints
One of the most common complaints about Survey Club I've found online are all about the amount of spam you get in your inbox after you sign up.
And apparantely the more surveys you take and the more they know about your spending and lifestyle habits, the more spam they send you.
This might just be me but I suspect that getting your information under the guise of completing surveys might be how the real way they make their money. Think about: I tell them who my cable company is, who my electric is with and then they send me targeted offers promoting their latest offers.
A lot of sites like this can also make  alot of money by selling your information to other sites so they can send you spam too. Once your email gets on lists like these, combatting the amount of spam in your inbox is going to be an uphill battle.
My advice?
If you are going to sign up with them, I'd create a second email for yourself just so that you don't find your normal email account bombarded with spam and no longer usable.
[alert-note]
Be careful with giving your information to Survey Club and the additional companies it links you to.
I used my regular email address for surveys once upon a time and had to abandon it because it got too much junk, unfortunately. It's been sitting for a few years, but this is what the inbox number is right now – that's almost 20,000 emails!
– Wendy @ SurvivingAfterCollege.com[/alert-note]
It can be difficult to find surveys you qualify for
Depending on where you live and if you have dependants or not, you might have a tough time finding surveys you actually qualify for. On the official SurveyClub.com website they guarantee members they will qualify for at least 5 surveys a month but there are some people online saying they can only take 2 surveys a month.
I quickly tried it and didn't actually find a survey that didn't give me an error message. I think finding surveys that work and you qualify for will take you a lot og time in itself.
So when you take all this into consideration, you realistically can't expect to make more than $10 to $20 a month with this, and that's being generous.
More Survey Club reviews
Here's a video review fromNessa at MakeRealMoneyOnlineFree.com and I have to say I 100% agree with what she says here. I think the biggest benefit of signing up to Survey Club is that you can find surveys from dozens of other sites so that can be a big timesaver.
What I like about Survey Club
Free to join and try out
They've been around since 2005
Might be beneficial to sign up to this one site instead of dozens of others
What I don't like
Most surveys don't tell you what you'll earn before taking it
Most people won't qualify for the surveys due to age, nationality or gender
Most surveys they direct you to are very low paying, typically $0.50
Lots of glitches and errors on the site
They send out tons of spammy emails
Does taking surveys really pay?
Survey Club say that you can earn $50-$200 an hour – I really don't see it and have yet to read about anyone achieve anything close to that.
To be fair: Survey Club never claim they can replace your full-time income and they never say they'll make you rich. All they promise you are some rewards for taking surveys, so in that sense they are legit and they're not a scam.
Now of course, like with anything you're only going to get out what you put in and generally speaking, the more you put in, the more you'll get out, but with survey sites like this one you're going to be putting a lot fo time and effort in for little or no reward whatsoever.
As far as choosing the best survey site, Opinion Outpost is one of the best I've seen so far, but the same rule applies – spend hours taking surveys for $1-$2 an hour.
I have to keep coming back to the same point, but really: how much is your time worth to you?
Building up a bit of extra income in your spare time while watching TV might make sense, but the reality is you're going to spend hours and hours answering questions about your personal life and for what?
I would never recommend getting paid to take surveys as a legitimate way to make money online. Why not focus your time and energy on building a real online business instead and forget the gift cards and discount voucher nonsense.
If you want to find out where I learned how to build affiliate websites where I earn up to 50% commissions for ever sale I generate, check out my Wealthy Affiliate review here or click the button below to start my top recommended training for making money online.
The best part?
It's free to start!

I hope you found this Survey Club review helpful and insightful. If you've ever been a member of Survey Club please share your experiences with us below, I'd love to hear from you! 🙂
And as always, if you have any questions at all, be sure to drop me a comment below and I'll do my best to answer you back as soon as possible.
Simon Crowe is on a mission to help as many people as possible kiss their bosses goodbye.
Take the free Commission Academy course to discover how to smash your online income goals and make your dream business a reality.