It's that time of year again which means one thing:
The internet's #1 affiliate marketing training platform is slashing its yearly membership by an incredible 49%.
From Black Friday (Nov 25th) to Cyber Monday (Nov 28th), you have the opportunity to make a real investment in yourself and your financial future and make 2023 your best year yet.
$299 Premium Yearly ($289 off), $499 Premium Plus+ Yearly ($689 Off)
By taking advantage of Wealthy Affiliate's Black Friday Special you are getting access to a year's worth of online business training, tools and expert support for just $299/year. That's a phenomenal price!
You're effectively saving a whopping $289 on your yearly membership, compared to paying $49 x 12 months. When you sit and work it out, that's $25 a month or just $0.82 a day for everything you need to run a 5-figure-a-month business.
This deal is only available until midnight on Monday, so get in while you can!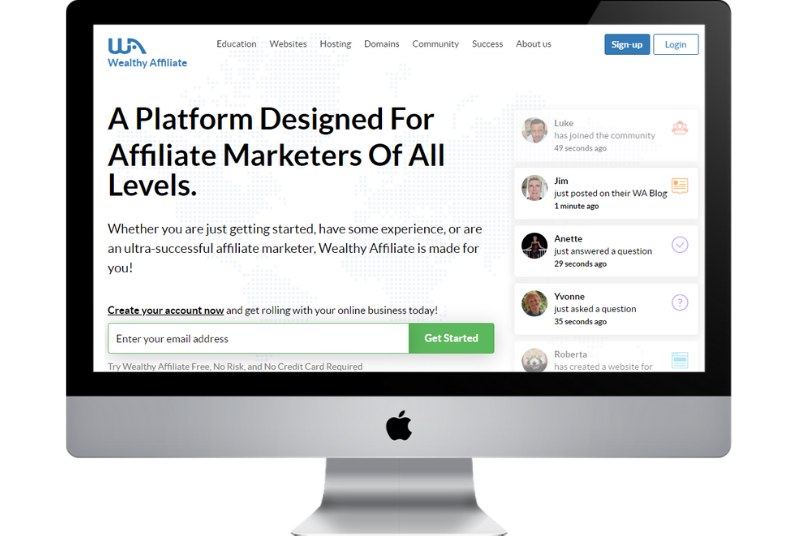 Now Is The Time
To Make Your Dream Business A Reality
What are you waiting for?
Join Today And Get…
Wealthy Affiliate is the ultimate all-in-one affiliate marketing platform that gives you the strategies, tools and support to go from having no idea how affiliate marketing works to generating sales daily.
Take advantage of Wealthy Affiliate's 49% Black Friday discount and you'll get instant and unlimited access to:
1. The Online Entrepreneur Certification Course (50 Lessons)
At Wealthy Affiliate, you're going to get the most up-to-date effective online business education. This 5 module core training course is designed specifically to walk you through the entire process of creating and growing highly profitable affiliate websites.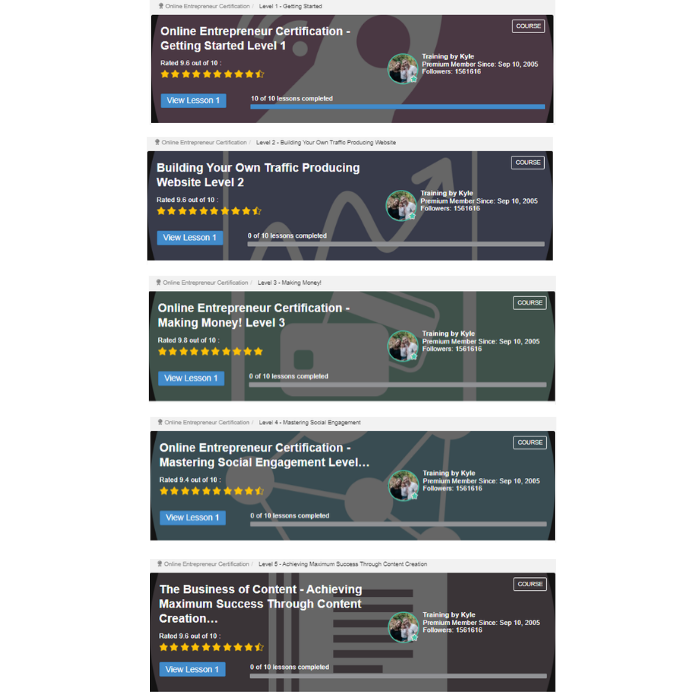 From learning how to choose a niche and how to keyword research, all the way through to finding the best affiliate programs, content creation and search engine optimisation, you'll be building your business as you work your way through the lessons and actionable steps.
2. Affiliate Bootcamp Training Course (70 Lessons)
Complete the comprehensive Affiliate Bootcamp training program and you'll be turned from a complete newbie into a full-time pro.
You'll discover the very latest techniques and strategies for building a thriving affiliate marketing business and growing to scale.
3. Weekly Live Interactive Classes
Each and every week you'll be invited to join a 1-hour live class taught by Jay, a leading online business expert.
Covering a wide range of topics from YouTube marketing and email marketing to website design and maximising conversions, you'll learn what works and what doesn't.
Each session also includes a live Q&A session so you can get expert advice and feedback.
4. Access To A Whole Library Of Expert Education (300+ Hours)
Every live class is available to watch as a replay and you'll have unlimited access to over 300 hours of cutting-edge training and real-life case studies covering every aspect of running a successful online business.
This alone is worth 10x the cost of the Premium membership.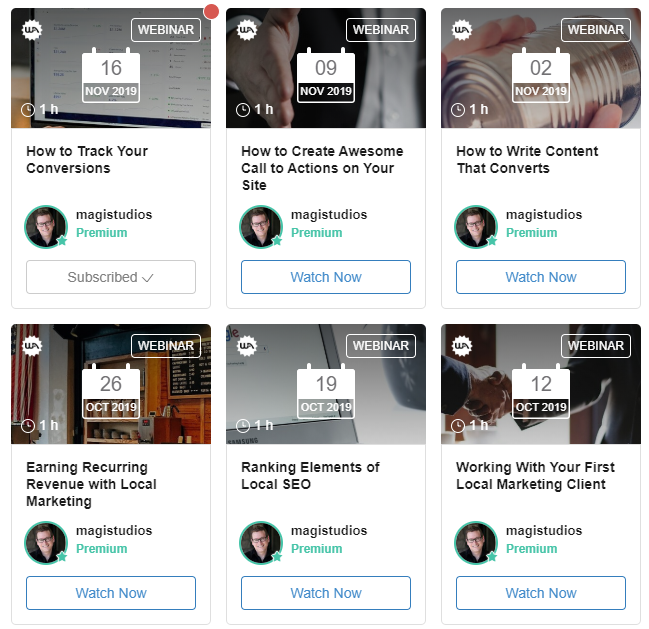 5. Expert Mentoring From The Founders
Unlike any other program I've ever seen, Wealthy Affiliate founders Kyle and Carson are always on hand and available to you for expert one-on-one support. Simply talk to them in the live chat area or send them a private message directly to their inbox and they will get back to you personally.
It always amazes me how quickly they get back to you, especially keeping in mind how many 100's messages they must get each day. But this shows just how committed they are to your success!
6. Community Support 24/7/365
With 1.4 million members from 193 countries across the world, the Wealthy Affiliate community is always buzzing and alive with activity with people asking questions, getting answers, sharing their latest achievements and cheering each other on to success.
From Live Chat to the question and answer areas, 12 specific topic-related classrooms and private messaging, There is a whole multitude of ways you can get instant help when you need it the most.
You'll find they're a friendly bunch who are always ready to give a helping hand.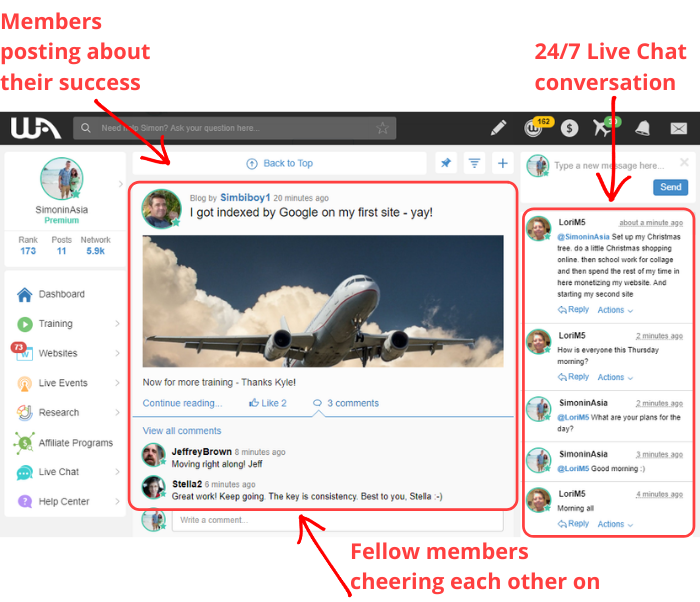 7. State-Of-The-Art Website Builders And Hosting
Rather than just telling you what you need to do, Wealthy Affiliate takes it one step further and actually give you the tools you need to get it done.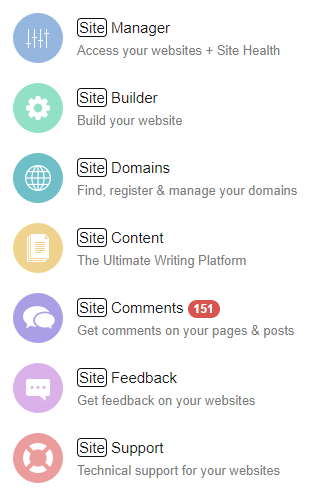 As part of your membership, you'll have unlimited access to the beginner-friendly website builder, complete with 3,000+ WordPress themes to choose from, their domain platform as well as secure web hosting for up to 50 websites included as standard.
8. Around The Clock Technical Support
If you encounter an issue or have any questions about your websites, talk to the technical support team and they'll get right back to you (average response time is less than 5 minutes!)
It's reassuring to know your online business is in very capable hands 🙂
9. Jaaxy Keyword Research Tool
Jaaxy is the must-have tool every affiliate marketer should have at their disposal. Get limitless keyword ideas at the click of a mouse and you can create highly effective content marketing campaigns going forward.
With SiteRank you'll also be able to assess exactly where your website is in terms on Google, Bing and Yahoo search engine rankings that ultimately give you a competitive edge.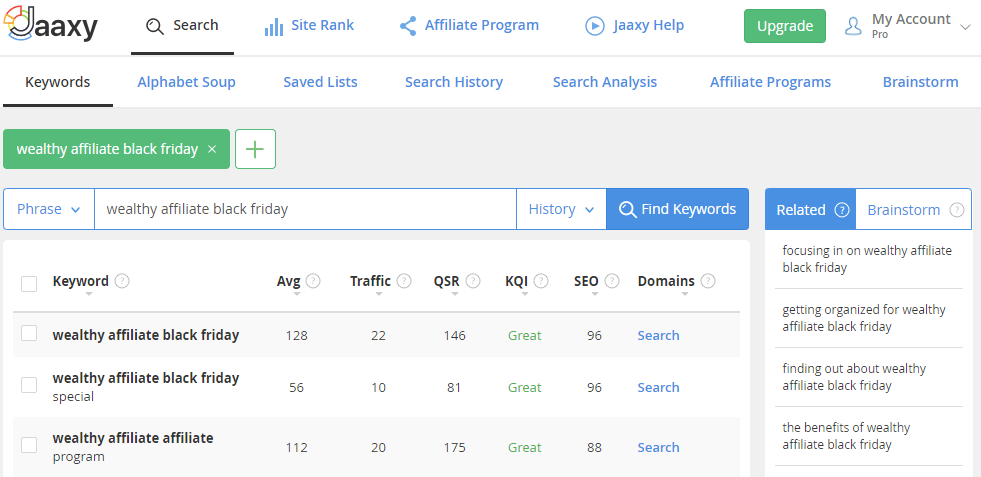 Unbelievably, all this AND MORE is yours for the taking as part of your $299 membership if you sign up this weekend!
3 Reasons To Take Wealthy Affiliate's Black Friday Deal
1. While Others Spend Now And Pay Later, You Get To Invest Now And Earn
Every year on Black Friday we see chaotic scenes in stores across the country as consumers rush to buy the latest appliances and gadgets they don't even need.
It's absolute madness.
Instead of maxing out your credit cards this year, you have a real opportunity here to invest in your online education and build a real online income with minimal investment.
You can either spend the next 12 months paying off your credit card debt or build an income-producing that will provide for you and your family for years to come. Which will it be?
2. Where Else Can You Build A 6-Figure Income For 82¢/Day?
Black Friday or no Black Friday, the Wealthy Affiliate membership represents unbelievable value for money.
Though owners Kyle and Carson have invested millions into constantly developing the platform, they haven't changed their prices since 2005.
By opting into this Black Friday's $299 membership, you'll be grandfathered in at the $299 price, meaning even if they do increase their prices next year, you will still be able to get an additional year for $299.
For less than the price of a coffee a day, you can take your passions and interests and turn them into a thriving online empire, and with 2020 set to be the biggest year ever for affiliates, you owe it to grab this opportunity with both hands.
3. Seriously, If Not Now Then When?
How long have you been dreaming about making money online?
When handed a roadmap to success, will you take it or let this opportunity pass you by? (This may well be the last time Wealthy Affiliate offers this level of discount.)
Believe in yourself enough to invest in yourself and who knows where you could be in 6 months, 1, 3 or 5 years from now!
Wealthy Affiliate Changed My Life (Understatement)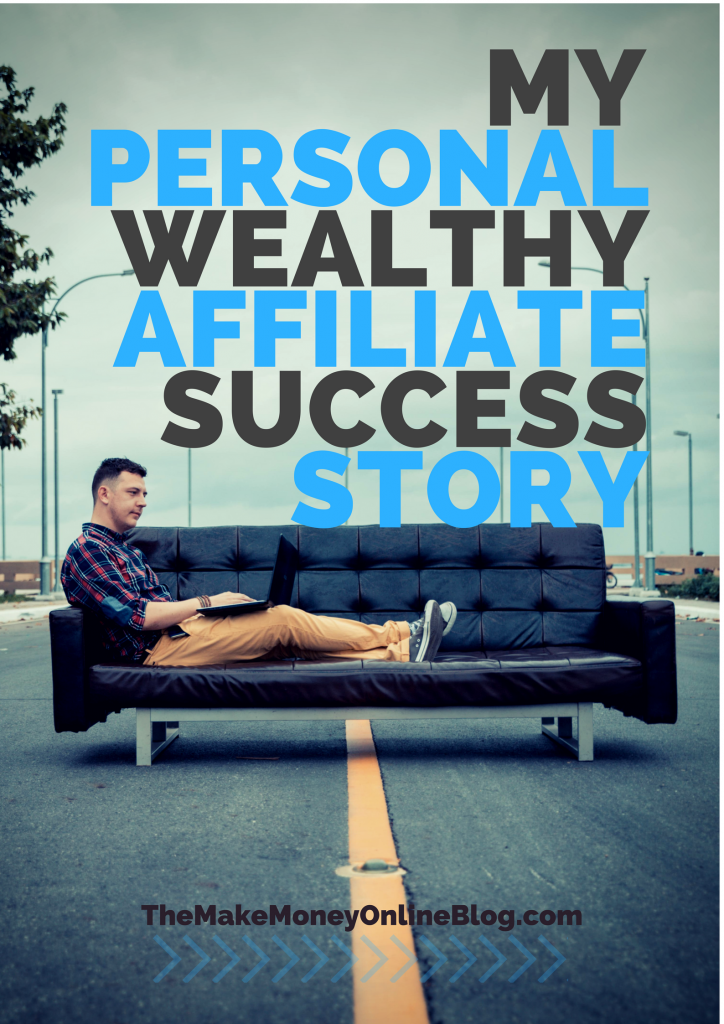 Hi, I'm Simon and I joined Wealthy Affiliate as a Free Starter Member in March 2015 and I've never looked back.
Back then I was working a call centre job I hated and living in an upstairs bedroom of my mum's house.
I had always dreamed about travelling the world and even made it to Thailand a couple of times, but I always had to come back to the UK to work and save up money so I could go back again.
To stop simply dreaming about living the life I wanted, I knew I had to take action.
I needed to learn how to create income-generating websites that I could run from anywhere in the world.
I needed to tap into the limitless earning potential the internet gives anyone willing to learn and put in the work.
So when I somehow stumbled across the Wealthy Affiliate training platform I was driven, motivated and hungry for success. I dived into the training modules and started building out my first-ever website.
Then it happened:
My first-ever sale – I was over the moon! (I blogged about here)
That was enough to keep going, so I upgraded to the Premium Membership and over the next 12 months I built a $2,000/month income stream from one website alone.
I decided it was high time to break out of my tiny call centre cubicle, kiss my boss goodbye and book that one-way ticket to Thailand – so that's exactly what I did.
Since then I've:
Built several profitable affiliate marketing sites
Achieved my first $1,000 day (twice in the same week!)
Consistently earned over 6-figures a year for the last 3 years
Travelled to Cambodia, Laos, Philippines, Rwanda and Turkey
Qualified for an all-expenses-paid Wealthy Affiliate Conference in Las Vegas
Planning to marry my Thai fiancé in February 2020


All this has been made possible because I made the right decision to invest in Wealthy Affiliate's training and put in the work to apply it…
I say this not to brag, but to prove that if you are ready to take action, Wealthy Affiliate will give you a clear roadmap to follow that actually works.
Can I Read The Success Stories Of Other Wealthy Affiliate Members?
Want to read stories from members who started out as complete novices and have gone on to achieve financial freedom?
I've got you covered.
Wealthy Affiliate has proven itself over 14 years, in 193 countries with 1.4 million members.
First 1,000 email subscribers, first-ever affiliate commission, first $100 day…
Every single day you'll see members posting about their success.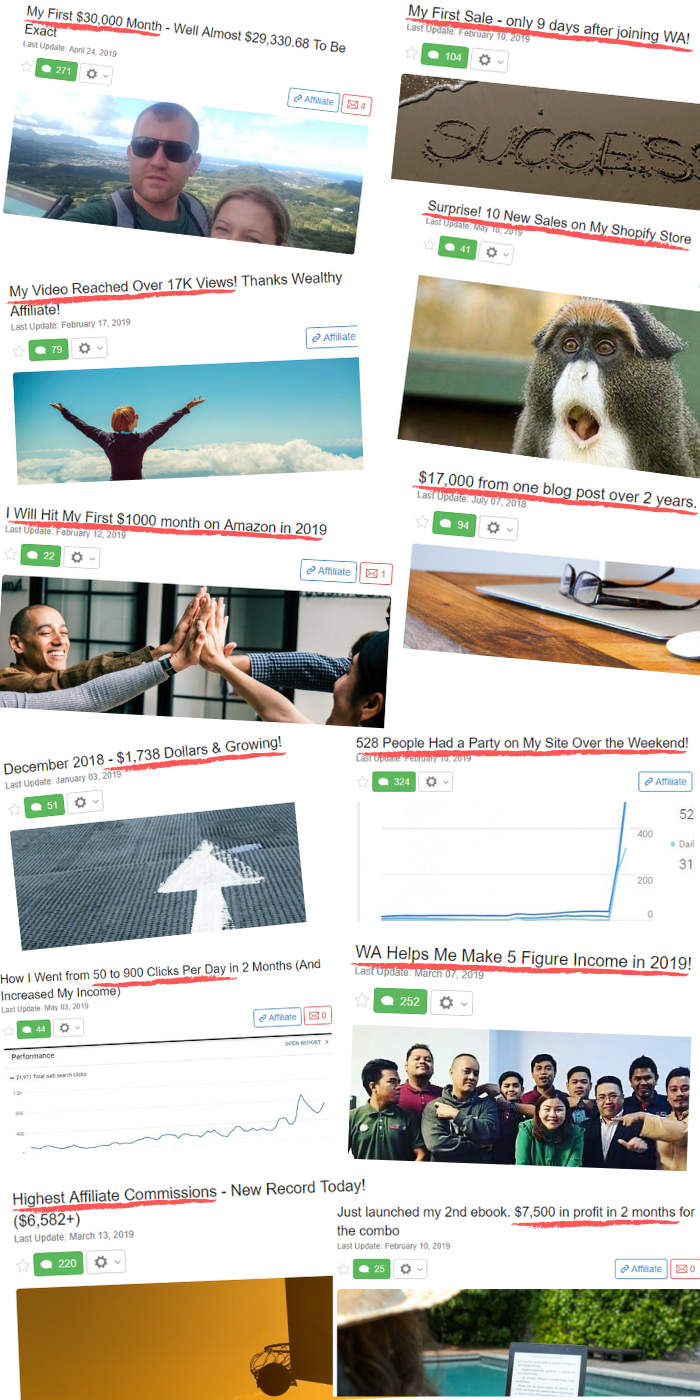 Will Wealthy Affiliate Work For You?
If the step-by-step process laid out in the core training modules worked for me and has worked for countless others, then absolutely Wealthy Affiliate will work for you!
If you've got the drive to succeed then Wealthy Affiliate will give you a tried and tested roadmap to success and guide you every step of the way.
Old and young, experienced and inexperienced, the Wealthy Affiliate training has been proven to work for college students, stay-at-home mums, 40-somethings and retirees.
Most Wealthy Affiliate members fall into one of these three categories: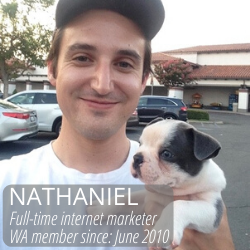 ASPIRING ENTREPRENEURS READY TO TAKE ACTION
Has it always been your dream to build a lucrative online business you can run on your own schedule, reach a truly global customer base and generate sales around the clock?
Wealthy Affiliate will show you the practical steps that will give you the strongest start possible and show you the practical steps you need to take to make it happen.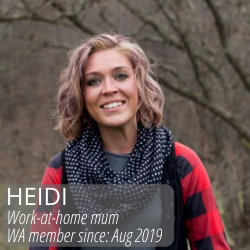 BEGINNERS WANTING TO ESCAPE THE 9 TO 5 & SACK THEIR BOSS
Deciding to take the leap and start my own business has been one of the best decisions I've ever made and one of my proudest achievements.
Even if you've never created a website and have no idea what SEO is, with Wealthy Affiliate's over-the-shoulder training you're in good hands.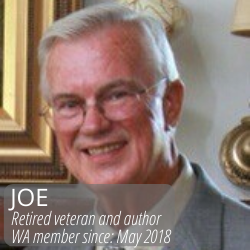 SUCCESSFUL AFFILIATE MARKETERS LOOKING TO TAKE THEIR INCOME UP A GEAR
Already have a website?
Ready to take things to the next level?
Wealthy Affiliate will help bridge the gap.
The training will teach you proven marketing strategies to maximise your affiliate income.
Your Success Story Starts With The Next Step
"You will never leave where you are until you decide where you'd rather be." – Dexter Yager
Now if affiliate marketing is genuinely not right for you, I respect that, but if it is and you really want an online business generating sales for you around the clock, then you essentially have 3 starting options:
1) Create your Starter account and test drive the platform for free and see if it's a good fit.
2) Go For Premium Monthly at $49/month
3) Grab the Wealthy Affiliate Black Friday special for full access at a 49% discount.
Moving forward with any of these is going to give you a real advantage over other people trying to launch a successful affiliate marketing business without a structured training program and 24/7 support.
Wealthy Affiliate Black Friday FAQs
Q. Exactly how long will the 49% Black Friday discount be available?
A. The offer starts on Black Friday and runs until midnight on Cyber Monday (Nov 25th – Nov 28th 2022)
Q. Is this deal going to be offered again?
A. This offer has run for a few years now so I imagine it probably will be, but there are no guarantees, especially when you keep in mind they haven't raised their prices since they first launched back in 2005. This could very well be the last year you can ever get this $299 rate.
The good news is, once you sign up for the Black Friday deal, you're membership costs will always remain the same for as long as you're a member, even if Wealthy Affiliate put their prices up.
Q. Can I cancel at any time?
A. Yes, absolutely. You are in full control of your membership and can cancel at any time.
Should you, for any reason, choose not to go ahead with renewing your membership next year, simply login to your account, go to account settings and cancel your subscription.
Q. I am already yearly, can I take advantage of this offer?
A. Yes, You definitely can. Your membership will be pro-rated based on the time that you have left on your membership, regardless of which membership you choose.
Q. I am a past Black Friday member, will I be subject to a price increase this year?
A. No. Once you purchase a membership at a given price, you will have the ability to recur at that price in subsequent years. So you are not subject to a price increase, EVER!
Q. I am a Black Friday member from past years, and I want to upgrade to Premium Plus+. Can I downgrade next year back to my current Black Friday Premium price if I want, or will I be subject to a price increase?
A. As a current Black Friday Premium member, you can upgrade to Premium Plus+, and then downgrade to Premium next year and you will be grandfathered into your current Black Friday pricing. 🙂
Q. Can I upgrade to Premium Plus+ from Premium, and then go back to Premium at another date?
A. Yes, you can upgrade to Premium Plus+ from Premium. It will be discounted by the time left on your existing billing. You can then downgrade to a Premium membership next year.
Q. I am on a tight budget, so I need to get funds in order. How long is the promotion?
A. 4 days. The Black Friday offer runs from noon on November 25th, 2023 (Friday), through 'til midnight on November 28th (Monday).
Q. I want to upgrade to a yearly membership right now, should I do that or go ahead and wait until this offer?
A. You should wait until the offer.
Q. Can I buy multiple year's at once?
A. At this point, you can only buy one year at a time. Do know that you will be grandfathered in at the price that you pay this year, in subsequent years.
Q. Is this going to be offered again?
A. We don't know and likely not in the same format this year (and maybe not price point). We have a lot of awesome stuff coming in 2021 and with that may come some changes to the pricing. We typically have an offer once per year on Black Friday, but we cannot make any guarantees on next year's offer.
Q. Can all levels of membership take advantage of this offer?
A. Yes, Starter, Premium & Premium Plus+ members will be able to take advantage of the Black Friday offer and get all the bonuses.
Q. What happens if I just paid my monthly membership, what will my cost be?
A. If you are a Monthly Premium member, your Black Friday pricing will be pro-rated based on the time you have left on the monthly billing cycle. For example, if your recurring date is on November 25th for $49 and on the 27th if you decide to upgrade, it will be pro-rated based on that and will likely be around $395 or $795 – $46 = YOUR PRO-RATED PRICE.
Q. I'm already grandfathered in at the Black Friday price from last year. Can I still get this year's Black Friday bonuses?
A. Yes, if you are a recurring Black Friday member you will also get access to ALL of this year's bonuses.
Q. How are the bonuses delivered?
A. All bonus details will be sent to you immediately upon upgrading to the Black Friday offer. This includes the exclusive live class schedule, as well as anything that is downloadable, will be available right away!
Q. Why are you guys so awesome?
A. Well… (I made this question up LOL).
Q. Can I promote this offer and earn $$?
A. Absolutely, in fact, this is our most lucrative opportunity of the year for affiliates.
Check out How to promote Wealthy Affiliate like a pro:
Want to find out more? Check out these helpful articles for details:
Got Questions About Wealthy Affiliate's Black Friday Sale?
Got any questions before starting out on your online business journey?
Scroll down and ask below and I'll be sure to get back to you personally.
If you're an existing member, will you be taking part in the Black Friday offer and if so, why?
I'm really looking forward to hearing from you 🙂
Simon Crowe is on a mission to help as many people as possible kiss their bosses goodbye.
Take the free Commission Academy course to discover how to smash your online income goals and make your dream business a reality.