Hey I'm Simon and welcome to my Thumbnail Blaster review where I'll give you an inside look at the training and software to help you decide if Thumbnail Blaster is right for you.
The Thumbnail Blaster sales page says this new A.I. software will result in higher view counts for your YouTube channel.
How?
By giving you easy-to-use video thumbnail creation software, complete with pre-made templates split testing capabilities that you can use on new or existing videos.


So what's the deal here? Can Thumbnail Blaster really help you increase your YouTube clicks, views and sales or is the sales page full of hot air?
I decided to put the software to the test. Here's what I found out:
Thumbnail Blaster Review At A Glance
About: Thumbnail Blaster is a graphic editor for YouTube video thumbnails.
Price: $27.75 for the front-end and $198 for 4 upsells.
Pros: Has image analyzers and split testing function, good alternative for Canva.
Cons: Expensive upsells.
Verdict: Thumbnail Blaster is legit. It's a good alternative for paying freelance designers or a Canva subscription.

What Is Thumbnail Blaster?
Created by Stoica and Vlad M, Thumbnail Blaster is a new editing software editor that gives you the ability to create eye-catching thumbnails for your YouTube videos. With tried and tested templates and split testing software, you can optimise your videos to increase your traffic and sales.
What I really like about this software is its simplicity – it does exactly what it says it does.
At just $27, Thumbnail Blaster is a great alternative to Canva.com as it's specifically designed for YouTube and comes with over-the-shoulder training showing you exactly how to use it.
Whether you're looking to start a YouTube channel or you already have one, Thumbnail Blaster gives you an advantage over your competition by making sure you're using the most eye-catching thumbnails resulting in more click-throughs, higher YouTube and Google rankings, more views and potential money-making opportunities.
How The Thumbnail Blaster Software Works
Inside the member's area you'll have access to the 3 main tools that make up Thumbnail Blaster:
1. Thumbnail Creator
Once you've connected your YouTube channel you'll see a full list of your uploaded videos you can select and customise the done-for-you templates or create your own from scratch to get the exact look you want.


Everything is customisable – the text size, font, background colours and images.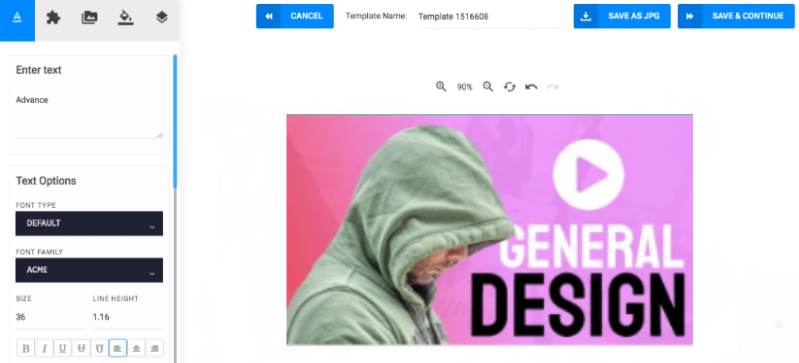 Once you're done, simply upload to your YouTube channel directly or download the image and do it yourself manually.
2. AI Image Analyzer
The AI Image Analyzer is a really clever tool that scans your thumbnail and gives you a rating based on how racy, adult etc. they think it is so you can make sure you don't accidentally fall foul of YouTube's community guidelines and get your video penalised.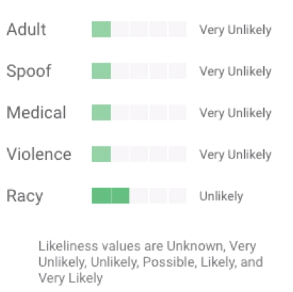 3. Split Testing
I'll be honest:
The reason Thumbnail Blaster caught my attention because I think the Split Test feature is just genius!
It's so easy to create a split test – just create 2 different designs and the software will automatically measure which one gets the most clicks for you and then set that as the thumbnail at the end of the time period you set. There are no limits to how many times you can do this either.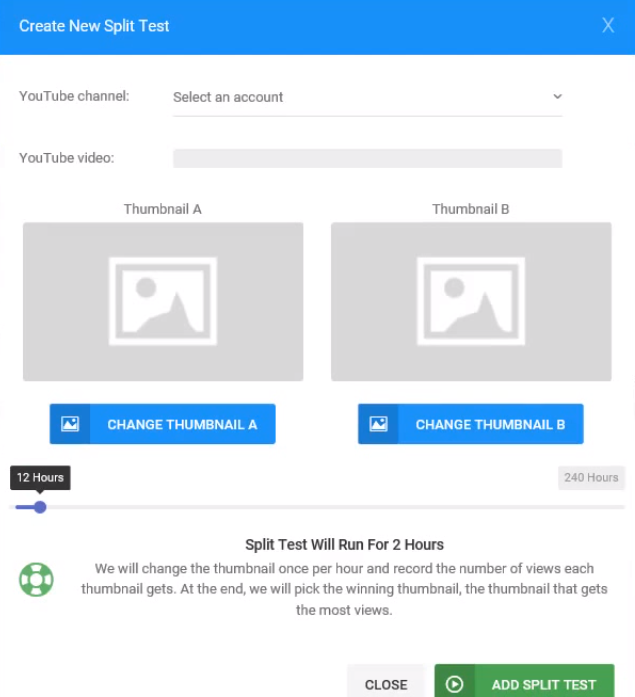 This is a powerful tool because the click-through rate of a video is one of the major factors Google and YouTube look at to decide how to rank videos your videos.
So let's say, for example, you have a video that's ranking second for a particular keyword that's achieving, say a 20% click-through rate, but the video in the top position is only getting a 15% click-through rate, guess how long it's going to be before your video hits the top spot.
Seen Enough? Get Full Thumbnail Blaster Access >>
How Much Does It Cost?
Right now can access the Thumbnail Blaster software for $27.75 but I'm not sure how long it will be available at this price.
You'll be glad to know this software also comes with a solid 30 day 'no questions asked' money back guarantee.
There are, however, a few upsells you should be aware of. Let me just give you a quick rundown:
Upsell 1: Pro Upgrade ($47 One-Time)
With this, you can save your own templates and get full and unlimited access to the Thumbnail Blaster support team.
Upsell 2: Agency Upgrade ($67 One-Time)
You would only need this if you wanted to create thumbnails and sell them to others, say as a freelancer on sites like Fiverr for example.
(See: 3 Ways You Can Use Thumbnail Blaster To Make Money below)
Upsell 3: Template Club ($27/Month)
Remember how I said the templates were a little limited in my opinion?
For a monthly subscription, the Template Club gives you 20 new templates per month plus 20 VIP templates.
Upsell 4: Lingo Blaster Pro ($57 One-Time)
Finally, Lingo Blaster gives you the ability to translate your video titles and descriptions into over a hundred different languages.
3 Ways You Can Make Money With Thumbnail Blaster
I just want to take a minute to run through some of the many different ways you can make money with the Thumbnail Blaster software:
1. Make Money With YouTube Ads
Monetising it with ads is what most people think about when making money with YouTube.
And it's easy to see why – it's an easy and passive way to make money without having to do much else.
Once you've got over 2,000 subscribers, you can apply to the YouTube Partner Program who display ads on your videos and pay you a small amount per view.
Of course, as your channel grows over time, so will your income…
According to BusinessInsider.com, you can expect to earn an average of around $2,000 per million views.
2. Make Money With Affiliate Marketing
Affiliate marketing is by far my favourite way to make money online because it has the greatest earning potential.
Once your channel attracts a loyal fan base there are endless products and/or services you can promote and get a 5% – 80% commission.
If you're interested in learning more about affiliate marketing then make sure you check out my Wealthy Affiliate review here.
Wealthy Affiliate has been turning complete beginners into full-time affiliate marketing pros for the past 14 years and their Starter membership gives you the perfect opportunity to try out the training platform for free.
3. Make Money As A Freelance Designer On Fiverr
Equipped with Thumbnail Blaster's design software, why not make some quick extra cash by creating video thumbnails for other people?
You can offer your services on freelancing sites like Fiverr and earn $5+ for each thumbnail you create.
You'd be surprised, there are so many YouTubers out there who don't optimise their videos thumbnails and have no idea how to go about it.
Simply start by creating your gig and you never know, if you complete a few gigs and build up a solid reputation it could turn into a nice little side hustle for you.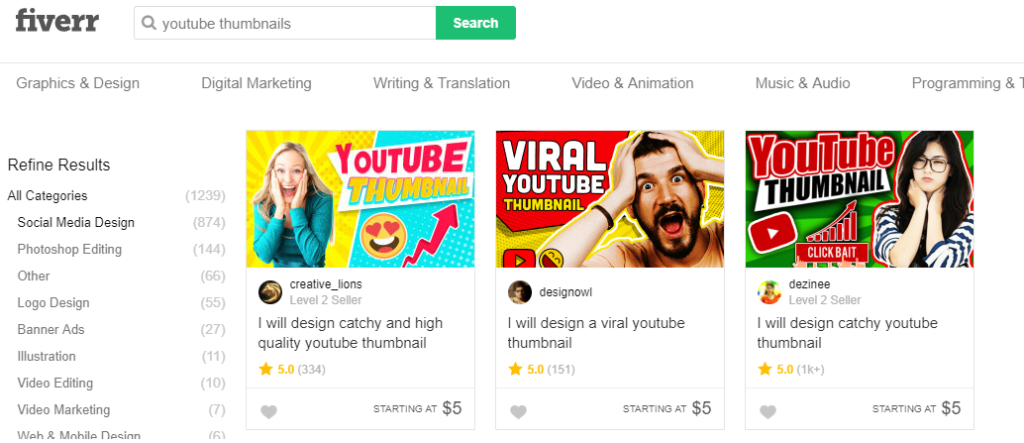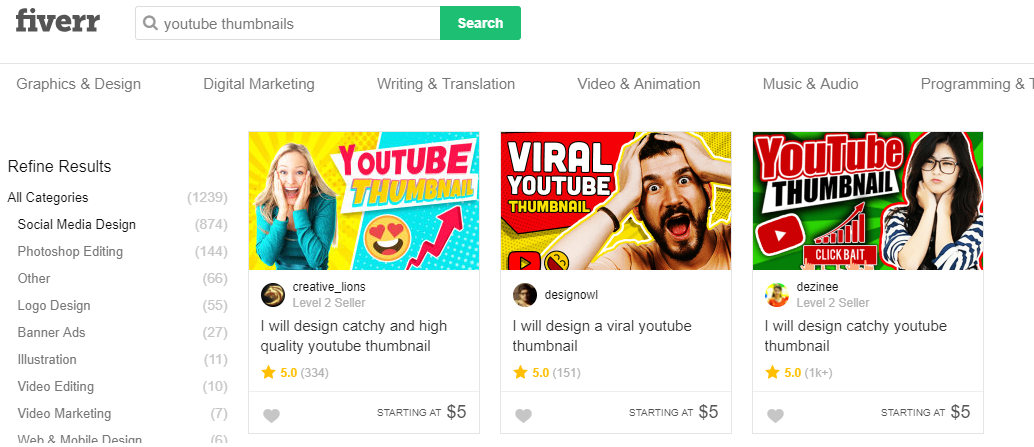 Thumbnail Blaster Final Rating: 80/100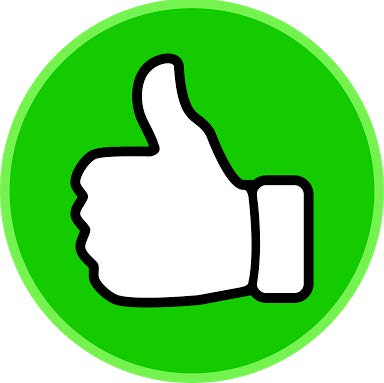 Having eye-catching thumbnails can make or break your YouTube channel, when combined with keyword research tools like Jaaxy, Thumbnail Blaster is a legit and brilliant alternative to paying over the odds for freelance designers.
Whether you're an aspiring or established YouTuber, I think this is a no-brainer and should buy Thumbnail Blaster and have no doubts about it.
Creating attention-grabbing thumbnail is, for sure, one of the best ways to increase your YouTube's rankings and in my opinion, Thumbnail Blaster gives you a simple yet effective way to do that.
What Do You Think?
Now you've read my review of Thumbnail Blaster and seen some of the ways you can make money with it, what do you think?
If you still have questions or you'd like to share your own experiences with this software, feel free to scroll down and share them with us below.
Simon Crowe is on a mission to help as many people as possible kiss their bosses goodbye.
Take the free Commission Academy course to discover how to smash your online income goals and make your dream business a reality.