Hi and welcome to my no-holds-barred YTA Method review.
Before you go ahead and shell out $997 for this course make sure you read this review in full because I'm going to do my utmost to answer this all-important question:
Is The YTA Method a scam or a legit make money online course worth buying?
Last night I watched Coffeezilla (one of my favourite YouTubers) debate YTA Method creator Caleb Maddix – it got pretty heated!
If you haven't seen it yet, here it is:
So I figured this would be a good time to do a bit of digging of my own and publish a proper review.
Here's what I found out:
The YTA Method Review At A Glance
About: The YTA Method is an 8-week masterclass designed to show you how to profit from YouTube.
Price: $997 or 2 payments of $597. There's also an upsell for $10,000.
Pros: Reports suggest they honour their 30-day money-back guarantee.
Cons: Caleb's misleading claims. Full of outdated, misleading info and bad advice.
Verdict: Possibly of value to Caleb Maddix fans, but likely overpriced and underwhelming for everyone else.

What Is The YTA Method?
The YTA Method stands for The YouTube Automation Method and is an 8-week masterclass created by Caleb Maddix launched in April 2020.
18-year-old Caleb doesn't hold back from hyping up his product; he says in his sales pitch that YTA Method is "the greatest online training you'll ever see" that will show you "the greatest opportunity of our era" and once you find out what The YTA Method is you're going to be blown away.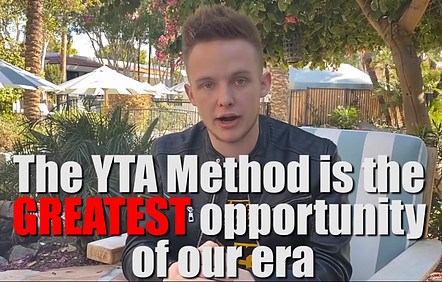 He goes on to say he can show you a brand new and radical way to profit from YouTube without being a YouTuber, without video editing and without ever showing your face.
Follow his step-by-step formula and discover his "OPC Hack" and he says it's nearly impossible to fail.
We got ourselves some pretty wild claims right there…
After the hard sales pitch, he invites you to click a button to secure your spot for his 90-minute "Live Event" (it's NOT live by the way) and that you'd better check availability fast because he's not letting everyone in.
If you think this all sounds a bit too good to be true then you'd be right. I was sceptical too. While there are legit training programs out there, as well all know too well, there's also no end of make money scams promising the key to making millions online.
Watch the video below to hear Coffeezilla on why The YTA Method is anything BUT the greatest money-making opportunity of our lifetime:
How YTA Method Is Supposed To Work
Step 1: Find A Faceless YouTube Channel That Gets Millions Of Views And Makes Millions Of Dollars
This is where Caleb's OPC Hack (Other People's Content) comes into play; the idea is you find already super successful YouTube channels to see what types of content have already gone viral.
Step 2: Create A Channel In The Same Niche
Then you go ahead and create a YouTube channel in the exact same niche as them to hopefully duplicate their success.
Step 3: Hire An Overseas Virtual Team
In this step you instantly start using outsourcing sites like OnlineJobs.ph to hire people to create all the YouTube videos for you, to do all the editing and make all the thumbnails making it entirely automated.
Step 4: Make Passive Income Without Ever Stepping In Front Of The Camera Or Behind A Microphone
How is this possible?
Because the types of automated videos we're talking about here are faceless videos where you rip content off of Reddit forums and use text to speech software.
Step 5: Scale Up By Creating More YouTube Channels
Once you've got one channel up and running, Caleb says you can simply rinse and repeat the process again and again until eventually, you have a whole network of channels getting a ton of views and earning you a passive income through YouTube ads.
How Much Does YTA Method Cost?
At $997 or 2 payments of $597 YTA Method does NOT come cheap.
Yes there's a 30-day money back guarantee in case your try it out and decide it's not for you, but we've only got his word on that and from what I've seen so far, his word really doesn't mean much.
They'll also try and sell you on the YTA Mastermind upsell which will set you back a gargantuan $10,000 – and nope, that's not a typo!
Making money online isn't complicated…
This video will show you exactly how to get started. Tap to watch now »
Inside YTA Method
Sign up as I did and you'll get instant access to the YTA Masterclass which looks like this: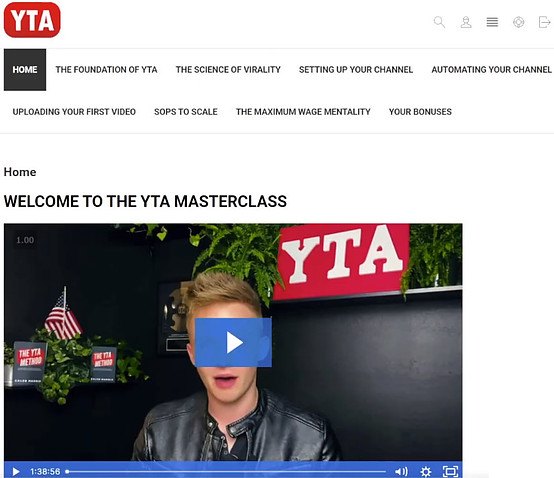 As you can see, the whole training is broken down into 8 sections. I've gone through it all and the first thing I'd say is there's a lot of great training in there that would be very helpful to anyone looking to start a YouTube channel.
Caleb gives you some good advice on how to increase your videos' click-through rate by optimising your headings and thumbnails, as well as how to outsource a lot of your tasks by building and training a team of video editors and image creators through sites like Fiverr and Upwork.
I also liked the "Maximum Wage Mentality" section that talks about how you need to change your mindset before you can become wealthy.
There's also the YTA Community; a Facebook group where you can get help and support if you need it which is always handy especially when you're learning something new.
All in all, I was very pleasantly surprised by the training. Although I couldn't disagree more with his approach, the methods he teaches are well-presented and easy to follow.
Caleb Is Right About One Thing…
If you're looking to build an online business then YouTube is one of the best places to do it. 5 billion YouTube videos are watched every day and YouTube paid out $6 billion to their creators in 2019.
No doubt about it – there is A LOT of money to be made!
There's a variety of ways you can make money with YouTube once your channel is gaining momentum:
Get 4,000+ watch hours and 1,000+ subscribers and you can monetise your channel with YouTube's Partner Program to earn money through ads
You can sell your own merchandise
Earn up to 75% commissions promoting products through affiliate marketing
And yet making money with YouTube ads is the only monetisation method ever mentioned within The YTA Method. And here's something else you won't hear anywhere in the training:
To be successful on YouTube you actually need to create your own content!
Copying and pasting Reddit posts and paying someone to add a robotic voiceover just isn't going to cut it in 2021! Sure, you could've got away with that a few years ago but not now, especially if you're depending on YouTube ads as your sole source of income.
3 Major YTA Method Red Flags Exposed!
1. "It's Going To Cost You $30-$100 Per Video"
Caleb's words, not mine.
As you'll be outsourcing all the researching, video and thumbnail creation and editing, this is going to cost you.
According to Caleb, this could set you back anywhere up to $100 per video depending on what niche you're in.
I'm all for building income-producing assets, but before you decide whether or not you're going to do this you need to make sure you have the money set aside to be able to pay for all this.
2. You Are Solely Relying On YouTube Ad Revenue
Ever heard the saying: "Don't put all your eggs in one basket"?
Well, that's exactly what you're doing when you invest all your time and money into building up a YouTube channel where the only income source is YouTube ads.
And if you do everything they tell you in the training then there's no question about it, your channel WILL inevitably get demonetised.
Which leads me on to the third and final red flag…
3. YTA Method Doesn't Work In 2021 And Beyond
Go back 5 or 10 years and automated videos were everywhere on YouTube. I admit I've binge watched a fair share of Reddit text to speech videos in my time.
Search YouTube and you'll see whole dedicated Reddit channels with a ton of views and subscribers.
So what's the problem?
None of these are monetised, at least not with YouTube ads as far as I can tell.
And you wanna you know why?
Because YouTube updated their terms of service in 2019 to say they will no longer allow YouTube ads on automated channels exactly like the ones you'll be making with YTA Method.
The reason is simple – though it may be easier to scrape content from Reddit, you're not actually creating anything of value or unique.
Simply put: instead of being the biggest income opportunity of our generation, the YTA Method is a lazy shortcut to making money with YouTube that no longer works.
Is The YTA Method A Scam Or Legit?
I wanted to give Caleb Maddix the benefit of the doubt but unfortunately, I have to say I've seen him use fake scarcity tactics and hype to sell a product that he's learned from some of the biggest fake gurus in the online space.
Some would call this deliberate deception and a scammy sales technique from a fake guru and others would say it's just plain old good marketing.
For me, whether or not YTA Method is a scam depends on whether or not it actually delivers what it promises.
So, does it do what it says it will do?
Honestly, I think not.
After reviewing 100's of online training programs I can say with confidence that The YTA Method isn't the greatest online training course I've ever seen and I definitely don't think it's worth the hefty $997 price tag.
But BY FAR the biggest reason I won't be recommending YTA Method is that it doesn't give you a viable way to generate an online income stream like they said it would.
It clearly does not come as advertised and you're going to find it extremely difficult to try and make any money with this due to the already outdated methods they teach.
Ready To Earn A REAL Income Online?
Honestly, if you want to make serious money online then forget about the fake promises and hyped-up earning claims.
You can keep looking for shiny shortcuts or you can start investing in your long-term success by learning how to create a real and profitable business online.
Thanks to Wealthy Affiliate's step-by-step training I:
Was finally able to kiss my call centre job goodbye
Book a one-way ticket to Thailand
Make at least $7,000 every month
Earn over $1,200 in one day
Officially become a super affiliate and get an all-expenses-paid trip to Las Vegas
Check out my SUPER in-depth Wealthy Affiliate review to find out more about the ultimate all-in-one training platform that will give you the tools and support you need to launch your online empire.
And the training works – it's been proven time and time again. But you don't have to take my word for it, you can try it out yourself for free here.
What's Your Take?
That's it for my YTA Method review. I hope you've found this helpful and I applaud you for taking the time to do your research before signing up to any program, especially one that calls itself the greatest training program ever created.
Is Caleb Maddix yet another fake guru like Coffeezilla says he is or is just a slick 18-year-old marketer who knows how to sell?
Either way, let us know what you think in the comments.
Simon Crowe is on a mission to help as many people as possible kiss their bosses goodbye.
Take the free Commission Academy course to discover how to smash your online income goals and make your dream business a reality.