Hi and welcome to my no-hold-barred Smart Dollars Club review where I expose this online scam that's trying to convince you they're a legitimate paid survey site…
Because they are anything BUT!
The anonymous Smart Dollars Club website owner (and we really have no idea who is behind this) really wants you to give them your email address.
Like dangling a carrot in front of your face, they'll tell you signing up and making $100 per survey is a super fast, fun and easy way to make $300 a day…
But I've reviewed 100+ survey sites (here's the full list) and you're lucky if you can make $1 an hour.
So what's really going on here?
And why are they so eager to get a hold of your contact details?
Let's find out.
Smart Dollars Club Review At A Glance
About: Smart Dollars Club is a scammy website disguising itself as a survey site promising to help you make $300 online.
Price: Free to join.
Pros: There are none.
Cons: Misleading marketing, they sell your personal info and are part of a larger scam network.
Verdict: Avoid Smart Dollars Club. Joining only puts your personal info and money at risk.  

What Happened When I Signed Up
First off I urge you NOT to do what I did – I went ahead and signed up, against my better instincts so you don't have to!
There's a form on the website to enter your email address with a promise you'll earn up to $300 a day. Furthermore, they say sign up and you'll be sent a $100 right away…


Once I put in my email and hit the button, I received this email within seconds: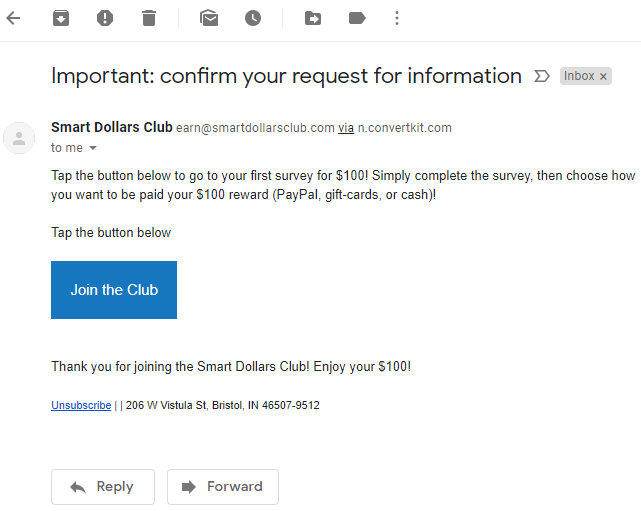 They ask you to confirm your email by tapping the big blue button so you can complete your first survey and earn $100, but here's where the problems start…
Instead of being taken to a survey to fill out, I was redirected to a random gambling site called Bet365.
I was a bit confused at first and thought maybe something went wrong so I clicked it again. This time I was taken to yet another site called PlanetWin365.
No surveys, no $100, not even a Smart Dollars Club dashboard area…
Just spammy links to gambling sites where the owner makes a commission if I sign up. No thanks!
What Is Smart Dollars Club Exactly?
Smart Dollars Club is a scam website disguised to look like a free-to-join legitimate paid survey site where you sign up to make extra cash. Lured in by promises of easy $100 surveys, you get your computer infected with malware and your inbox gets pummeled with spam.
In truth though, you just can not make money with Smart Dollars Club… there's literally no income opportunity here.
And that's because this is specifically designed to put money in the scammer's pocket, not yours. That's why you'll see big numbers like $100 a survey and $300 a day being thrown around – they'll pretty much tell you anything to get you to sign up.
Now they know you're looking to make money online and armed with your email address, they can bombard you with promotional offers and get-rich-quick scams.
You might think who would actually click on spammy links and sign up, but you'd be surprised at how many people fall for the usual hyped-up income claims and promises of the latest internet money-making system.
We also don't know how many schemes this guy's got running. It could be dozens. Send out an email to 1,000s of people and you're bound to get a few clicks.
5 Reasons To Shun This Colossal Scam
In case you're not yet convinced this is a total waste of your time, energy and money, here's why Smart Dollars Club is undoubtedly a scam you want to avoid:
1. They Lie To You From Get-Go
As soon as I hit the 'Join the Club' button and found myself on the Bet365 betting website, I knew I'd been duped.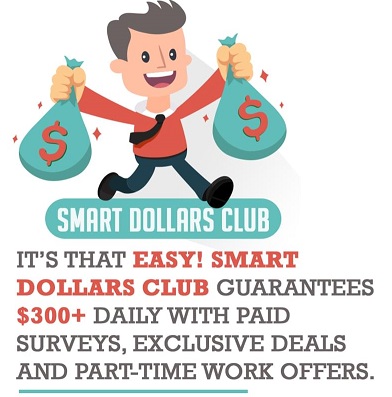 The empty promises, the homepage with the fancy infographic, all of it is a hoax designed to trick you into giving them your email and already I'm starting to see their spam hitting my inbox.
2. There Are No Smart Dollars Club Surveys
It's pretty hard to make $100 for filling out a survey when there are literally zero surveys! There is no way to make money with this – you're basically signing up to be spammed.

What does that tell you about how trustworthy these guys are? This site is pointless and a complete waste of your time.
3. There's Something Going On With Sinister Malware…
Thankfully I haven't had any issues with my laptop (though I just had my antivirus do another scan) but look online and you'll see lots of people complaining about clicking on email links and getting error messages coming up on their screens.
Some people even report that when they clicked these links they were redirected to their Google and PayPal accounts.
Though I can't say for sure because I haven't experienced it myself, I think if you join this scam you open yourself up to all kinds of potential fraud and identity theft.
You've seen what happened when I joined and that there's just no reason at all for you to sign up and it's just not worth the risk.
4. This Scumbag Will Sell Your Personal Information
Smart Dollars Cub is what is known as a phishing scam because they basically trick you into entering your emails by promising you surveys that don't exist.
Scammers are willing to pay a high price for direct access to your email inbox which is why there are people out there who will do almost anything to get your email.
Once they've got a list of a few thousand they can sell it on to the highest bidder for as many times as they want and rake in the cash.
5. Smart Dollars Club Is Part Of A Bigger Scam Franchise
After doing some more research, I found out this scam is only the very tip of the iceberg – this scammer is running several scam sites at any one time.
So far, I've managed to find sites called PaidClub, Survey Bucks and Survey Voices but my guess is that there's at least a dozen or so more out there I haven't come across.
Take a look at Smart Dollars Club scam site compared with the PaidClub website and see if you can spot the difference:

Almost everything is the same, they're clones of each other apart from the name.
This guy is running a whole scam operation here with websites littering the web! He's clearly on a mission to collect as many people's emails as possible and actually helping you make money is the last thing on his mind!
Final Smart Dollar Club Review Rating: 1/100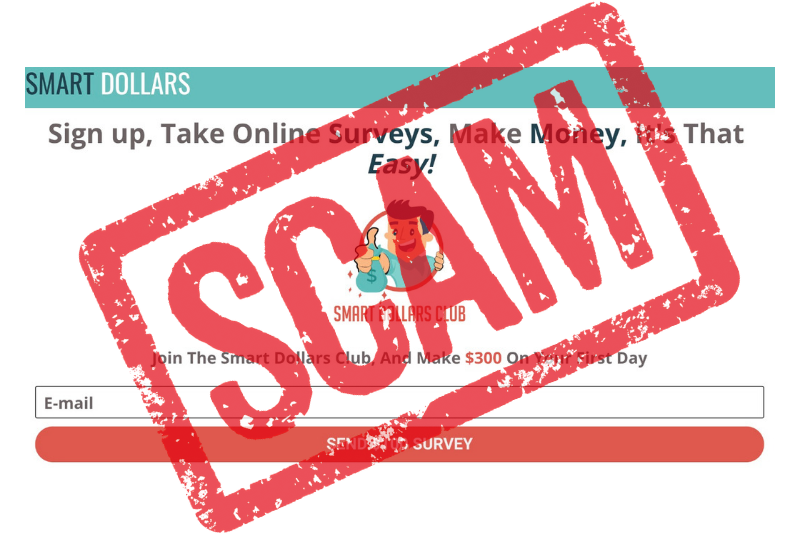 If you thought getting paid $100 to fill out an easy survey sounded too good to be true – you were right.
Despite the big promises, this is nothing more than a scummy scam to be avoided.
The best survey site I've come across is Swagbucks:
Check out my full Swagbucks review here to make sure you get the most out of the site as well as learn some of the ways you can earn points (like watching videos and playing games) in case you get bored of taking surveys.
Honestly though, even though Swagbucks is the highest paying survey site I've seen, you still can't realistically expect to earn more than $1 or $2 per hour and that's assuming there's a consistent flow of surveys you qualify for (and there never is.)
Play the video below and you'll see without a shadow of a doubt that survey sites never pay you well for your time!
While taking paid surveys are an okay way of earning a few extra dollars here and there, it's never going to be something that replaces your full-time salary.
If you want to make more than a few cents online then you need to invest your time into building an online business that you can earn a steady monthly income from.
Rather than waste your energy filling out boring and monotonous surveys, you'll be building an online income stream for yourself that will provide for you and your family for years to come.
Check out my in-depth Wealthy Affiliate review to find out more.
What Do You Think?
After reading this review, what are your thoughts on Smart Dollars Club and do you still think taking surveys is the best way to make money online or are you considering doing something more long-term?
I'd love it if you scroll down and let us know your thoughts in the comments below! I personally respond to all of them and it would make my day to hear what you think.
Simon Crowe is the founder and editor of The Make Money Online Blog on a mission to help as many people as possible kiss their bosses goodbye.
Watch this video here to discover how to smash your online income goals and make your dream business a reality.