Hi, I'm Simon and welcome to this ShopKick review where we'll take a closer look at this money-saving app to see if it's worth downloading.
I'm always on the hunt for ways to either increase my income or lower my outgoings and there are tons of apps out there like ShopKick, Punchcard and Ibotta that promise you cashback for shopping.
Why not earn rewards for buying what you'd normally buy anyway? It's basically free money!
But some apps give you a bigger kickback than others, so how will ShopKick fare? That's exactly what we're about to find out.
And just so you know: I'm not affiliated with ShopKick in any way. I'm just an online entrepreneur who likes to help people like you avoid time-wasting scams and find real money-making programs that work.
ShopKick Review (Quick Overview)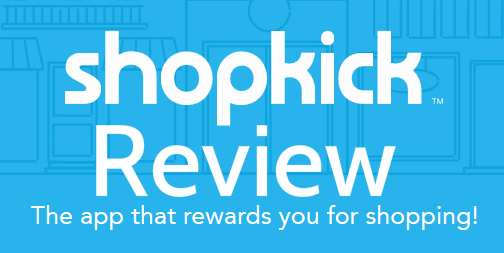 Website: ShopKick.com
CEO: Bill Demas​
Price: Free
Summary:
ShopKick is basically a free app that pays you in points for visiting stores, scanning items and making purchases and is a great way to earn gift cards and save money.
They've been around since 2009 (which is a good sign) and on the whole, they do payout. There are over 200 participating stores in the US and this could be a way to earn yourself a nice little bonus for buying the things you'd normally buy anyway.
The only problem is, if you happen to have any issues with your account or you get a glitch on your ShopKick app, you can't really rely on customer support… let's just say they have a reputation for being abrupt and uninterested.
For me, I would never use an app like this just because it's a lot of messing around for very little reward and I can't get motivated enough by gift cards to actually do anything about it, but maybe that's just me. 🙂
Overall Ranking: 35/100
Recommended: Depends where you live
Wanna Build A Real Business Online?
What Is The ShopKick App?
ShopKick is a free shopping app launched in 2009. What started out in a basement somewhere in California has grown so big it even made it to the Forbes top 35 list of most promising companies in 2014.
So far they've paid their app users over $90 million in gift cards.
According to the New York Times, ShopKick has over 2.5 million users and growing…
According to Wikipedia, they have 200 brand partners, including Procter & Gamble, Disney, Mondelez, Unilever, Revlon, Coca-Cola and Pepsi.
ShopKick gives you a way to get paid for visiting your favourite stores like Walmart, Target, Sports Authority and Sony. The app is easy to download and simple to use and is available on both Android and iPhone.
Here's one of ShopKick's marketing campaigns videos. It made me chuckle a little but it does a good job of explaining the idea behind the app:
ShopKick points are called 'kicks and you can earn them by visiting certain stores, scanning items inside the store, making purchases and referring your friends and family to sign up too.
Quick stats:
According to TechCrunch.com 6 million people who have downloaded the shop kick app
ShopKick has driven over 200 million store visits, over 270 million product scans in aisle, and over $2.5 billion in total sales from brand and retail partners, the company told us.
App Annie says on average, users spend 2.5 hours+ per month on the app.
How Does ShopKick Work?
So I'm sure you're thinking this is all very well and good but what exactly do you get out of it and how does the ShopKick app work?
First off, you're going to need a smartphone, iPhone or tablet. They do have ShopKick.com but you're going to have to use the mobile app to get the points you need to earn free gift cards and cinema tickets.
It's pretty easy to get started, here's a quick step by step:
1. For android devices, download the app here (Google Play) or for iPhones click here (iTunes store).
2. Download and install.
3. Go shopping or refer friends for points (more on how to earn kicks below)
4. Use your kicks to grab a coffee or save them for bigger, more expensive items.
Here's an quick inside look at the ShopKick app and how it works:
You can rack up points fairly quickly if you have participating stores close by.
If you don't, it's going to be tricky so it might be worth looking into especially if you're outside the United States because, though ShopKick is currently operating in the UK and Germany, it can be hard to find participating stores.
You can redeem kicks for:
iTunes song downloads
Movie tickets
Or you choose to get gift cards for places like:
Walmart
Target
Toys R Us
Starbucks
Amazon
Best Buy
Macy's
Colgate
Disney
Old Navy
American Eagle Outfitters
Crate & Barrel
Revlon
JCPenny
To name just a few…
5 Ways To Earn ShopKick Rewards
Okay, so how can you earn points and exactly how much are they worth?
Like a lot of these kind of apps, ShopKick has it's own point system called 'kicks' and you can earn kicks a few different ways:
1. Entering A Store
Really! Walk into a participating store and the ShopKick app uses WiFi to detect your location and rewards you points accordingly. Depending on the store you can earn between 30 to 100 kicks just for doing this.
There are reports online from a few people saying this doesn't always work though and when they've asked staff about it it turns out they know nothing about the ShopKick points program.
2. Scanning Specific Items
Once inside a store, open the app and you'll be given a wide variety of items you can scan. You'll typically earn around 10 kicks per scan and there's no purchase necessary.
For sure, you're not going to become a millionaire doing this but if you're a regular shopper then kicks can soon start adding up.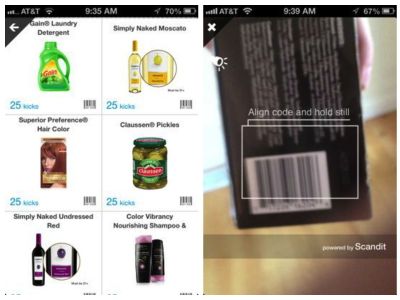 3. Making A Purchase
Once you've gone through checkout you can scan your receipt and earn more points.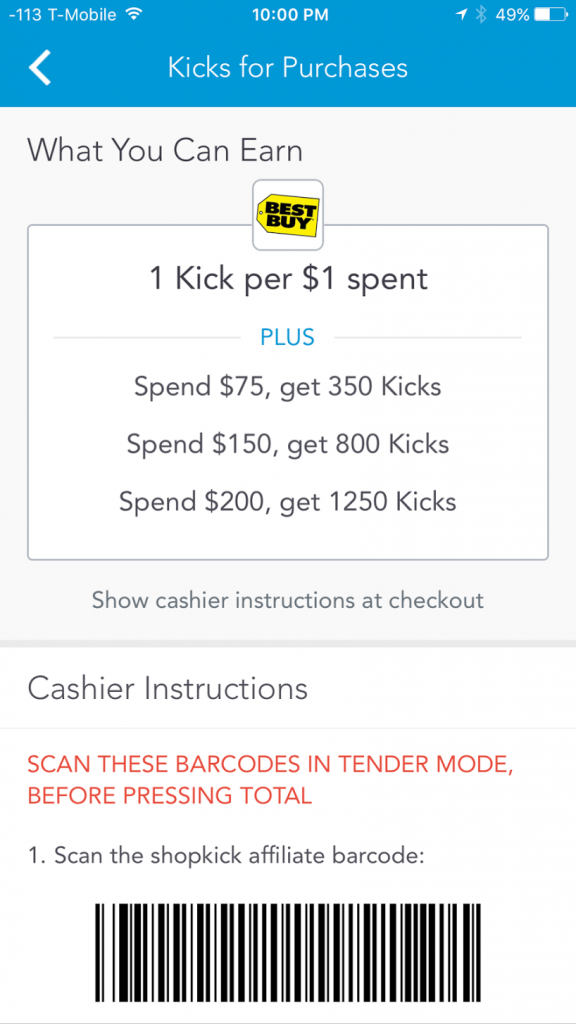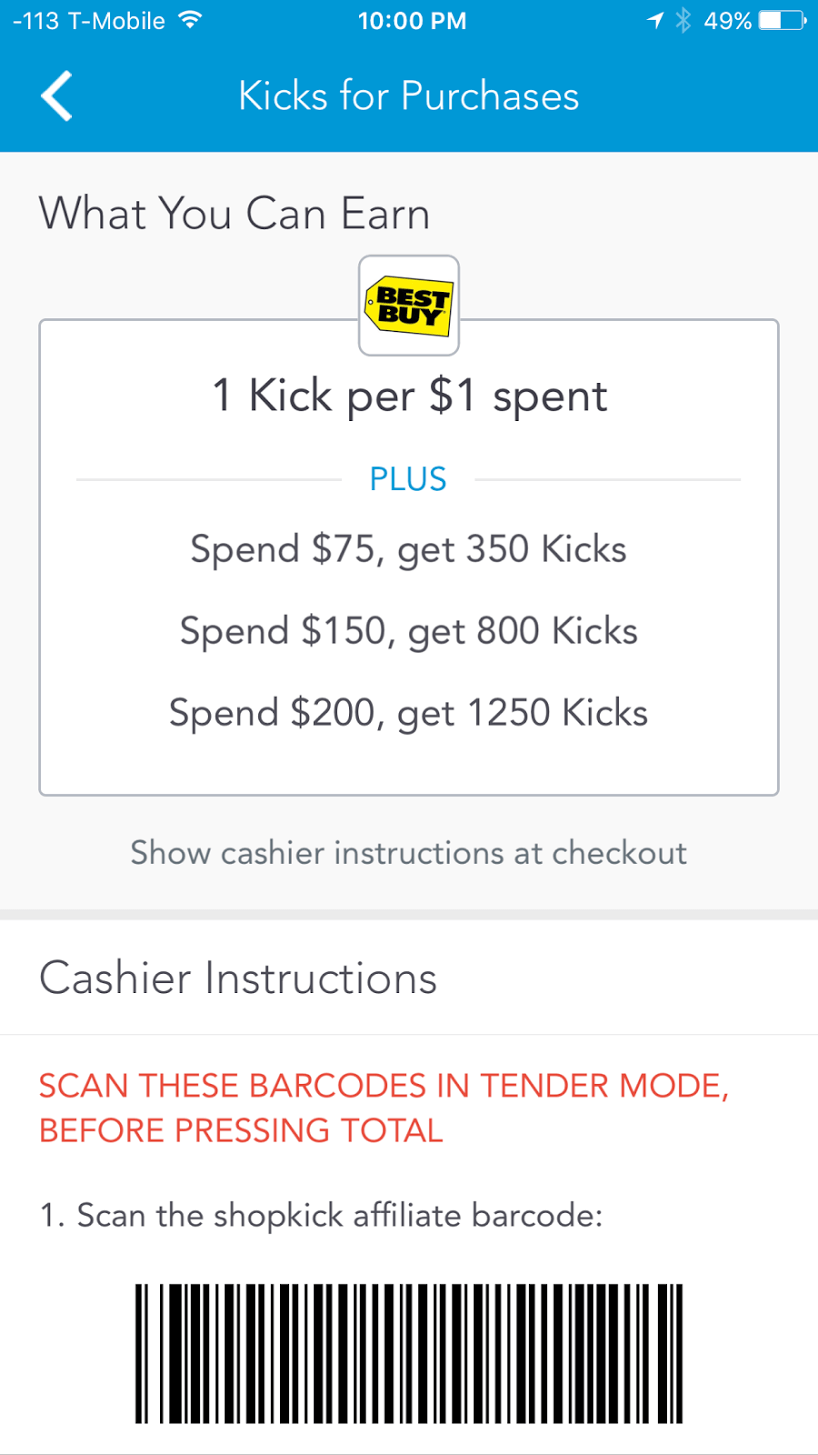 That's not bad right?
I mean, why not earn extra points for buying items you'd normally buy anyway?
The amount of kicks you'll earn will depend on the store and what kind of items you're buying but you can check the app to find out beforehand.
4. Referring Friends To ShopKick
You can spend hours walking around stores scanning random items but one of the fastest ways to earn kicks is by referring your friends and family.
You'll earn 50% kicks from anyone you refer for 14 days, up to 2,500 kicks. You can refer up to 100 people so let's do the math:
2,500 kicks works out at about $10.
$10 x 100 people – a potential $1,000 worth of kicks for you. That's not bad!
5. Linking Your Credit Card
You automatically get 200 kicks when you download the app, but you get 200 bonus kicks for linking your credit card plus extra kicks each time you make a purchase using your linked card.
How Much Is A 'Kick' Worth?
For each kick you're probably looking at around 4/10 of a cent…
500 kicks = $2
1,250 kicks = $5
2,500 kicks = $10
3,750 kicks = $15
6,250 kicks = $25
25,000 kicks = $100
So if you wanted a $5 Starbucks card you'd need just 1,250 kicks.
If you wanted to wait a little longer and save up to get a $200 Target gift card, you'd need 50,000 kicks.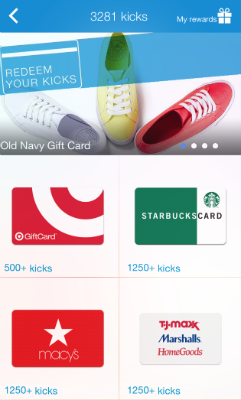 You're not going to get rich with this but as long as you're buying things you'd normally buy anyway, over the course of the year you could accumulate kicks without even thinking about it and put them towards your Christmas expenses.
How To Redeem ShopKick Rewards
Like most reward apps, ShopKick have a minimum payout of $2 (500 kicks) but of course this would depend on the type of gift card you're looking for.
If you've already accumulated points, TravelWithGrant has put together a great step-by-step guide on how to redeem your ShopKick rewards so you might want to check that out.
A good thing about saving up your kicks to buy a bigger item like a TV is, as long as your account isn't inactive for a period longer than 6 months, your kicks will never expire. All you have to do to stay active is scan a barcode while you're in Walmart so it's really not that hard.
So what do you get with your points? Sorry, kicks?
Here's a full list of gift cards available at the moment, but this will be updated as more companies sign up to the shopper's reward scheme (courtesy of DoctorOfCredit.com).
Target gift cards (starting at $2 or 500 kicks)
Aerie gift card (starting at $5 or 1,250 kicks)
American eagle gift card (starting at $2 or 500 kicks)
Arden B. gift card (starting at $5 or 1,250 kicks)
Fandango gift card (starting at $10 or 2,500 kicks)
Game stop gift card (starting at $5 or 1,250 kicks)
Papa johns gift card (starting at $5 or 1,250 kicks)
Sports authority gift card (starting at $5 or 1,250 kicks)
Toys 'R' Us gift card (starting at $5 or 1,250 kicks)
iTunes gift card (starting at $10 or 2,500 kicks)
Lowe's gift card (starting at $10 or 2,500 kicks)
Nike gift card (starting at $10 or 2,500 kicks)
Sephora gift card (starting at $10 or 2,500 kicks)
Old navy gift card (starting at $10 or 2,500 kicks)
1-800 flowers gift card (starting at $25 or 6,250 kicks)
Customised gas gift cards (starting at $10 or 3,400 kicks, note this values your kicks at 0.29¢ each instead of the usual 0.4¢)
Restaurant.com gift card (starting at $25 or 875 kicks this values your kicks at 2.87¢ each – but restaurant.com gift cards are easily purchased for 20% of their face value)
Shutterfly gift card (starting at $25 or 6,250 kicks)
Best Buy gift card (starting at $5 or 1,250 kicks)
Macy's gift card (starting at $5 or 1,250 kicks)
Starbucks gift card (starting at $5 or 1,250 kicks)
Coach gift card (starting at $300 or 75,000 kicks)
Kate spade gift card (starting at $300 or 75,000 kicks)
Tiffy & co (starting at $300 or 75,000 kicks)
All gift cards are digital and as you'll see in the video below with the lady at Target, you get an email with your gift card code on it, the assistant at the checkout just scans it in and your discount is applied.
Just For Fun: Redeeming Kicks 🙂
I just came across this and thought you'd "get a kick" out of it! I'm sorry I couldn't resist!
Here's a lady who redeemed the kicks she saved to get herself a TV from Target:
ShopKick Cheats
You haven't even signed up to ShopKicks yet and already you're trying to find a way to cheat the system? 😉
While there are so-called ShopKick hacks out there promising you easy ways and ShopKick cheat to get more points, I'd be careful with those or you could end up getting your account banned.
Out of all the ways you can earn kicks, I'd say the quickest and best way would be to refer your friends and family members to sign up. If and when you join, you'll get a unique link you can email out or post on social media sites to get referrals.
Does ShopKick Work For You?
Like I say, installing this app isn't going to mean you can quit your day job and head for the tropics, but it gives you a little extra bonus. As long as you don't expect to make a fortune then I think you'll have fun with this app.
Is it worth your time? Well, that depends.
ShopKick might be worth your time if…
You shop regularly at places like Walmart, Target and Macey's
You live in the United States
There's stores nearby that participate in the scheme
Is ShopKick A Scam?
No, ShopKick is definitely not a scam.
Most people love it and while there are those who complain about glitches and some items that don't scan, overall, ShopKick seems legit.
As you can see on Google Play it has over 206,363 ratings and averages 4.3 stars out of 5.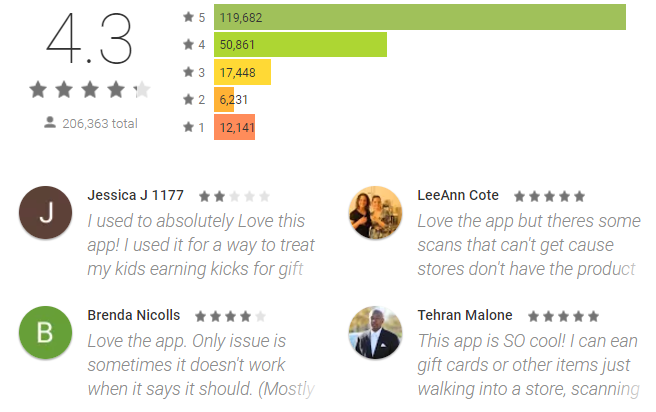 More ShopKick Reviews
The most common complaints are that the app doesn't work or you have to keep signing in which is a hassle. Some users report their accounts got shut down unexpectedly and without reason – I imagine this would be a real bummer if you've been saving up points for a long time, but whether it's because they didn't play by ShopKick's rules or not, I don't know…
Here are some ShopKick reviews I came across on Influenster. It's a mixed bag so I guess the jury's still out on whether the app actually works or not.




Some users saved 75,000 kicks only to be told their account was banned. Obviously annoyed (I would be too!) they say that ShopKicks is a scam.
There are lots of angry complaints about ShopKick on BBB.org (Better Business Bureau) but one thing they all seem to have in common is that when people have an issue with their account being suspended or shut down, customer support seems almost non-existent.
Sometimes things go wrong and apps don't always work as they should, but to be told "We will no longer deal with you on this matter and there will be no further communication." seems a bit extreme. That's the last thing you want to hear when there's a genuine issue you need help with.
This alone is enough to put me off ever using ShopKick! I'd be fuming if I saved 10,000's of kicks just to be told "No!"
What I Like
You can get points just by visiting stores and scanning random items. No need to actually buy anything.
If you're already a regular shopper at Target, Walmart etc. then it's extra rewards for no extra effort.
ShopKick's been around since 2009.
There are lots of ways to earn kicks.
As long as your account is active, your kicks won't expire.
There are over 200 US stores to choose from and a lot of big brand names.
What I Don't Like So Much…
You can't withdraw actual cash into your Paypal account – it's gift cards or movie tickets only.
Many people have reported glitches and issues with the app.
Customer support has a terrible reputation and there's no phone number to call if you need help.
In The End, Is ShopKick Worth It?
It could be a way to get more rewards for buying what you normally buy at stores you normally visit.
Even with the app glitches and lack of customer support, if you love shopping and are not expecting to get too much out of it, ShopKick could make shopping a bit more fun and you might be able to treat yourself every now and then.
But let's be honest, we're not talking about life-changing amounts of money here. It's not going to replace your full-time income or provide for your family, but I guess it's not intended to be.
Personally, I wouldn't use an app like this, not just because I like to get paid in cash but it seems like a right faff for a few cents. It's just not worth it.
I'd much prefer to spend my time doing something more worthwhile with my time that will actually make a difference to my bank balance. That's why I learned how to build successful and profitable websites that make me money around the clock.
Within 12 months of starting my first online business, I was earning more than $6,000 a month, enough for me to quit my job and move from the UK to Thailand.
If you think this is something you'd be interested in then you can follow the exact same training course I did.
The best part?
The course was created specifically with beginners in mind and it's 100% free to get started. Plus, get started here and I'll be available for one-on-one support.
Simon Crowe is on a mission to help as many people as possible kiss their bosses goodbye.
Take the free Commission Academy course to discover how to smash your online income goals and make your dream business a reality.