If you're checking out my Secret Online Goldmine review because you just finished watching the sales video and you want to know if this is a scam set up to take your money or a real money making opportunity, I'm really glad you did!
After all, April Collins makes some pretty wild claims of earning $100's a day for doing next to nothing…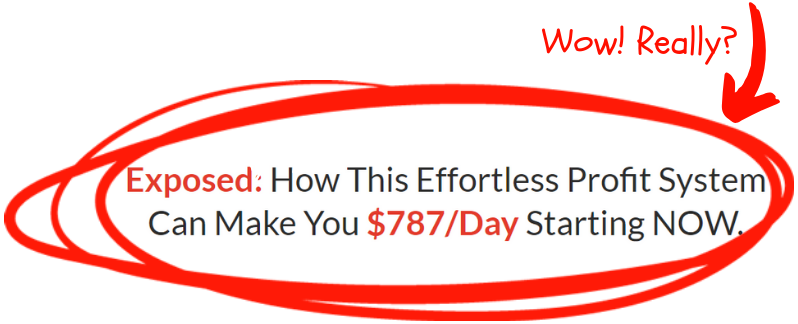 Well, stick with me here and in this review, we're going to look at exactly what you get when you become a Secret Online Goldmine member, what you'll learn and ultimately if this is your best option.
I am not affiliated with Secret Online Goldmine in any way.
I promise to give you nothing but my full and honest opinion in this review to help you decide whether this is something you should go for or not.
Here's what I found out:
Secret Online Goldmine Review At A Glance
About: Secret Online Goldmine is April Collin's spammy affiliate course.
Price: $47 for the front-end and $162 for 2 upsells.
Pros: Has a 60- day refund policy.
Cons: Spammy, fake owner, fake testimonials, fake social proof.
Verdict: Secret Online Goldmine is a scam based on lies. Don't trust a word they say.

Fake-Ass Advertising From The Get-Go
Did you watch the video on the Secret Online Goldmine website?
I mean, seriously, what was that?!
Hit play and within seconds you're blasted with images of yachts, wads of cash and people holidaying in the Bahamas.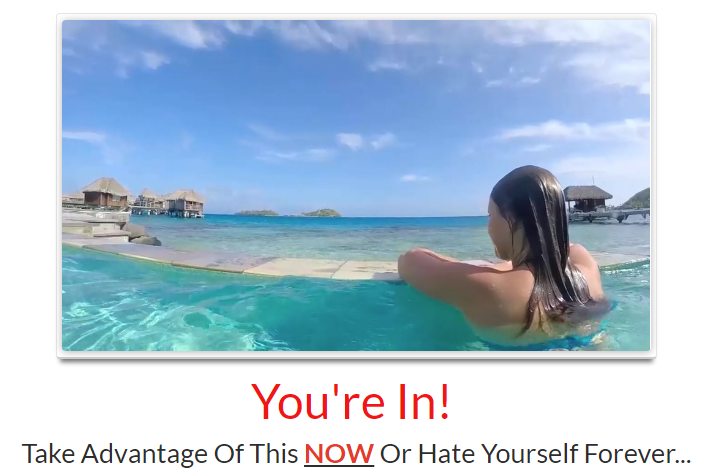 April Collins claims her system is the dream opportunity you've been looking for that will show you how to make $787 a day, $5,000 a week or $20,000 a week so you can finally quit your job, take the vacation you've always wanted.
Let me be clear:
Deciding to become an affiliate marketer was one of the best decisions I ever made and right now so many people are jumping on the digital bandwagon and for good reason.
Through affiliate marketing, you can get paid to promote other people's products or services without needing to worry about creating, storing or shipping products.
Better yet, the person or company whose products you're promoting will handle all of the billing and customer care.
The costs of starting an online business are extremely low and with 4 billion+ daily internet users the potential for earning a truly passive income is huge!
There's a ton of courses out there created by self-proclaimed gurus who promise the earth but fail to deliver every time. Most of them turn out to be outdated eBooks that help you get nowhere…
By far the best affiliate marketing course I've come across is Wealthy Affiliate (link to my full review).
How will Secret Online Goldmine compare?
I decided to sign up to find out.
The Secret Online Goldmine Membership Costs
First things first, the creator of this program seems super keen to get you signed up.
Although the initial price is $47, try to exit the page and you'll see a pop-up offering a $10 discount for just $37.
Decline this generous offer and again, another pop-up gives you full access for just $17.




Pumelled By Upsell After Upsell
$17 for a $787/day money-making seems like a no-brainer, right?
So I entered my credit card details and paid up, but before I could get to the meaty stuff in the training area I had to fight off numerous upsells…
Secret Online Goldmine has "Mega Miner" and the "Mother Lode" upsells with each promising you even more in a shorter space of time.
As you can see, you're offered lower prices each time you politely decline: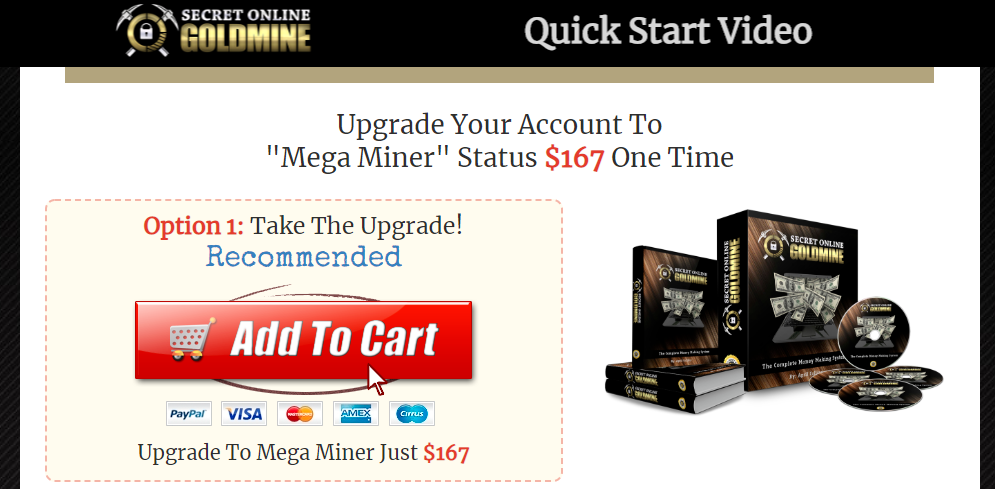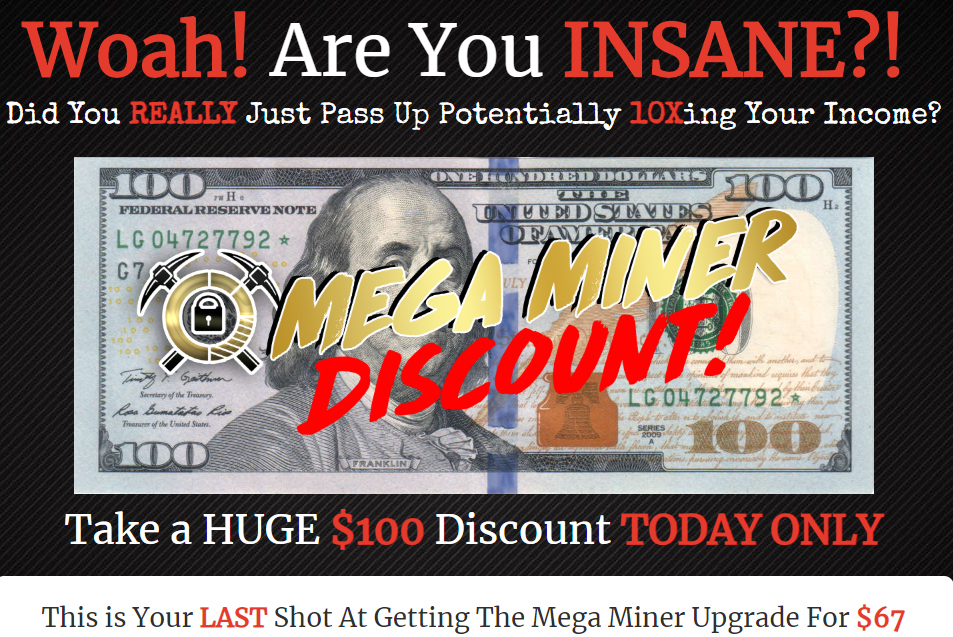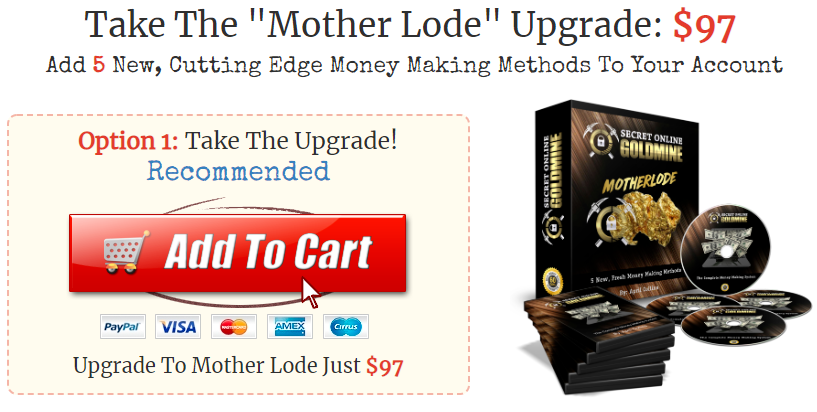 I'll be honest, upsells annoy the hell out of me.
Call me naive, but I think a training product that's worth its salt should be good enough without the need for expensive upgrades and add-ons.
Still, it would explain the initial low price – the Secret online Goldmine owner entices people in with a low front-end price and makes most of their money once you're in the back-end.
Enough said.
The Spammiest Training Area I've Ever Seen
Once I skipped the upsells I was finally taken to the training area that looks a little something like this: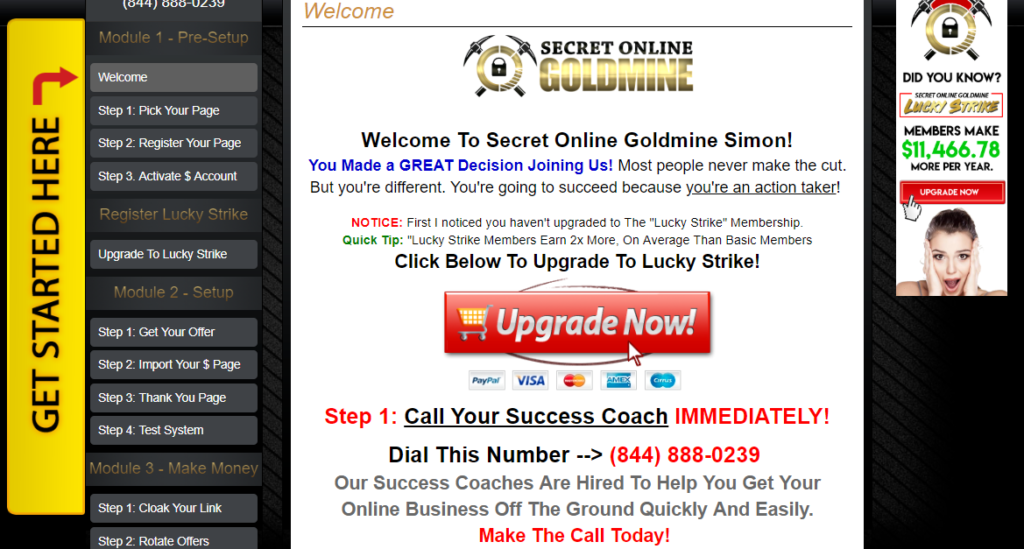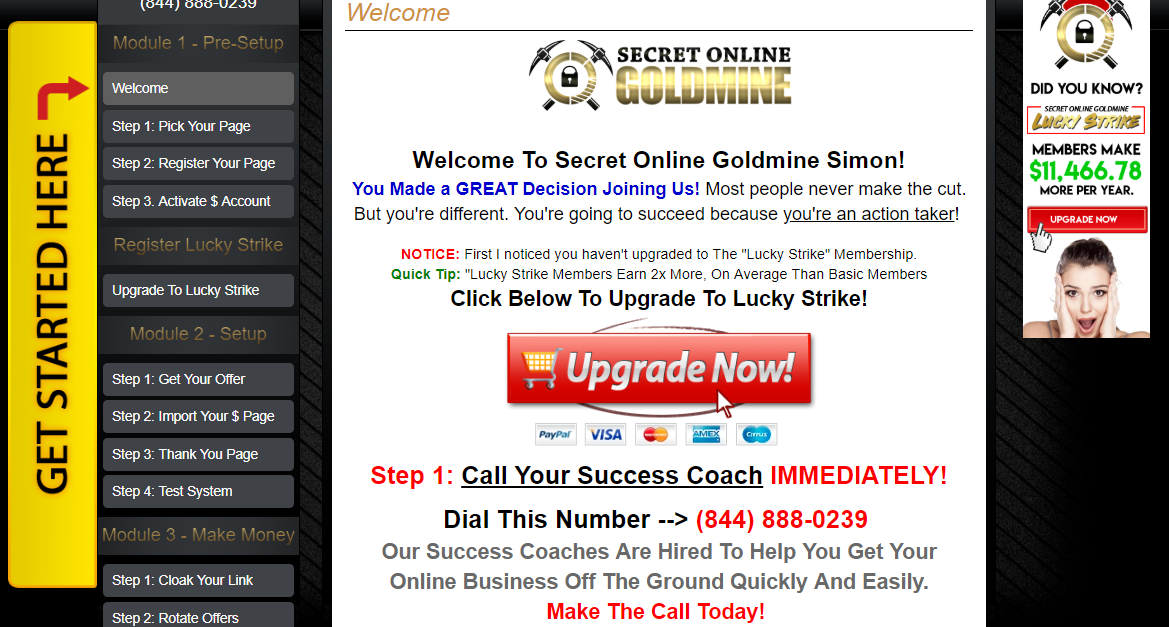 The welcome page doesn't exactly inspire me with confidence with it's big red 'Upgrade Now!' buttons, yet more upsells and calls to "Call your success coach IMMEDIATELY!"
(I strongly suggest you don't call them by the way, but I'll get into that here in a sec…)
On the left side menu you can see the training is split up into 4 main modules: 'Pre-Setup', 'Setup', 'Make Money' and 'Traffic'.
I was surprised to see that each lesson consists of nothing but a short 1-4 minute videos, with each lesson centred around getting you to sign up to monthly paid membership tools and sites like ClickFunnels.com and Udimi.com.
Can You Make Money With Secret Online Goldmine?
Now let's get to the real question:
If you follow the short training videos, can you actually make $1,000's per week, or in other words, does this program deliver?
Honestly, while technically it is possible, it is also highly unlikely.
Secret Online Goldmine follows exactly the same strategy as yet another 'new and revolutionary method' I reviewed yesterday called 12 Minute Affiliate.
The gist of the strategy is to:
1. Choose a landing page.
2. Add your affiliate links.
3. Sign an up to an autoresponder service so you can start collecting email subscribers.
4. Pay solo ad vendors to send your offers out to their email list.
5. Hope that people click the spammy emails and make a sale so you can earn a commission.
This way of making money is expensive, high-risk, outdated and ineffective.
Why?
Because every other person who was duped into buying Secret Online Goldmine is going to be using the exact same landing pages, sending the same emails and offering the same scammy products.
Not only that, the only way you can possibly make money with this is by paying a high cost per click for these solo ad vendors to email your copy and paste email out to 1,000's of people – the exact same people getting spammed the emails from all the other Secret Online Goldmine members.
The result?
You pay a fortune, very few people open your emails and nobody buys.
1 Thing I Like About Secret Online Goldmine
When I'm sitting down to write a review I try to be as fair as I can but in this case, the only positive thing I can come up with is the fact Secret Online Goldmine is sold through the ClickBetter platform, meaning it automatically comes with a 'no questions asked' 60-day money-back guarantee.
One I took full advantage of as soon as I realised I'd been duped into paying out for this hyped-up junk.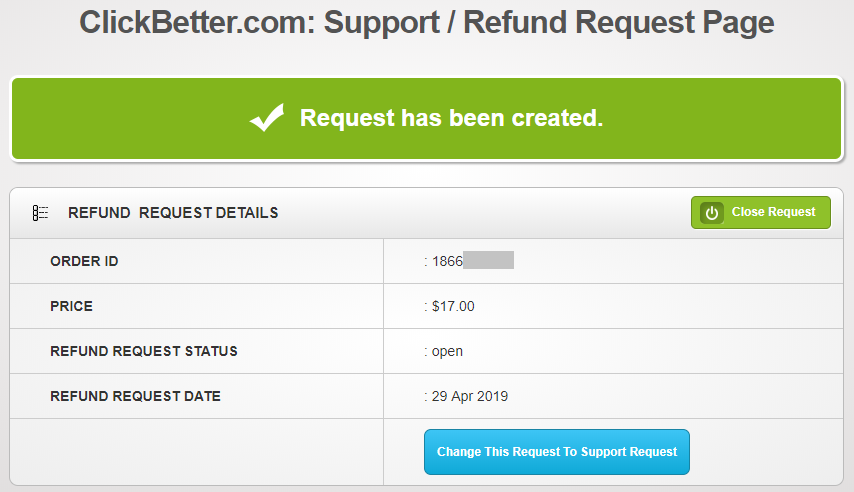 4 HUGE Red Flags Exposed!
1. April Collins Is A Fictional Character
Secret Online Goldmine owner 'April Collins' is the one who told us on the sales page that she's the one who discovered this ultra-secret income earner, yet my suspicions were raised when I got inside the member's area and found out it's a man delivering the training.
After digging a little deeper, it turns out April Collins doesn't even exist and those images you saw in the promo video turn out to be just random stock images.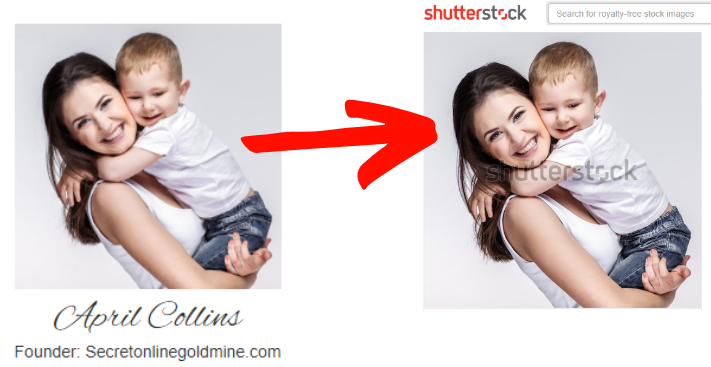 What does that tell you about the credibility of the mysterious Secret Online Goldmine creator when they choose to hide their true identity?
If this was a genuinely legit program, the owner would be proud to put their real name (and face) to their product.
2. Those Success Stories? They're Not Real Either…
Again, if this was an actual money making method that got people results, they'd be a boatload of real success stories they could have shown us in the sales video.
But since this product is solely designed to make the owner money through the many upsells, there is no-one making money with this so-called system.
As a result, the anonymous person who put this program together has no choice but to head over to sites like Fiverr.com and hire actors to read from a script.
Take a look at the Fiverr accounts the people who told you they were experiencing amazing results from following the Secret Online Goldmine system and see that the only money these people made was $5 for recording a fake testimonial: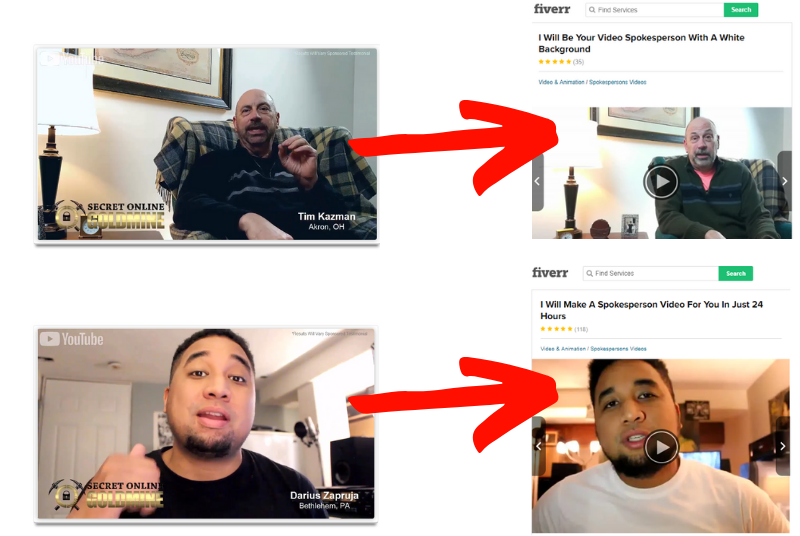 3. Fake Social Proof Designed To Deceive
Scroll down SecretOnlineGoldmine.com and you'll see what's supposed to be a live Facebook feed of the Secret Online Goldmine Facebook page. Except, you guessed it, the page doesn't exist either…
These are nothing but fake social media accounts and fake comments – unclickable and completely manufactured.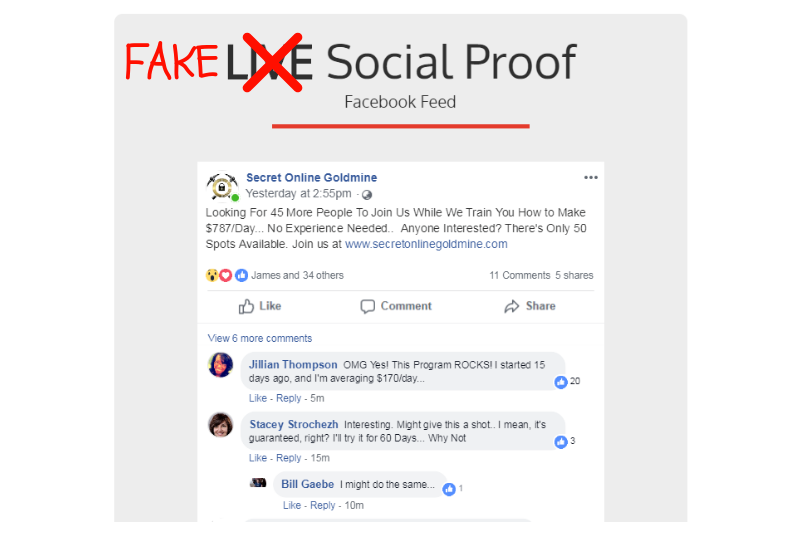 4. Whatever You Do, Do NOT Call The 'Success Coaches'
Seriously, the more you trust those guys, the more money you will lose.
Why is this product creator so eager for us to call the number in the training area? Because those so-called success coaches are in reality, highly-trained salespeople whose job it is to convince you to part with more of your cash for those worthless upsells.
They'll tell you to shell out more to 'take your business to the next level', or 'if you are really serious about making money online'.
Do yourself a favour and don't fall for it.
Is Secret Online Goldmine A Scam?
In my opinion, Secret Online Goldmine is definitely a scam. Don't buy it.
It's not just the fake owner, fake testimonials and fake social proof that prove this site can not be trusted, it's the outrageous and completely unrealistic claim that you can make $787 a day with this system.
Even at the low $17 cost and 60-day refund policy, this just isn't worth it.
Factor in the upsells, email advertising costs and monthly memberships for the email autoresponders and landing pages and you can see how easy it is to lose money with this.
A Badass Secret Online Goldmine Alternative
When you compare Secret Online Goldmine and Wealthy Affiliate there really is no comparison. Since 2005 they've been showing aspiring entrepreneurs how to make a full-time income without needing to pay out for ads or upsells.
Follow the step-by-step training and you'll learn exactly how to create thriving affiliate websites that attract free and organic traffic by getting ranked to the top spots in Google.
Instead of having to risk your cash upfront and chasing sales, once set up, your websites will generate commissions for you around the clock.
The best part?
You can grab your free beginner's course and see the training platform for yourself without needing to get your wallet out.
What Do You Think?
After seeing what I've uncovered in this review, do you still believe Secret Online Goldmine is legit or have I done enough to convince you to stay away?
Have you ever fallen for these 'make fast and easy cash overnight' type scams before? Have any questions about how to start a real online business?
Scroll down and leave a comment and I'll be more than happy to help you any way I can.
Simon Crowe is on a mission to help as many people as possible kiss their bosses goodbye.
Take the free Commission Academy course to discover how to smash your online income goals and make your dream business a reality.