PermissionResearch.com is a free to join site that's designed to track internet trends and behaviour, but is Permission Research a scam to avoid or an easy and passive way to make some extra cash?
In this Permission Research review, we'll be looking at if you can make money, how you're rewarded and if it's a worthwhile thing to get into.
I'm not sponsored by or connected in any way with Permission Research. I'm just an online entrepreneur who's always on the lookout for what really works so people like you can learn how to make real money online.
Permission Research Review At A Glance
About: It's an online research company that claims to have 2 million members in total.
Price: Free to join.
Pros: None that we can think of.
Cons: Has privacy concerns, uses heavy data, puts you at risk with viruses.
Verdict: While Permission Research is not an outright scam, this survey site is not worth risking your personal data, gadget, or computer over.  

What Is Permission Research?
Permission Research is an online market research company whose goal is to improve the internet for users. They do this by tracking how we browse the net, interact with websites and how we spend our time online overall.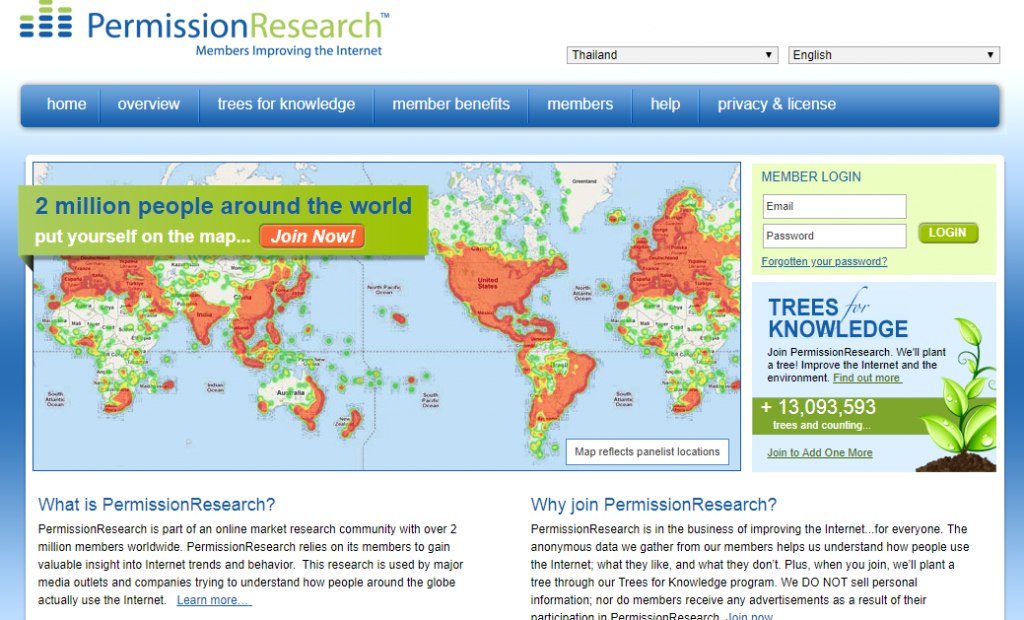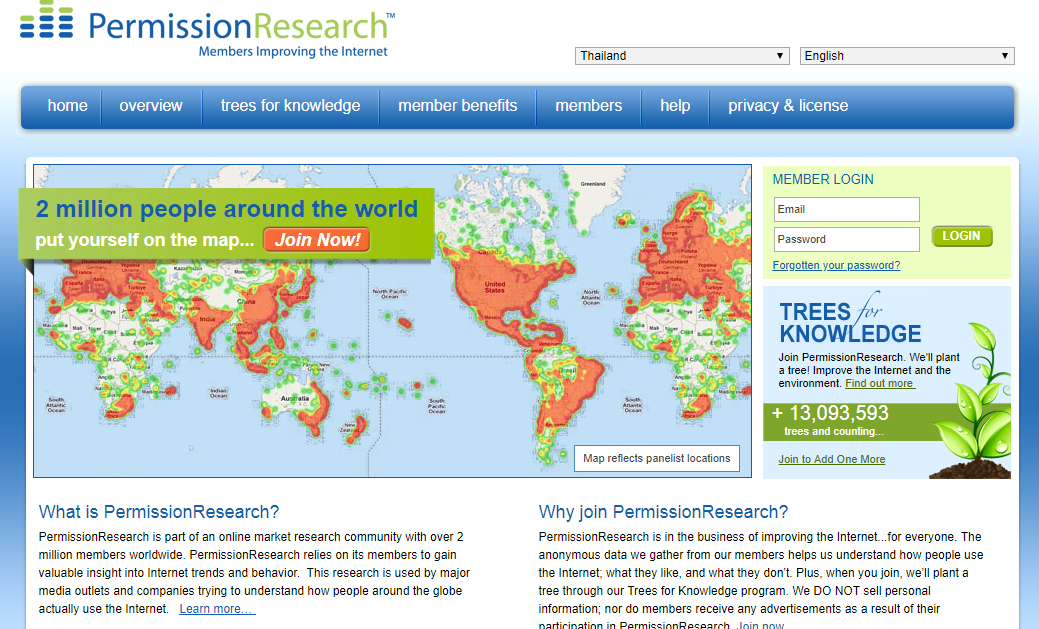 The signup process itself is pretty easy, all you have to fill out is a quick sign up form with your home and email address and basic contact details.
As long as you're 18 years of age or older, you can sign up for free, download the software onto all of the devices you use to access the internet and you're done.
As a member, you'll also have to give them permission to contact your television service provider so you can partake in the television tracker project where they monitor what channels you're watching and when.
Permission Research Don't Pay You
I don't know if you know this already or not, but unlike other monitoring sites like Nielsen Digital Voice and Smart Panel, there's no guarantee you'll ever make a cent by signing up and activating the tracking software.
Instead of paying you, they dangle a golden carrot in front of you by saying you'll be automatically entered into monthly sweepstakes for a chance to win $100,000 and have the feel-good factor of knowing they planted a tree in return for your information.
What are your chances of winning the monthly jackpot?
While I love trees, if your main purpose is to help pay your bills and add some much needed cash to your bank balance then this might not be the site for you.
With over 2 million members, the chances of you actually winning anything are infinitely small. For the vast majority of members, they're simply handing over all of their personal information and being monitored 24/7 for absolutely nothing in return.
Permission Research Reviews: What Others Say
After 15 user reviews, this site scores a pretty measly 2 out of 5 stars on SurveyPolice.
There's a lot of 0.5-star ratings (the lowest you can give) with a few complaints recurring again and again…
1. Beware: Big Brother Is Watching You
This is one of the most common complaints and I totally agree with users' concerns around privacy.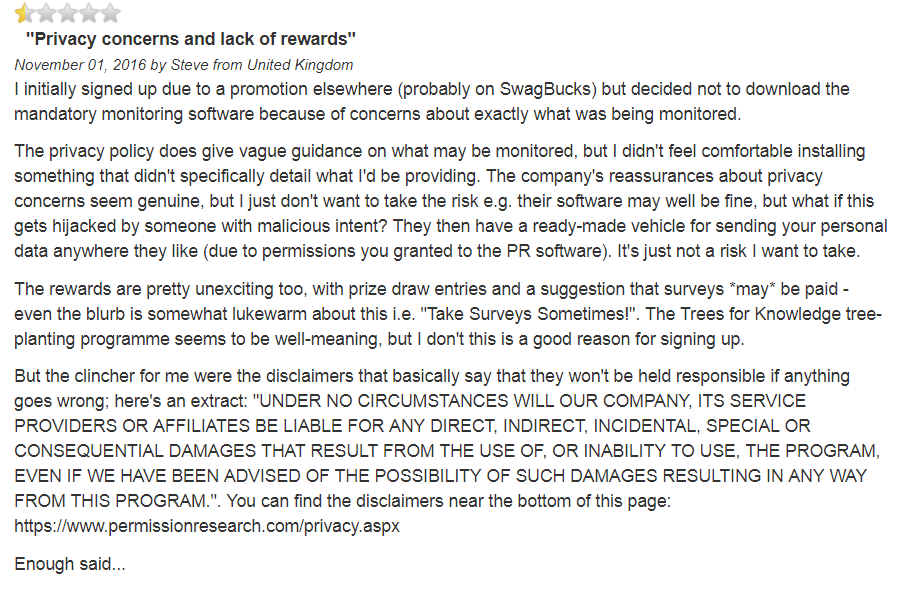 You can read the privacy policy here where they say information is collected from your devices without revealing your identity but it does little to reassure to convince me this is not a huge invasion of privacy.
Like someone constantly looking over your shoulder, you will give Permission Research will effectively become your online stalker.
They'll know exactly how you're using the internet, how often you check your email, exactly what websites you visit and for how long.
For me this is a huge turn off and I can't get my head around why anyone in their right mind would happily hand over all of this private information about themselves just for a tiny 1 in 2 million chance of winning an online sweepstake.
2. The App Uses A Ton Of Data
Here's another complaint I keep seeing again and again:
The tracking software slows down devices… drastically.
Other users report a huge drain and phone and tablet battery life as the software is constantly running in the background while it tracks your every move.

3. This Potentially Opens You Up To Viruses
Is Permission Research safe?
Not everyone thinks so.
Here's a rather alarming review left by one user who found 8 viruses after downloading the software:

Again, with all of the potential risks and downsides, I have no clue as to what real incentive, rhyme or reason people have for joining this research program.
Usually, in reviews like this, I try to point out all the pros and cons but in this case, I only see cons…
Is Permission Research A Scam?
I don't think Permission Research is a scam but I would proceed with extreme caution.
This is not a legit moneymaker either with nothing but a 1 in 200,000,000 chance of winning a sweepstake.
Want my honest advice?
Stay away from this, don't download it onto any of your devices, keep your privacy and find a better way to make some real money online.
When you look at all the survey and research sites out there you're rarely going to make a few cents even if you're lucky, if you really want to earn online then think about creating an online income for yourself.
I followed this step-by-step beginners training course and now I'm making more than $7,000 a month. Yes, I worked hard and had to learn a lot but it's definitely worth it.
What's Your Take?
If you've ever been involved with Permission Research I'd love to hear about your experience, leave your own review in the comments below!
Simon Crowe is the founder and editor of The Make Money Online Blog on a mission to help as many people as possible kiss their bosses goodbye.
Watch this video here to discover how to smash your online income goals and make your dream business a reality.