There are tons of people on both sides of the coin when it comes to online surveys…
Some say they're good for making a few extra bucks and others say they're a total waste of time…
If you're one of the optimistic ones who look to online surveys to make the extra dough you'll be pretty interested in what LifePoints can offer. This review will discuss all the things you need to know including if its legit or just a scam.
LifePoints Review At A Glance
About: LifePoints is a survey site that has been rebranded throughout the years. You can earn points that you can redeem as gift cards or Paypal vouchers.
Price: Signing up is free.
Pros: Offers various tasks and various rewards, lots of available surveys, and available in over 70 countries.
Cons: Unpredictable earnings, app glitches, points expire, and you can get screened out even after you're already taken the survey.
Verdict: LifePoints is legit. However, it's not a sustainable income source. You're only going to earn cents at a time with this platform. 

What Is LifePoints?
Lifepoints have quite a long history, it's older than me and I'm guessing than you too. It was initially known as Global Test Market owned by Lightspeed.
Lightspeed has been around since the 1940s conducting market research and claims to reach over 70 countries all over the world conducting research, making them the "most extensive custom and research analysis provider. At least that's what they say.
When Global Test Market merged with My Survey that's when they decided to change the name to LifePoints.
They claim to have a community of more than 5,000,000 members. Given they come from a merger of two survey platforms plus the long history, it can probably be true.
The long history means 1 legit point for me.
One way to know if a research site is legit is if they're paid by the brands that ask them for market feedback NOT by sign up fees from survey takers.
That's 2 legit points now for LifePoints.
Another good thing about LifePoints is when you sign up; you get to earn 10 points automatically. 10 points don't seem much but when you add that to the points you earn when taking surveys, it helps.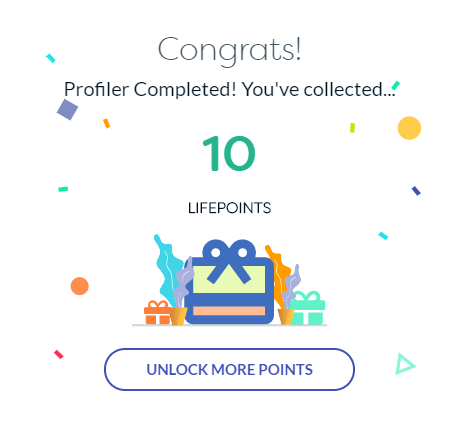 How To Get Started With LifePoints
Of course, first, you sign up, the just initially ask for basic credentials like name, address, email, and password.
When you get past that stage, they then ask you for demographics like:
How many people you live with
Your ethnicity
Your income range
They then use this information to check what surveys you can take. After that you can start browsing for surveys, they also notify you if new surveys are available.
But here's a bit of a kicker:
You can start taking a survey and when you're almost done that's the only time they notify you that you're not qualified for that specific survey. Such a waste of time right?
You can qualify for a pre-survey test (note that these are almost the same questions you already answered when you sign up) but still end up not fully qualifying in the end.
So don't get your hopes too high with every survey you take, you can still get disqualified when you're almost done.
Being A Panelist In a LifePoints Survey
I'd give it to LifePoints, taking a survey in their site is not like traversing a jungle of mazes. It's as simple as answering questions for surveys and tasks you qualify for. When you finish, you earn points.
You can then redeem the points you gained as gift cards, donations, or Paypal vouchers.
Unlike most survey sites, where you can only earn by taking surveys, with LifePoints you can also earn from testing products and tracking customer behavior. (I'll talk about this in a moment)
Survey topics can range from anything you come across every day like travel and health, even shopping. But like I said earlier you have to qualify for a survey which means you can't just take all surveys.
Some surveys are long some are short, but mostly it will take you around 10 minutes to finish one survey. How many points you earn will also depend on the length of the survey. There are also times when a client needs the survey fast so they pay you more.
Tracking Customer Behavior
Also called "Diaries". You can use the diary feature to tell brands about your experience in their stores like how long you waited in line and how the staff accommodated you.
I think this is a pretty neat feature because you basically earn points for doing the things you already do.
But here's the kicker:
This feature is only available in the app, I checked out the website, it doesn't have this feature.
And why is this a kicker?
Because they put down the app because of too much glitch complaints. Well so much for earning more points.
Product Testing
This is what LifePoints do to give brands specific product feedback. You select a test and they send you the product for free to test.
This is actually a fun way to earn because you get to enjoy a product just for giving your opinion about it. It doesn't get you as many points as a survey but hey, you get the perk of enjoying a product. That's a good bargain to me.
Boosters
This is a pretty cool feature. You can get more value for taking a survey by having boosters.
Boosters can include shorter than normal surveys you take ahead, turning on the location feature, keeping your profile updated, and being an active user.
Rewards
After you've taken number of surveys and earned enough points, you can then start redeeming them.
However, the number of points you earn doesn't exactly convert to the number of dollars you get. 1,100 points can mean only $5.
But if you want to get the most out of your points, you can convert that to gift cards to get a relatively bigger value.
Making money online isn't complicated…
This video will show you exactly how to get started. Tap to watch now »
What I Like
1. Variety Of Tasks
Aside from the surveys, you can also earn from tracking customer behavior and product testing, tasks that other survey sites do not offer.
2. Variety Of Rewards
You can redeem your points either as gift cards, Paypal vouchers and if you're feeling extra generous, as a charitable donation.
3. Available Anywhere
Most legit survey sites are only offered in the US and UK, LifePoints is available in over 70 countries worldwide.
4. Plenty Of Surveys
There are tons of surveys available, I'm not saying you qualify for all surveys buts it's relatively more than what other survey sites can offer.
What I Don't Like
1. Unpredictable Earnings
You can't really know for sure how much you can earn for taking a survey. A 10-minute survey for Brand X won't have the same points for a 10-minute survey for Brand Y.
2. App Glitches
This actually caused them to bring down the app which makes other feature unavailable. What a drag.
3. Point Expiry
Your points are only good for 3 years. This means you'll have a hard time saving up for large payouts and you have to do enough surveys to reach the required number of points to allow you to redeem rewards.
4. Screening Out
When you think you already qualify for a survey, you end up getting thrown off for not being fully qualified.
The worst part:
They only tell you that when you're almost done, when you've already wasted 10 minutes you can use for taking other surveys you qualify for.
"It's only 10 minutes", you might argue. But remember, it doesn't only happen once. So if you count up all the time you lost it can sum up to an hour or more!
Is LifePoints A Scam?
While there's differing opinions about Lifepoints,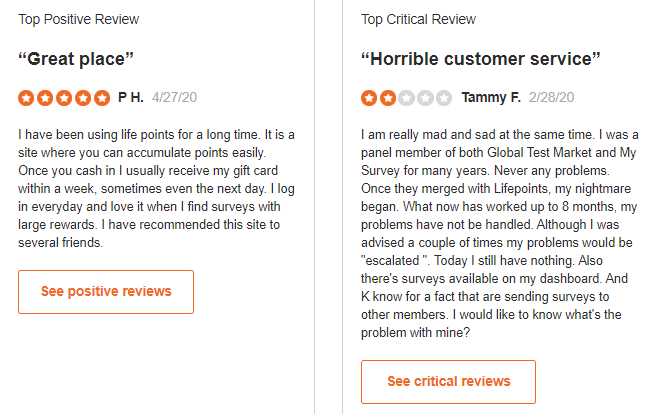 The good news for you is, LifePoints is legit. It's existed for so long so by this time they've already made a credible name for major brands and companies to trust them.
Plus, they're not like bogus survey sites who fork out for sign up fees.
I know it's not easy to trust survey sites especially if you've gone to try some of them ending up getting burned.
But I think it's fair to say you can trust LifePoints.
The thing is, if you're looking for an opportunity to earn a decent income online enough to let you quit your day job, LifePoints is not the answer.
With LifePoints, you only earn enough to make some extra cash for the weekends or to buy shoes you like. It won't be enough to put food on your table 3 times a day.
LifePoints Review Closing Thoughts
If your aim is to find a way to reach your online income goals, survey sites are not the key. Your time is worth more than the few points you earn in surveys.
Rather than use up your time filling up boring surveys, I suggest you put that time to better use by investing in a profitable online business that can sustain you in the long run.
With affiliate marketing, you can build a business where you earn from even when you're away from your computer.
The good thing affiliate marketing is:
You can start from scratch because a training course will help you
It's free to get started
Once you establish your website, you can earn night and day
You can earn enough to make it your main income stream
Survey sites like LifePoints are only great if you just want some extra bucks or if you just want to burn some spare time.
If you did have enough spare time though, it's better spending it on building a business that's waaaaay worth your time.
Unlike survey sites, with affiliate marketing, you can still earn from what you do even after the month you worked on it.
If you want to get started now, check out this in-depth Wealthy Affiliate review.
How I Make A Living Online?
After years of working in call centres I finally figured out how to create a 5-figure monthly passive income stream and become financially free.
Thanks to the right training and a lot of hard work I kissed my old boss goodbye and booked a one way ticket to Thailand.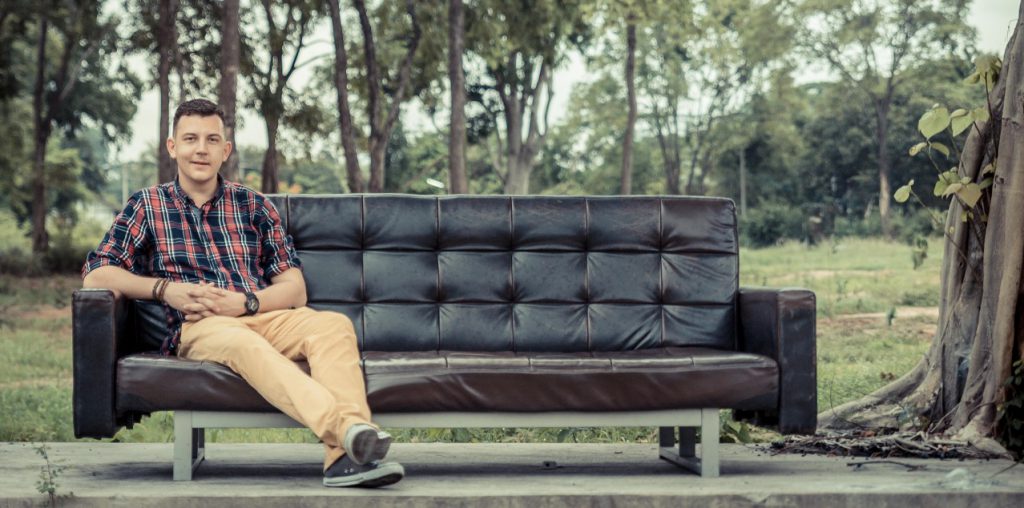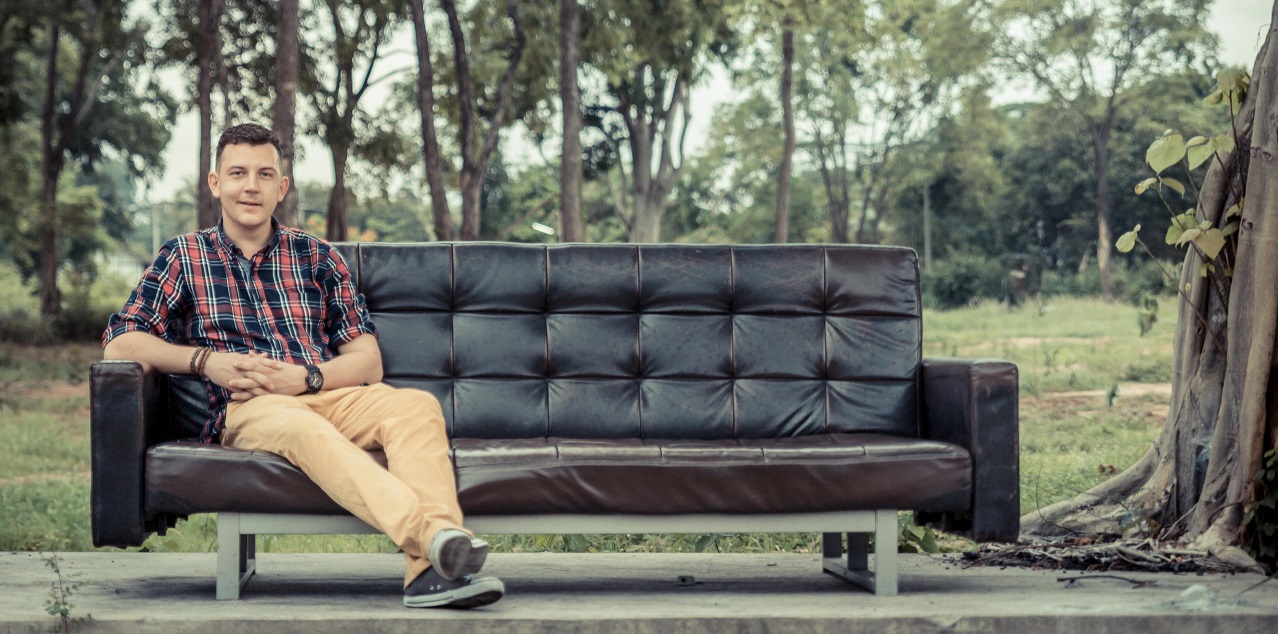 So if you're serious about building a thriving online business, click here for the exact step-by-step formula I follow.
Anything Else You Want To Add About LifePoints?
Drop your thoughts in the comment section below to share what you think!
Simon Crowe is on a mission to help as many people as possible kiss their bosses goodbye.
Take the free Commission Academy course to discover how to smash your online income goals and make your dream business a reality.