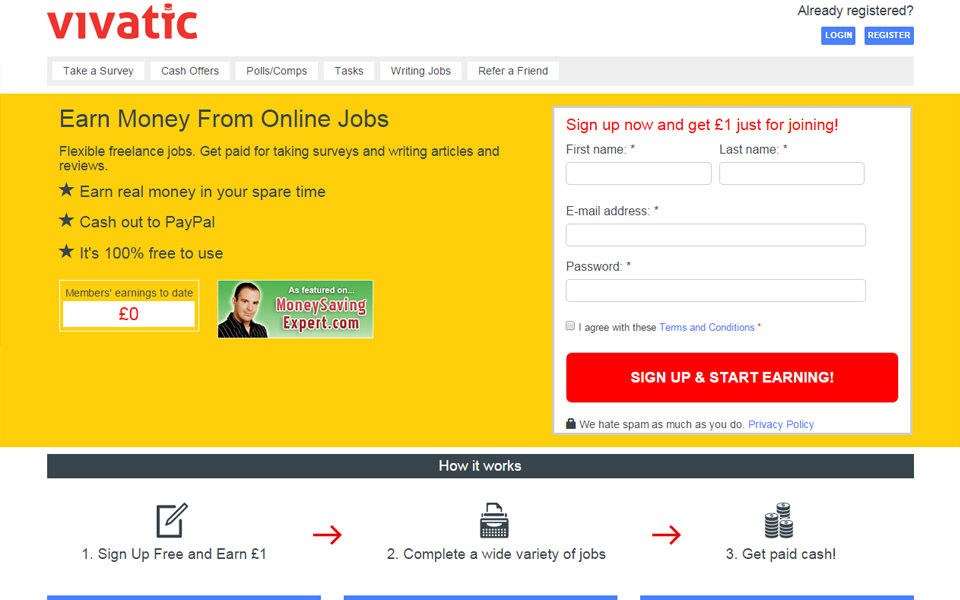 When I first started looking for ways to make money online I automatically jumped onto survey sites because I thought it'd be easy.
It didn't take me long to figure out that so many of the paid survey sites out there are huge time-wasters.
The vast majority of survey taking websites I've seen promise big rewards but I end up finding myself working for less than 50p an hour.
So I've decided to check out Vivatic and see if they deliver.
In this review we'll be asking:
What is Vivatic Surveys about? and is Vivatic a scam or is Vivatic legit?
Let me give you a quick spoiler alert: you won't be able to rely on Vivatic Surveys to make any real difference to your bottom line. Sorry if this is not what you wanted to hear, but you'll see why below.
What is Vivatic Surveys about?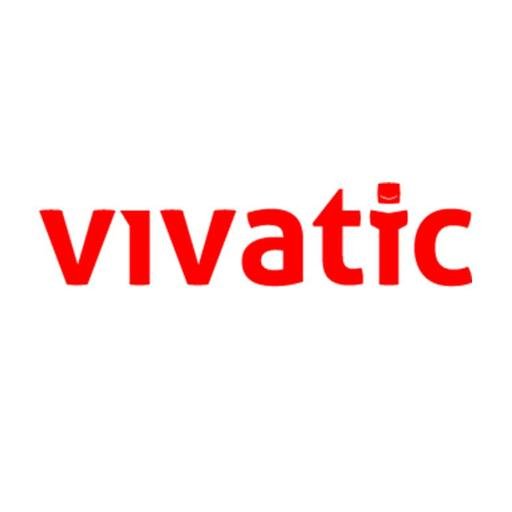 They've been featured on MoneySavingExpert.com and if you're over 18 you can join Vivatic from any country you can create a free account at Vivatic.com and start earning.
If you've ever come across a survey site before you'll know how the process works – you sign up, complete surveys and polls, apply for free trial offers and small menial tasks.
Unlike most reward sites out there, instead of accumulating points they show you your actual money balance so this is a big plus.


The sign up process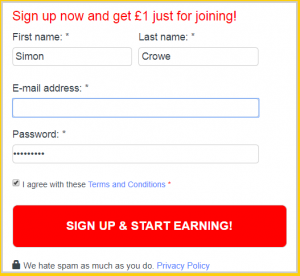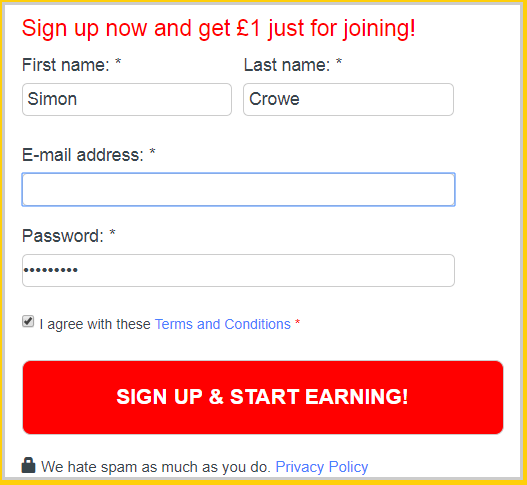 I figured the best way to find out if Vivatic is a scam or legit is to sign up and try it for myself. Let me walk you through the sign up process.
As you can see, it's a simple-enough sign up form though after I clicked "Sign up" there was nothing happening. So I tried again and this time it told me I was already registered.
I then thought I'd try logging in and it worked! Yay!
Now it's time to see if you can really make money with this thing…
Time to start earning money!
I decided to try out the surveys first to get an idea what the hourly rate could be working on this site.
Across the top menu you're given 7 ways to earn money: take surveys, take part in cash offers, join a site, completing tasks, writing jobs and referring friends.

1. Paid Surveys
Here's the list of possible surveys I could take. First impressions: not so bad. £1 for 15 minutes work is £4 which though is still pitiful, it's a lot higher than most.
My only issue was that they were promoting Toluna Surveys. In my recent review 'Is Toluna Surveys A Scam?' I show how they turned out to be one of the lowest paying survey sites I have ever come across!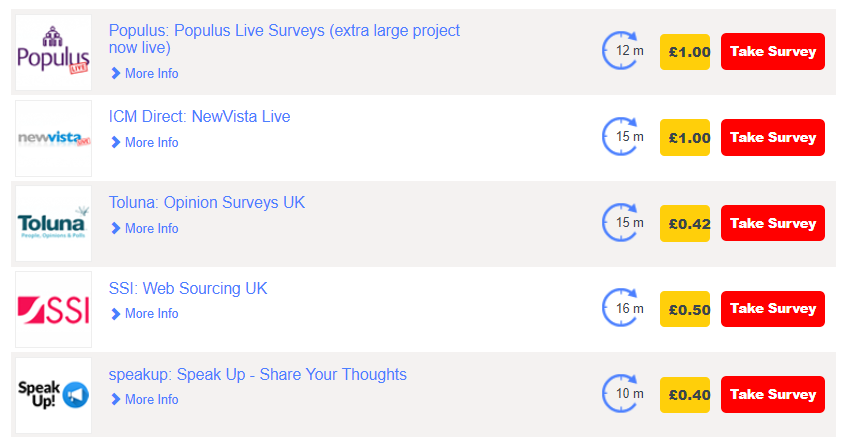 Putting that aside, I decided to try the Populus survey when I was hit with this error message saying I needed to confirm my PayPal account.

I'd already just confirmed my email address and tried to verify my PayPal but no matter how many times I tried, I could not access any of the surveys. No exactly t a great start!
2. Cash offers
Now let's try the next tab along which is cash offers. Let me say, I'm not a huge fan of signing up for free trials so earn a few pence. If you're not careful this could end up costing you way more than you ever make.
If you are going to do this then you'll need to be very organised. I'd recommend you use a calendar or keep a diary so you can make sure to cancel before the free trial ends and you're charged the full amount.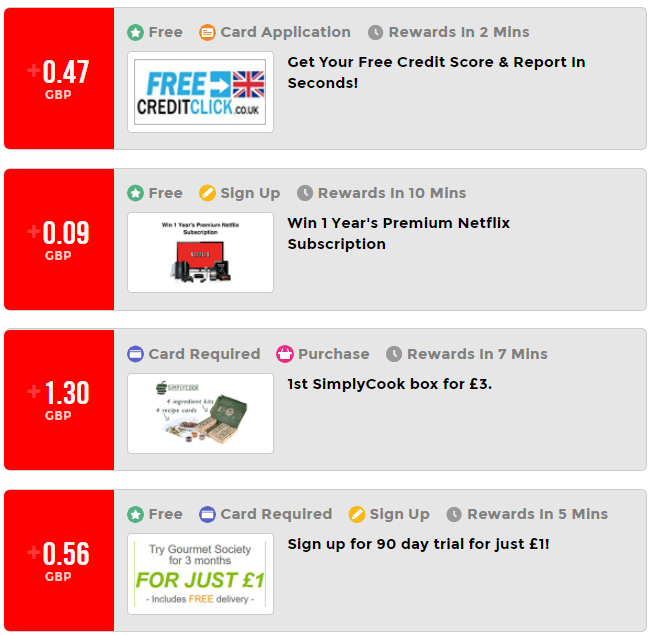 3. Join a site
As far as I can tell, this is similiar to completing free trials but as you can see, there's no offers for me here so i can't tell you much more than that.


4. Polls/Comps
Again, there are no polls available for me so I guess I'll not be making much money with this method.
Though, polls are the lowest paying task I've seen so far, working out at just a penny a time…

5. Micro-tasks
Here I was hoping for something a little bit like Amazon Mechanical Turk or Spare5 but as you can see – yet again – there's nothing here.

I must say after reviewing dozens of get-paid-to sites I've seen the number of tasks available slowly decrease.
This means only one thing: not only are people who try to make money with sites like this fighting against ridiculously low wages, now they have to waste time joining dozens of these kind of sites and scouring them daily to see if there are even any tasks available.
6. Writing jobs
Nevertheless, we plough on. Next up is the writing jobs tab. Can you guess what happened when I clicked on this?

Yes, you guessed it. I can't complete any jobs here either. Apparantly I have to complete at least 20 of the tasks but with none available how the heck am I going to do that??
7. Refer a friend
Last but not least, we come to Vivatics referral scheme where they give you a uniqie referral link you can share on the likes of Facebook and Twitter to encourage your family and friends to join, though why anyone would recommend this site to anyone is a mystery to me.

How much money can you realistically make with Vivatic?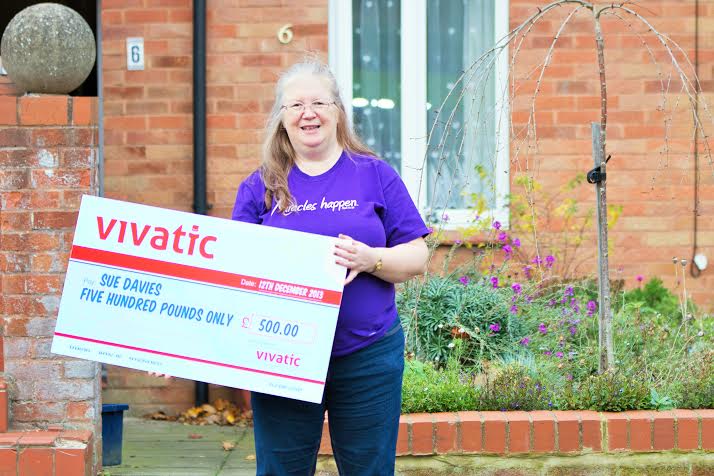 As I hope I've just clearly demonstrated, Vivatic is not the pot of gold at the end of the rainbow you've been looking for.
The only way I can see anyone making any money with this is by investing hours of time and energy into this every single say for months before reaching the minimum amount allowed to withdraw.
You can request your funds be transferred into your PayPal account only once you've hit the £25 mark but when you're earning £0.10 per task this is going to take you a hell of a long time.
On the main page of the Vivatic website they boast that members have earned over £2,000,000 since 2010 but they offer us abolutely no information about how many Vivatic members there are or what the average member makes.
I suspect there's a reason for this… member's just aren't making anywhere near a decent amount of money through this site.
Is Vivatic a scam or legit?
Vivatic is not a scam but can I say it's a legit way to earn 'real' money like they say on their frontpage? I think not!
If you go ahead and join Vivatic my guess is you're going to wasting a lot of your time getting nowhere fast. You're going to get frustrated with the website glitches and lack of work available.
There's nothing on this site for me, it's just not a decent enough money maker to make it worth my while.
Sites that offer you work most oftentimes pay you pennies per hour, far less than the minimum wage. How thisis legal I have no idea.
If you're sick and tired of wasting your time with silly survey sites like this and you're ready to start earning a substantial amount online there's only ONE program I recommend.
They not only have the best online training course I've ever seen for someone looking to build a full-time income online, they have the best community support and beginner-friendly tools all specifically designed to help you get to where you want to be financially.
Find out out more about my top recommended program here.
Now it's time for me to hand it over to you for your questions and feedback!
Have you ever signed up for Vivatic? Please share your experience with us, I'm sure we'd all find it helpful.
Simon Crowe is on a mission to help as many people as possible kiss their bosses goodbye.
Take the free Commission Academy course to discover how to smash your online income goals and make your dream business a reality.